Seven layer dip is sooooo delicious! All those layers of colors, flavors, and textures – salty, tangy, creamy, crispy, sweet, spicy – blended into one rich indulgent bite on a crunchy chip or celery stick – you just can't beat it. It is great for a summer party, game night, or even a Friday night dinner.
This version is for everyone! It is delicious whether or not you can eat beans, onion, gluten. Make components ahead and throw them together as needed.
Tex-Mex seven layer dip, as it is traditionally prepared, is not always a friend of the IBS sufferer. But why should that be? If you love someone who has IBS, try this dip. We are keeping some of the tradition, along with all the fun and full flavor, and adding a twist.
Recently I prepared this dish for a casual gathering of friends… uh humm… the dip never made it there. Somehow it got consumed at home and we had to take buns and drinks instead. The dip bandit(s) shall remain nameless.  Oh well; when game season rolls around again, we will redeem ourselves.
This dip is perfect for a Low FODMAP diet, which means it is:
lactose-free (or low lactose)

gluten-free
legume-free
free of excess fructans
This dish is easily digestible for many IBS sufferers. And it blends creamy, crunchy, sweet, tangy, salty and spicy, as any good Tex-Mex Seven Layer Dip should!
Her's how to make it.
[pinterest]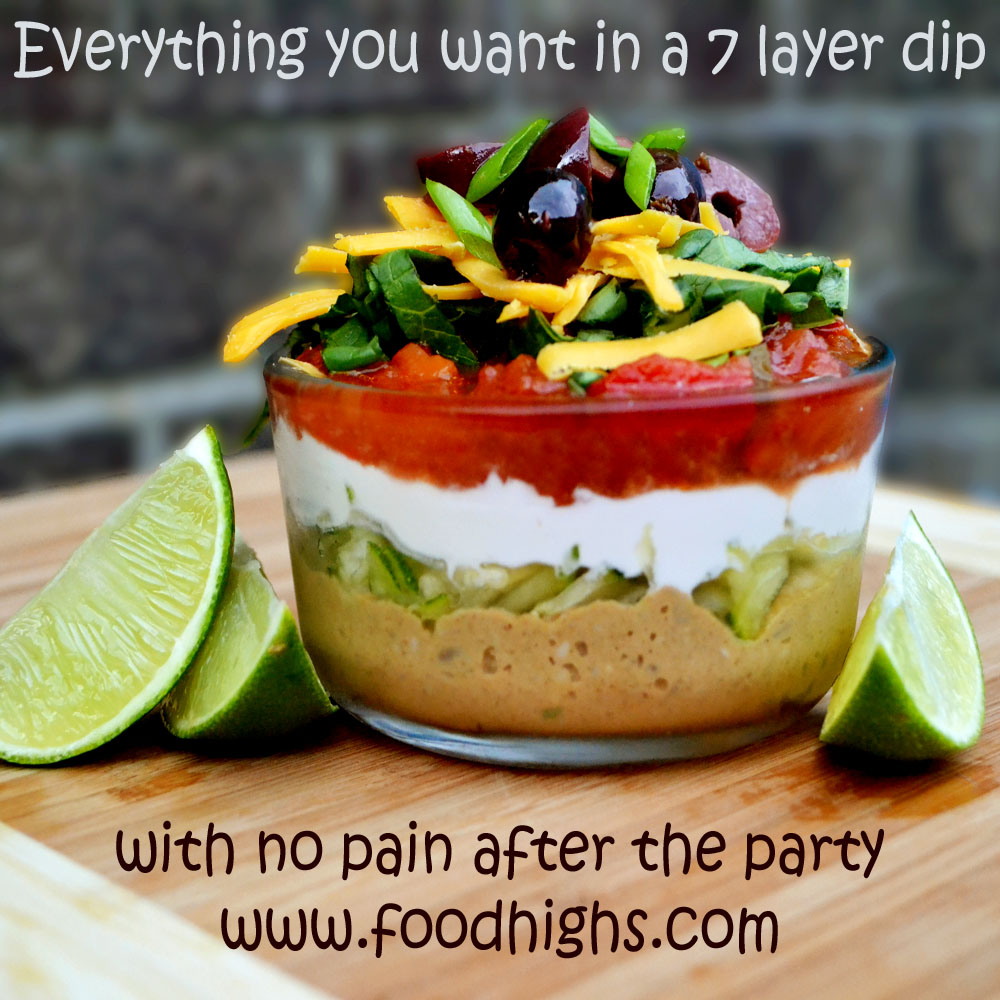 Tex-Mex Seven Layer Dip with Refried Seeds
Gather and prepare all seven components and get ready to layer. Directions here are for individual servings in 9 oz plastic cups or small glass bowls.
Tex-Mex Refried Seeds, see recipe here
Shredded Zucchini
Lactose-free Sour Cream
Low FODMAP Salsa, see recipe here
Shredded Romaine Lettuce
Sharp Cheddar Cheese (if you prefer no lactose, omit cheese or sub with lactose-free)
Olives
Use the links provided for recipes for refried seeds and salsa.  These are great make-aheads!
Spoon 1/4 cup (or 2 oz) refried seeds into the bottom of the serving cup. Then layer in shredded zucchini – about 2 T. No special treatment needed for zucchini; it provides just the right texture simply shredded.  Then 1/4 cup (or 2 oz) lactose-free sour cream, or dairy-free if you prefer. Next, layer shredded romaine lettuce, enough to fill the cup. Sprinkle a little cheese over the lettuce – using sharp brings a lot of flavor with less cheese. Top with olives, to your liking.
Note: Each batch in this refried seeds recipe makes about three servings, if you use 2 oz per serving – you can use less. It you want more servings, just make additional batches. Personally, I like equal parts refried seeds, sour cream and salsa. Feel free to adjust ratios as you desire.
Enjoy!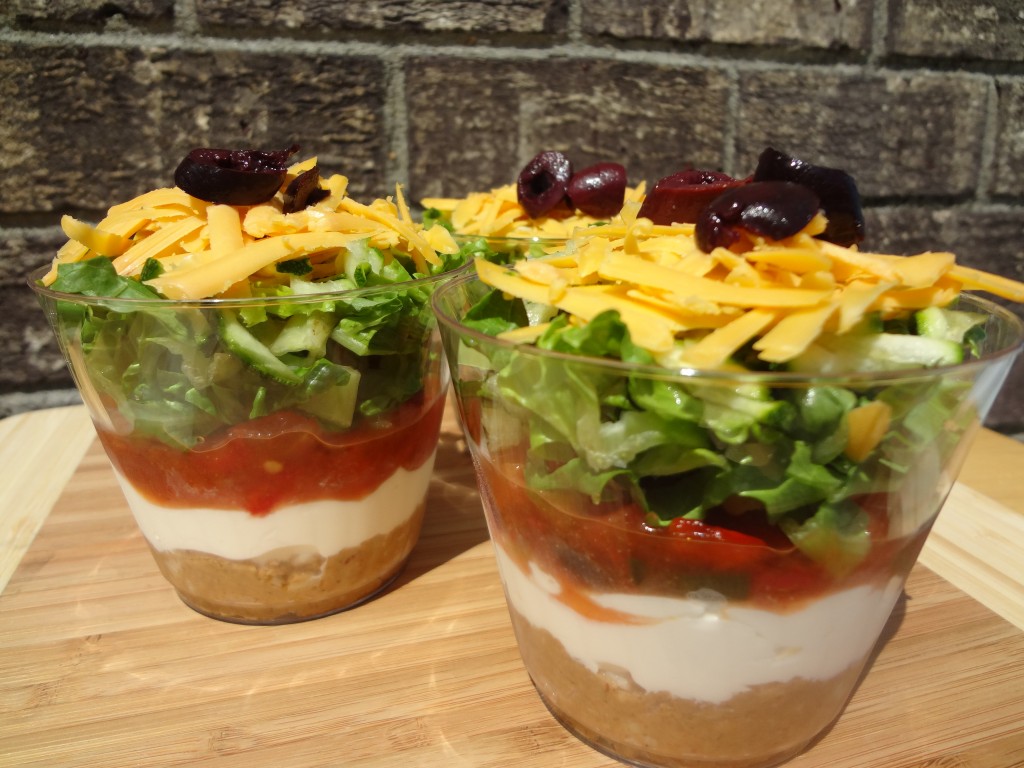 [pinterest]
If you like this, please Pin, Share, and Like
[fblike]
[tweet]