What does one do with a surplus of beets? Provided that one is not the keenest of beet fans, one might wish to do something other than borscht – not that borscht isn't lovely. But that vibrant color deserves to be elevated, even celebrated, now and then. How does one elevate a beet? Hmm Maybe, turn them into caviar and tartare. Then pair them with cheese and wine! …and my mind has only one track now.
So, here is a trio, a three-for-the-price-of-one artisanal cheeseplate must have for you. This one is dedicated to my attorney, Mr. Van, who inspired the idea by asking me what I do with beets. Turns out, he is an adventurous and creative culinarian, so I must offer an idea worthy of his talents.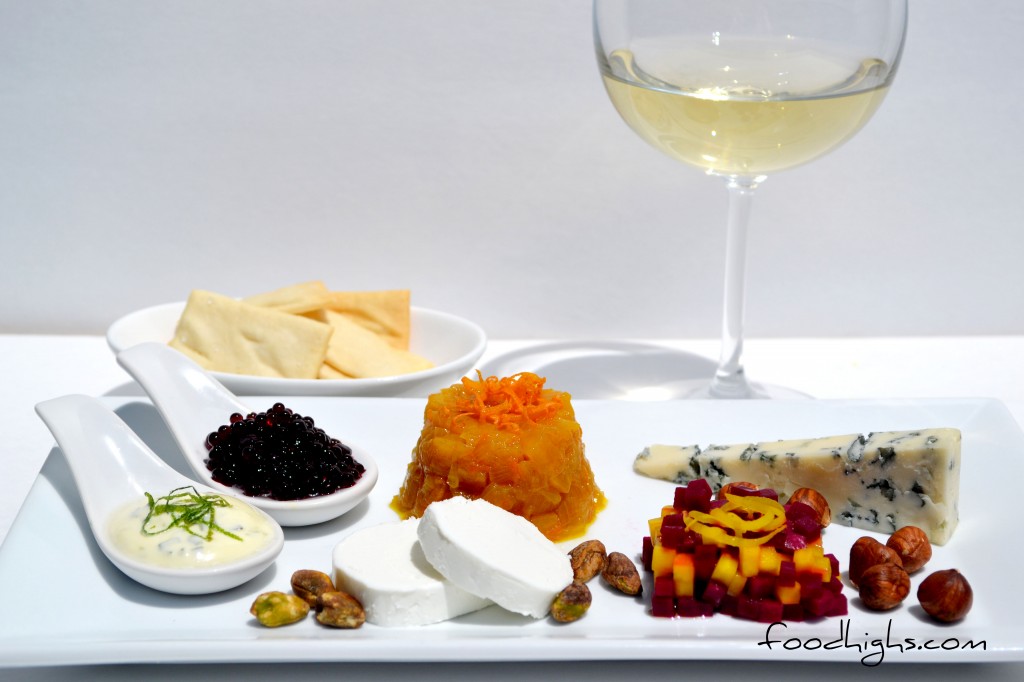 Here are my suggestions for three elegant cheese-beet flavor-texture pairings. Each one could stand on its own. All three on one plate is to-die-for! Try this as a final course in lieu of a sweet dessert. You wont regret it. And if you really dislike beets, or cannot eat them, try taking the ideas here, switch up some of the flavors, and swap beets out with cherries. But really, all I am saying… is give beets a chance. 🙂
For the lactose-intolerant, at some point, we will explore lactose-free cheese making on this site. However, there are delicious lactose-free, and low lactose cheeses out there, as well as cheese substitutes. There is no reason you should miss out.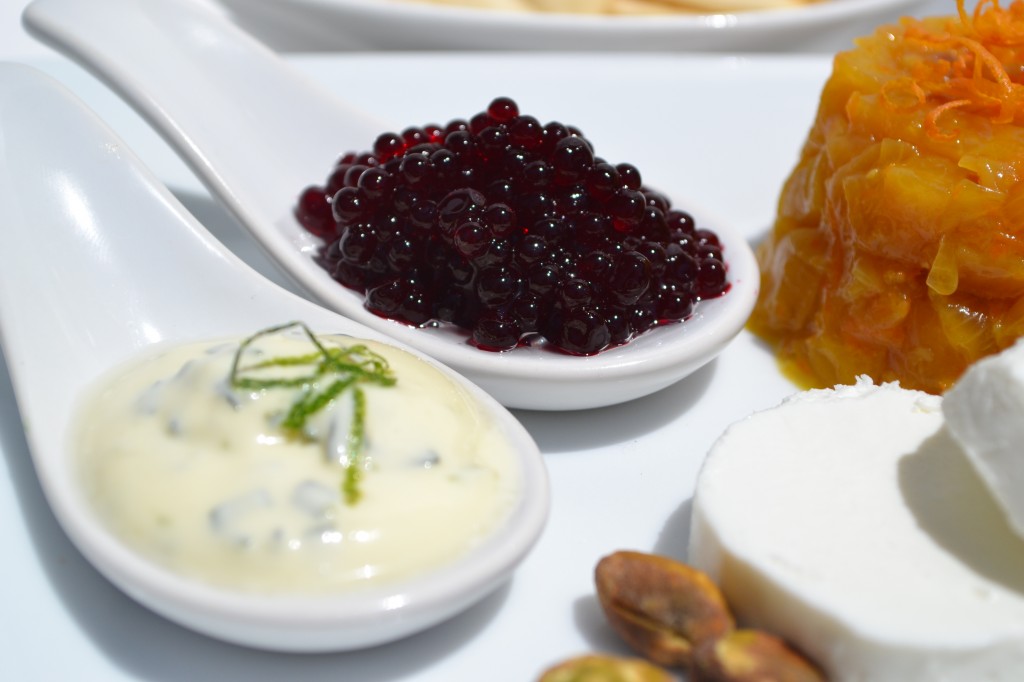 Perfect pairing #1
Beetjuice Caviar with Creamy Lime-Tarragon Creme Fraiche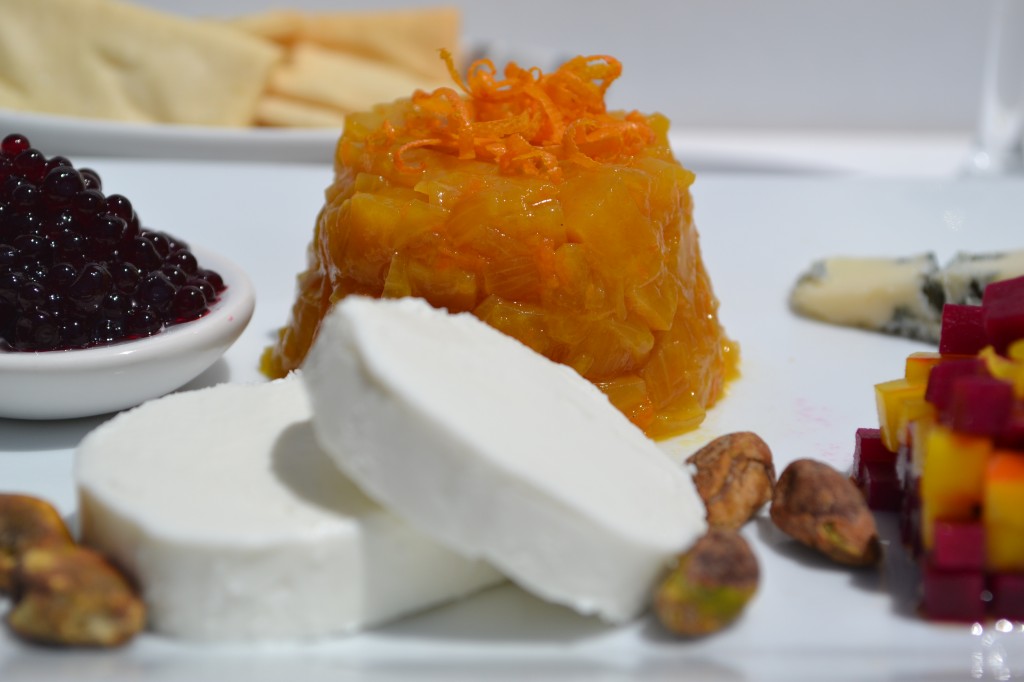 Perfect pairing #2
Golden Beet Chutney with Chevre (goat cheese) and Pistacchios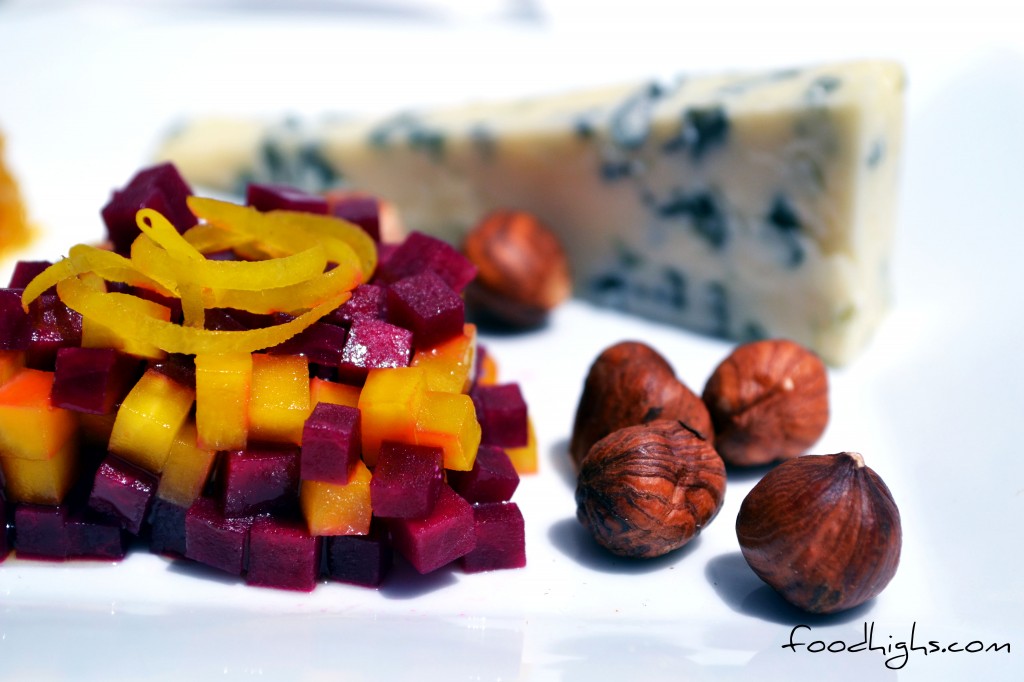 Perfect pairing #3
Crunchy Beet Tartare with Gorgonzola and Hazlenuts
Highly recommended: German Riesling – This light-bodied white wine pairs beautifully with both beets and cheese, especially blue cheese, as well as summer fruits and light dishes. We are talking serious flavor synergy here.
Plan Ahead
Beet tartare should be made at least a day in advance for good pickling flavor. If you make your own creme fraiche (embarrassingly easy and much cheaper than purchasing), you will need to do this a day in advance as well. Everything else can be made fresh, but you will be so happy with yourself if you make ahead chutney, caviar, and lime-tarragon creme fraiche also. Then when you are ready to enjoy the cheese plate, you only need to bloom the cheese, pour the wine, and enjoy the praise.
Recipes
Beet Juice Caviar 
This recipe is in a separate posting. Please click here. This is really an introduction to molecular gastronomy, made very easy. It is a fun thing to do with your kids, and they will at least try these beets.
Creamy lime-tarragon Creme Fraiche
1/3 cup creme fraiche
1 t. lime zest (or to taste)
2 t. lime juice
2 t. fresh tarragon, diced
salt, to taste
Combine all ingredients. This will yield about 5 servings (each appr. 1 T.).  Double or triple recipe if you need more. This is so creamy, layered with flavors, and satisfying, even nutritionally… I made extra just to eat on crackers, or on a spoon in the middle of the night – not that I am proud of this.
Golden Beet Chutney
1/2 T olive oil
One medium-sized Golden Beetroot, small dice (yields about 100 g, 3 oz or ¾ cup)
Shallots, small dice –  use equal parts shallots and beet
One medium-sized orange, zest and juice (about 3-4 oz juice)
Brown sugar – 1 t. or to taste
Salt – to taste
In a small sauce pan, gently sweat shallots in olive oil. Do not brown. Add pinch of salt. This will take about 5-10 minutes. Add diced beet, orange peel, and juice. Cover. Simmer about 30 minutes. Add a bit of sweetener, if desired. I like brown sugar for this dish. This will yield 4-8 servings, depending on how much you would like to use on each plate. You can use red beets, if preferred.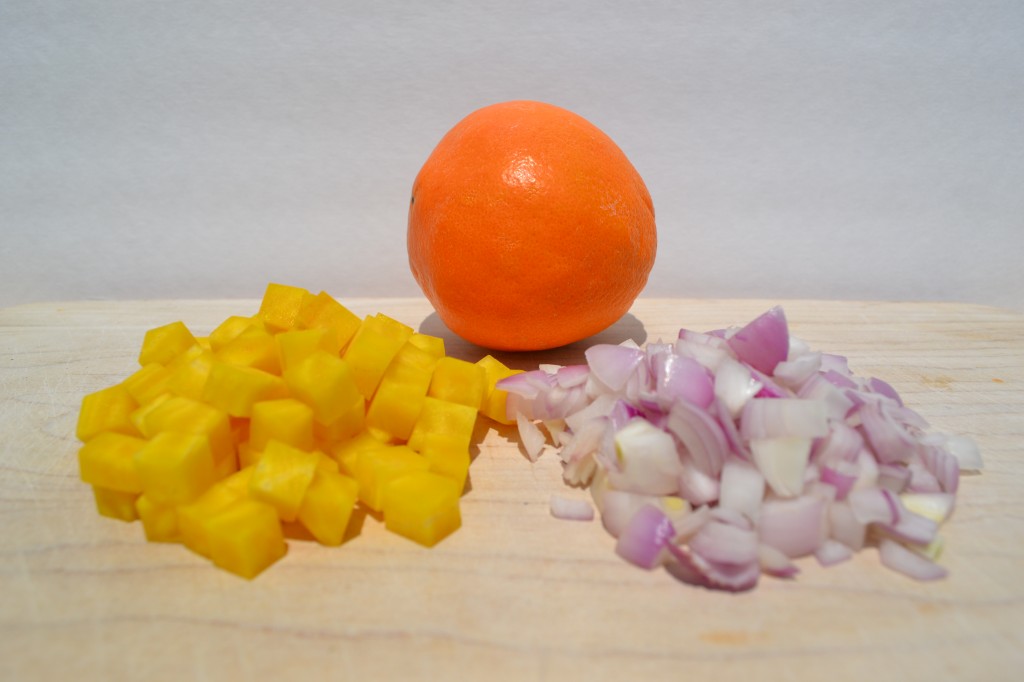 Beetroot Tartare
1 cup (yields about 4 oz or 120 g) red beet, tiny dice – this will require about 2 beets
1/2 cup Rice Wine Vinegar
1 T. sugar (use more if desired)
One bay leaf (or kombu, if preferred)
Place diced beets into a heat-safe container. In a small sauce pan, heat vinegar, sugar, and bay leaf (or kombu) to a simmer. Pour vinegar-sugar over diced beets. Shake the container to cover beet with vinegar. Allow to cool. Refrigerate for at least 24 hours. Strain beets from pickling juice. Discard bay leaf. Assemble on the plate.
Option, if you prefer to use golden beets or are lucky enough to score chioggia (stripped) beets, simply repeat the process with each.
Build your tartare anyway you like. You can use a small cookie cutter to produce a desired shape.
For this application, I pickled raw beets for the crunchy texture. Raw beets do not hold a "tartare" shape very well, but I preferred the crunch, after the soft texture of the chutney. You can roast your beets instead of pickling if you would like a more authentic appearance. Be sure to add a little acidity (vinegar, lime, or lemon).
Note: I prepared this tartare with the same methodology I would use on a beautiful tuna or beef steak preparation. I like a small, consistent dice. I never use a processor as it produces uneven pieces and, to me, the mouthfeel of raw ground meat. Personally, I do not find this pleasing. It is worth taking the time to cut small even little pieces. Your attention to precision will pay off. Just listen to your favorite music and open up that riesling… it will be fun!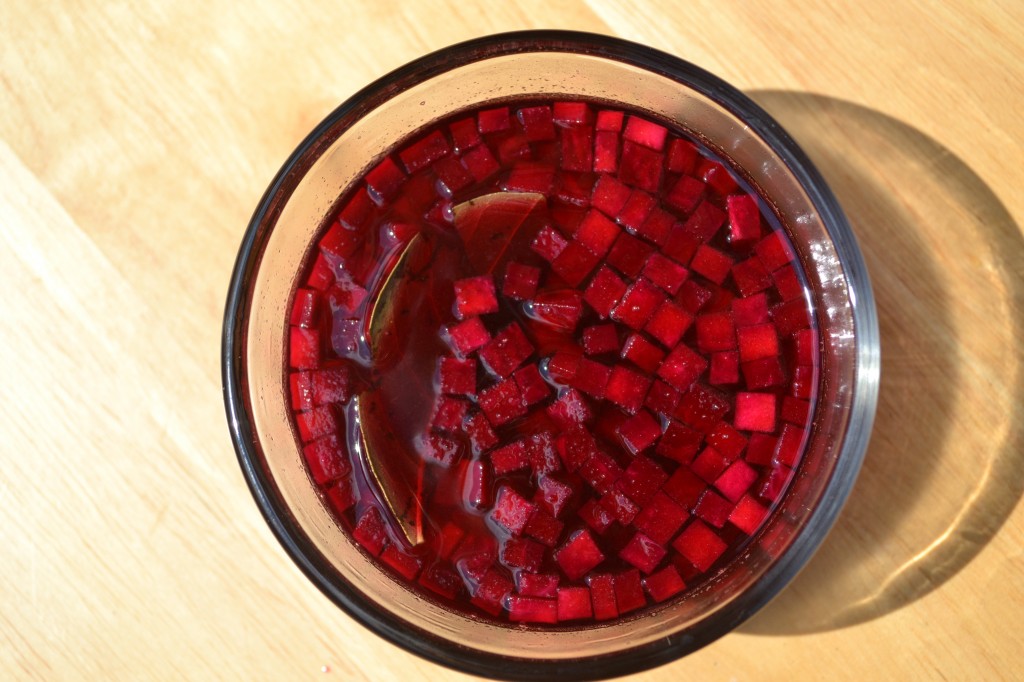 How to assemble a proper Cheese Plate.
Choose a variety of cheese flavors, textures, milks – fancy it up by choosing artisanal cheeses, or use whatever pleases both your budget and your taste buds
Choose a theme. The theme featured here is unconventional, as it focuses on the accompaniment. You can choose a regional theme,  a milk theme (ie: all sheep's milk), offerings from a single artisan… anything that floats your boat.
Arrange cheese, left to right, from mild to strong, so as to not overwhelm the palate
When slicing cheese, run a sharp knife through hot water and dry between each slice
Each individual cheese serving should be about 1-2 oz
Bloom cheese at about an hour before serving (simply assemble them on the tray and let them sit at room temp) Do not "bloom" creme fraiche.
Accompaniments are not required, but highly recommended. Think sweet, salty, optimal flavor-texture pairings.
Oh!!! Serve with crackers or toast points. Use whatever fits your personal dietary needs. Use the most bland crackers you can find so as not to muddle the layers of flavor you have created in your pairings. These are merely crunchy vessels for all the goodness they will hold.
 Enjoy!