Pan-seared Duck with Cherry Sauce & Alfalfa Potato Salad
Cherry season ought to be celebrated, eh? Walking through the market, one can hardly pass the piles of beautiful fresh cherries without their beckoning to jump into the cart. Soooooo… in they go. Then, almost to the check-out counter, and they whisper "you forgot the chevre"... so in goes chevre. Upon arriving home, they offer a casual reminder, " you know, you have dark chocolate stashed" (and I wont say where it is stashed because my son will find it and it will be melted and drizzled on a banana). When all is said and done, this becomes dinner! And we are talking indulgent flavor synergy!
Cherry season is approaching its end, so if you haven't fully indulged, and if cherries agree with you, go for it! Eat them straight, cook with them, whatever suits your fancy.
Food Synergy
Food Synergy is what you get when 2 + 2 = 5, 7, or 10! It is when two foods work together to provide a nutritional punch that is greater than their sum. As odd as this may sound, cherries and alfalfa sprouts are thought to be synergistic. Researchers are not yet sure why, but they believe that pairing cherries with alfalfa sprouts vastly increases their antioxidant power and lowers LDL cholesterol.
If you have fresh cherries on hand, it is easy to throw them in a  green salad with alfalfa sprouts… maybe add some fennel for a little more crunch. A lemon vinaigrette will bring everything together nicely.
To follow is another idea, using those same flavor notes…
Variations of the following recipe may be suitable for Paleo, Gluten-free, Dairy-free, LowFODMAP diets. 
Please note: if you have a serious cholesterol issue, you may want to stick with the salad and leave out the duck altogether – opting for another protein. 
Pan-Seared Duck with Cherry Sauce and Alfalfa Potato Salad
This was made on a night when I really needed a quick dinner. I did not get too precious with the duck; please refer to Martha Stewart for that. She has you-tube instructions out there. I just wanted to feed hungry kids fast. There are a few rules I will not skip however:
One must score duck skin into cross cuts
Skin MUST be crispy
Duck must NEVER be over-cooked. This one almost got away from me. I like it a bit pink.
In my fridge were previously frozen 6 oz duck breasts. As stated, this was not the night for breaking down a whole duck. The following recipe serves two. Add a celery soup or salad on the side to round out the meal.
Ingredients:
4 T crème fraiche
1/2 T lemon juice
1 1/2 c red potatoes, diced and steamed
1/2 c alfalfa sprouts
1/2 c fennel, diced
Duck breast – two
1 shallot, diced
1/2 cup port, or merlot, or even chicken broth if preferred
1 c fresh cherries
1 t fresh lemon
1/2 T sweetener, honey or agave (maple syrup for LowFODMAP)
1/2 t ground flaxseed (thickener) – if preferred, make a cornstarch slurry
salt & pepper – to taste
Potato Salad
Whisk together 4 T creme fraiche and 1/2 T lemon juice with salt, to taste. Combine with diced red potatoes, alfalfa sprouts and fennel. Salt and pepper to taste. Set aside.
Searing Duck Breasts
With a sharp knife, cut through the skin only of each duck breast, making diagonal cross-cuts. Scoring the skin in this way prevents shrinkage when pan-seared. Salt and pepper duck breast, skin side. At a medium heat, in a saute pan, place duck breasts skin side down. No need for oil, unless garlic-infused oil is desired. The duck will release its own fat, and this is exactly what we want. We need the fat under the skin to melt away. Allow to cook until skin reaches a beautiful dark golden brown.  Add salt & pepper to uncooked side and flip the breasts. Cool until nicely browned. When you press (gently) on the duck with your fingers, it should feel a little spongy. When both sides are brown and you get that spongy feel, it is probably done. Of course, you can cook to the doneness you prefer. Set duck breasts aside and allow them to rest before slicing.
Pour out duck fat from pan into a heat-safe bowl. Add 1 T duck fat back into the pan. Sweat shallots. When shallots are tender, add wine and simmer until reduced by about half.  Add cherries, 1 t lemon juice, sweetener, salt to taste. Cook for about 5-10 minutes, or until cherries are warmed through and flavors well combined. Move cherries to the side of pan and whisk in flaxseed. If you prefer, make a cornstarch slurry with 1/2 t cornstarch to equal amount water. Whisk together, then whisk into sauce. Adjust acidity and sweetness to your liking.
When rested (5 or 10 minutes), slice duck breast on a diagonal. Add to plate over potato salad, with cherry sauce added over duck or around the plate.
Enjoy!
Special diet notes:  If you are on a LowFODMAP diet, replace fennel with celery and use a lactose-free creme fraiche, or replace with olive oil to make a lemon vinaigrette. Before pan-searing the duck breast, brush with a little garlic-infused oil to incorporate that flavor. Leave out shallots, or replace with green onion (green part only).
If you do not eat potatoes, this dish would be quite lovely with a green salad, replacing potatoes with romaine.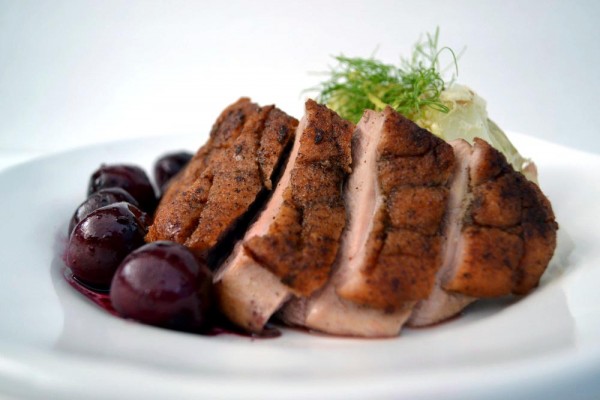 Food Highs does NOT provide diagnosis or medical advice. You are an individual. Your dietary needs are specific to you and should be decided based on your personal health, preferences, with your healthcare provider. This site offers information, resources, and recipe development for GENERAL use.