Menu

[pinterest]
Breakfast
soft rice cereal
fried tofu
steamed broccoli
bancha tea
Lunch
millet croquettes
chinese-style vegetables
daikon and red radish pickles
bancha tea
Dinner
lentil soup
brown rice
kinpura carrots and burdock
boiled mustard greens
red radish pickles
raisin-nut cookies
grain coffee
[note_box]This is not a calorie counting diet. It is about eating specific foods in balance. Remember that throughout the day, you will need:
about 50% whole grains
about 30% locally grown (organic, if possible) vegetables
5-10% beans and sea vegetables
5-10% soups
5% condiments and supplimentary foods, including beverages, fish and desserts[/note_box]
Recipes
Recipes and menu are taken from The Macrobiotic Way by Michio Kushi and Stephen Blauer. There are some modifications for the purpose of making these meals easily manageable. The essence and flavors are left in tact.
If you are just beginning a Macrobiotics Diet, you will find this week's menu to be a GREAT introduction to methods and beneficial ingredients. You can build a sustainable diet from here! My blog will continue to provide you with additional recipes and resources. If this is a diet that you wish to follow – consult your healthcare provider – then I highly recommend that you buy the book. It contains much useful information on nutrition.
If you do not follow a Macrobiotics Diet, feel free to use these ideas and alter seasonings to your taste and diet. If you like, add meat on the side!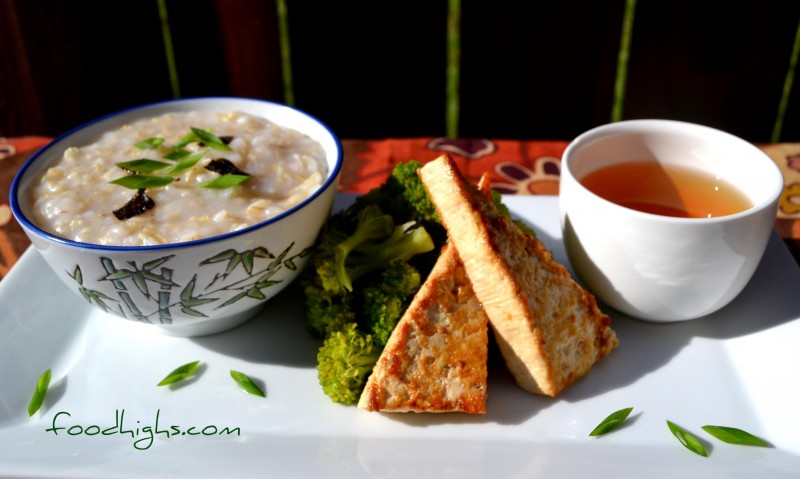 Soft Rice Cereal (Congee)
Prepare in advance. Reheat for breakfast, adding water if needed.
For additional information on breakfast congee, click here
Fried Tofu
My favorite thing about tofu is that you can make it more interesting just by cutting it differently. I am into triangles today.
firm style tofu
dark sesame oil
tamari, to taste
fresh parsley sprig, garnish
Slice tofu into pieces 3″ x 2″ x 1/2 " each (1/2 inch steaks). Heat a small amount of dark sesame oil in a skillet. Season each side of tofu steaks with a few drops of tamari. Fry on medium-high heat for 2-3 minutes, browning each side. Garnish with parsley.
Steamed Broccoli
Cook broccoli florets in a steamer basket, or heat safe colander in a pot with lid over an inch of water until broccoli is tender, but still firm and bright green.

Millet Croquettes
The hardest part of this dish is resisting the urge to salt and munch on millet as soon as it is cooked. 'Just make extra.
1 c cooked millet
1/4 cup onion, diced
sesame oil, for frying
In a bowl, mix millet and onion thoroughly. Wet your hands slightly with cold water. Create spheres, packing them tightly so they will hold together through frying. The original recipe suggests 1/2 cup millet-onion mixture per sphere. (Mine were smaller.)
In a saucepan, pour enough sesame oil to cover frying spheres. ( I use a very small pot in order to conserve oil.) Do not allow oil to smoke or boil. (Although my oil got about as hot as it should get in the photo below.) At the right temperature, croquettes will sink to the bottom when placed in the pot, then rise to the surface after a few seconds. Don't overcrowd the pot. Fry croquettes til golden brown. Drain.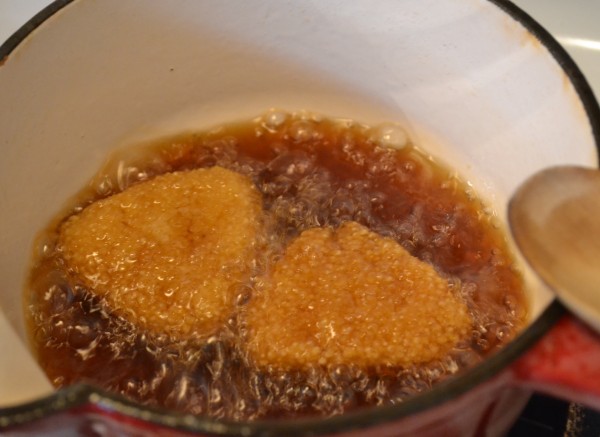 I had to read this twice! The method actually does involve deep frying in sesame oil! In general, a little sesame oil goes a long way, but it is not at all strong in this dish. It is perfectly balanced. I did make one change though; instead of spheres, I made triangles. This way, less oil is required and biting into those crunchy corners creates a happy moment.
[info_box]For more great Meatless Monday ideas, and everything else! … please like me on Facebook. https://www.facebook.com/foodhighs[/info_box]
Chinese-style Vegetables
I did not leave this as saucy as I should have. Was a little hap-hazard with my water measurement. You could even make this a soup if you want.
1.5 c water
1/4 c onion, cut into half-moons
2 shitake mushrooms, reconstituted (soaked), stems removed & sliced
1/4 c carrots, cut into matchsticks
1/2 c broccoli florets
1/2 c sliced Chinese cabbage, cut diagonally into pieces about 1 in wide
3/4 T kuzu
tamari, to taste
In a pot, bring water to a boil. Add onions and shitake and reduce heat to medium-low. Cover and simmer 4-5 minutes. Add carrots and broccoli and simmer, covered, for 2-3 minutes. Add Chinese cabbage and simmer, covered, for 1 minute more.
To make sauce, dilute kuzu in 2-3 T water. Reduce heat to low and add diluted kuzu, stirring constantly to prevent lumping. When kuzu becomes translucent and creamy, season vegetables with a little tamari to obtain a mild salt taste.
Daikon and Red Radish Pickles
You need only a few pickles. Don't forget those probiotics!
Make-ahead, click here
optional: good quality prepared fermented pickled vegetables

Lentil Soup
So, the original recipe calls for green lentil. I had black, because they are my favorite. And I had some brown. So, there is a little substitution here. The kombu is not only very tasty in this – no briny flavor – but it helps your body to absorb the nutrients in the soup.
1/2 kombu strip, 3 inches long, soaked and cut into 1/2 inch squares
1/2 c onions, diced
1/2 c celery, diced
1/2 c green lentils
3 c water
sea salt
1/2 cup whole wheat noodles or shells
2 T chopped parsley, as garnish
Place first 5 ingredients in a pot. Cover and bring to a boil. Reduce heat to medium-low ans simmer for about 45 minutes. Season with a little sea salt. Add noodles and cook til they are tender. Serve and garnish with parsley, if desired.
Brown Rice
Kinpura Carrots and Burdock
Note: Burdock is not advised for pregnant women or patients taking insulin or medication for hypoglycemia, as it may lower blood glucose levels. You may substitute another vegetable, or just enjoy carrots.
dark sesame oil
1 cup sliced burdock, cut into matchsticks or shaved
5-6 medium carrots, cut into matchsticks (about 2 cups)
water
tamari
Heat a small amount of dark sesame oil in a cast iron or stainless steel skillet. Sauté burdock over medium-high heat for 3-4 minutes. Place carrots on top of burdock, add several drops of water, and cover skillet. Reduce heat to medium-low. Simmer until vegetables are tender. Season with tamari, and simmer 2-3 minutes more. Remove cover. Allow remaining liquid to cook off.
Boiled Mustard Greens
 1/2 to 2/3 lb mustard greens, cut diagonally into 2 in pieces (about 4 cups)
water
Place one inch of water in a pot. Bring to boil. Add greens. cook for 2-3 minutes, or until greens are slightly crisp and bright green.
Alternatively: Instead of cutting greens, cut them whole. Cool greens. Stack them. Roll them. Squeeze out water. Then slice them in rounds.
Red Radish Pickles
Make-ahead, click here 
optional: good quality prepared fermented pickled vegetables

[pinterest]
Raisin-Nut Cookies
Grain Coffee and Bancha Tea
Make-Ahead, click here
If Bancha twigs are unavailable, you may opt for a good green tea
Plan Ahead for tomorrow!
To make tomorrow easy, you can do the following:
Put ingredients for whole oats with raisins in a little pot on the back of the stove or in a crock pot and let in slowly simmer all evening. Cool and store in a contoanier and refrigerate. You can even prepare miso soup ahead. This will make for an easy breakfast. See Make-Aheads here.
Brown rice can be prepared ahead for dinner. Soak adzuki beans or go ahead and cook and store them. See Make-Aheads here.
Enjoy!
[pinterest]
If you see anything you like, please LIKE, SHARE, and PIN!