Menu

Breakfast
crisp brown rice cereal
amasake (rice milk)
pickle medley
bancha tea
Lunch
udon and broth
boiled tempeh and scallions
garden salad
bancha tea
Dinner
brown rice and barley
watercress soup
ginger-broiled scallops
boiled salad with tempeh
nori condiment
blueberry couscous cake
grain coffee
[note_box]This is not a calorie counting diet. It is about eating specific foods in balance. Remember that throughout the day, you will need:
about 50% whole grains
about 30% locally grown (organic, if possible) vegetables
5-10% beans and sea vegetables
5-10% soups
5% condiments and supplimentary foods, including beverages, fish and desserts[/note_box]
Recipes
Recipes and menu are taken from The Macrobiotic Way by Michio Kushi and Stephen Blauer. There are some modifications for the purpose of making these meals easily manageable. The essence and flavors are left in tact.
If you are just beginning a Macrobiotics Diet, you will find this week's menu to be a GREAT introduction to methods and beneficial ingredients. You can build a sustainable diet from here! My blog will continue to provide you with additional recipes and resources. If this is a diet that you wish to follow – consult your healthcare provider – then I highly recommend that you buy the book. It contains much useful information on nutrition.
If you do not follow a Macrobiotics Diet, feel free to use these ideas and alter seasonings to your taste and diet. If you like, add meat on the side!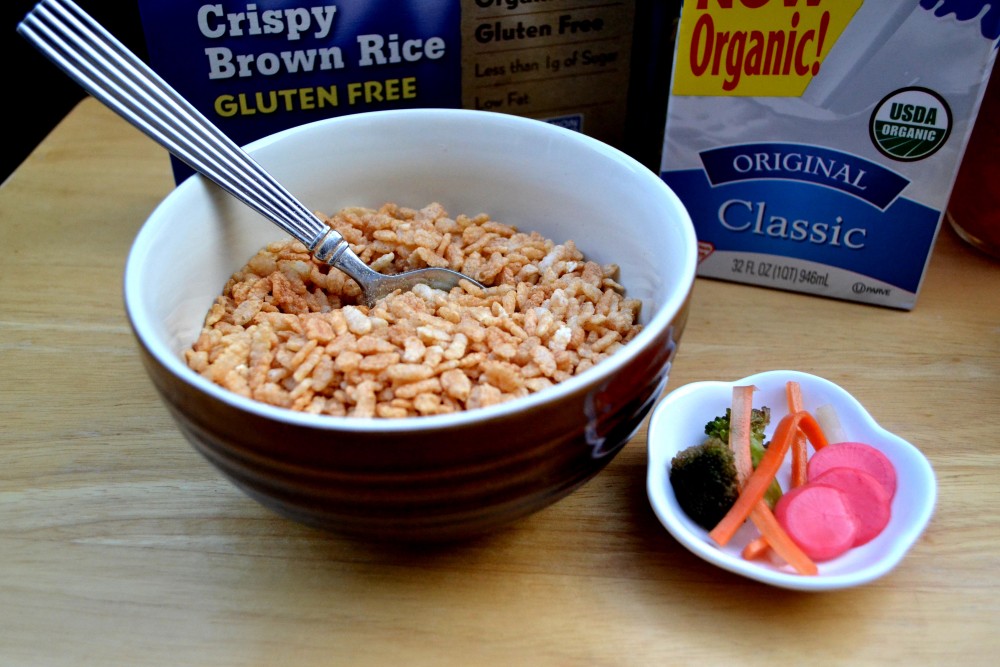 Super Easy Breakfast today!
Crisp Brown Rice Cereal & Amasake (rice milk)
So, yeah, we could have made our own amasake, but there are very good quality prepared rice milks on the market. and great brown rice cereals.
Pickle Medley
Since this is going to be an easy morning, why not choose your favorite pickles? I love the little umeboshi vinegar radishes.
Don't forget your bancha tea!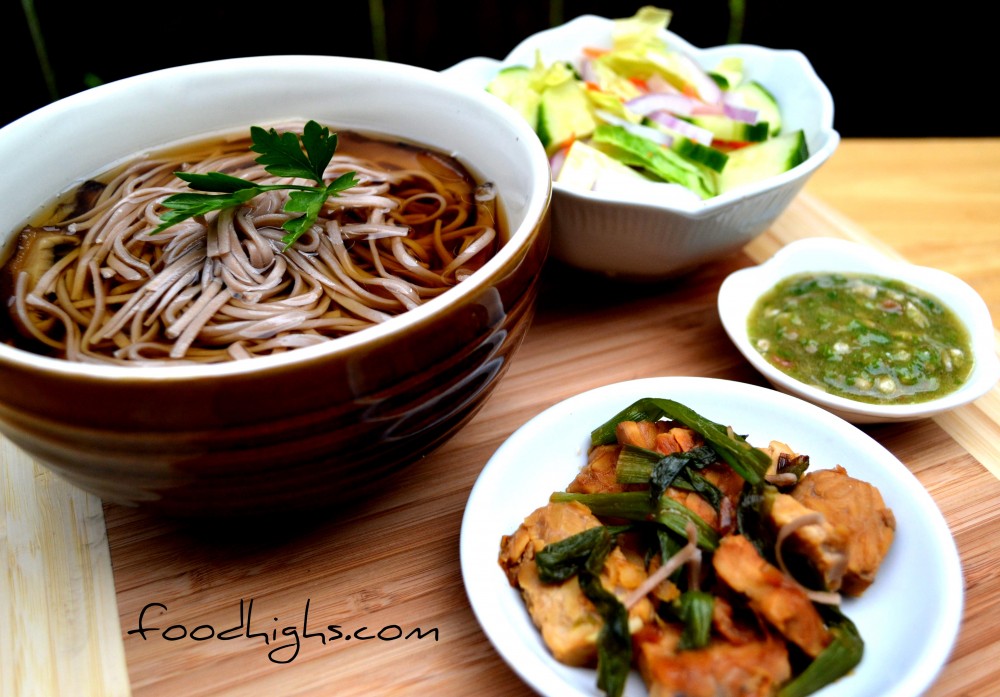 Udon and Broth
My udon noodles have vanished! So I used soba noodles (photo). Whole grain, of course. 
about 4 oz whole wheat udon noodles
kombu, soaked, about 2 inches long
1-2 shitake mushroom, soaked, stemmed, sliced
water from kombu & shitake (minus any residue at the bottom)
1-2 T tamari
2 t sliced scallions, as garnish
Prepare noodles according to package directions. If they are in Japanese, and you do not speak Japanese, prepare them as you would spaghetti noddles.
Place kombu, shitake, and 2 cups water (including soaking water), into a saucepan. Vring to boil; reduce to simmer. Cover. Simmer for 5-10 minutes. Remove kombu. Season stock with tamari. Simmer another 5 minutes.
Place noodles into bowls. Pour broth over noodles. Garnish.
Boiled Tempeh and Scallions
1/3 lb tempeh
1 t finely chopped scallion roots (white and root hairs)
water
tamari, to taste
about 1/2 to 3/4 cups scallions, sliced into 2 inch lengths
Cut tempeh into 2 inch pieces. Heat 1/4 c water in a skillet. Add scallions and cook on high for about 2-3 minutes. Add tempeh and more water to half cover tempeh. Bring to boil. Cover. Reduce to simmer.  Simmer 25 minutes. Season wit tamari. Cover. Cook for another 5 minutes. Place scallions on top of tempeh. Cover and cook for 1-2 minutes, until scallions are tender and bright green. Remove cover. Turn up heat and cook off liquid.
Garden Salad
1 1/2 c fresh iceberg or romaine lettuce
1/4 c grated carrot
1/4 c red onion, sliced into half moons
2 T celery, sliced
1/4 c cucumber, unwaxed, sliced
Toss ingredients. Serve with Umeboshi Sunflower Dressing
Umeboshi Sunflower Dressing
This is simple and very yummy!
2 t umeboshi plum paste or 2 umeboshi plums, pitted
1/4 c chopped scallions or chives
1/2 c water
1/4 c roasted sunflower seeds
Grind or puree plums and scallions together. Blend with water and sunflower seeds.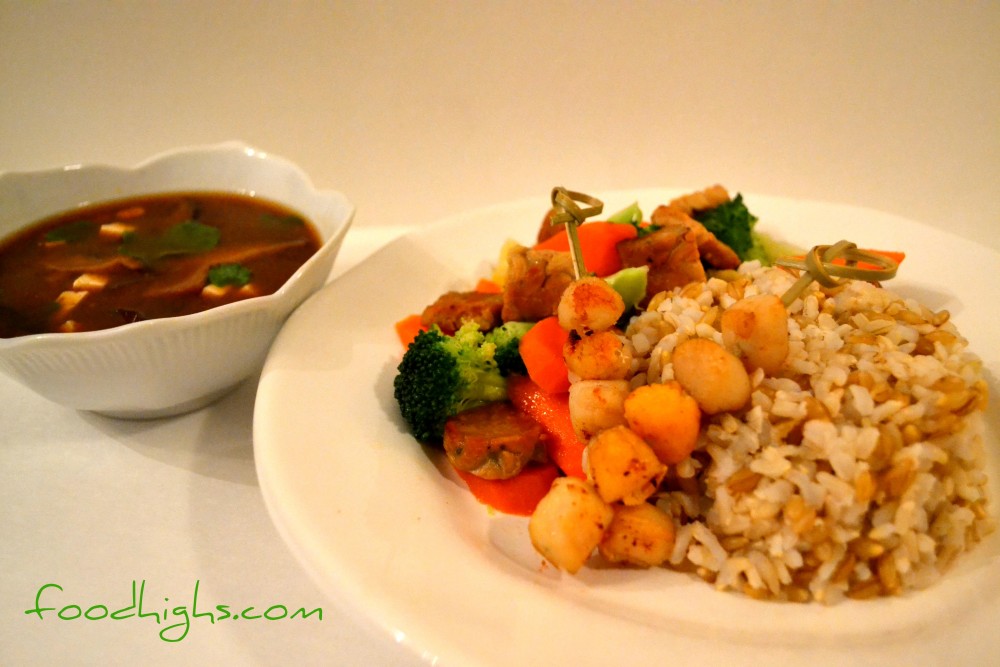 The scallops in my photo are just sad. Regrettably this is all I was able to get my hands on. Soooooo… please consider them "stand-ins". Feel free to use any scallop you like! The photo does not do rice these grains and salad justice! Serve this up for a beautiful, healthful, and tasty presentation.
Brown Rice and Barley
brown rice, cooked
barley, cooked
Combined the amount you will eat at a ratio of 3 parts brown rice to 1 part wheatberries. Add salt, and a bit of water. Heat in a small pot, stirring gently until warmed through.
Watercress Soup
2 1/2 c water
1 piece kombu, 2 in long
2 shitake mushrooms, soaked, stemmed, sliced
1/4 c tofu, cut into 1/4 inch cubes
2 – 2 1/2 t barley (mugi) miso, to taste
1/4 bunch watercress
Place water, kombu, and shitake in a pot and bring to a boil. Cover and reduce to simmer. Simmer 10 minutes. Remove kombu. Add tofu and tofu and miso; simmer on very low heat another 2-3 minutes.
Place a couple sprigs of watercress into bottom of each bowl. Pour hot soup over watercress. Serve immediately.
Ginger-Broiled Scallops
1 lb fresh scallops
1/2 T freshly grated ginger
1/4 c water
2 T tamari
1 T sake or rice wine (optional)
1 fresh parsley sprig,as garnish
Clean scallops and place in a bowl. Mix remaining ingredients, except for parsley, and pour over scallops. Marinate for 15-20 minutes. Place scallops on baking sheet and broil until tender, about 5-10 minutes. Don't let them get tough! Serve, garnished with parsley.
Boiled Salad with Tempeh
dark sesame oil
1/2 c cubed tempeh, 1 inch pieces
1 slice of fresh ginger
water
tamari, to taste
about 1/4 c carrots, sliced on diagonal
1 c broccoli florets
1/2 c cabbage, cut into 1 inch chunks
Saute tempeh and ginger in oil for 3-4 minutes. Add just enough water to cover the bottom of the skillet. Cover. Reduce heat to low. Simmer 25-30 minutes. Season with tamari, simmer another 5-10 minutes. Remove cover. Cook off liquid. Set aside. Remove ginger.
Blanche carrots for a minute or two in boiling water. Remove from water. Drain. Blanche broccoli for 2-3 minutes in boiling water, or until bright green and slightly crisp. Remove from water. Drain. Repeat with cabbage. Add all ingredients to tempeh. Mix and serve.
Nori Condiment
nori, torn into approximately 1 inch squares
equal parts water and tamari, enough to cover nori
Put all ingredients into a pot. Bring to boil. Reduce to simmer. Gently simmer until all liquid is gone.
Serve over rice and other grains.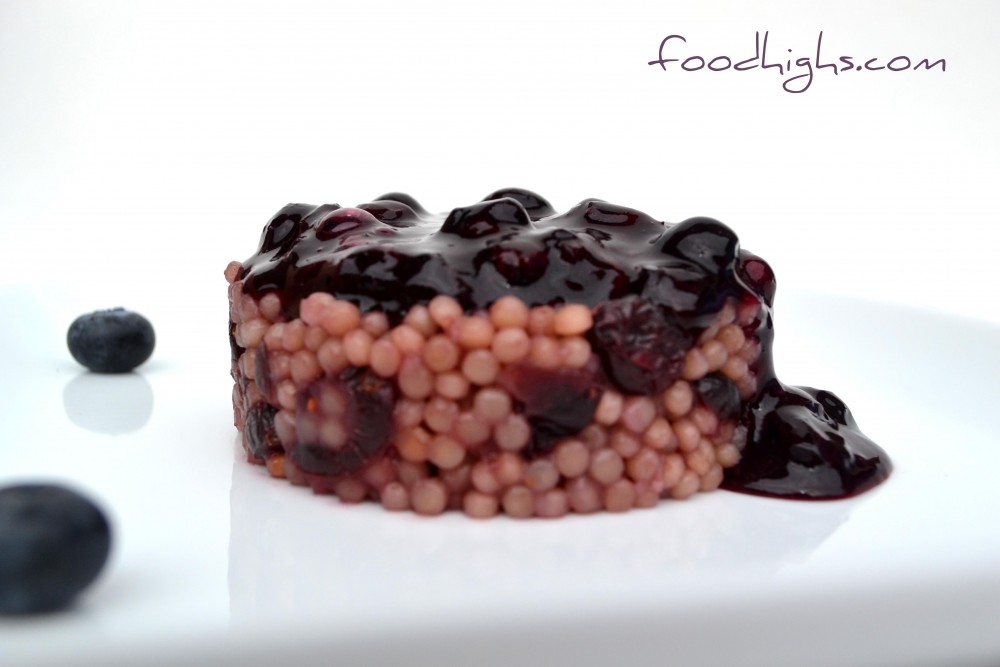 This dessert is unique and fun! Make this ahead, and let it cool thoroughly so the cake will hold together nicely. I made individual mini cakes using a cookie cutter as a mold.
Blueberry Couscous Cake
2 1/2 c apple juice or water
pinch of salt
1/2 c raisins
2 c couscous
Topping
1 c water
1/4 c barley malt
pinch of salt
3 c fresh blueberries
2-3 T kuzu, diluted in a few T water
Bring apple juice (or water), sea salt and raisins to a boil. Cover. Reduce to simmer, simmer for 10 minutes. Add couscous, cover, simmer for 3-5 minutes. Turn off heat, keep covered, and allow to sit for 10 minutes. Couscous should be thoroughly cooked. Remove cover. Allow to cool about 10 minutes. Place couscous into a glass or ceramic cake pan.
To make topping, place water, barley malt, sea salt, and blueberries into a sauce pan and bring to boil. Reduce heat and and add diluted kuzu. Stir constantly to prevent lumping. Simmer for 2-3 minutes and remove from heat.
Press couscous down firmly (with a rice paddle, if you have one), before adding topping. Pour topping over cake, spreading evenly. Set aside and allow to cool before eating.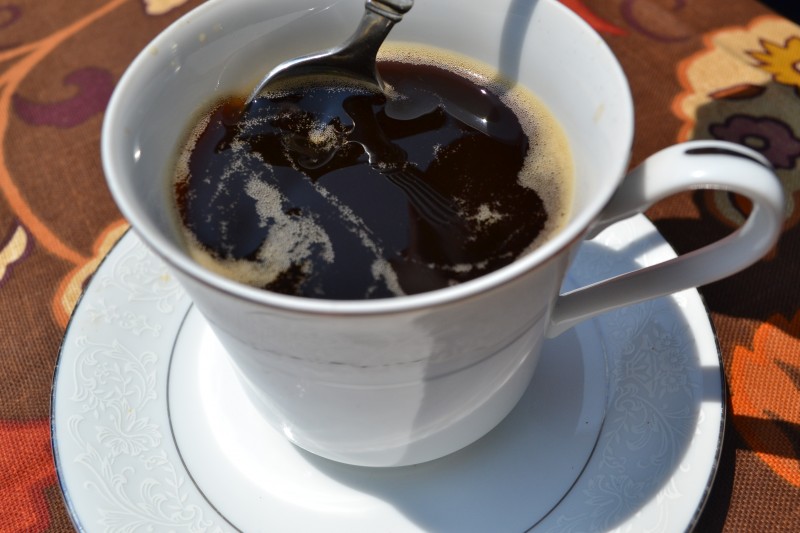 Grain Coffee and Bancha Tea
Make-Ahead, click here
If Bancha twigs are unavailable, you may opt for a good green tea
Plan Ahead to make tomorrow easy!
For your pancake breakfast, Mix together 1 c buckwheat flour, 1/2 c whole wheat flour or whole wheat pastry flour, and 1/8 t sea salt; then add about 1 1/2 c apple juice or water to make a batter with a consistency you like.  Mix well. Cover with a damp cloth and allow to sit in a warm place overnight. This will make your pancakes lighter and rise a bit.
Tomorrow's dinner includes a chickpea soup. If you have fresh chickpeas, be sure to give them a good 8 hours to soak in a bowl of water. You can do this before you go to bed tonight, or when you get up in the morning. Just be sure they are refrigerated after 8 hours, if you are not yet ready to make soup.
Enjoy!
If you like anything you see, please LIKE and SHARE!