Menu
Breakfast
buckwheat pancakes
applesauce
steamed chinese cabbage
onion pickles
bancha tea
Lunch
whole-grain and vegetable patties
grated daikon
steamed kale and carrots
bancha tea
Dinner
brown rice
chickpea soup
hijiki salad
boiled watercress
sauteed burdock with sesame seeds
grain coffee
[note_box]This is not a calorie counting diet. It is about eating specific foods in balance. Remember that throughout the day, you will need:
about 50% whole grains
about 30% locally grown (organic, if possible) vegetables
5-10% beans and sea vegetables
5-10% soups
5% condiments and supplimentary foods, including beverages, fish and desserts[/note_box]
Hey friends, My apologies!
Food photos are missing from this page.

I got sidetracked today… by good friends, good food, and tinikling (see photo).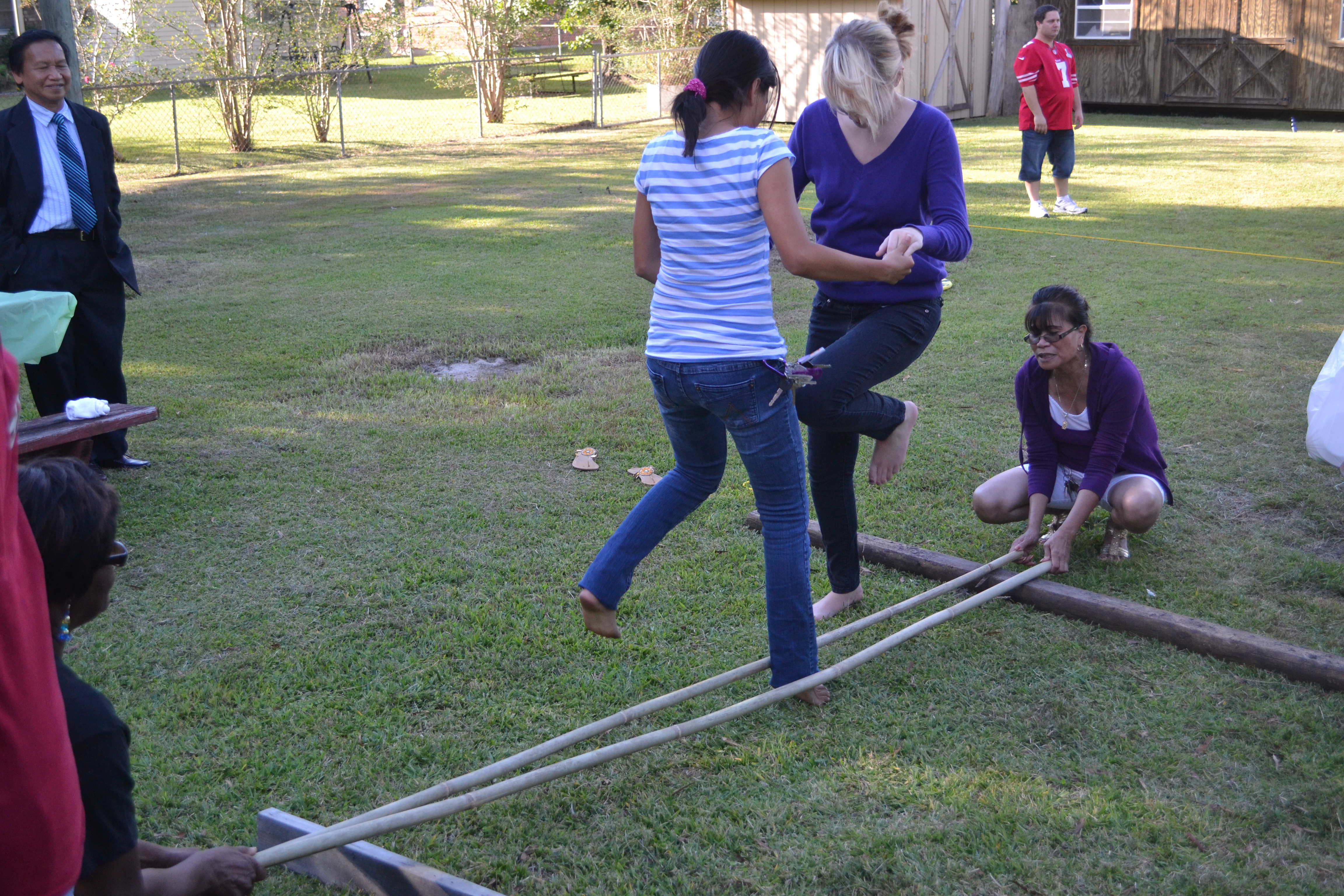 Menu photos will be forthcoming!
But for those following along, I want you to have your recipes on time! Most of this involves methods you have already been using over the past three days.
Enjoy!
Recipes and menu are taken from The Macrobiotic Way by Michio Kushi and Stephen Blauer. There are some modifications for the purpose of making these meals easily manageable. The essence and flavors are left in tact.
If you are just beginning a Macrobiotics Diet, you will find this week's menu to be a GREAT introduction to methods and beneficial ingredients. You can build a sustainable diet from here! My blog will continue to provide you with additional recipes and resources. If this is a diet that you wish to follow – consult your healthcare provider – then I highly recommend that you buy the book. It contains much useful information on nutrition.
If you do not follow a Macrobiotics Diet, feel free to use these ideas and alter seasonings to your taste and diet. If you like, add meat on the side!
Recipes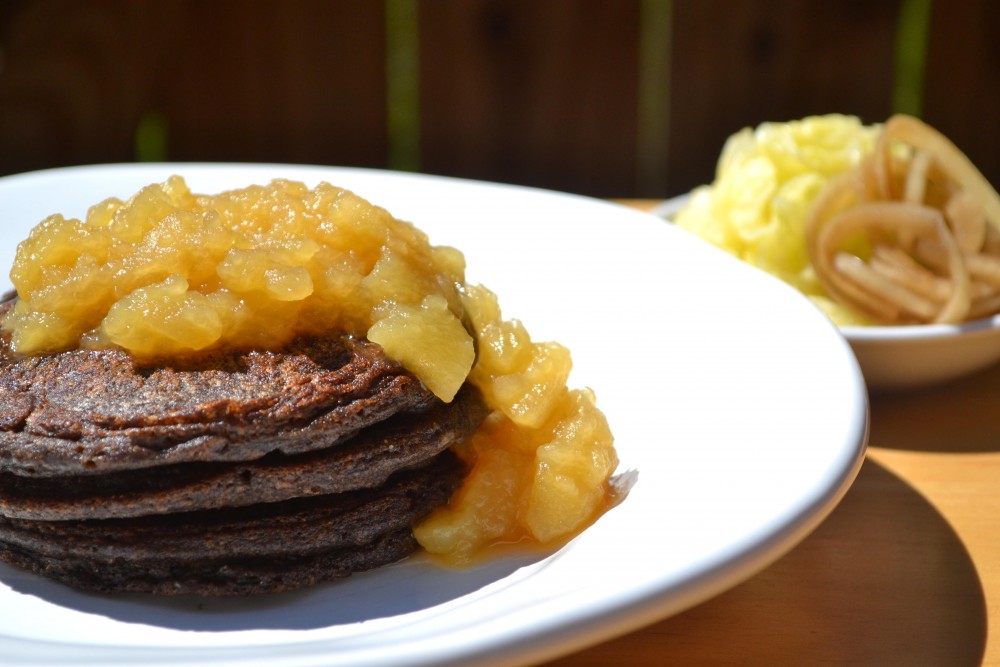 Buckwheat Pancakes
Remember that you are using very healthful whole grains. This does not taste like an Aunt Jemima pancake.
1 c buckwheat flour
1/2 c whole wheat flour or whole wheat pastry flour
1/8 t salt
1 1/3 cup water or apples juice (do your taste buds a favor, use apple juice)
light sesame oil
Hopefully, you completed the first step before going to bed last night… soaking.
The night before: Mix together 1 c buckwheat flour, 1/2 c whole wheat flour or whole wheat pastry flour, and 1/8 t sea salt; then add about 1 1/2 c apple juice or water to make a batter with a consistency you like.  Mix well. Cover with a damp cloth and allow to sit in a warm place overnight. This will make your pancakes lighter and rise a bit.
The morning you plan to eat pancakes: lightly oil a skillet or pancake griddle with sesame oil, and heat. Pour a small amount of batter on the skillet to form a round cake. When little bubbles appear, flip pancake over. Cook until golden brown.
Repeat.
Applesauce
2 c water
8-10 apples, peeled and sliced
1/4 c barley malt (optional)
pinch of sea salt
Place all ingredients in a pot and bring to a boil. Reduce flame and simmer until apples are soft. Puree. Cooking apples longer makes them sweeter.
Steamed Chinese Cabbage
water
chinese cabbage, sliced into 1 inch strips (desired amount)
Steam cabbage for about 2 minutes. Cabbage should be slightly crisp.
Onion Pickles
Make-ahead, click here
optional: good quality prepared fermented pickled vegetables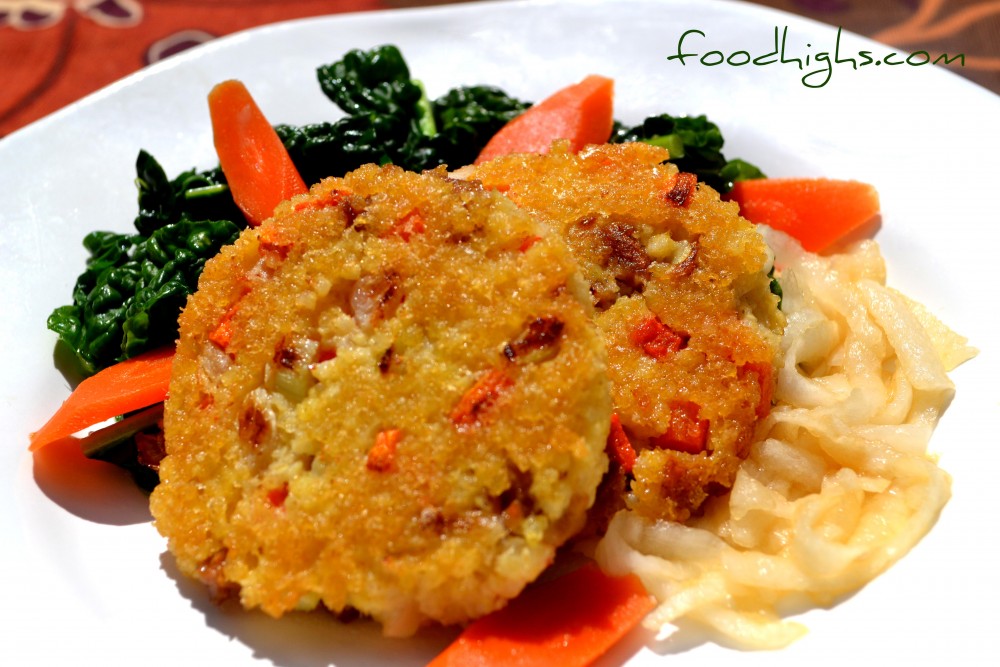 Whole-Grain and Vegetable Patties
Yum!!! Sidenote: Because my millet was pre-cooked and refrigerated, this saved time, but I did need to reheat it with a bit of water in a small pot. This pulls out some of the starch in the millet so that, when cooled, it forms into nice little patties.
2 c cooked millet
1/2 c onion, diced
1/4 c carrots, diced
2 T celery, diced
1/4 c cooked seitan
1/2 c water
tamari, to taste
whole wheat pastry flour or whole wheat flour (optional)
dark sesame oil
fresh parsley sprigs, as garnish
In a bowl, thoroughly mix together millet and vegetables. Mix in seitan. Mix in water (easy on the water so as to not get them too wet) and a small amount of tamari. Grains should be moist enough to form patties. If too dry, add water. If too wet, add flour.
Portion and shape batter into patties.
Add oil to a skillet. Cook patties on medium-low heat until golden brown on both sides.
Grated Daikon
daikon, amount desired
tamari, to taste
fresh parsley sprig or daikon leaf
Grate daikon. Season and garnish.
Steamed Kale and Carrots
water
carrots, sliced diagonally (desired amount – 1 part)
kale, sliced into 1 inch strips (desired amount – 3 parts)
roasted sunflower seeds
Steam carrots over boiling water or in a steamer until tender – about 3-5 minutes. Steam carrots over boiling water or in a steamer until tender – about 2-3 minutes. Kale should be slightly crisp and bright green.
Plate and mix in seeds.
Dinner
Brown Rice
1 c brown rice, cooked, see Make-Ahead here
Chickpea Soup
1 c chickpeas, soaked 6-8 hours
1 kombu strip, 6-8 inches long, soaked and cut into 1 inch squares
1 c onion, diced
5 c water
sea salt, to taste
chopped scallions or parsley as garnish
Place chickpeas, kombu, and onion in a pot with water. Bring to boil; reduce to simmer. Cover. Cook until beans are tender.
Add seasonings and simmer for a few minute more to develop flavor.
Hijiki Salad
water
1 c soaked and sliced hijiki
several drops of tamari
1/2 c onion, cut into half moons
1/4 c carrots, cut into matchsticks
1/2 c celery, diagonal slices
2 T roasted sunflower seeds
Place about 1 inch water in a saucepan and bring to a boil. Add hijiki and tamari. Cover. Reduce heat. Simmer 15-20 minutes. Remove, drain, place in a bowl.
In boiling water, cook onions for about a minute. Remove onions, drain, and add to hijiki. Boil carrots in the same water for about 2 minutes. Remove, drain, add to hijiki and onions. Repeat with celery, boiling for a bout a minute. Add to hijiki. Add sunflower seeds and mix.
Optional: serve with tofu or umeboshi dressing (purred umeboshi, loosened with water, and seasoned with scallion and seeds or tahini)
Boiled Watercress
Place desired amount of watercress into boiling water for only 45-50 seconds. Quickly remove and drain. Serve with a lemon slice, if desired.
Sauteed Burdock with Sesame Seeds
dark sesame oil
burdock, cut into matchsticks or shaved, desired amount
water
sesame seeds
brown rice vinegar
tamari, to taste
Saute burdock root over medium-high heat in sesame oil for about 4-5 minutes. Add enough water to cover the bottom of the skillet. Cover. Reduce heat to medium-low. Simmer until tender. Remove cover and cook off liquid.
Dry roast sesame seeds in a stainless steel skillet, until they are golden brown and release a nutty fragrance. Stir seeds constantly to prevent burning. Remove seeds from pan and grind them until they are about half crushed. Mix in a little brown rice vinegar and tamari, to taste. Add enough water to make a thick paste.
Coat burdock with seed paste and serve.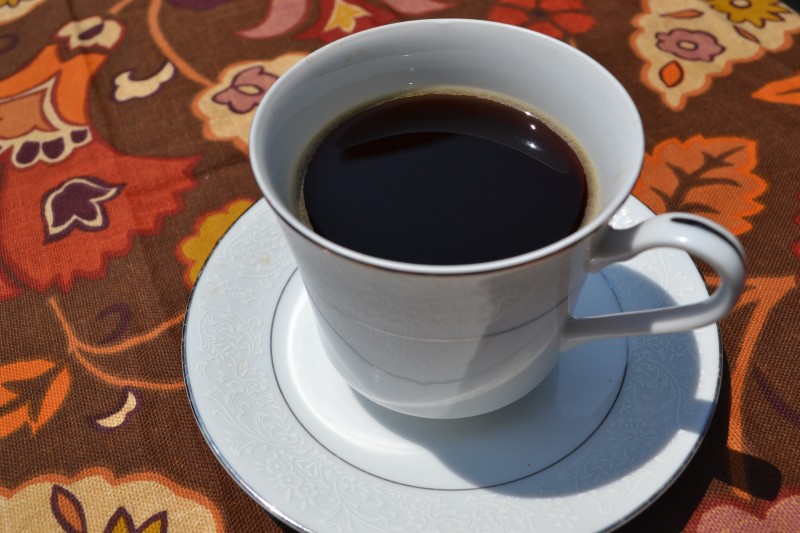 Grain Coffee and Bancha Tea
Make-Ahead, click here
If Bancha twigs are unavailable, you may opt for a good green tea
Plan Ahead for an easy day tomorrow!
Make soft millet and squash – using congee method. See recipe here
Enjoy!
If you like anything you see, please LIKE and SHARE!