Macrobiotics Healing Week – Day Seven
Menu

Breakfast
mochi
grated daikon
toasted nori strips
boiled chinese cabbage
bancha tea
Lunch
fried udon and vegetables
steamed kale
grain coffee
Dinner
brown rice and wheatberries
clear broth
adzuki beans with kombu and squash
arame with carrots and onions
boiled mustard greens
boiled red radishes with umeboshi-kuzu sauce
This is not a calorie counting diet. It is about eating specific foods in balance. Remember that throughout the day, you will need:
about 50% whole grains
about 30% locally grown (organic, if possible) vegetables
5-10% beans and sea vegetables
5-10% soups
5% condiments and supplimentary foods, including beverages, fish and desserts
Recipe

Recipes and menu are taken from The Macrobiotic Way by Michio Kushi and Stephen Blauer. There are some modifications for the purpose of making these meals easily manageable. The essence and flavors are left in tact.
If you are just beginning a Macrobiotics Diet, you will find this week's menu to be a GREAT introduction to methods and beneficial ingredients. You can build a sustainable diet from here! My blog will continue to provide you with additional recipes and resources. If this is a diet that you wish to follow – consult your healthcare provider – then I highly recommend that you buy the book. It contains much useful information on nutrition.
If you do not follow a Macrobiotics Diet, feel free to use these ideas and alter seasonings to your taste and diet. If you like, add meat on the side!
Mochi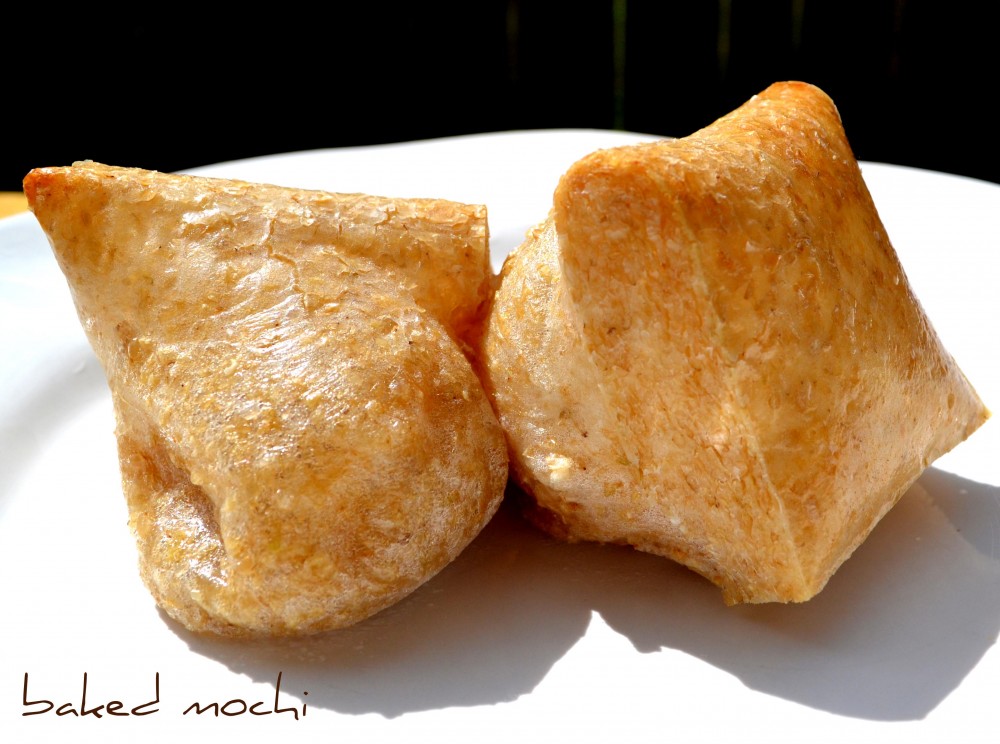 The original recipe , per The Macrobiotic Way, requires a long process, including pounding rice for one hour. One of these days, I will get around to doing this, and blogging it. For today, we are using a prepared mochi product. This mochi is different from the fun puffy colorful processed prepared mochi you can find in a lot Asian markets. This product is made of only organic brown rice and water.
Making this mochi for breakfast is almost as easy as pouring a bowl of cereal!
Macrobiotic cooking is predominantly done stove-top on a gas range. With an exception of bread-baking, I have not been asked to turn on my oven all week!  If you toast mochi, per recipe instructions, it gets all cheesy and stretchy on the inside, while maintaining a crunch on the outside. This is very good with stir-fried vegetables.
When baked at 450°, per package instructions, it puffs up! It is hollow inside and can be filled to create a savory dish, or a sweet one.
Mochi breakfast this morning
Cut mochi is into squares, and toast on medium-low heat until golden brown on each side. Cover while cooking to ensure it gets cooked all the way through.
Serve with grated daikon, sprinkled with a little tamari, toasted nori strips, boiled Chinese cabbage, and bancha tea.
Plan ahead for dinner!
Soak one cup of adzuki beans in water
Soak wheatberries, desired amount
Fried Udon and Vegetables
The photo above contains soba noodles, not udon noodles. Udon noodles mysteriously vanish in my house. Still, this is a whole grain! So I am not cheating!
1 package udon noodles
dark sesame oil
1 medium onion, cut into half-moons
1 celery stalk, sliced
1 carrot, cut into matchsticks
tamari, to taste
Prepare noodles according to package instructions.
Heat oil in skillet and saute onions for 2-3 minutes over med-high heat. Add celery and carrot and saute another 3-4 minutes. Place noodles on top of vegetables. Cover, Cook until vegetables are tender.
Remove cover. Mix in a little tamari.
Steamed Kale
water
kale (desired amount)
tamari, to taste, if desired
Steam kale for about 5 minutes. Season with tamari, if desired. Steam for another minute. Kale should be slightly crisp and bright green.

Recipes listed in the order in which they appear in the Photo, left to right.
Arame with Carrots and Onions
Arame is a mild tasting sea vegetable. Add it to dishes for a boost of nutrition!
dark sesame oil
1 c arame, washed and drained
1/2 c onion, cut into half-moons
1/2 c carrots, cut into matchsticks
water
tamari, to taste
Saute arame in oil for 2-3 minutes. Set onions and carrots on top of arame and add enough water to cover arame. Add a few drops of tamari. Cover, and reduce heat to medium-low. Simmer for about 20 minutes. Add tamari, to taste, and simmer until all liquid is cooked off. It is ready to serve.
Boiled Mustard Greens
1/2 to 2/3 lb mustard greens, cut diagonally into 2 in pieces (about 4 cups)
water
Place one inch of water in a pot. Bring to boil. Add greens. cook for 2-3 minutes, or until greens are slightly crisp and bright green.
Alternatively: Instead of cutting greens, cut them whole. Cool greens. Stack them. Roll them. Squeeze out water. Then slice them in rounds.
Adzuki Beans with Kombu and Squash
Because I had extra adzuki beans already cooked, I cut my squash smaller and added the beans. Per the recipe, squash should be broken down more than it is in the photo. I just happen to like it this way.
1 kombu strip, 6-8 inches long, cut into 1 inch squares
1 c buttercut squash or Hokkaido pumpkin, cut into 2 inch chunks
1 c adjuki beans, soaked 6-8 hours
water
sea salt, to taste
Place kombu in a pot and set squash on top. Place adzuki beans on top of squash. Add just enough water to cover squash but not beans. Bring to a boil, cover, and reduce flame to medium-low. Simmer 1 1/2 to 2 hours or until beans are fairly soft. Season with a little salt (1/4 t per cup of beans, at most). Simmer another half hour until beans are very creamy and much of the liquid is gone. Place in a bowl and serve.
Boiled Red Radishes with Umeboshi-Kuzu Sauce
2 c water
4 shiso leaves
1 umeboshi plum (use plum paste, to taste, if this is what you have)
2 c trimmed red radishes
3 T kuzu
1 T sliced scallions or parsley, as garnish
Place water, shiso, umeboshi plum, and radishes in a pot and bring water to a boil. Cover, reduce heat to medium-low, and simmer until radishes are tender. Remove and drain radishes and shiso leaves, and set umeboshi plum aside. Reserve cooking water (at this pint, I whisk in a little umeboshi plum paste, as I do not have ume plums).  Place radishes in a serving bowl. Chop shiso and set aside. 
Dilute kuzu in a few tablespoons of water and pour into cooking water. Stir constantly to avoid lumping. When sauce become thick and creamy, remove from flame and pour over radishes. Placed chopped shiso leaves in the center of radishes. Garnish and serve.
Brown Rice and Wheatberries
3 parts brown rice, cooked
1 part wheatberries, soaked for 6-8 hours, and then cooked
Combine ingredients and gentle heat, adding enough water to loosen rice and prevent burning on the bottom of the pot. Gently stir until heated through.
Clear Broth
1 kombu strip, 4 inches long, soaked
water
1-2 medium stalk celery, thinly sliced
2 cups Chinese cabbage, sliced or cut into chunks
sea salt, to taste
chopped scallions, garnish
Place kombu in water and bring to boil. Cover, reduce heat to medium low and simmer for 10 minutes. Remove kombu. Add celery and cook for one minute. Add Chinese cabbage and cook for 2 minutes. Season with sea salt and simmer for 2 more minutes. Garnish with green onion.
Grain Coffee and Bancha Tea
Make-Ahead, click here
If Bancha twigs are unavailable, you may opt for a good green tea
Enjoy!
If you like anything you see, please LIKE and SHARE!