Creamy Celery Soup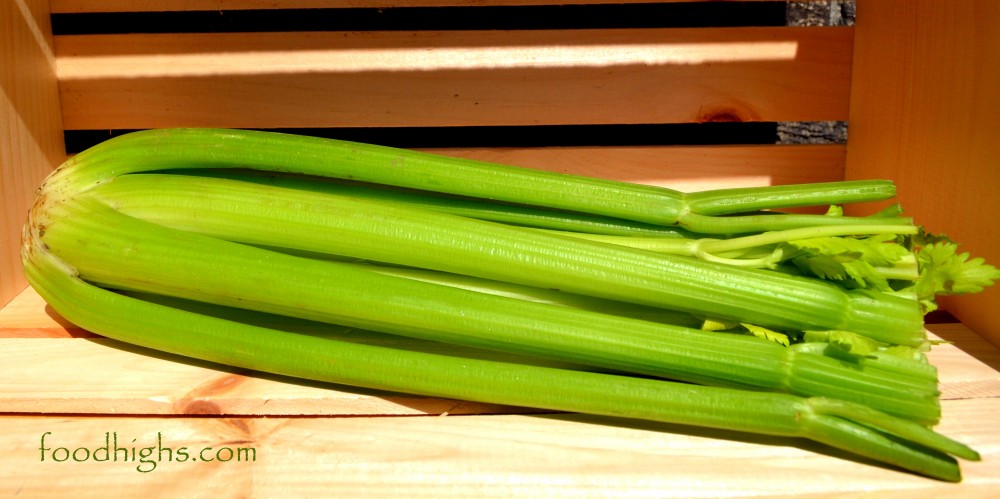 This one is for my friend Nancy, who is a fabulous cook, but wont admit it. In fact, Nancy is one of those people who could probably, actually, do anything! Repairs? Got it. Organize anything… done. Decorating… no problem. Put up shelving, grow a garden, run a garage sale, host a party, and take care of a sick friend, all in one weekend… no problem. She can do it and make it look easy.
But for some reason, she dislikes cooking! She has skills. But she would prefer to do other things. I do not understand this way of thinking. But I can't do most of those other things, so I will happily stay in the kitchen and throw together recipes to share with her – and you!
So, why celery?
One… Nancy requested it.
Two… Among many other benefits, celery is anti-inflammatory, and a great source of phytonutrients! Celery benefits the cardiovascular system and digestive system.
Three… A few uses in TCM: Celery is a cooling food; it is beneficial for the stomach and spleen-pancreas, it calms an aggravated liver, and improves digestion. It purifies the blood, dries damp conditions, and because it is high in silicon, is very beneficial for joints, bones, arteries, and connective tissue.
Go celery!!!
Celery is such an under-appreciated vegetable. It is good for almost everybody. It is a vital ingredient in French cooking; you can't make mirepoix without it.
So, let's make soup!
If we are going to take dairy out of our celery soup, and still have it be a food high per flavor and texture, we need to add creaminess another way, and bump up flavor with herbs and aromatics. A natural and very pleasing pairing with celery is tarragon. Tarragon has a wonderful fennelly fresh kind of flavor, and a delightful aroma. Its taste can be compared to licorice. Personally, I do not like licorice, but love tarragon… 'not sure what that means. In any event, it makes celery soup great! And the soup does not taste like fennel or licorice. Its just good!
Creaminess and thickener suggestions for multiple diets:
Vegan – add potato to the pot with celery – a ratio of about 1:5 or 1:6 will do the trick (potato to celery), or replace heavy cream with any vegan milk, such as coconut, rice, or almond
LowFODMAP and Lactose-Free – replace heavy cream with any lactose-free milk. Leave out onion (for Low FODMAP). Bump up flavor with herbs or green onion (green part only)
Paleo – Use coconut milk instead of heavy cream. Potato can also be used in moderation.
Another option: Parsnips are also starchy, and thicken a soup nicely. See below.
Wash and chop celery into fairly evenly size chunks for even cooking.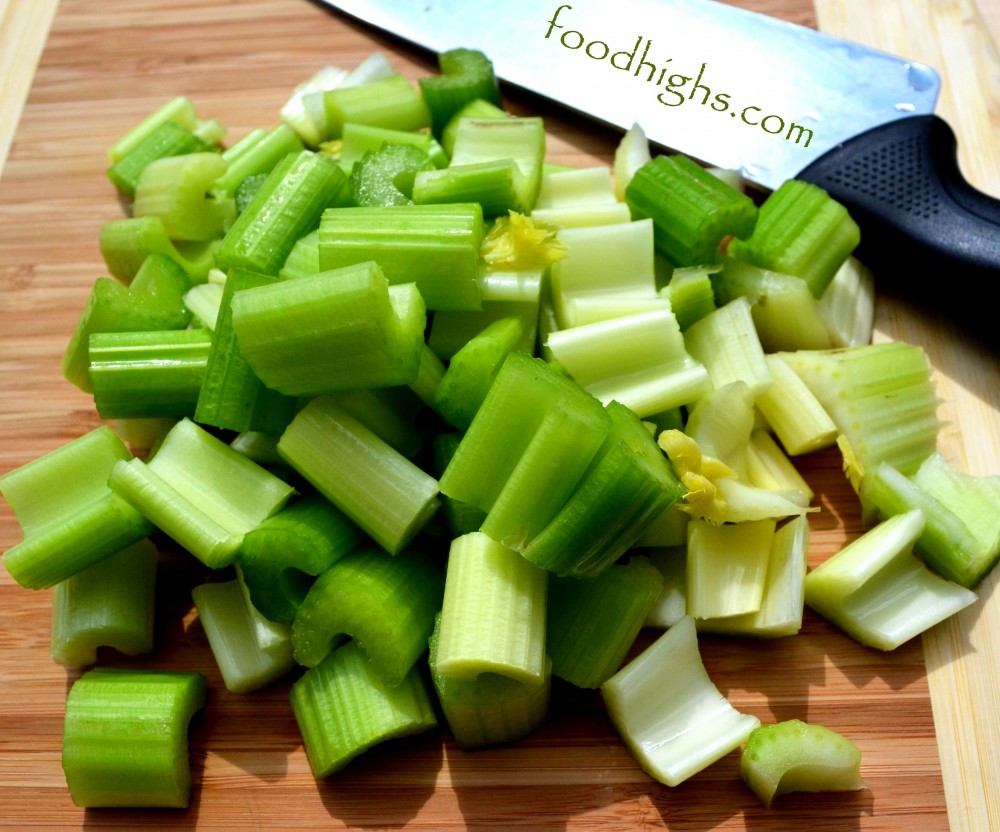 Optional: Adding a starchy vegetable, like potatoes or parsnip will eliminate the need for cream, or allow you to use less… your choice.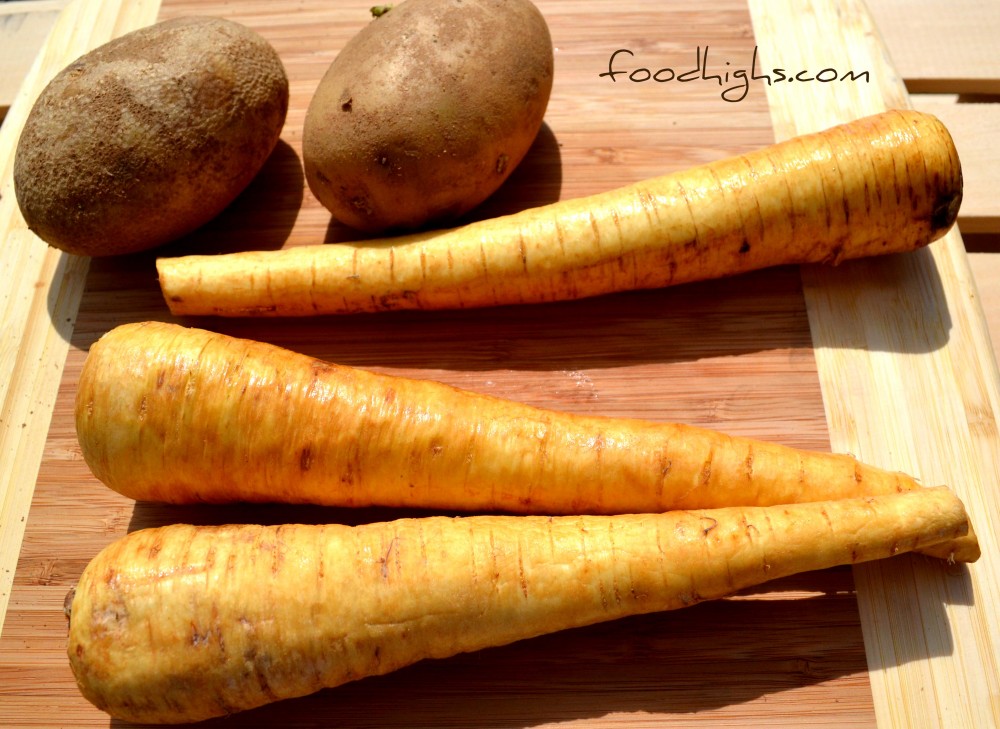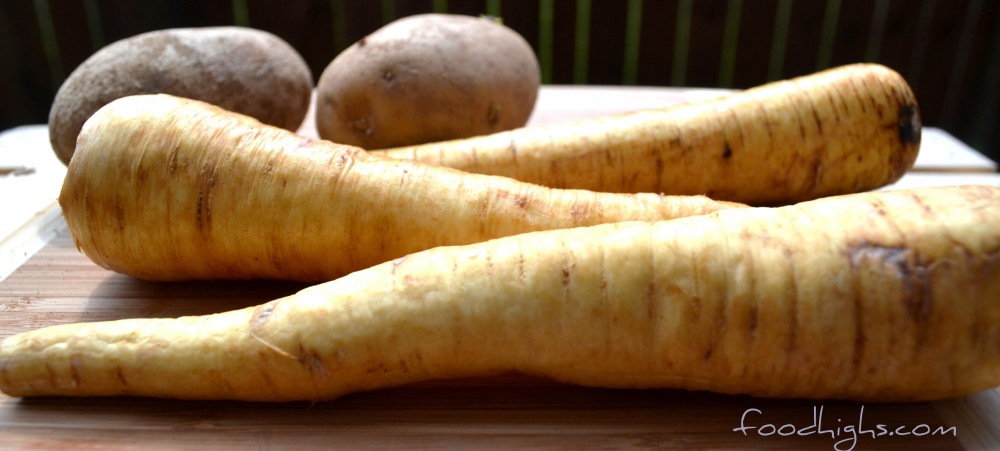 I chopped up a cleaned and peeled parsnip because I have one. The provides a bit of sweetness as well as starch. You really don't have to peel it. Often I leave peels on for nutrition. Buy organic, if you can.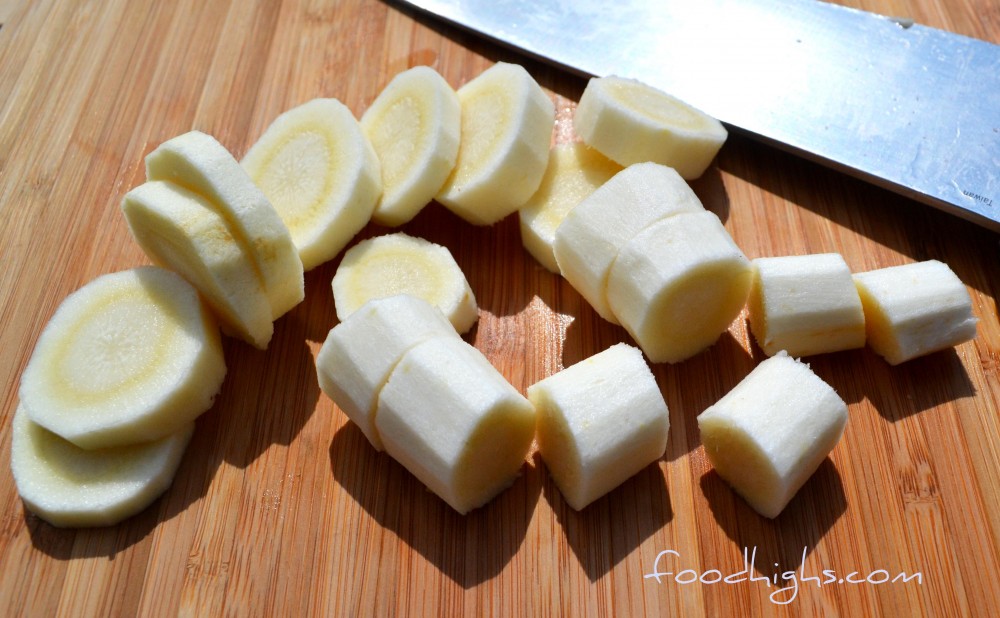 Veggies go into a pot with just enough water to cover them. Bring to a boil. Cover. Reduce to simmer. Cook until tender.

Oh no! I almost forgot my onions!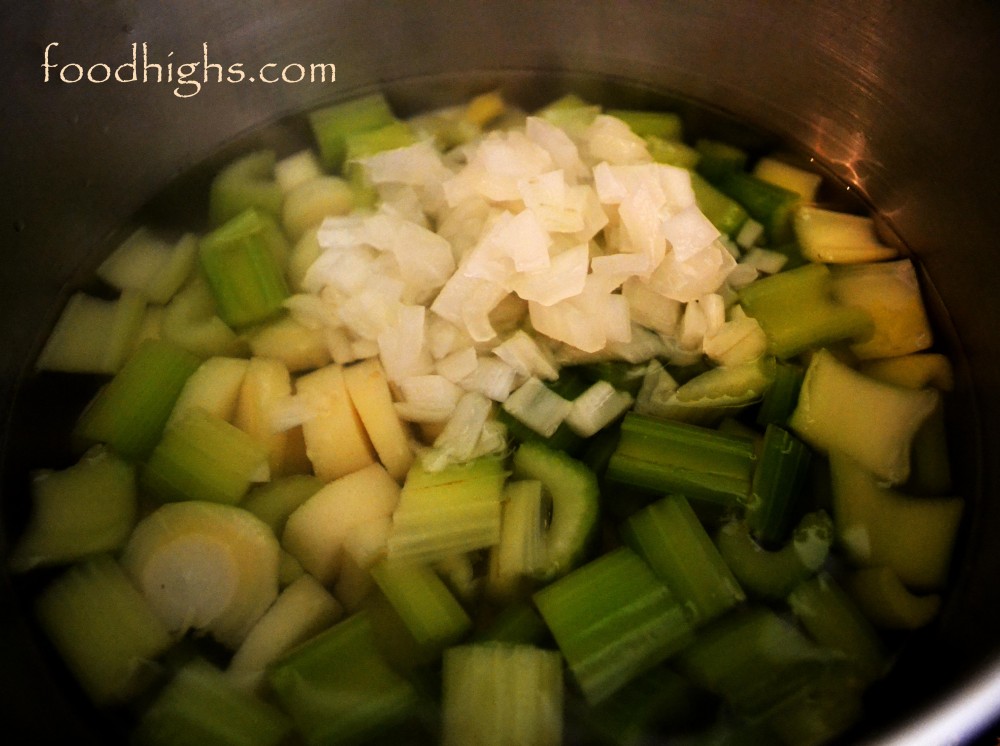 When veggies are tender enough, puree! You can add tarragon at this point as well. Dried does not need to cook long. Fresh needs only to wilt. So save this for close to the end. Tarragon pairs beautifully with celery, but overcooking it could make it bitter.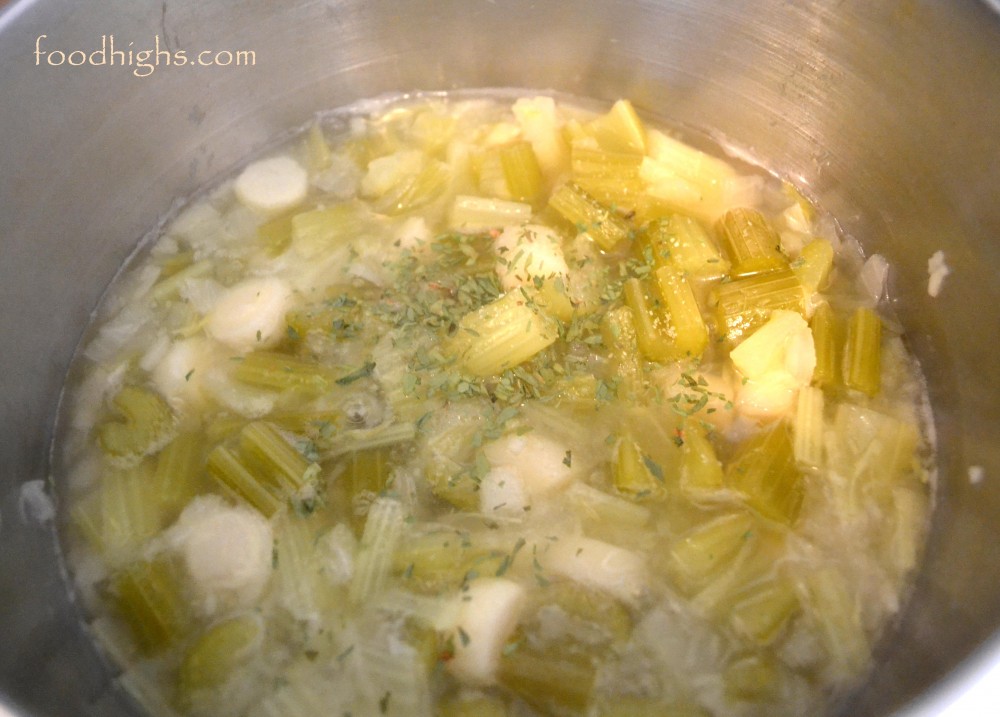 Because I like soup, especially creamy soup, and sauces too, an immersion blender is a MUST-HAVE. So much easier than trying to transfer hot soup to and from a blender. Just plug it in, blend it in the pot, and you are good to go. This is one of the few pieces of kitchen equipment that I view as vital. Plus, power tools are just cool. 🙂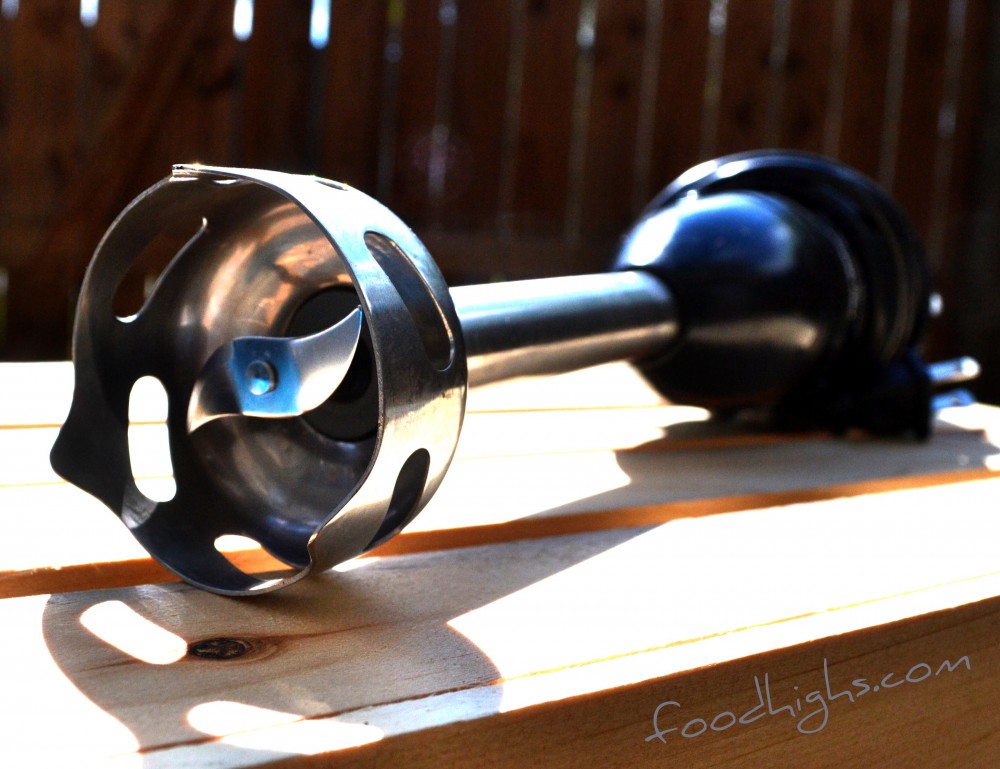 This is soup already. At this point, you can add cream, or not add cream. Garnish it up and make it pretty. This may look like baby food, but it tastes incredible! Adjust the thickness by either cooking out liquid or adding it. Alternatively, you can freeze it into individual servings for quick warm meals later.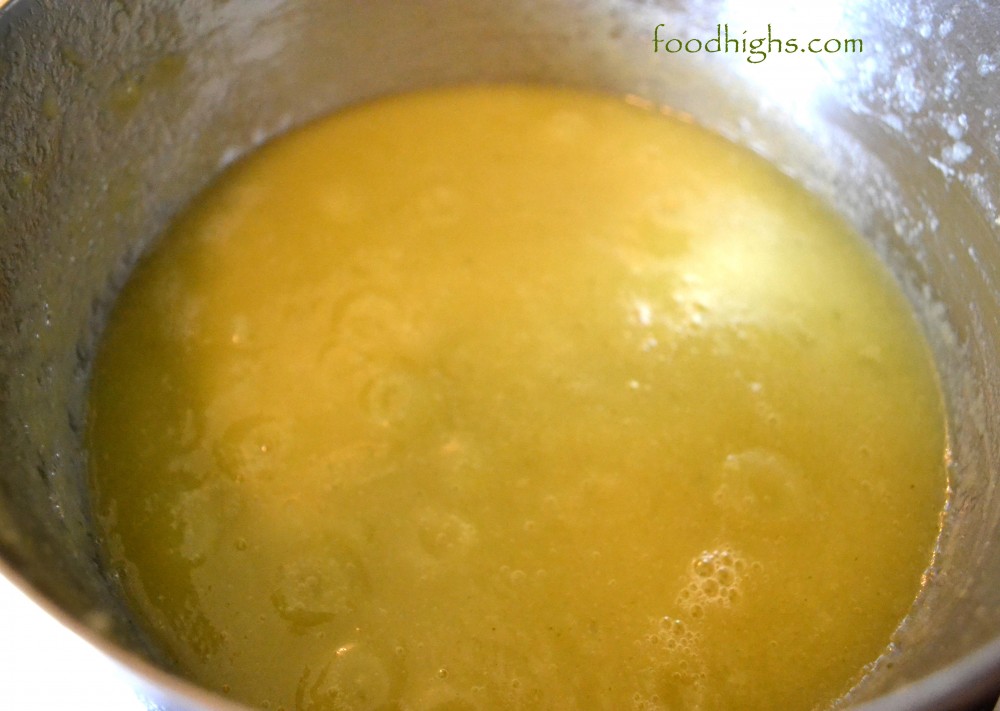 Voila! Creamy, delicate, delicious, comforting, nutritious… mmm
Sit back and relax with this!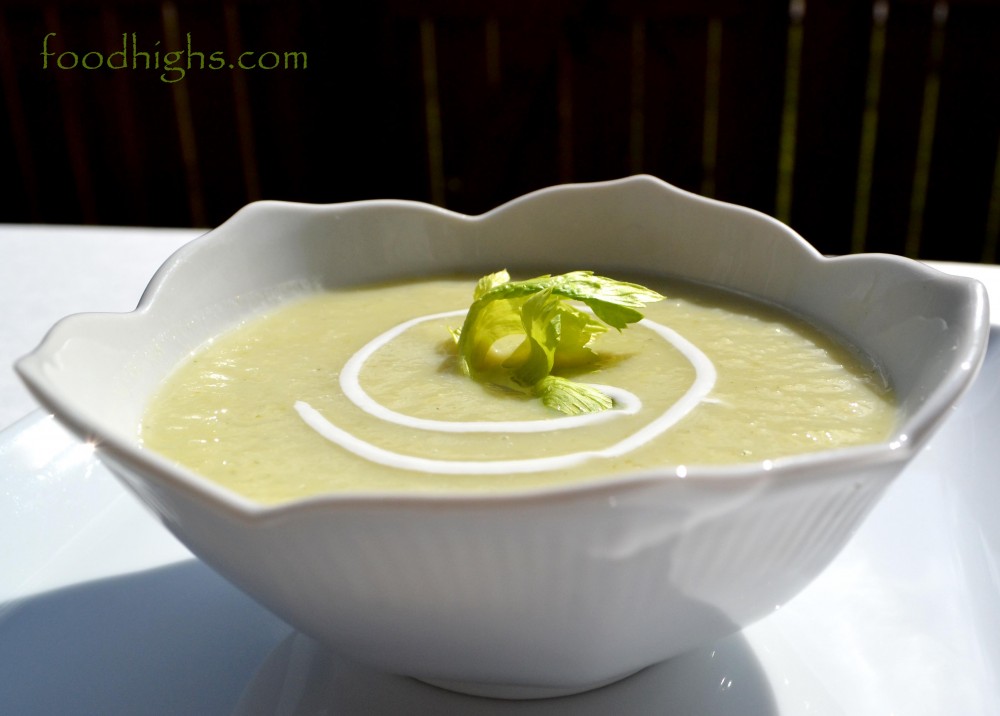 Creamy Celery Soup
3 cups celery, chopped
1/2 cup onion, chopped
liquid or broth, enough to cover celery (water or chicken stock can be used)
1/2 cup heavy cream or milk or potato – your choice per your diet
tarragon, 1/2-1 teaspoon fresh, chopped (you can use dried, if preferred)
salt and pepper, to taste (white pepper, if preferred)
Optional: for a bit of sweetness, add 1/2 cup chopped parsnip with the celery
Place celery and desired vegetables (onion, potato, parsnip) in a pot and add enough water to cover them. Bring to a boil. Reduce heat. Cover and simmer until vegetables are tender.
Puree until smooth in a blender, magic bullet, with an immersion blender… whatever you have. Be careful! Its hot! If using dried tarragon, add this now. Use only a little at a time until the flavor is pleasing to your palate. Cook for a few minutes to allow tarragon to develop.
At this point you have a great base. option: If you would like, you can freeze this into single serving sizes to reheat and add cream later.
If you used potato and/or parsnip, you only need to adjust liquid and season. If it is too thin, simply cook until soup reduces. If soup is too thick, add liquid. Add salt and pepper, to taste. 
If you are using a cream, simply add it in and gently simmer just until heated through. Adjust seasoning, if needed.
If using fresh tarragon, add this at the finish, or as a garnish. 
Option: garnish any way you like! You can use celery leaves, diced and blanched veggies, croutons, sour cream, bacon… whatever  suits your needs.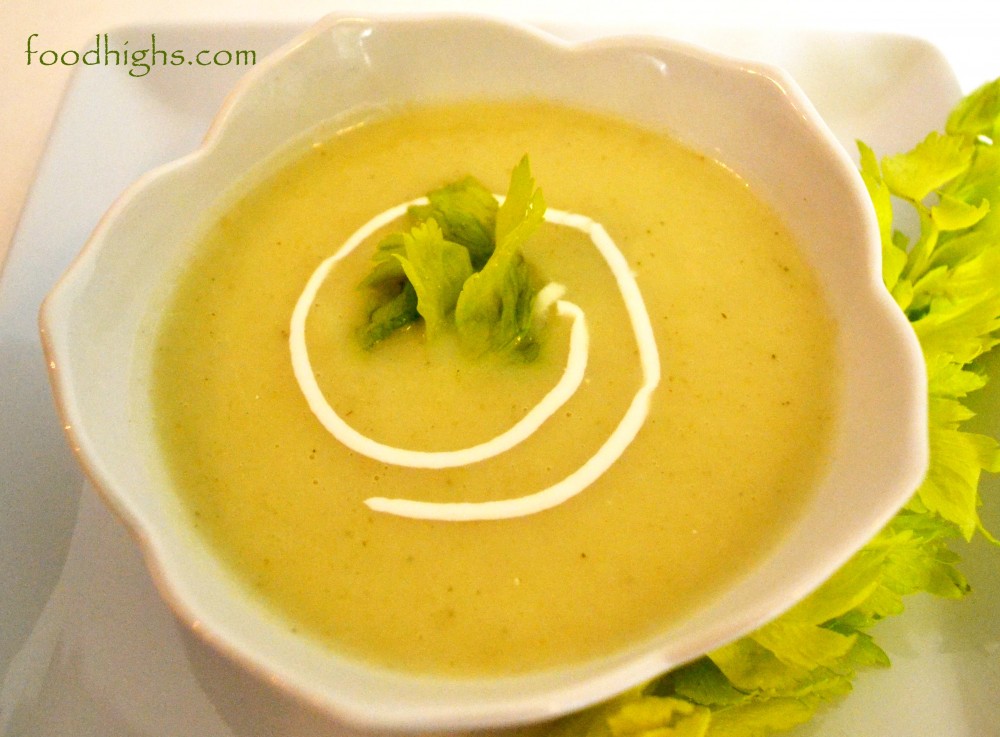 Enjoy!
If you like this, please like us on Facebook! Pin us. And share us.