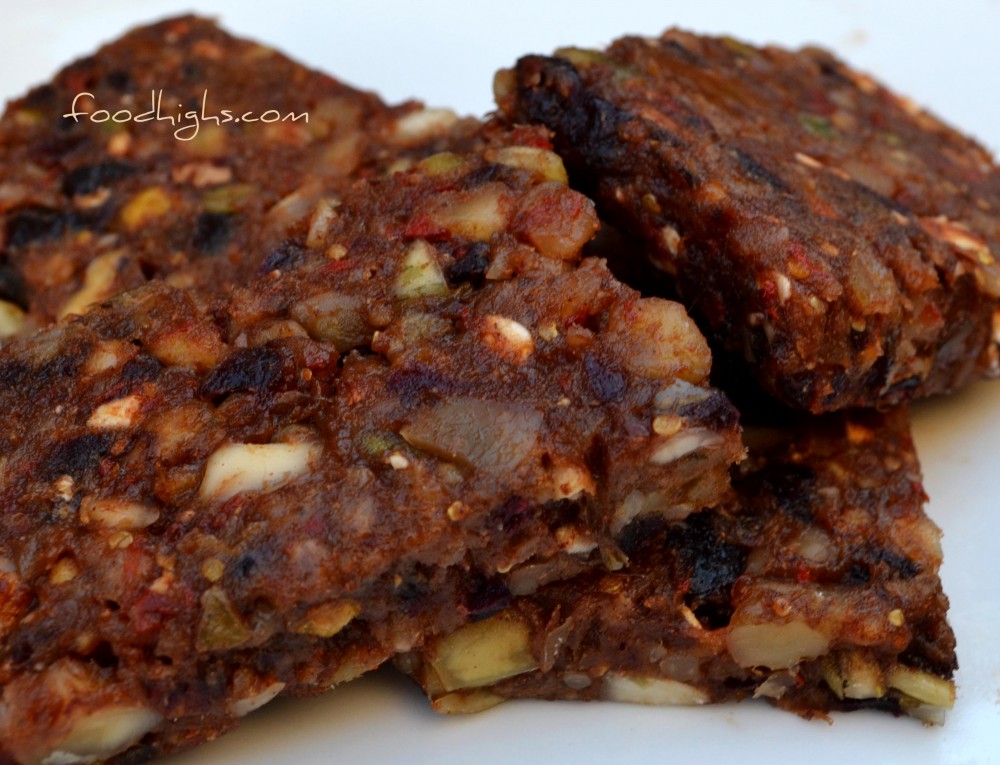 [pinterest text="Super Easy No-bake Nutrition Bars" layout="horizontal"]
If you find an easier method for making a nutrition bar than this anywhere, I want to see it!
You can always buy them already prepared. There are fabulous bars available. But for variety, control of ingredients, and to save some money, why not make your own?
If you make – or eat – nutrition bars, you already know how much they bring to the table for a healthful diet. Just the portability alone allows for a quick snack on the run, easy recovery after a workout, or even a quick breakfast before work or school. Add a green drink, and you are superman!
This particular method incorporates "soaking" a.k.a. "sprouting" (it is really soaking), which will increase bioavailability of nutrients!
If you make your own bars, you get to tailor them to your specific needs and taste. That pretty much sums up concept of Food Highs… there is no one-size-fits-all. You can't eat nuts? Use grains. You don't eat grains? Try seeds. You want to bump up your protein and also happen to be vegan and allergic to nuts? Fill your snack bars with beans and quinoa. You get the idea.
I intend to post more bars – bars for special purposes, baked bars, grain bars, allergen-free bars, etc… but this one is the EASIEST. Also, it is raw, gluten-free, can be vegan or paleo.
To make an easy raw nutrition bar at home, you only need "treats" and a puree… and a formula… I love formulas.
[note_box]Formula – 1 part "puree" to 3 parts "treats" = Easy Raw Bar![/note_box]
… and it is delicious too!
With a simple formula, you can mix and match to your hearts content! For the bars pictured, I basically threw in the kitchen sink! Usually, I am a bit more deliberate in my choices, but my daughter had mixed seeds and nuts, they were beautiful, and I don't waste. They turned out delicious! (See below)
To follow are some ideas you may choose to include, but don't limit yourself! Feel free to add to the list.
Puree Suggestions
puree of dried fruit – such as figs, dates, prunes, apricots, etc – click here for tips
nut butters
sunbutter
tahini (mixed in – a little goes a long way)
Treats Suggestions
raw nuts – walnuts, almonds, hazelnuts, pistachios, pecans, etc
raw peanuts
raw seeds – pumpkin, sunflower, sesame, etc
coconut
dried fruit – berries, raisins, apple, banana, apricot, anything!
flax seeds and chia seeds can be added in smaller amounts
dry cereals – oats (rolled), rice crisps (preferably, the kind with no additives), quinoa flakes, etc
Optional additions may include flavorings, nutritional supplements, and sweeteners.
Flavor
spices – cinnamon, mutmeg, ginger, ceyenne, whatever floats yer boat
vanilla bean or extract
juice – lemon, lime, orange, etc
chocolate – cacao nibs, cocoa powder, dark chocolate chips, dairy-free, soy-free
ground espresso beans
Sweetener
It is likely that your recipe is already sweet enough if you have added fruits. If not, consider…
honey, if you are on a paleo or an sc diet
agave, if you are vegan
barley malt, if you are on a grain diet
brown rice syrup, if you are a Christina Pirello fan
or another sweetener of your choosing
Bump up Nutrition
nutritional yeast
dulse flakes
whatever you feel you need to be healthy and strong
Easy Method
Step One: Soaking
Use raw nuts and seeds.
The night before… place all the nuts and seeds that you plan to use in a jar or glass bowl – except for flax and chia seeds. Cover them with water, the best you have available. Refrigerate them and allow to soak while you sleep. Note: if you are using cashews, they really only need to soak for about 30 minutes.
Why soak nuts and seeds?
This simple method unlocks nutrition, making it more bioavailable, meaning your body will be able to process and absorb more nutrients!
It improves texture, giving raw nuts and seeds a delightful bite.
It improves taste, removing some of the bitterness. You will have a sweeter product without added sugars.

Step Two: Combining Ingredients
Drain nuts and seeds very well. Add any other ingredients you would like until you have the amount desired. Rough chop them to the texture you desire. For a more complex texture and bars that will hold together better, puree half of the mixture and chop pieces small. Set aside.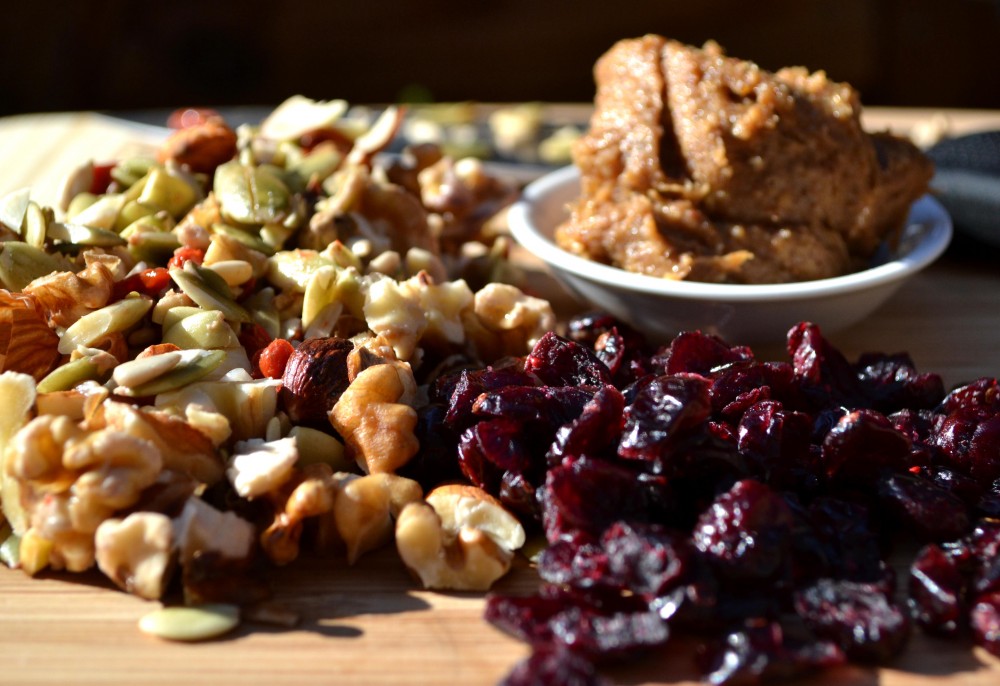 In a bowl measure your puree – about 1/3 the total of your dry ingredients (nuts, seeds, etc). Add flavorings, combining ingredients and softening puree with the back of a spoon. (Date puree from the fridge needs softening.) You want this soft, but not wet! The key to success with these bars, lies in keeping the batter as dry as possible.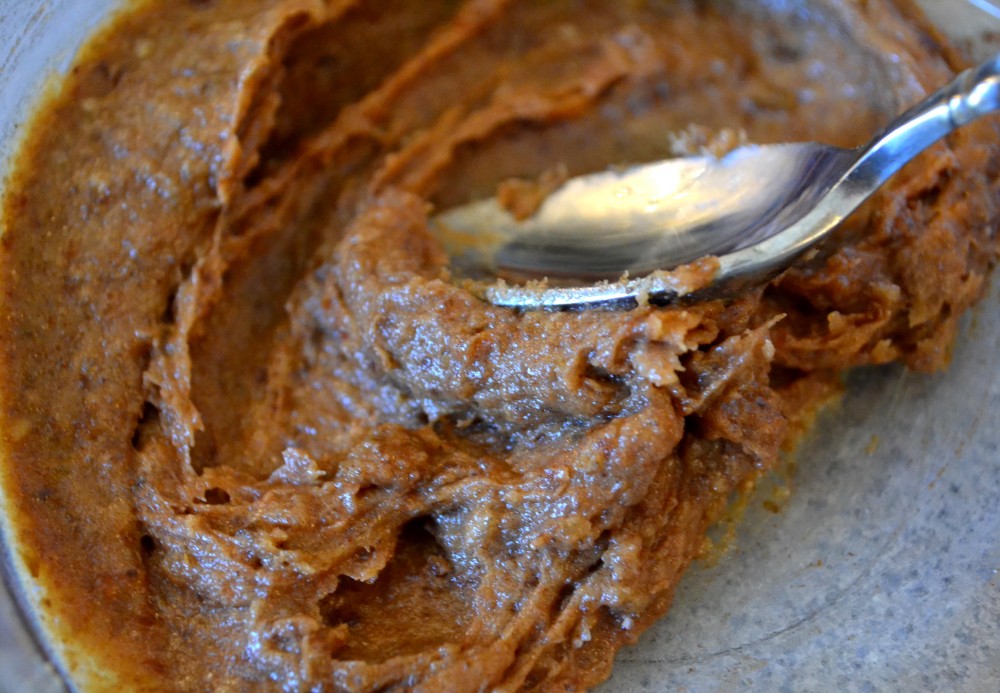 Combine all ingredients. You want a sticky firm mass! If it is too soft, you can add more puree or dry grains.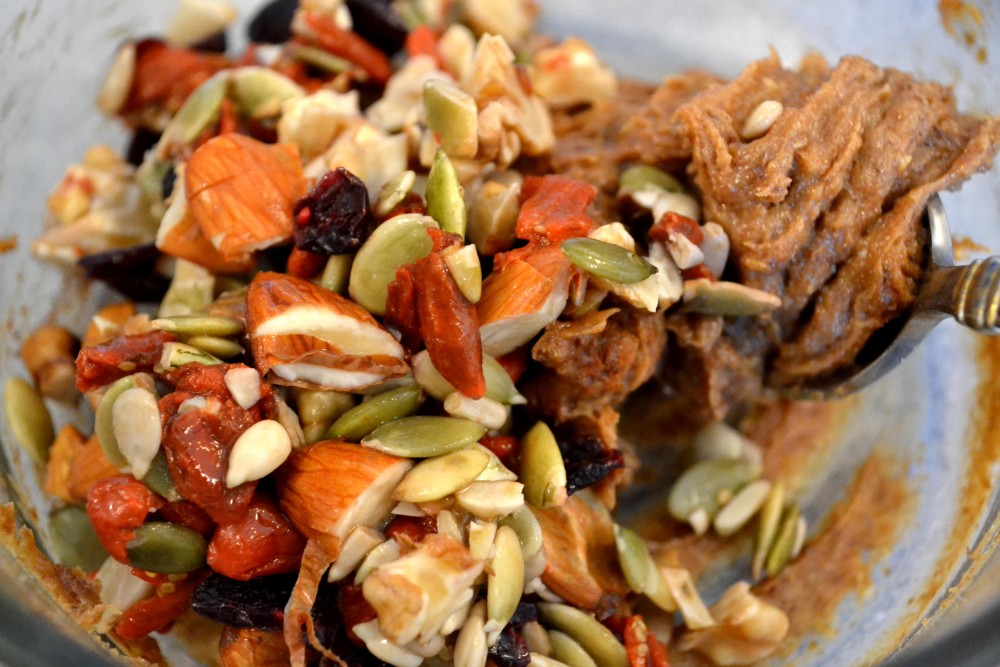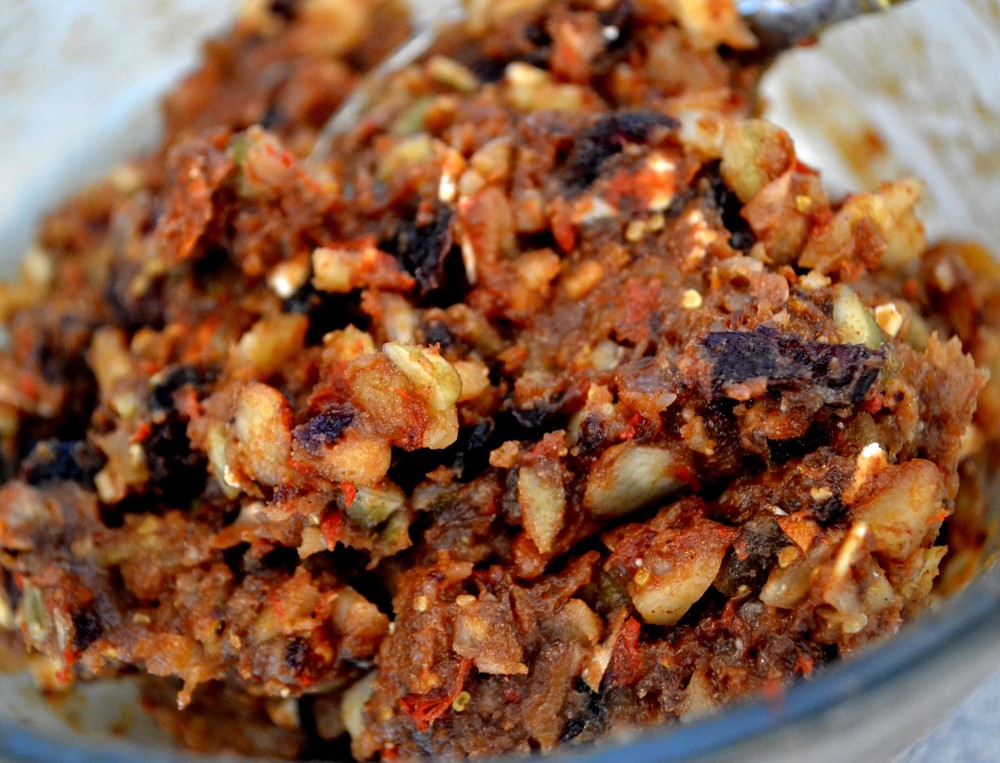 Then simply press the mixture onto parchment paper or into a pan and refrigerate.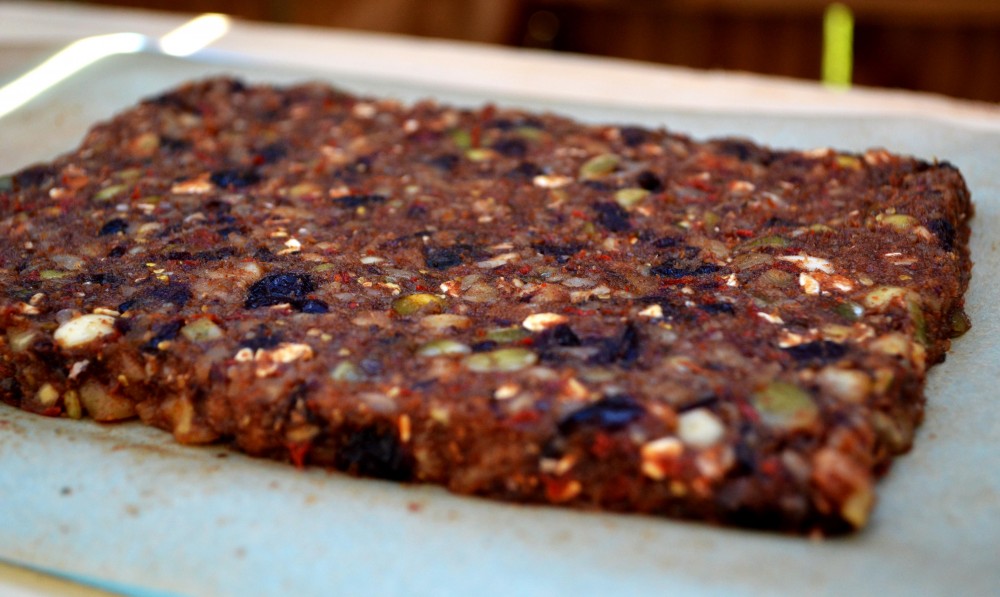 Step Three: Let the refrigerator do the work
Refrigerate for a couple of hours. Or if you are impatient, like me, put them in the freezer. When set, cut into bars. Enjoy!
Note: A wet batter will not set up. But don't despair! If this happens, you can add dry cereal, like rolled oats, to absorb moisture. Or you can just eat it with a spoon. Or roll little balls of the mixture in hemp seed or cocoa powder to make truffles. 🙂 Yep, when life gives you wimpy batter, make truffles.
Easy Raw Bars Pictured
Suggestion: a puree with half dried fruit paste and half nut butter is lovely. However, I am out of nut butter and too lazy to make one. I promised "easy". Because I have my date puree in the fridge, this was easy for me. 🙂
Nuts and Seeds:
walnuts
pistachios
almonds
sunflower seeds
pumpkin seeds.
I threw in a few gogi berries (to soak with the nuts and seeds). After straining these, I added dried blueberries. Then chopped them more finely and pureed half.
Total "treats": about 1 cup.
For my puree:
1/3 c date paste from the fridge (see here)
1/2 t fresh lemon juice
a bit of cinnamon (sorry, did not measure)
salt, to taste
Additions:
1/2 t ground flaxseed
a sprinkling of rolled oats, just enough to firm up the batter.
All ingredients were combined, as shown above. pressed onto parchment, chilled, sliced, and eaten!
Enjoy!
[pinterest layout="horizontal"]
If you like what you see, please "like", share and pin!