Persian Jeweled Rice, aka Javaher Polow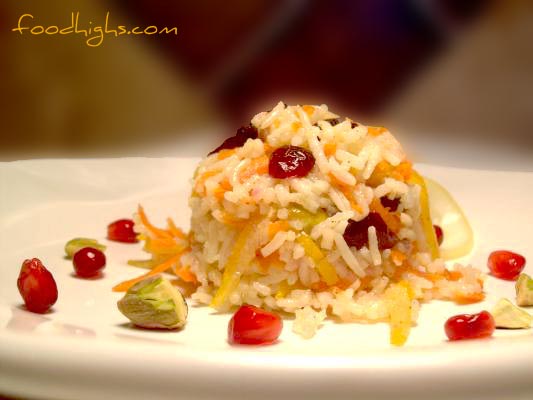 Fragrant rice married with a balance of sweet, salty, exotic, and acidic flavors make this dish worthy of its name! Persian Jeweled Rice is a celebratory dish of Indian or middle-eastern flavors and gorgeous inviting colors. Barberries and candied orange peel makes the dish look as though it is studded with shimmery jewels.
This makes a beautiful dish to be served on its own, or alongside lentil cakes, roasted chicken, or dishes such as kibbeh, kabobs, or kofta – basically anything that starts with "k". 🙂 Mmm
Note to self: Make and blog all these dishes!
Truly though, I could sit down with a bowl of jeweled rice all by itself, with just a cup of tea, and feel perfectly content.  No need to wait for a wedding… substitute ingredients with what you have on hand and have this for dinner tonight!
Persian Jeweled Rice
Makes about 6 servings
1 1/2 cups of Jasmine rice or Basmati rice
3 1/2 cups of water
Peel of one orange, julienned (cut into thin strips) – an organic orange is preferable
1 small-medium carrot, shredded
1/2 cup of sugar
1 cup of barberries, stemmed, soaked for about 15 minutes, drained (or use dried cherries, currants, cranberries, or pomegranate seeds)
4 tbsp of unsalted butter
1/2 tsp of saffron
1 T ground cinnamon
1 T ground cardamom
1/2 T cumin
1 T rose petals, or add a bit of rose water (a few drops, to taste)
1 cup of slivered pistachios
1/2 cup of golden raisins
1/2 cup of slivered almonds
1-2 T yogurt, if you are making a crust
METHOD:
1. Rinse rice and cook according to package directions, until it is just a little under-cooked. Set aside. If making a crust, separate about 1/4 c.
2. In a sauce pan, blanch orange peel in boiling water for about a minute. Drain peels. This will remove bitterness from the orange peel.
3. In a saucepan, combine shredded carrot, orange peel, and sugar, cover with water. Simmer for about 10 minutes. Then drain. This will "candy" carrots and orange peels. Delicious! Add barberries (or the dried fruit you have available).
Option One. For a crustless rice dish: In a pot, melt butter. Add saffron and 1/2 c water. Bring up to medium heat. Add rice and all other ingredients. Mix. Cover. Reduce to low and steam for about 30 to 40 minutes. Serve.
Option Two. For a crust: Dilute saffron in 1/2 cup water. In a a nonstick pan, melt butter. Add few drops of saffron water. In a separate bowl, combine separated 1/4 c cooked rice with 1-2 T yogurt. Press this mixture into the buttered skillet. In a bowl, combine all other ingredients, including remaining saffron water. Carefully, layer this over crust in skillet. Alternatively, add ingredients in layers over the crust. Cover skillet tightly. Cook on medium heat for about 20 minutes, or until crust forms and dish is cooked through.
Serve and enjoy!
If you like what you see, please LIKE, SHARE, and PIN