Plantain Quesadillas
As much as a good lettuce wrap makes a tasty gluten-free "sandwhich" wrap, after a while, they can get a little boring. This keeps the adventurous gf diner on the lookout for interesting – and delicious – options. And if this can be done without loads of potato and tapioca starch, this constitutes a mini triumph!
Look no further! This is a must-do, not just because it is gf, but because it is just good. And fun.
You do not even have to deep-fry these quesadillas to get those sweet crunchy edges and that flour tortilla-esque wrap surrounding a savory filling. This is very pleasing. Be sure to add a salty salsa to intensify these flavors.
Special diet options:
No beans? Try this with my refried seeds – click here
Change the filling to anything that suits your diet. Just dont add anything too wet.
The possibilities are endless!
And, if you like, serve with rice and avocado wedges for a complete meal.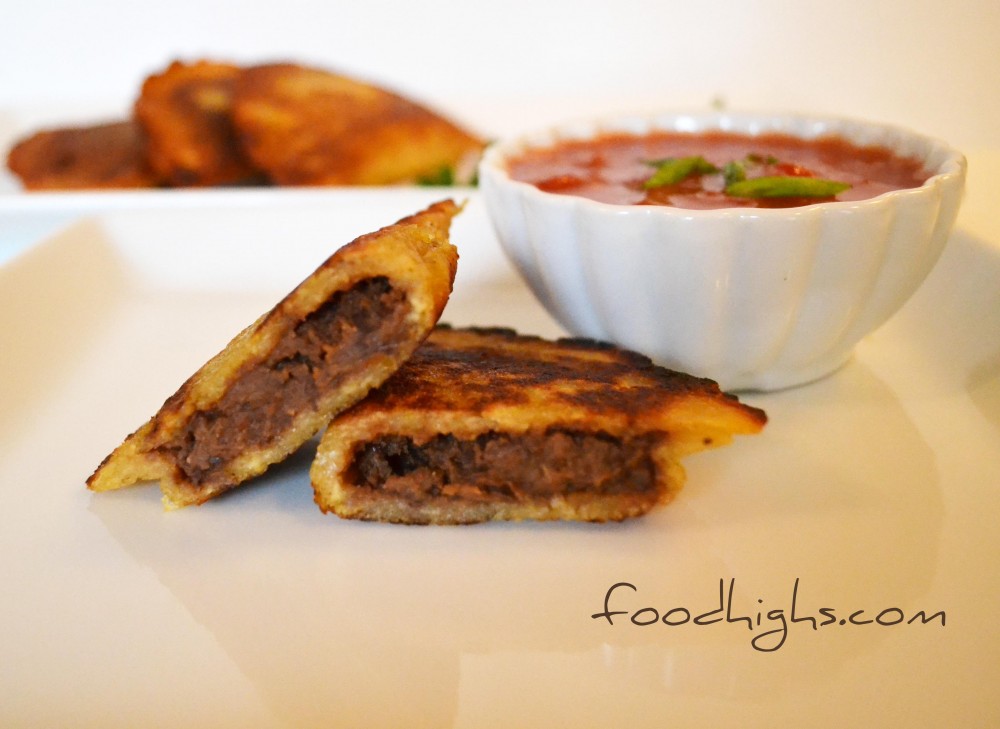 Get green (unripe) plantains. For THIS method, yellow plantains make pudding, not dough. You can use yellow plantains if you cook them first and use this recipe from Pati's Mexican Table.
Slice them down the sides, and peel will come off easily.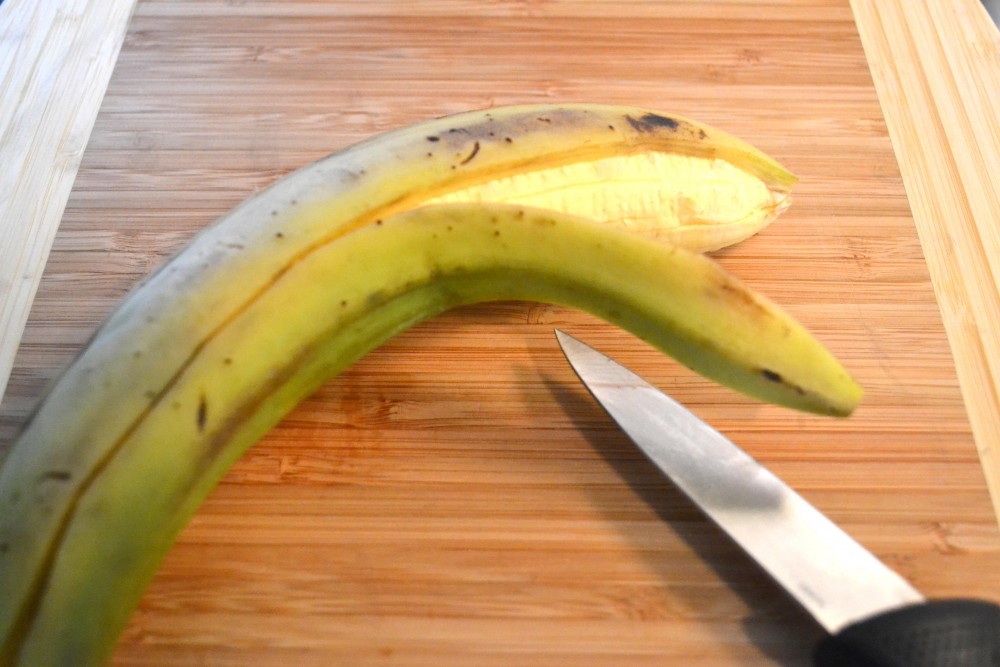 Slice plantains fairly evenly.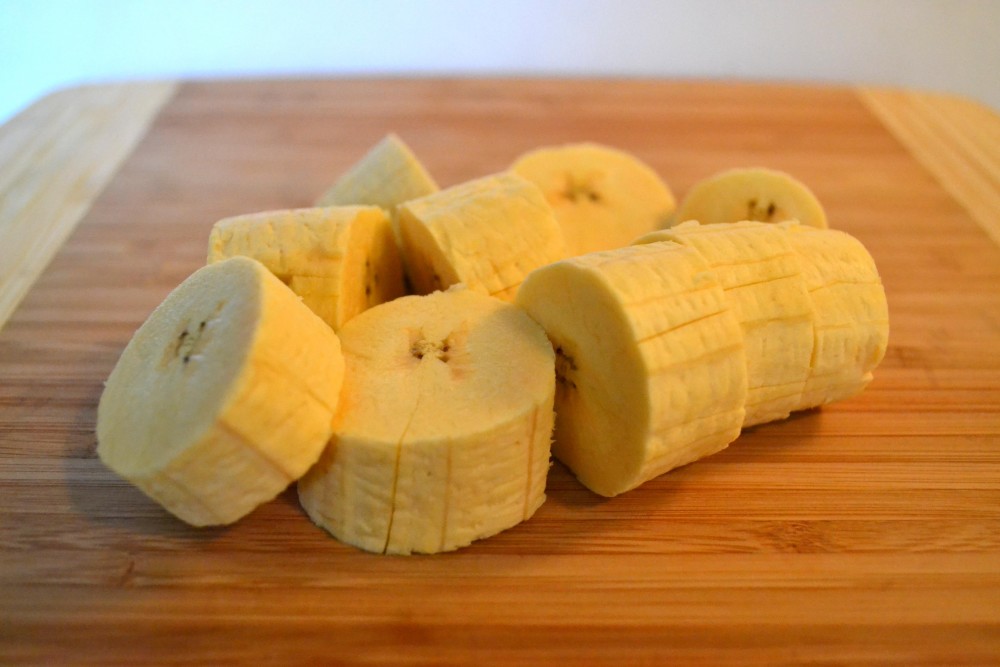 Put them in a food processor. As I am only making one today, I used my mini processor. Each whole plantain makes 4 quesadillas. If desired, add a little sugar. I use about 1 teaspoon sugar per plantain.
Actually, this plantain was the prefect level of green… not so green that it was very hard, but green enough so that it easily formed dough, and had a little sweetness. I really could have saved my sugar.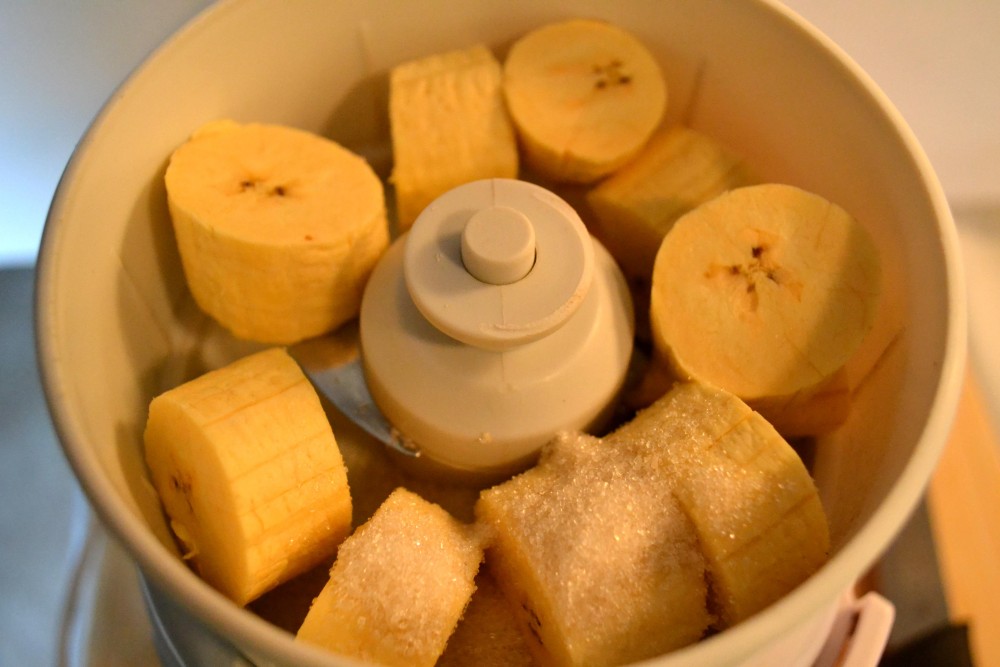 Cover and pulse. You will start to get little bits.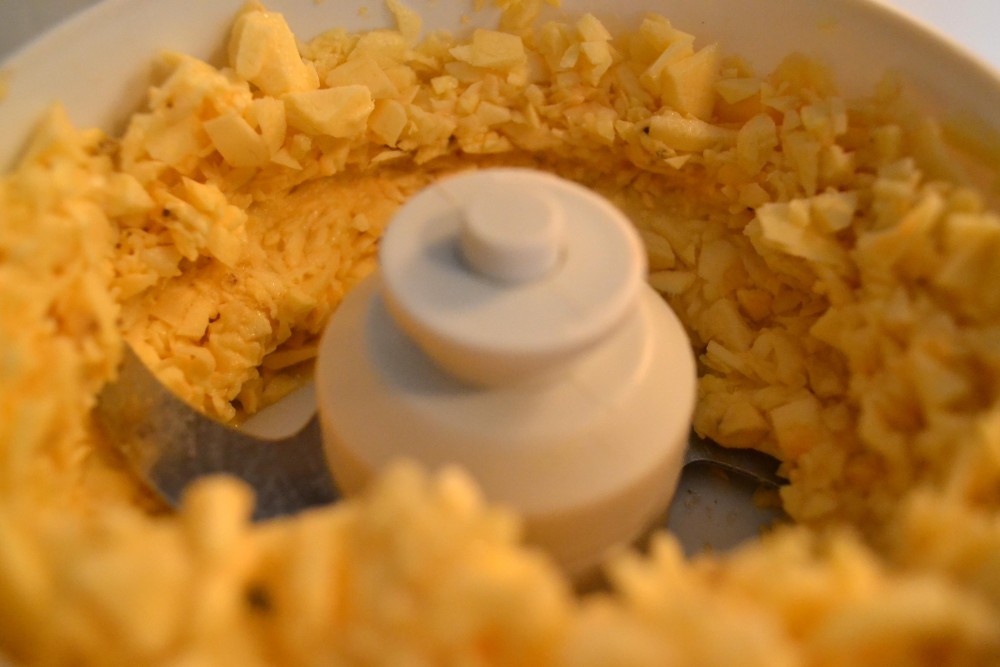 Scrape down the sides and continue pulsing processor until plantain forms a dough consistency.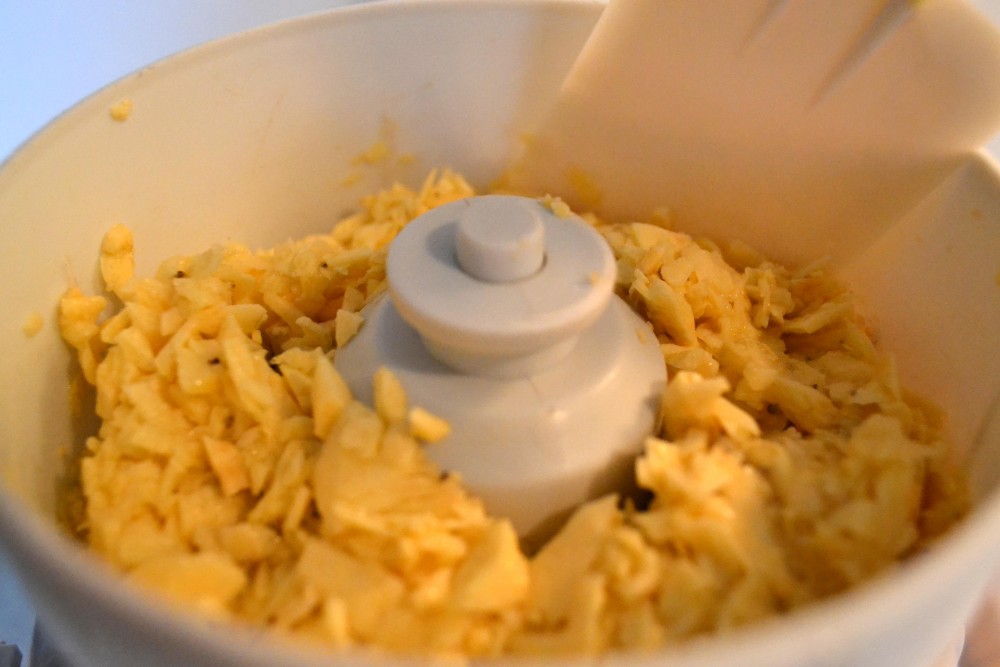 Now we pretty much have dough.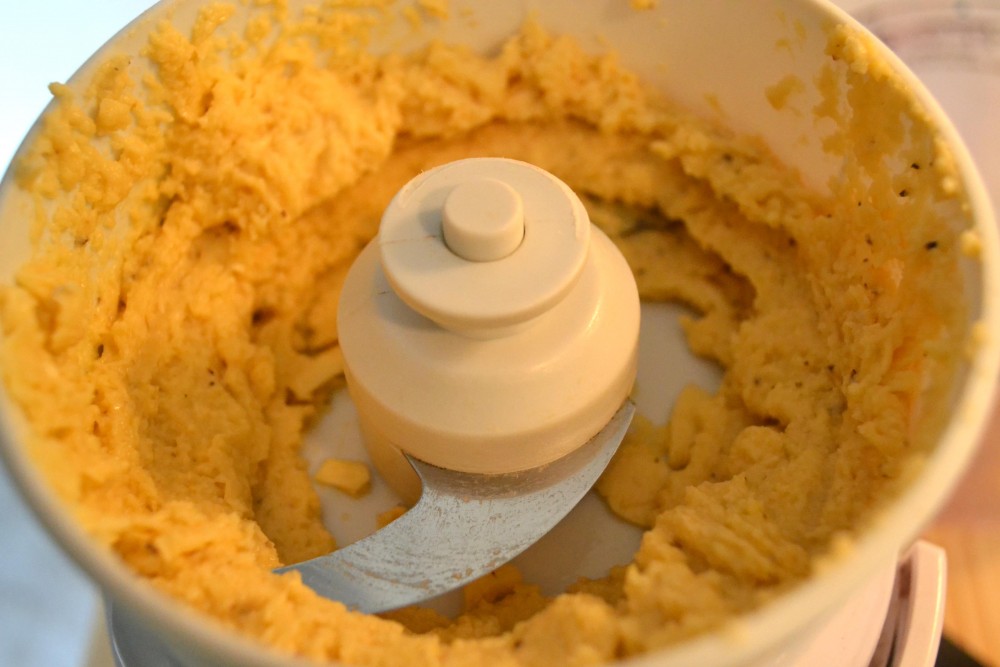 Remove from processor and form into a ball. I like to refrigerate it at this point. I feel it is easier to work with if it is a bit chilled.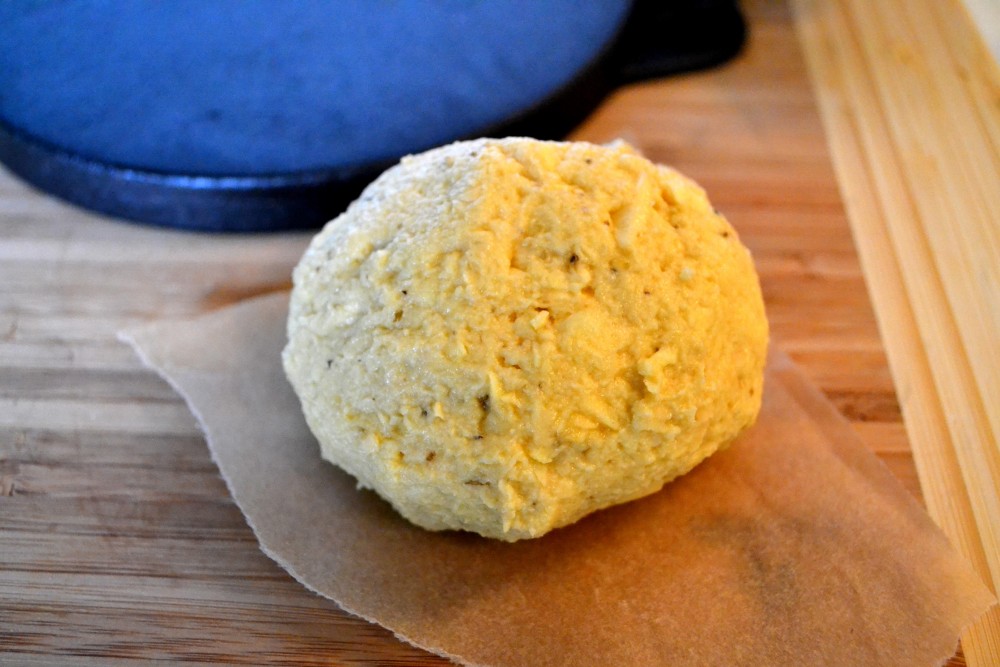 Divide dough into four equal pieces. Roll each one. One at a time, press them flat. I use a parchment covered tortilla press. I also brush on just a bit of oil – any oil you like. I like coconut oil. If you do not have a tortilla press, just gently flatten between parchment pieces with rolling pin.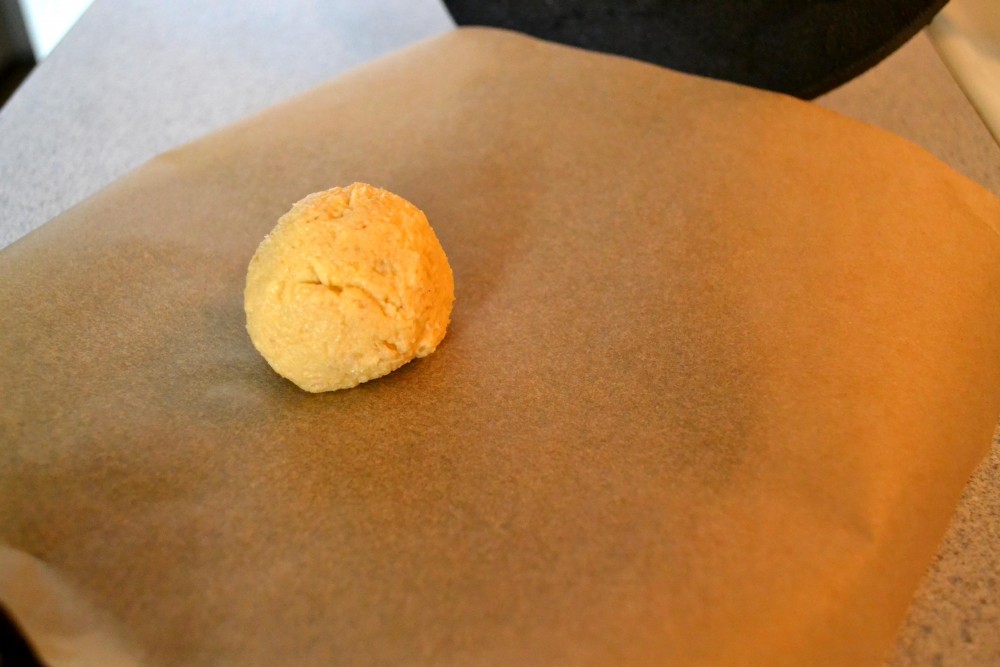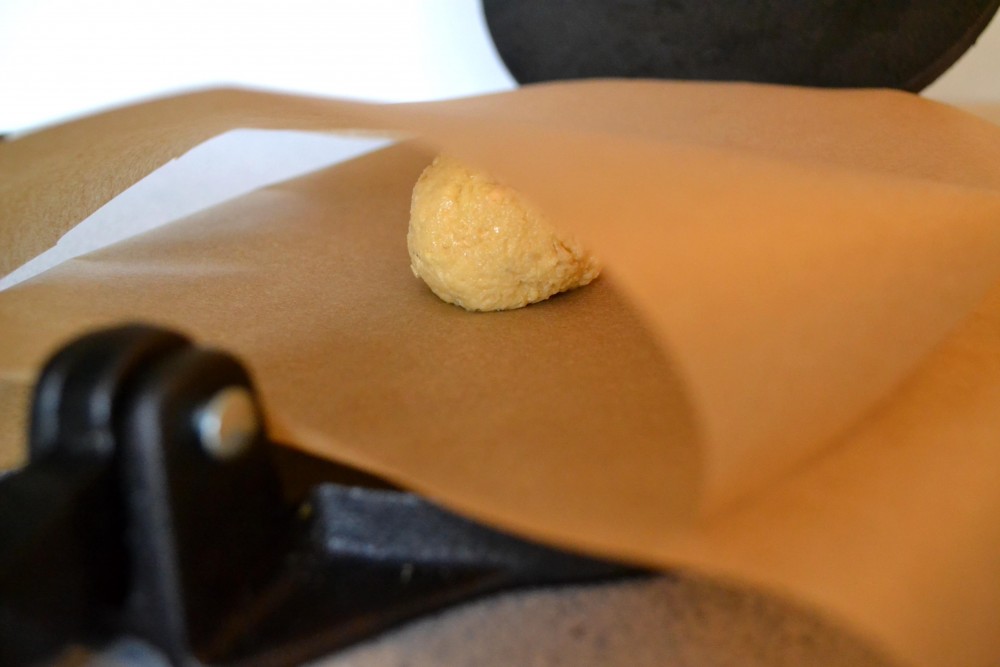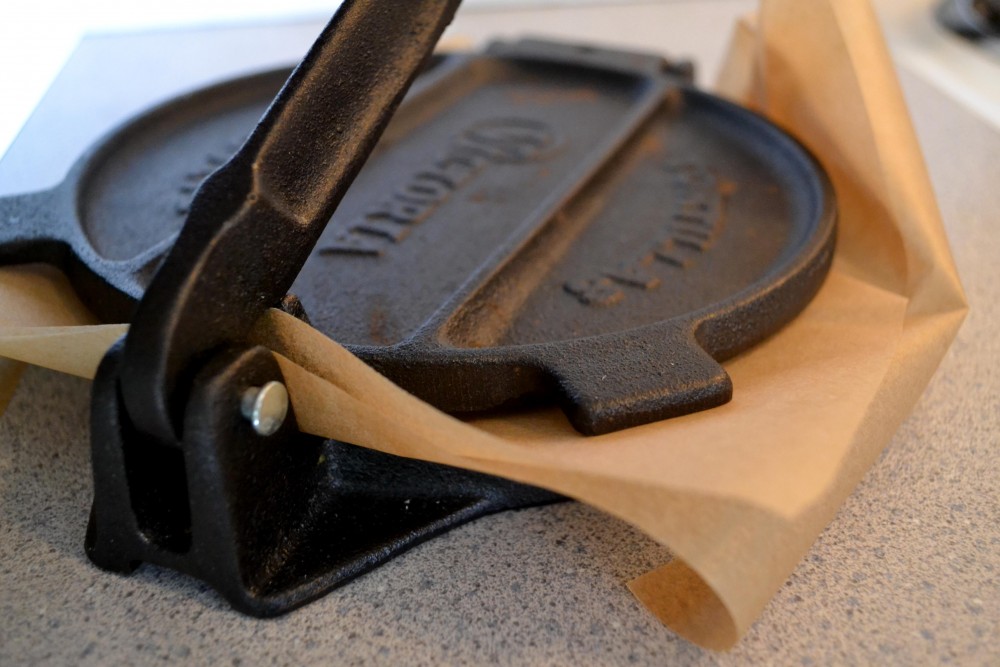 Your tortilla should be thin and even.
Next, place your filling on one side. I like refried black beans and I use about 2 T. You can use whatever filling you like. Just nothing too wet and drippy.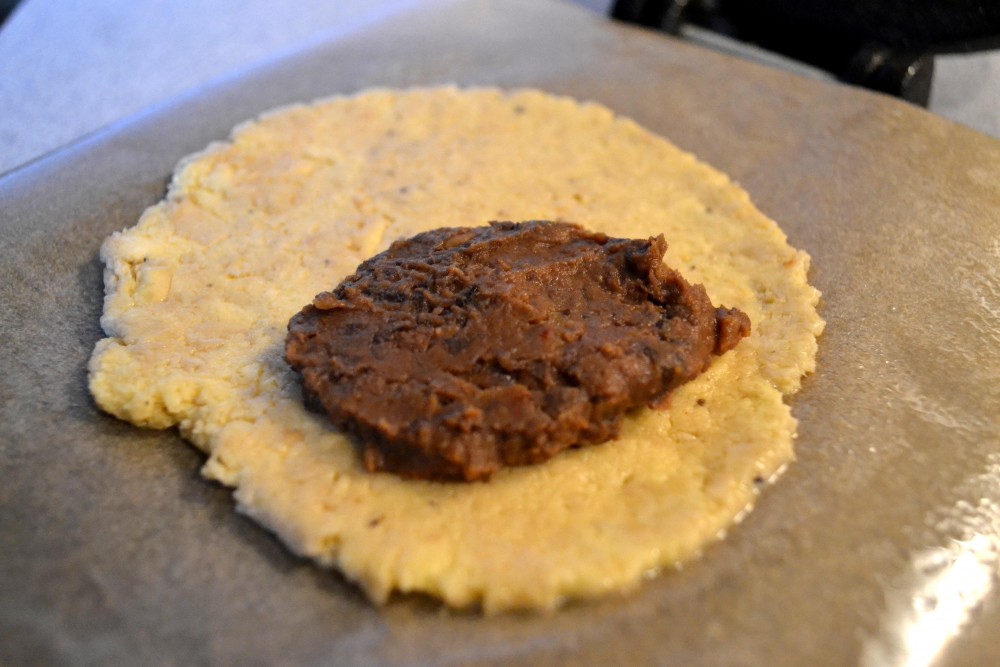 Use the top piece of parchment to help you fold the quesadilla in half.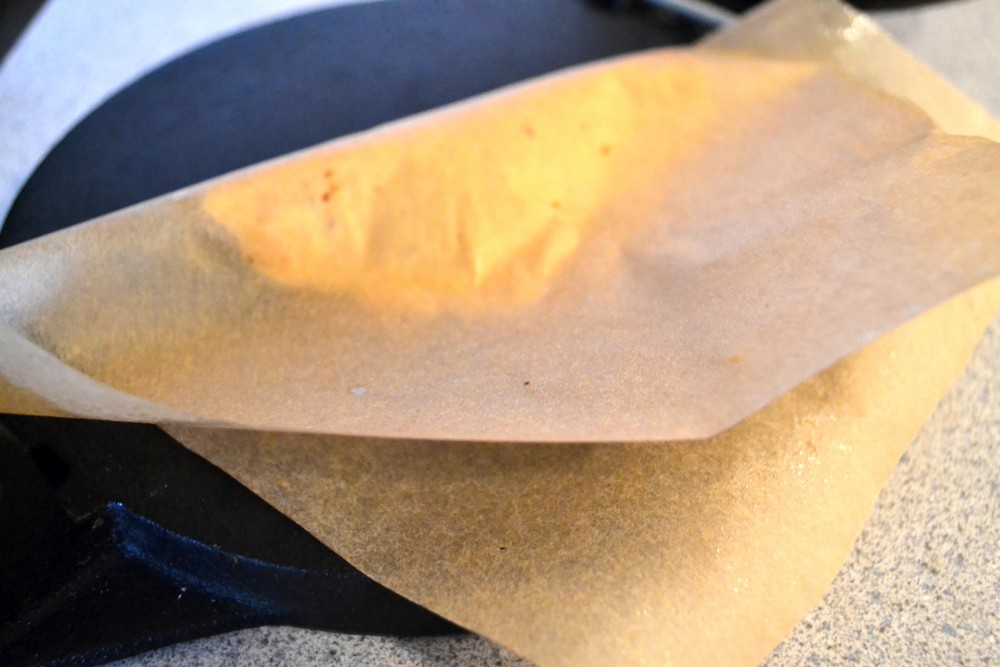 Gently pull back parchment.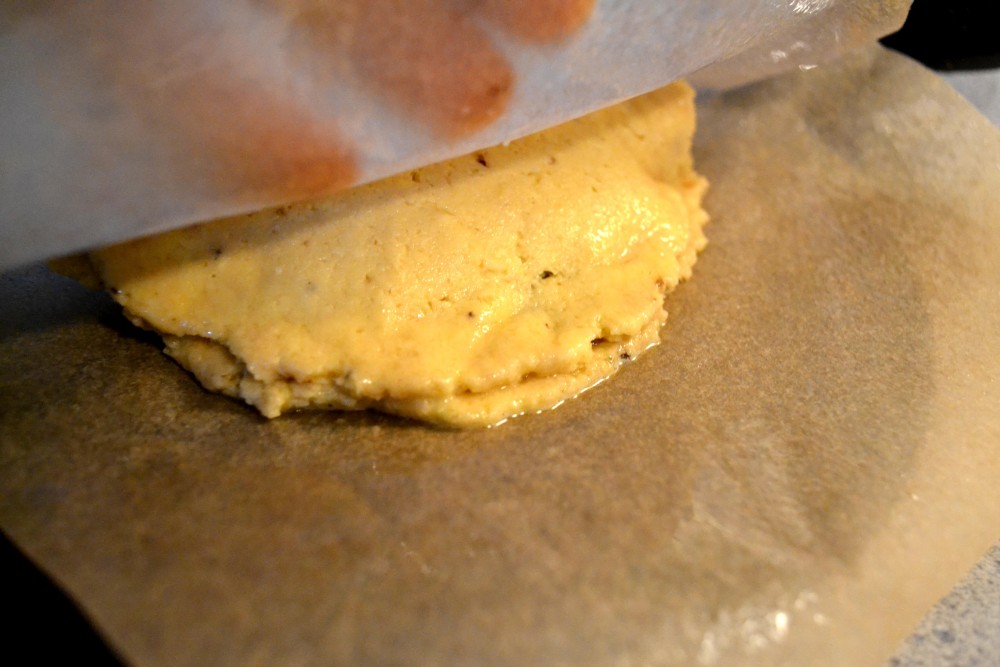 Press together edges. Repeat with remaining dough pieces and filling.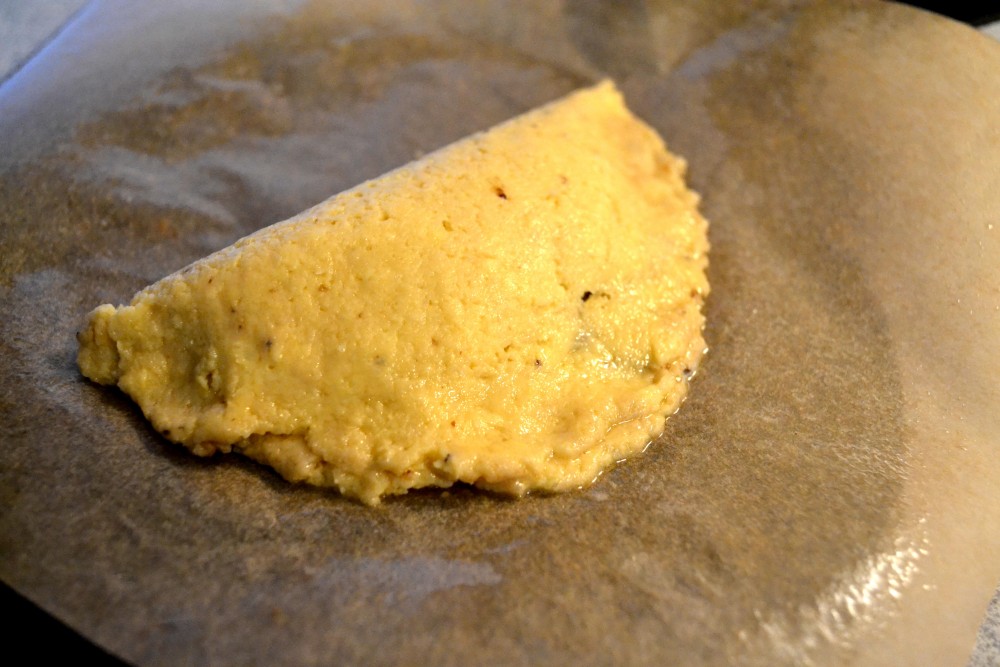 Traditionally, these are deep fried. I like a good deep fried item now and then, but for daily eating I prefer baking. Today, I am compromising. I made my quesadillas thin so I can saute them in a little less oil. I use coconut oil. You can use whatever oil you prefer.
Just get each side beautifully golden brown. Mmm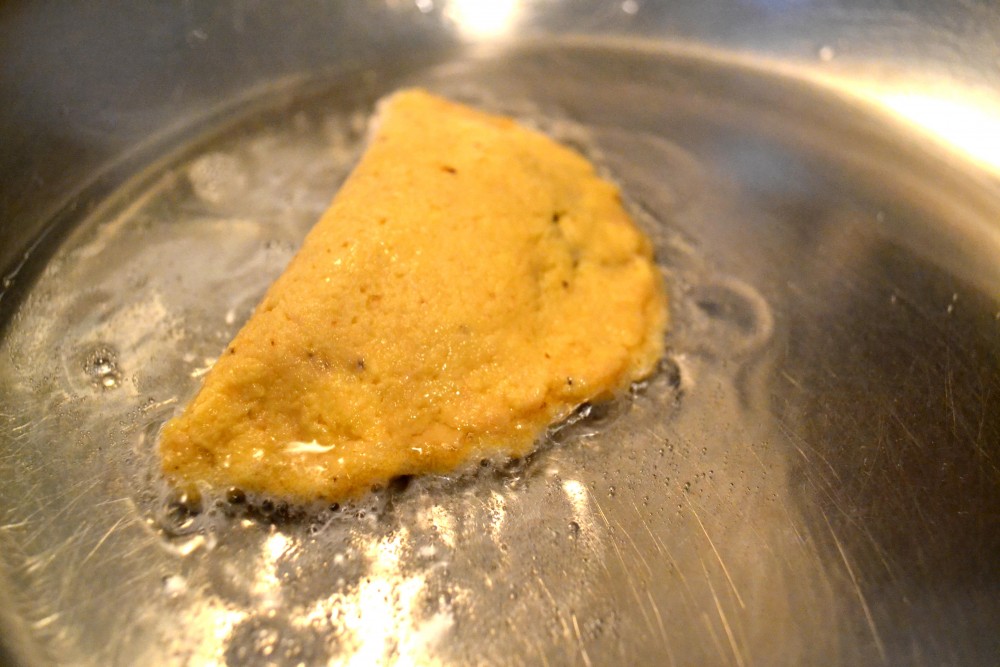 Set on a rack to allow any bits of oil to drip. There should not be a lot. Notice the crispy sweet edges. mmmm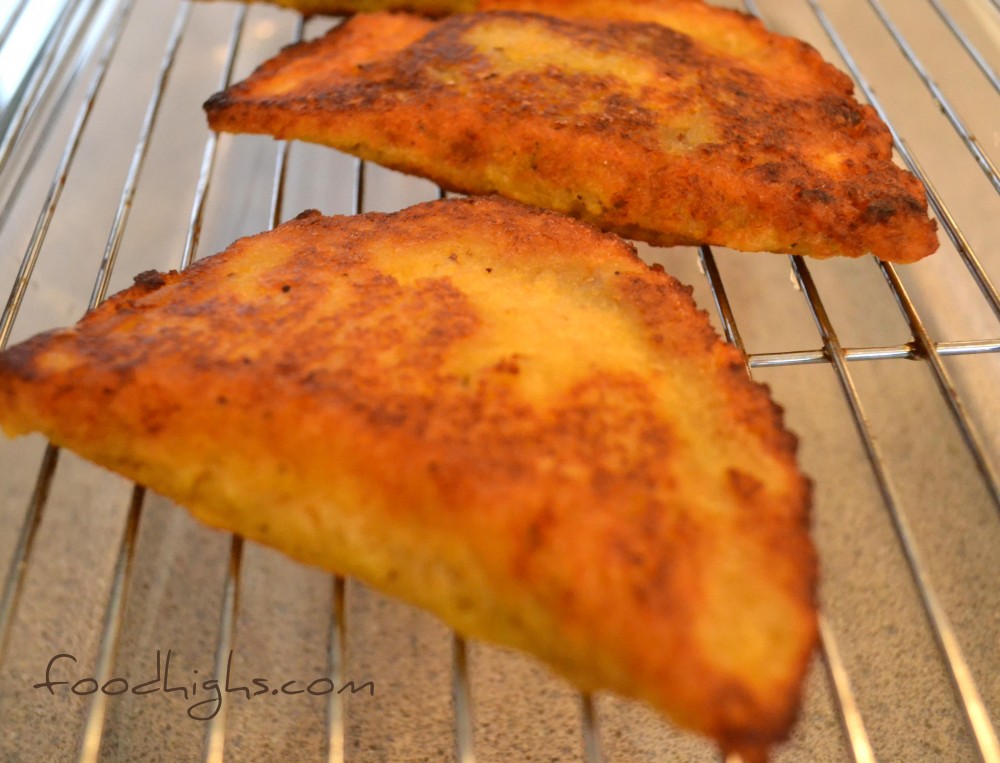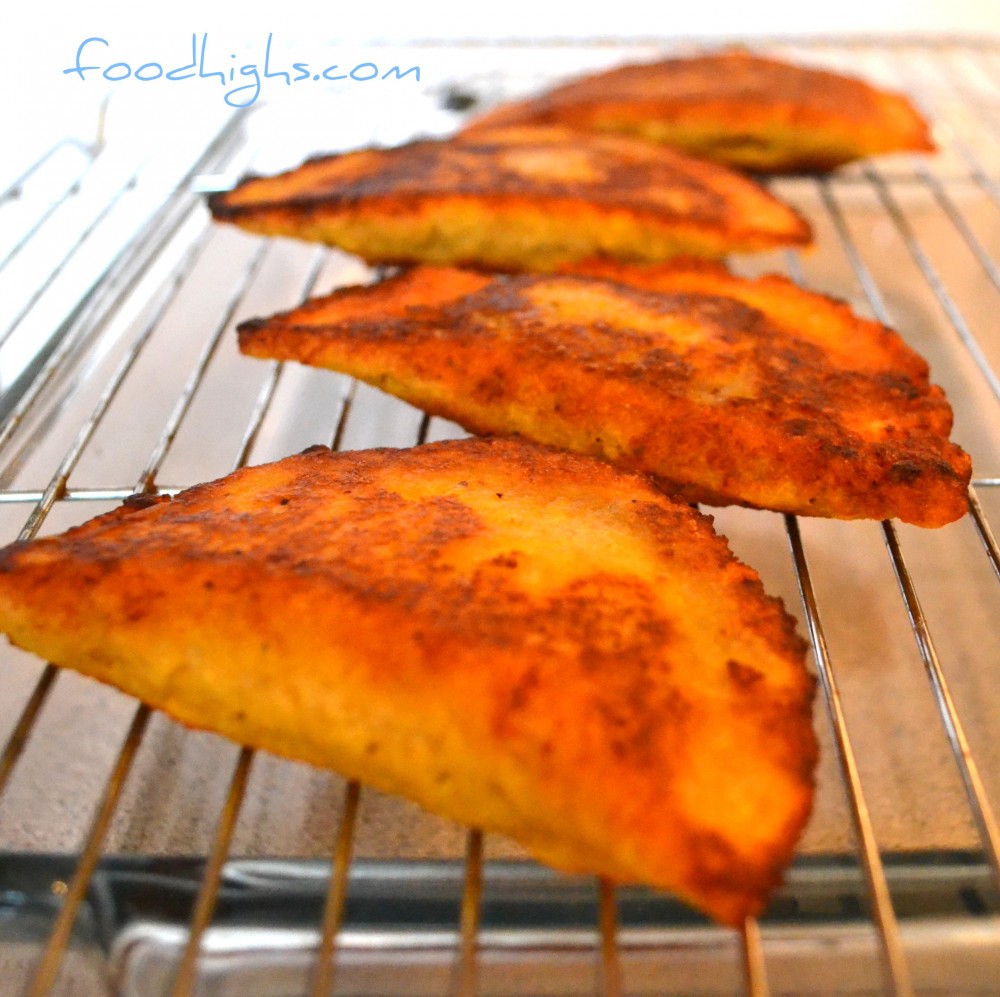 Serve with salsa.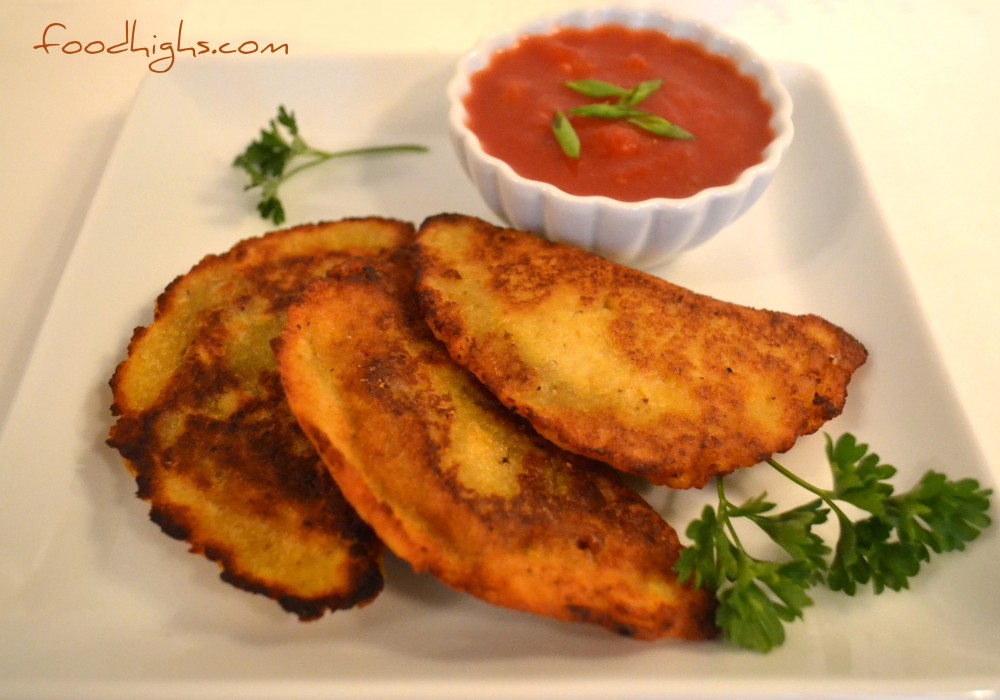 Plantain Quesadillas
Ingredients
1 green plantain for every 4 quesadillas you wish to make
1 t granulated sugar for every 4 quesadilles, or sweetener of your choice – adjust amounts to your taste
filling – refried beans used here
Method
Peel plantain(s)
Mash or process them until they are the consistency of dough. Add sweetener, if desired.
Chill dough to make it more pliable, if desired. Then form dough into equal spheres.
Lay out lightly oiled parchment to press plantain dough spheres between.
One at a time, flatten each sphere (between parchment)
Place filling on one side and fold other side over. Press edges together to completely seal in filling.
Fry each side until golden brown and place on a rack
Enjoy with salsa!
If you like anything you see, please SHARE, PIN, and LIKE us
Happy Healthy Eating!