Cauliflower Pizza Crust
I have jumped on the bandwagon and have made a cauliflower pizza crust. There are lots of great recipes for this dish on brilliant blog sites, so it may seam redundant, but I put my own special-diets-everyone-deserves-delicious-foods-and-options twist on it.
Check it out!
When you try out a new combination of foods and hear an unsolicited gasp from your guinea pig ahem, discriminating taste tester, you know you are on to something! Of course, this may be simply because when my discriminating taste testers heard the words "cauliflower pizza crust", they expected to be disgusted. And they weren't.
This crust is quite good! For me, it hits the right bells and whistles. I will be prepping cauliflower and keeping it on hand for quick homemade pizzas, as a staple! You can top these with anything you have on hand, and for me, they fully satisfy my bread craving. Love it!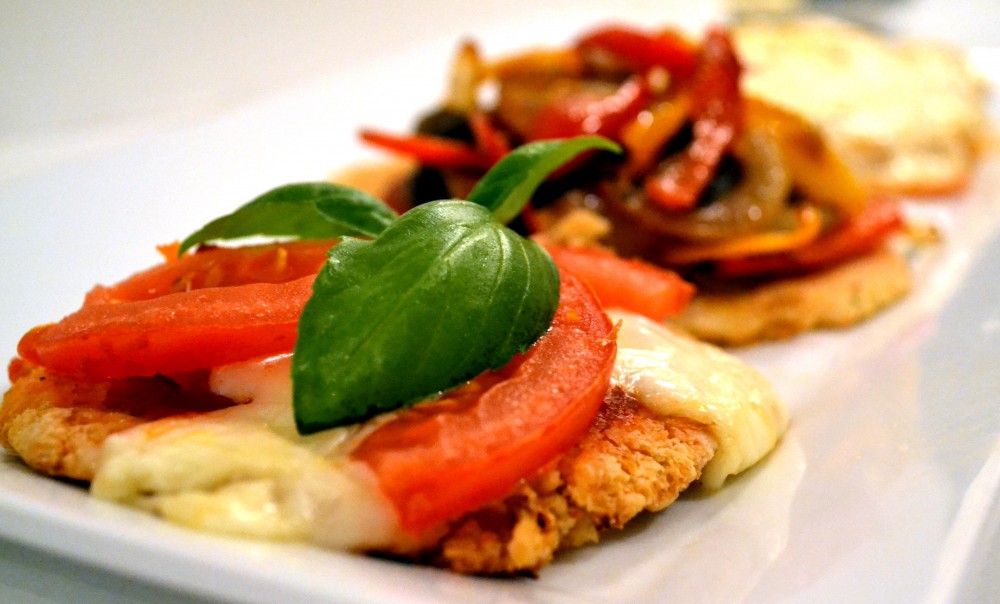 My only complaint about the cauliflower pizza crust recipes that I have seen, is that they are basically cheese crisps, with cauliflower. And, hey, I am all for a good cheese crisp! Yum!!! But if you are a dairy-free person, this recipe just does not work for you.
So, here were my objectives:
Use cauliflower as a base… what a great way to get my pizza-loving  son to eat cauliflower!
Keep it gluten-free
Make it dairy-free
Take the microwave out of the method… just cuz that is how I roll.
The solution… nut cheese!
My favorite nut-cheese is probably a cashew cheese. However, my family seems to respond better to almonds. Plus, almonds would stand up nicely in a crust and provide a great flavor!
This is soooo easy! Here's how!
Almond cheese for cauliflower pizza crust
Usually, I soak almonds overnight, but because I want our crust now, I grabbed a bag of already blanched slivered almonds at the market. With skins removed, these will make a nice cheese.
Measure 1 cup.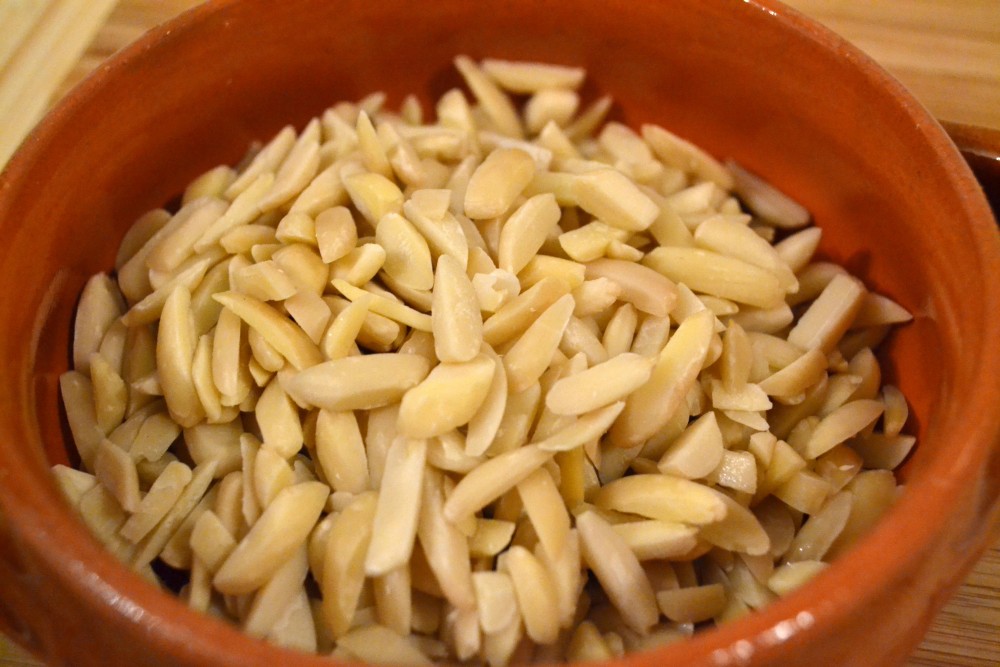 Put almonds into a processor. Add in other ingredients.
Nutritional yeast, has an unfortunate name but a fabulous taste! … similar to Parmesan cheese. If you have issues with yeast, you can leave this out and bump up other flavors – spices, aromatics… just don't expect a very "cheesy" flavor… otherwise, this can be purchased at a health foods store. It is a GREAT source of b12 and other b vitamins.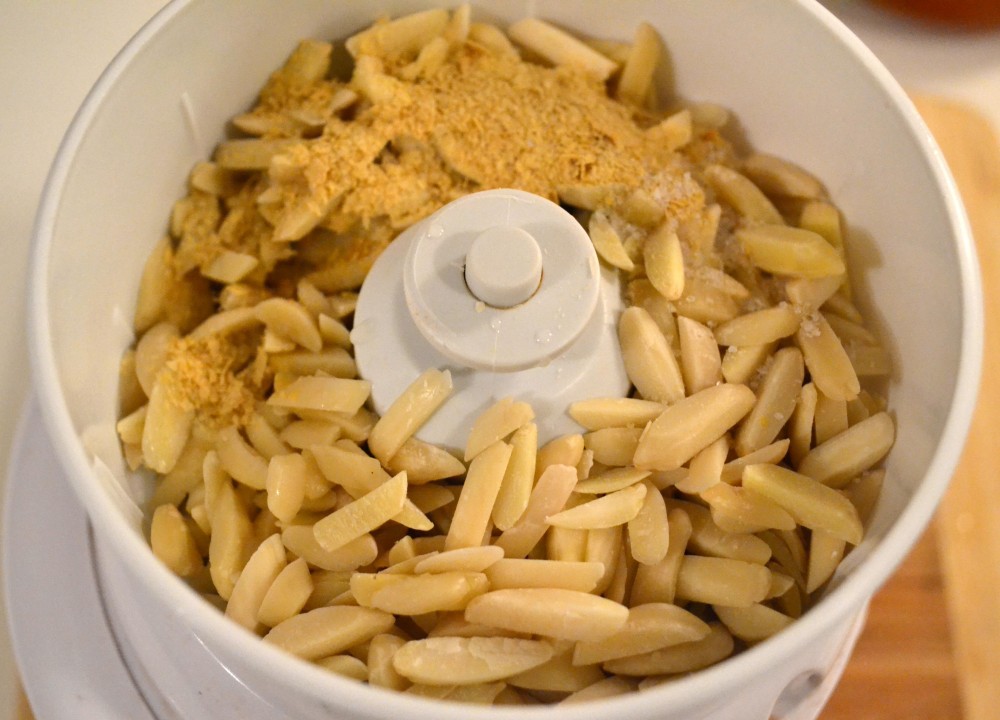 Process ingredients until smooth enough to press into a cheese log.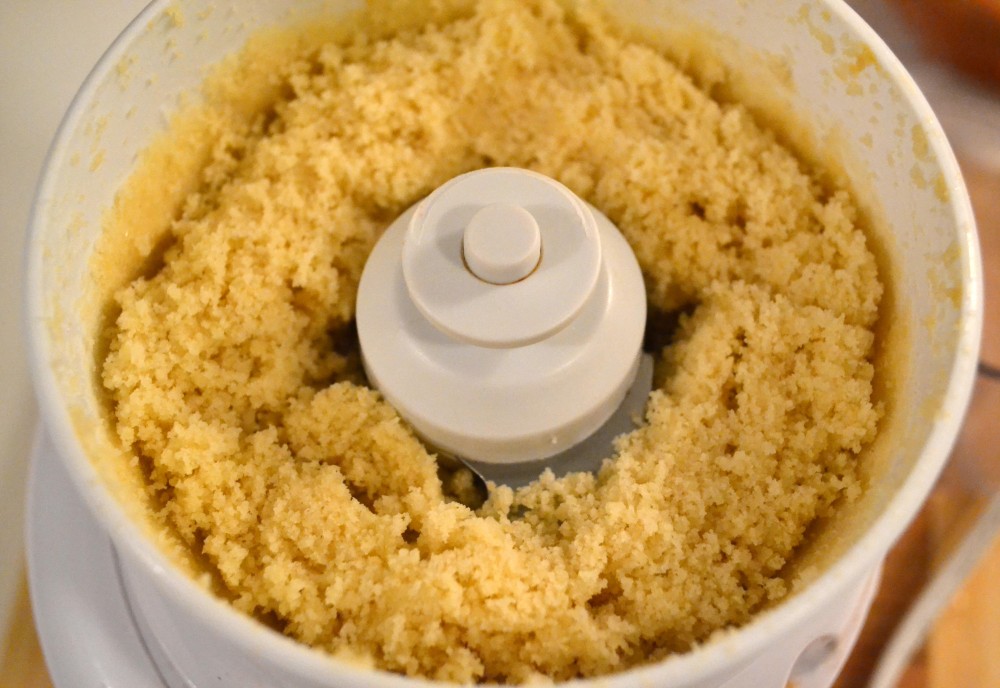 Press into a cheese log… or cheese ball. Because this will be immediately used in out pizza crust, I don't care about making it pretty. But it is so tasty!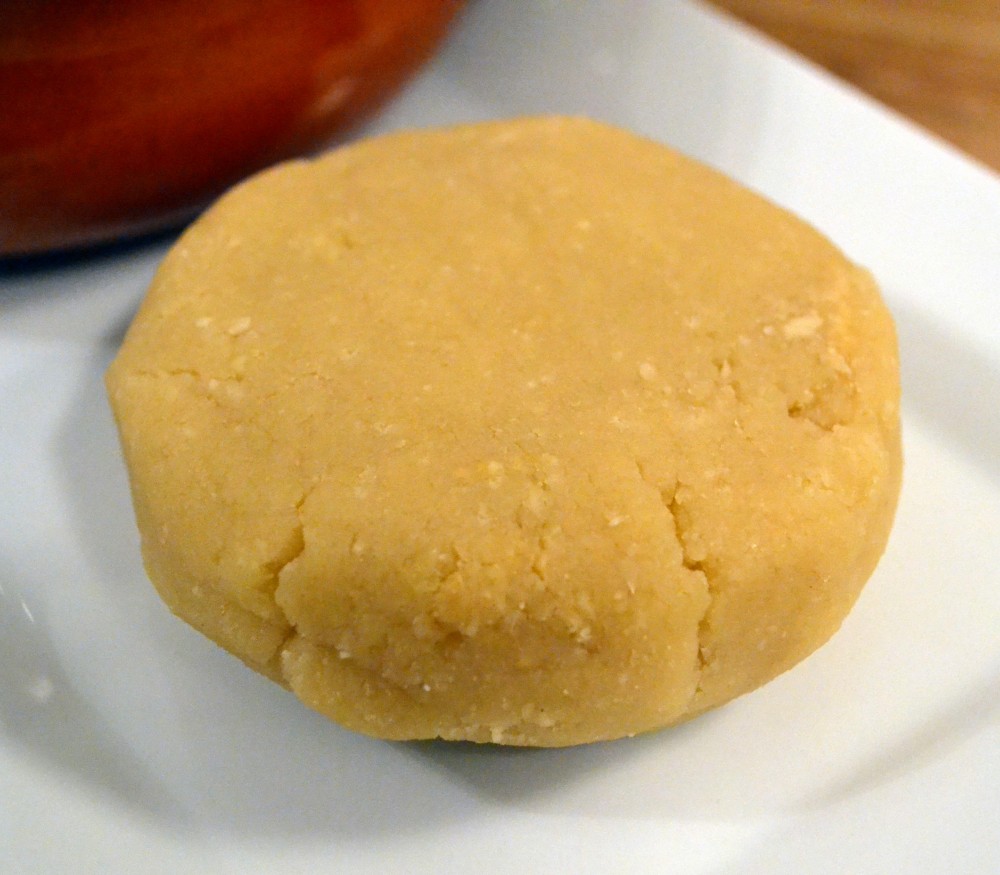 After removing the amount of almond cheese that you need for pizza dough, the  rest can be wrapped and refrigerated for more dough later. Yay! Or eat it on crackers or toast points.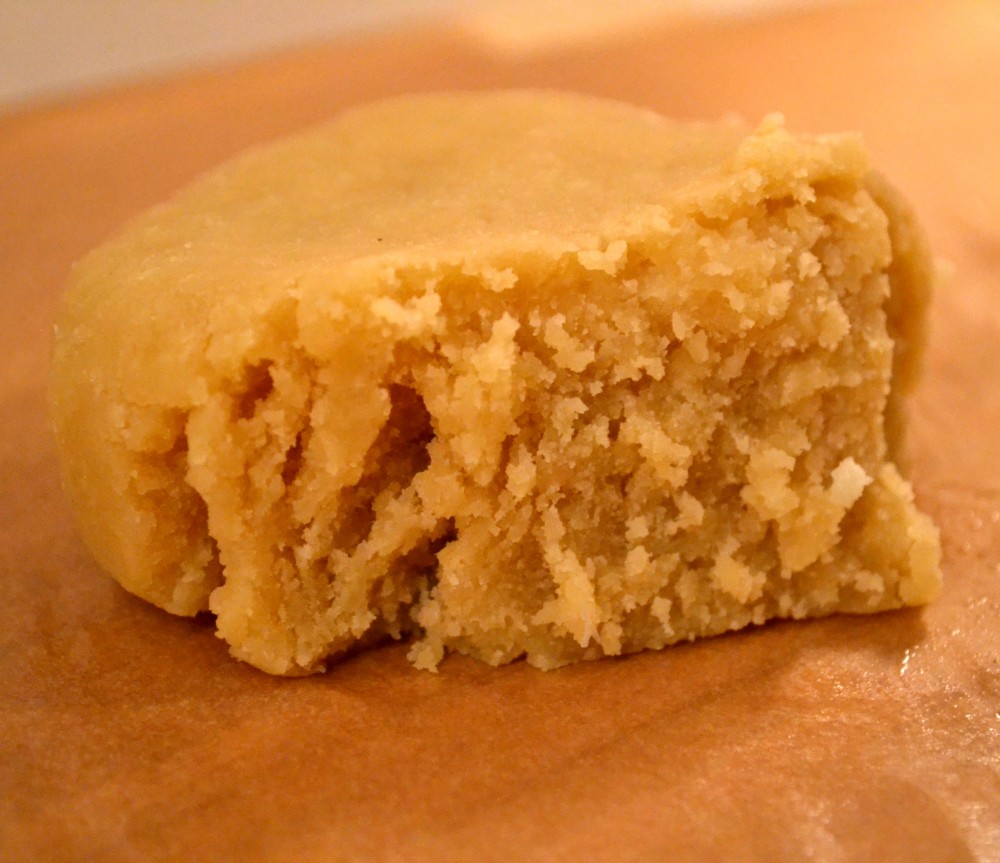 Cauliflower Pizza Crust Method
Start with a head of cauliflower.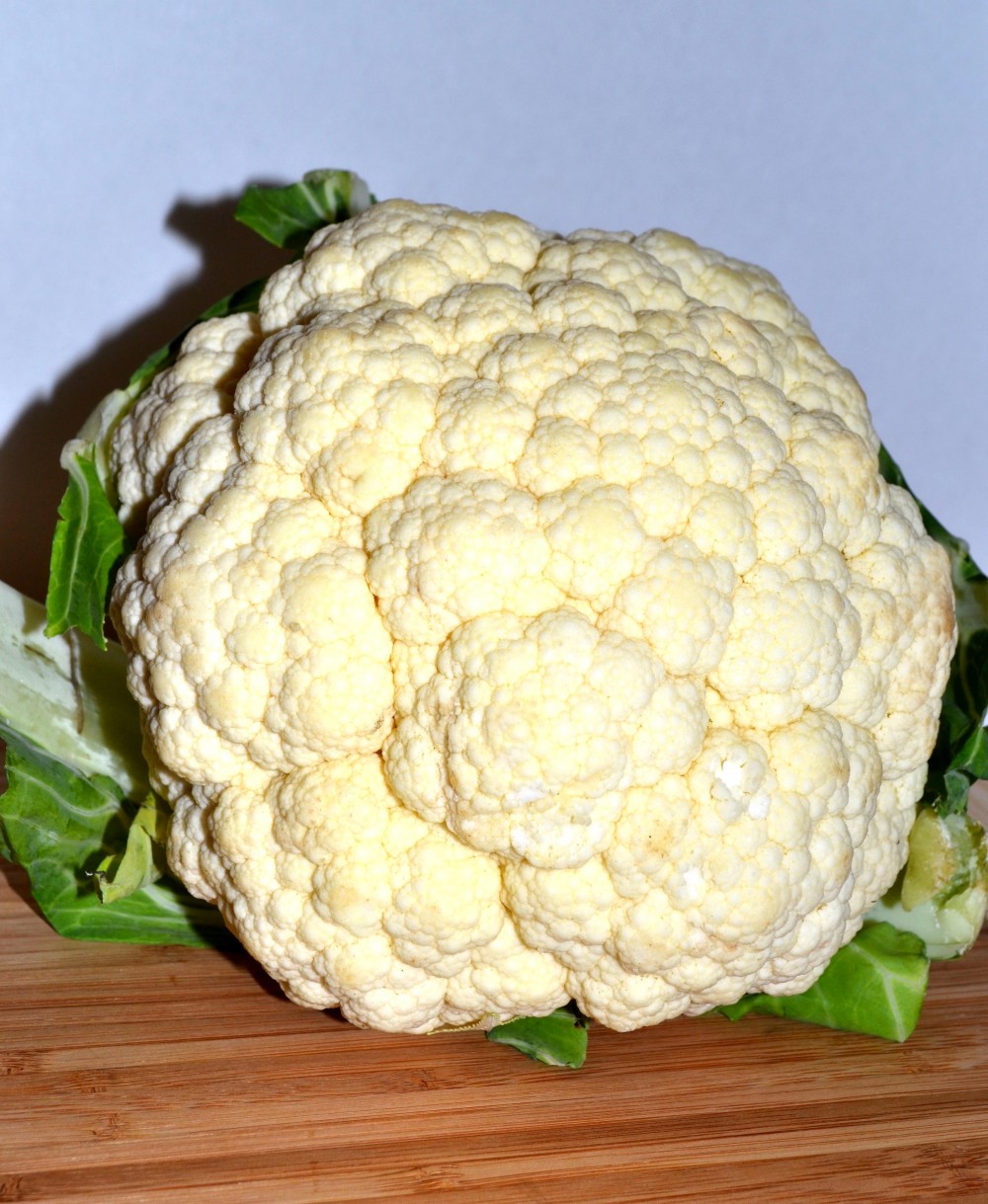 Chop cauliflower and place it in a processor.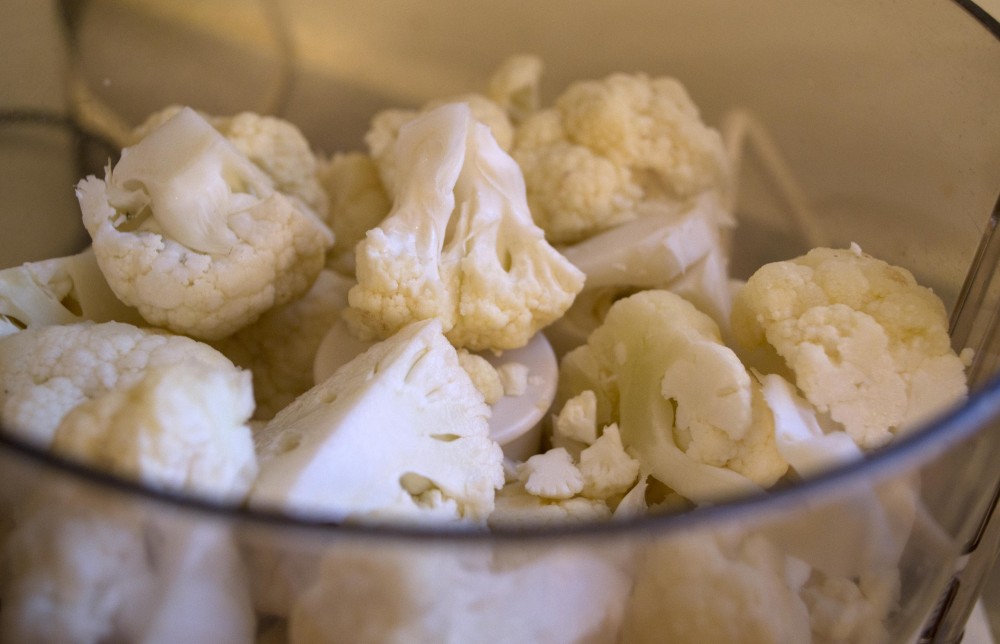 Pulse until you have cauliflower "rice"… rice-size pieces.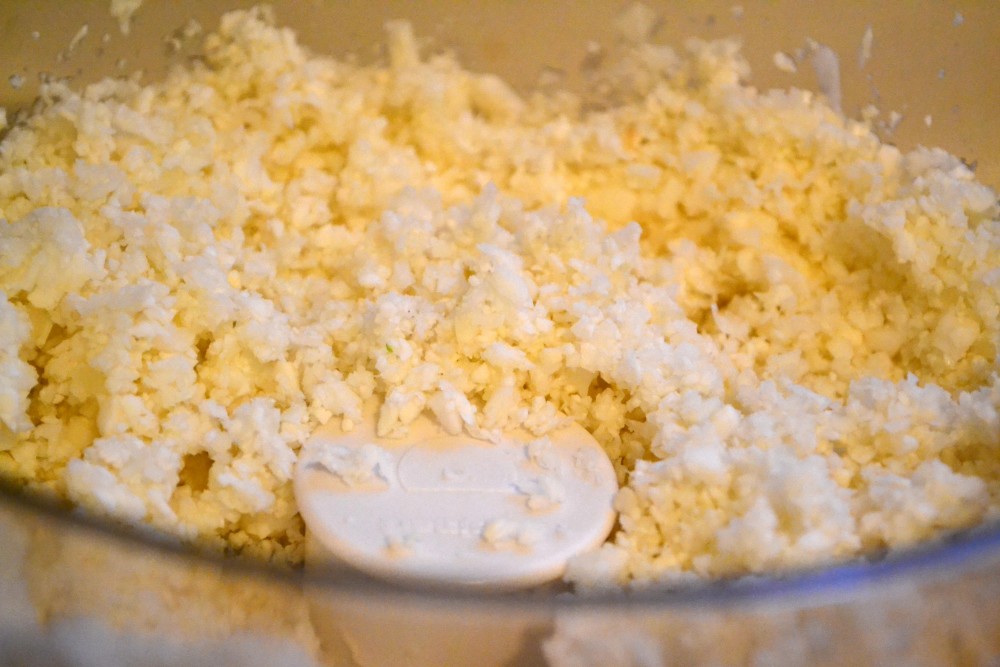 Steam cauliflower rice until it is tender, not mush. This will take about 15 minutes.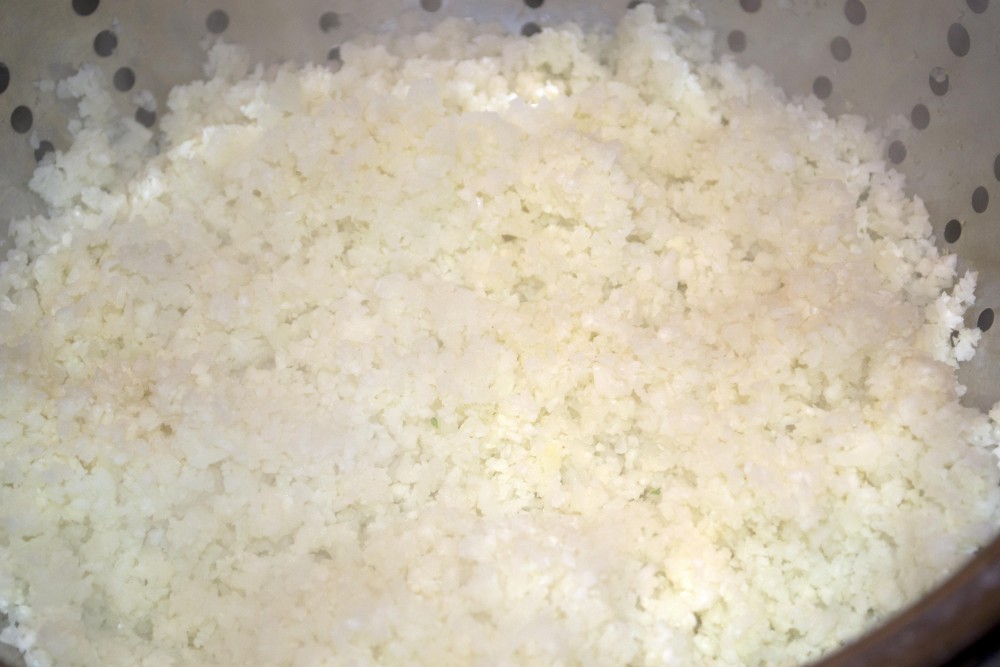 Allow to cool.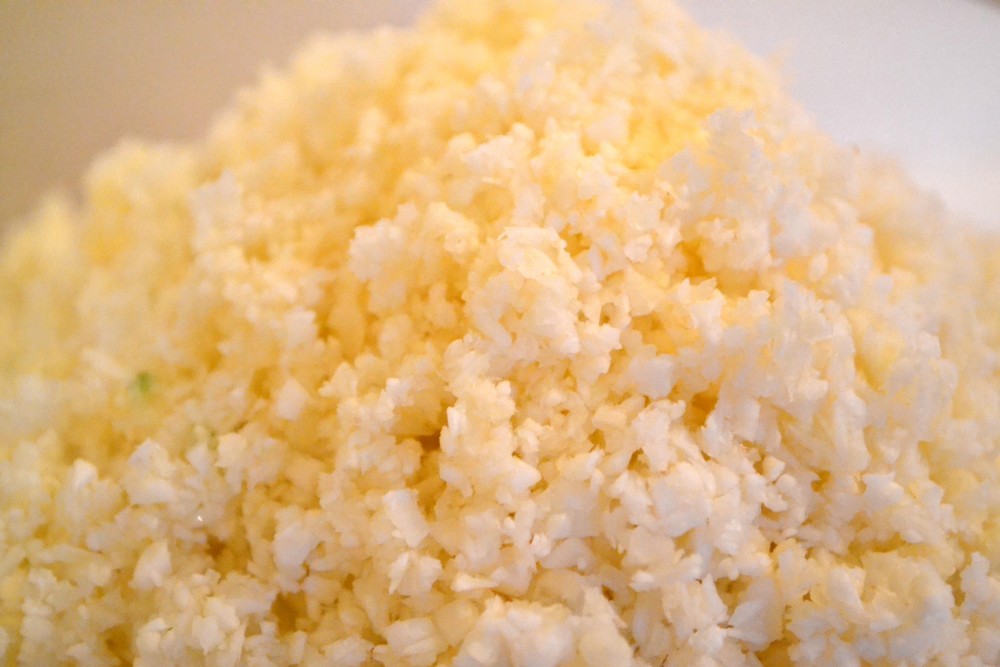 Place in a clean dish towel.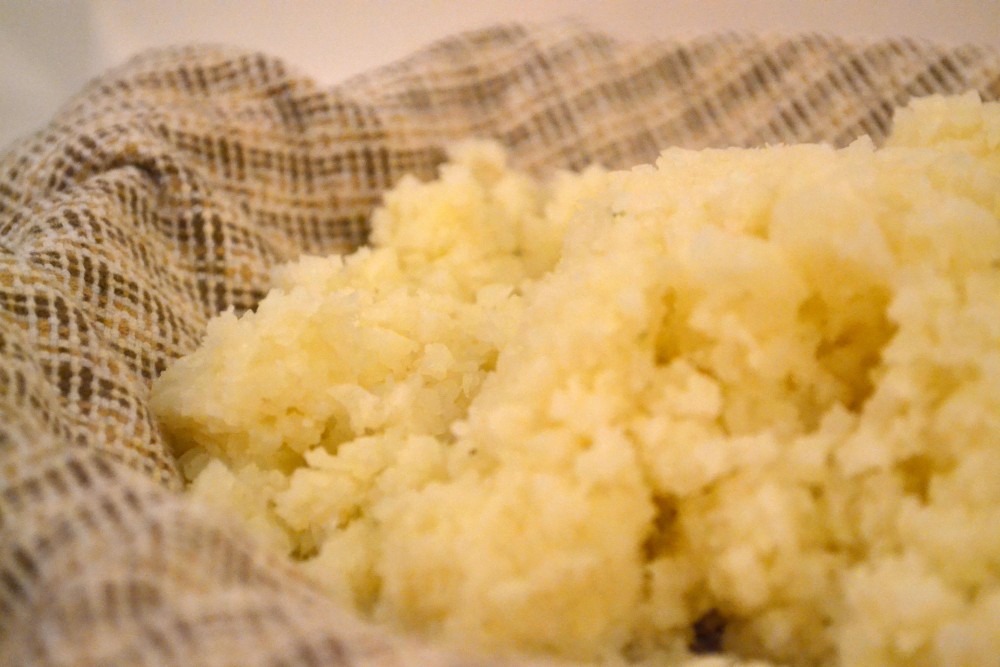 Wrap steamed cauliflower rice in the dish towel and wring out liquid into a bowl. You can save the liquid for added flavor and nutrition in a soup base.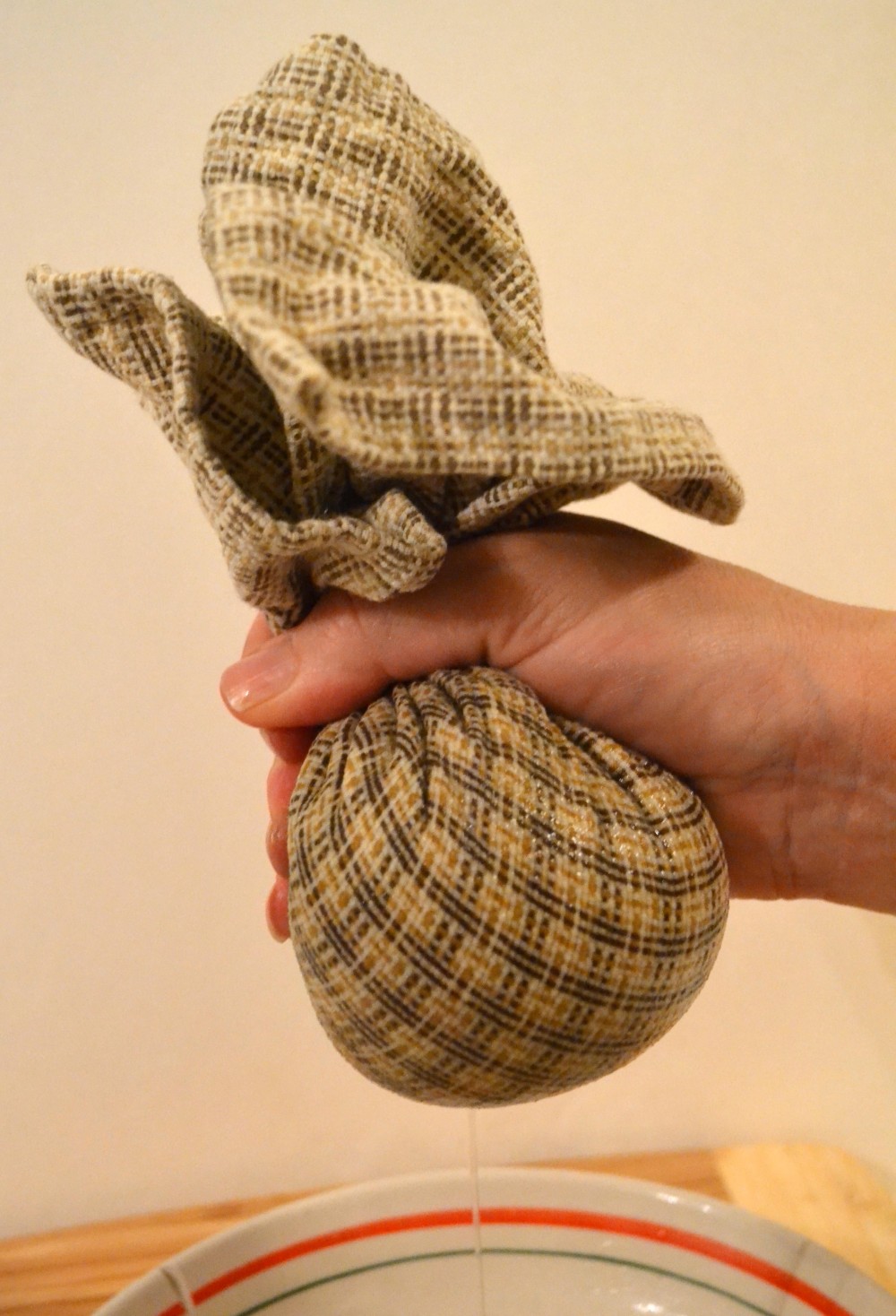 Remove from dishtowel and place in a bowl.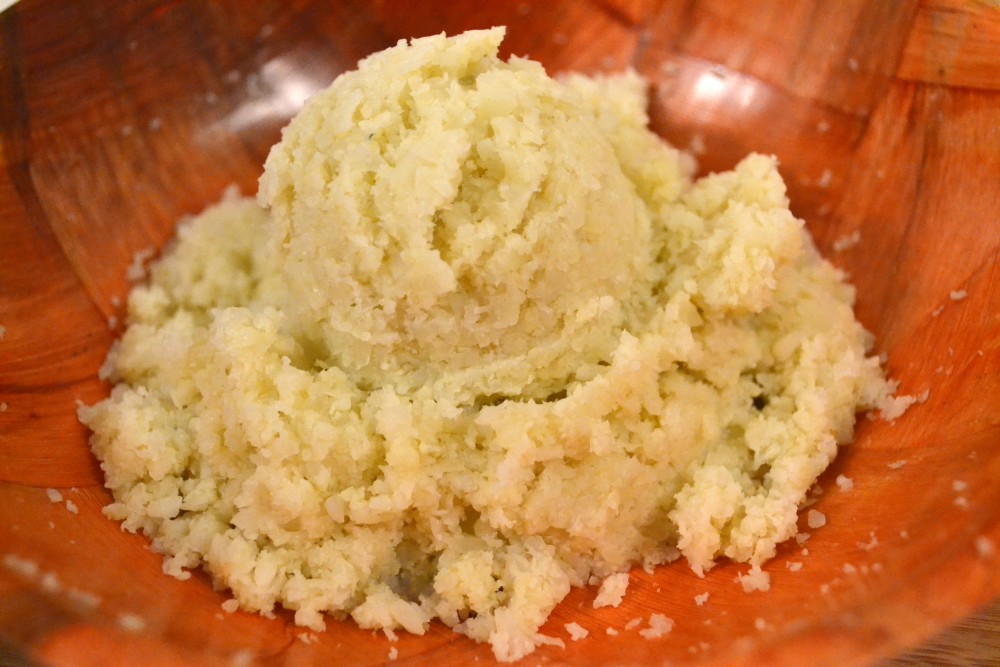 Add nut cheese.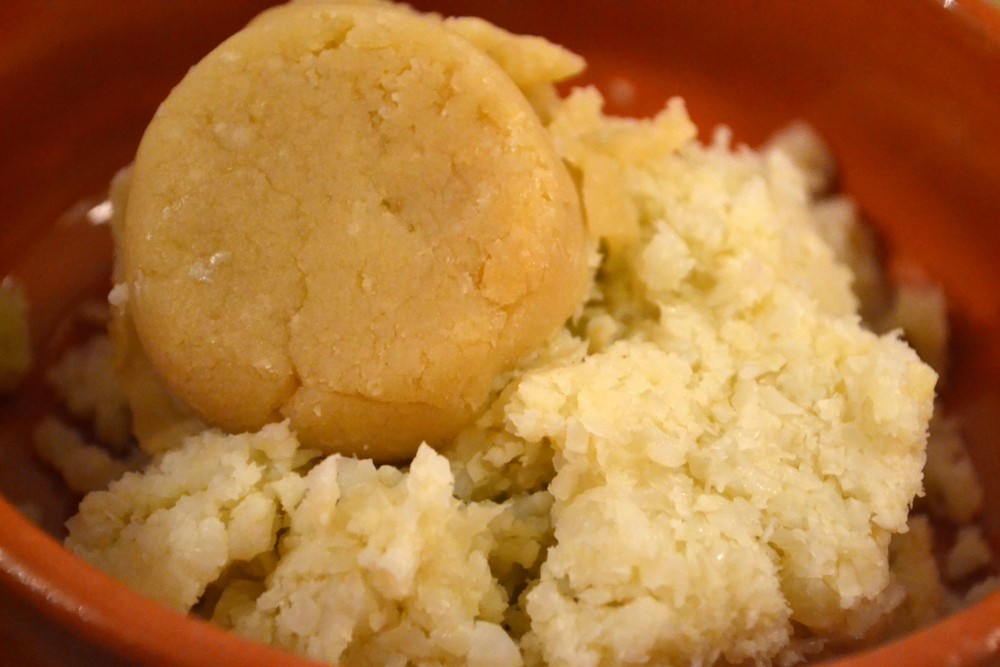 Add salt, to taste. Knead together to form dough.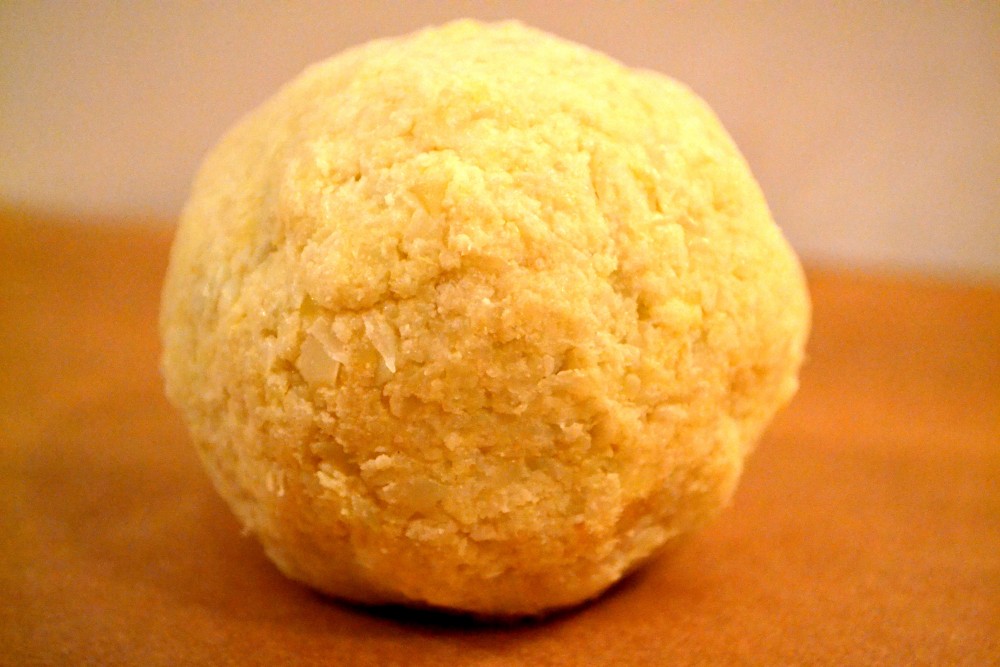 Divide into 6 equal pieces and, on a lightly oiled parchment paper, roll flat into pizza crusts. I place a piece of parchment over each piece of dough as I roll it, so that it does not stick to my rolling pin.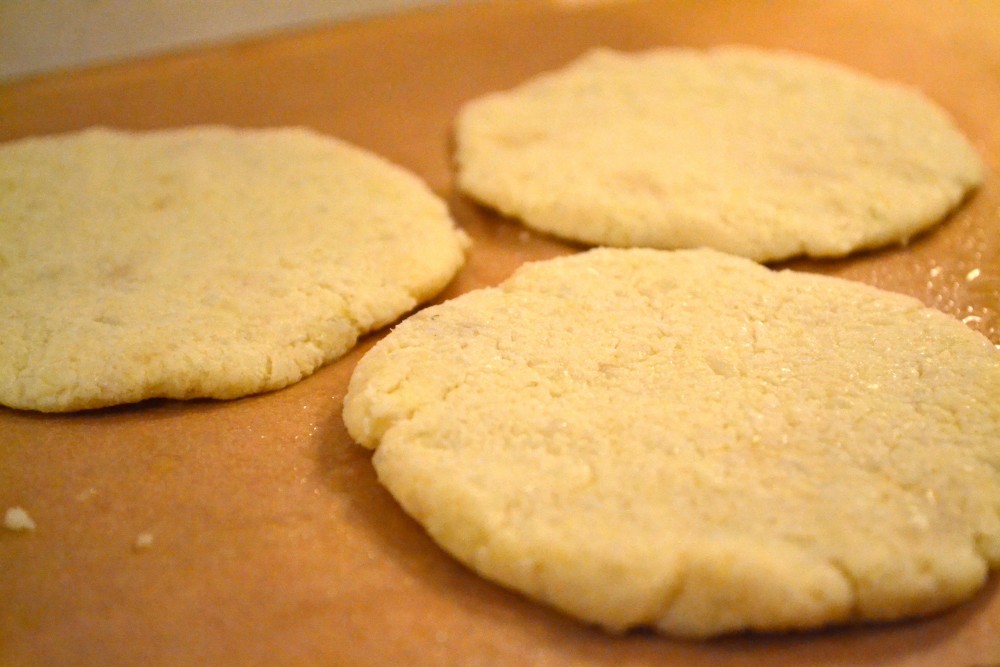 Bake crusts at 350° until golden brown.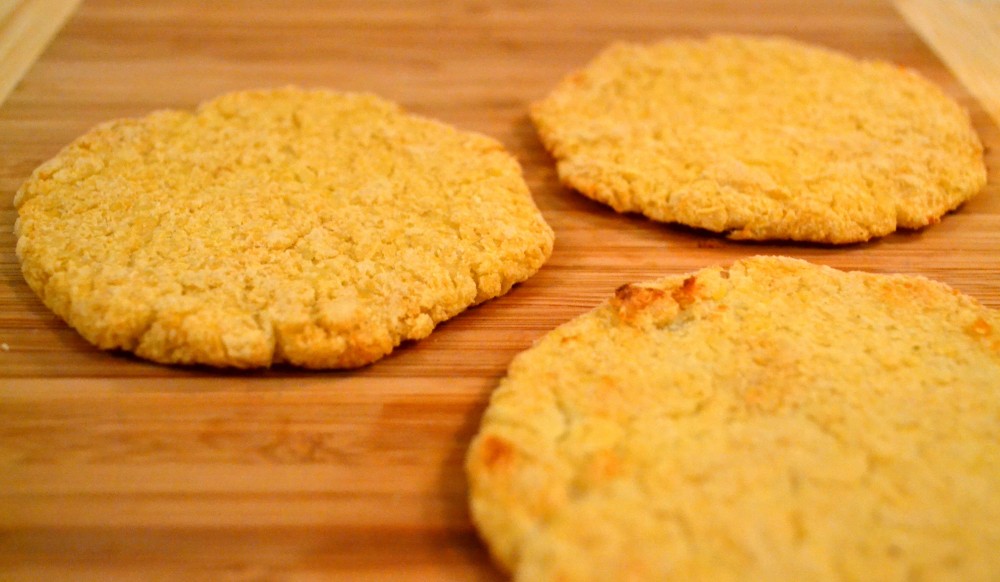 Top any way you like!
I like a red sauce piled with sauteed vegetables with red pepper flakes, salt and pepper, and a little sprinkling of nutritional yeast on top to make it taste cheesy. No need to bake again. No gluten! No dairy! So much flavor!!!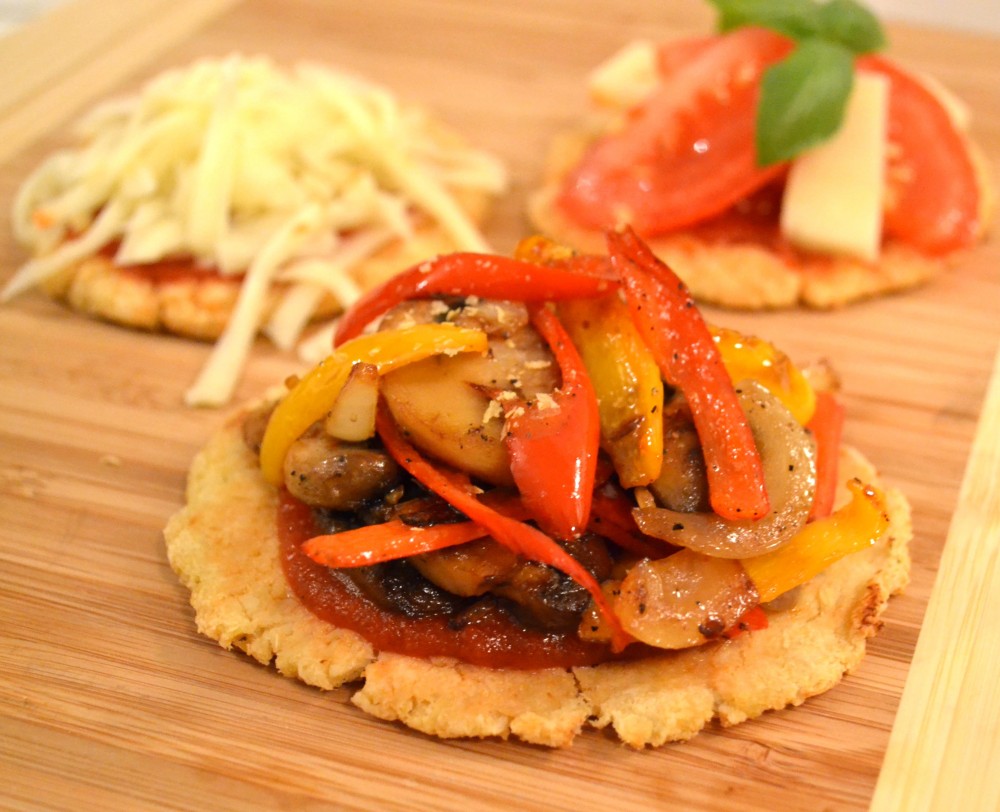 Daughter likes caprese style.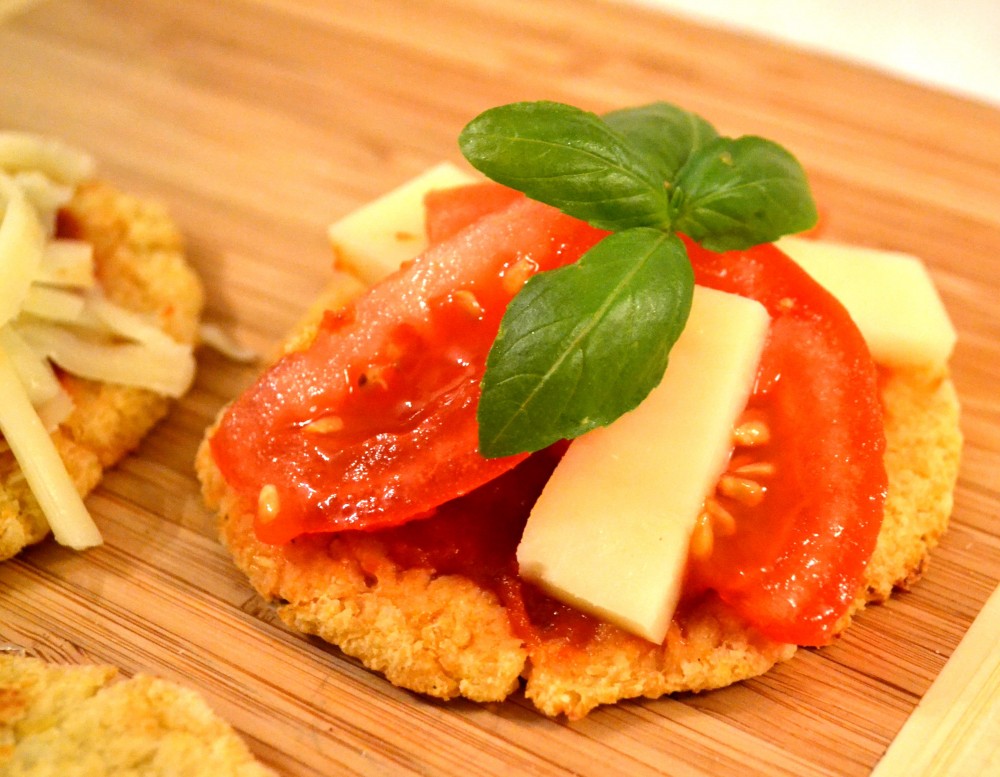 Son likes cheese with a little sprinkling of oregano. Return to oven to melt and brown cheese.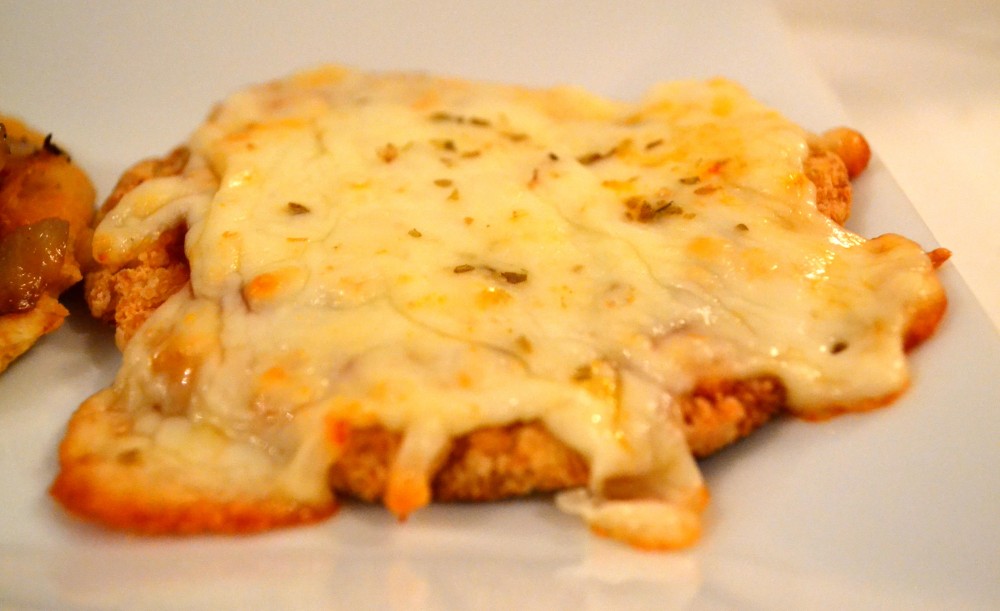 Caprese pizza baked… place fresh basil AFTER baking, if baking.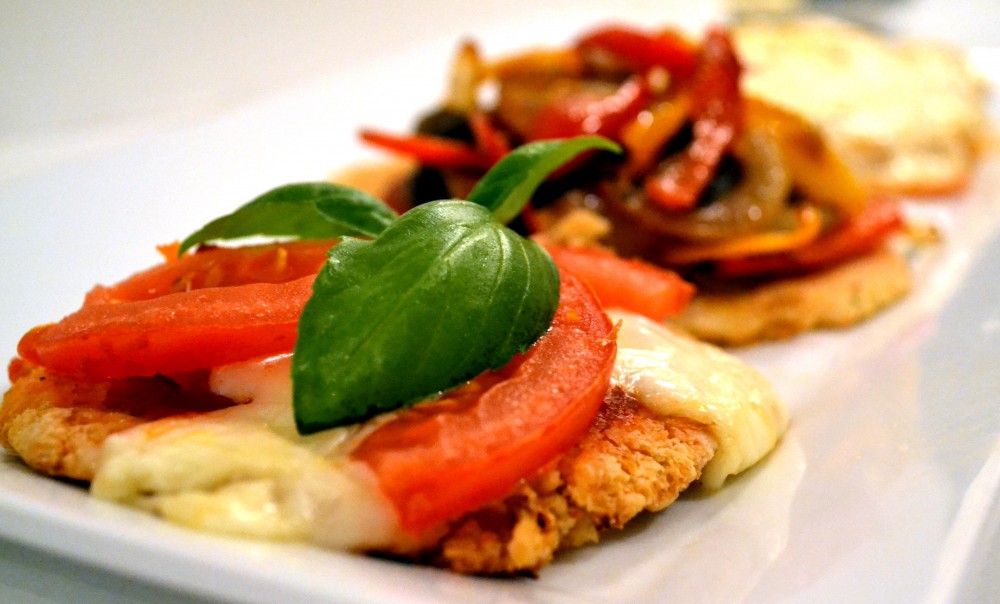 Alternatively, you can mix in mozzarella cheese, or goat mozzarella cheese, instead of almond-cheese.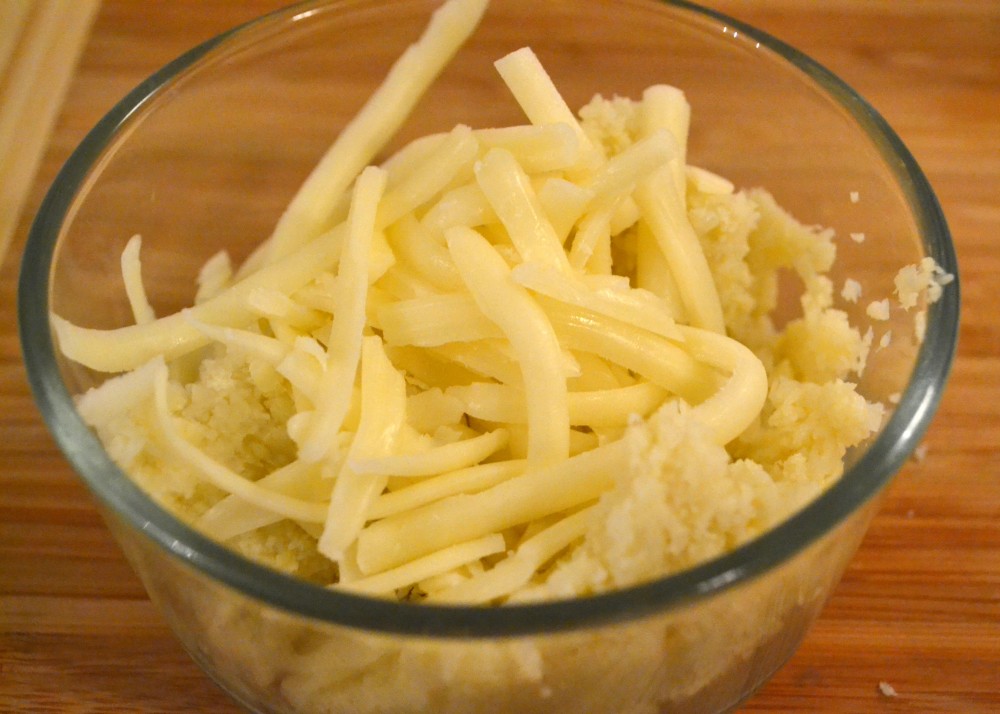 These mini pizzas were made with cauliflower-mozzarella cheese crust. They were cheesy!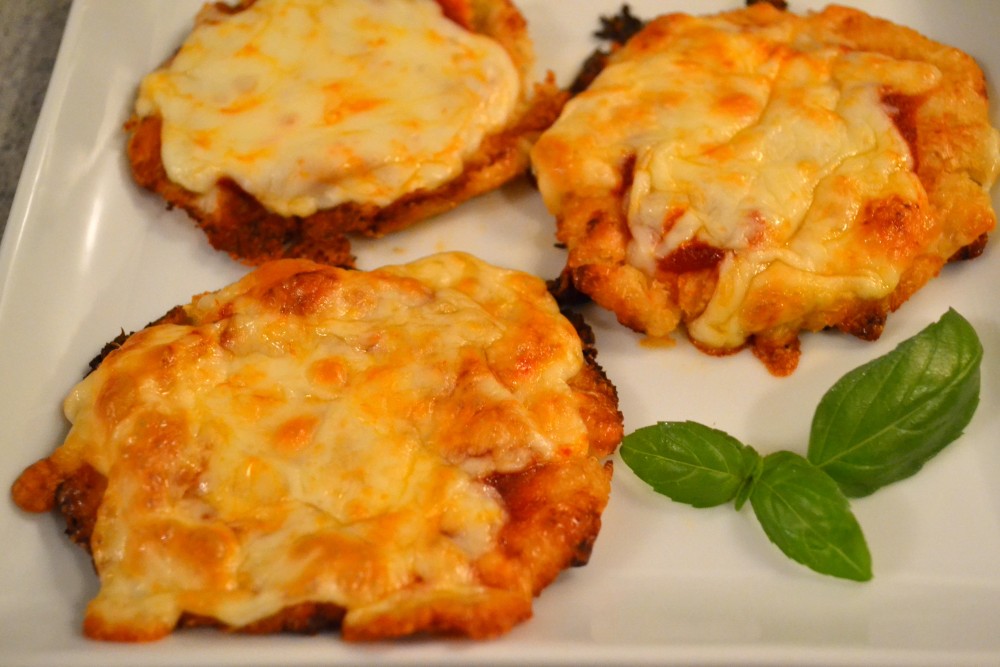 Cauliflower Pizza Crust
– gluten-free and dairy-free
Ingredients
1 head of cauliflower
approx. 1/4 c almond cheese (recipe below)
1 t ground flaxseed (or one egg)
Method
Chop cauliflower into rough chunks. Process cauliflower chunks until pieces are very small, they should resemble rice.
Steam cauliflower rice for about 15 minutes, or until it is soft, not mush. Allow to cool enough to handle. Place steamed cauliflower rice into a clean towel and wring out water over a bowl. If necessary, do this in batches.
At this point cauliflower should be reduced by about half of its pre-steamed state. Measure your yield. This recipe is fairly forgiving. Approximate your nut-cheese to cauliflower ratio based on the amount of cauliflower yield you have. Add about 1/4 c almond-cheese to 1 cup cauliflower.
You can combine these ingredients and make crusts with this dough. For a little more stability, knead in 1 t ground flaxseed. Allow dough to "rest" for a few minutes. Then divide into 6 equal pieces and form crusts. (Alternatively, add in one egg instead of flaxseed. I just prefer this egg-free.)
Roll dough into crusts on lightly sprayed parchment paper. I also put parchment on top of each dough so it does not stick to my rolling pin. I like my dough about 1/4 inch think.
Bake crusts in a 350° oven until golden brown, about 15 minutes. Top anyway you like! If needed, bake toppings until done (cheese melted, etc).
Almond Cheese
Ingredients
1 cup blanched slivered almonds
2 T lemon juice
3/4 T nutritional yeast, or more, depending on how "cheesy" you want it to taste
salt, to taste
optional – 1 or 2 cloves roasted garlic, or garlic salt, or any other seasoning you like
Method
Process all ingredients together until smooth.
Enjoy!
If you like anything you see, please LIKE, SHARE, and PIN!