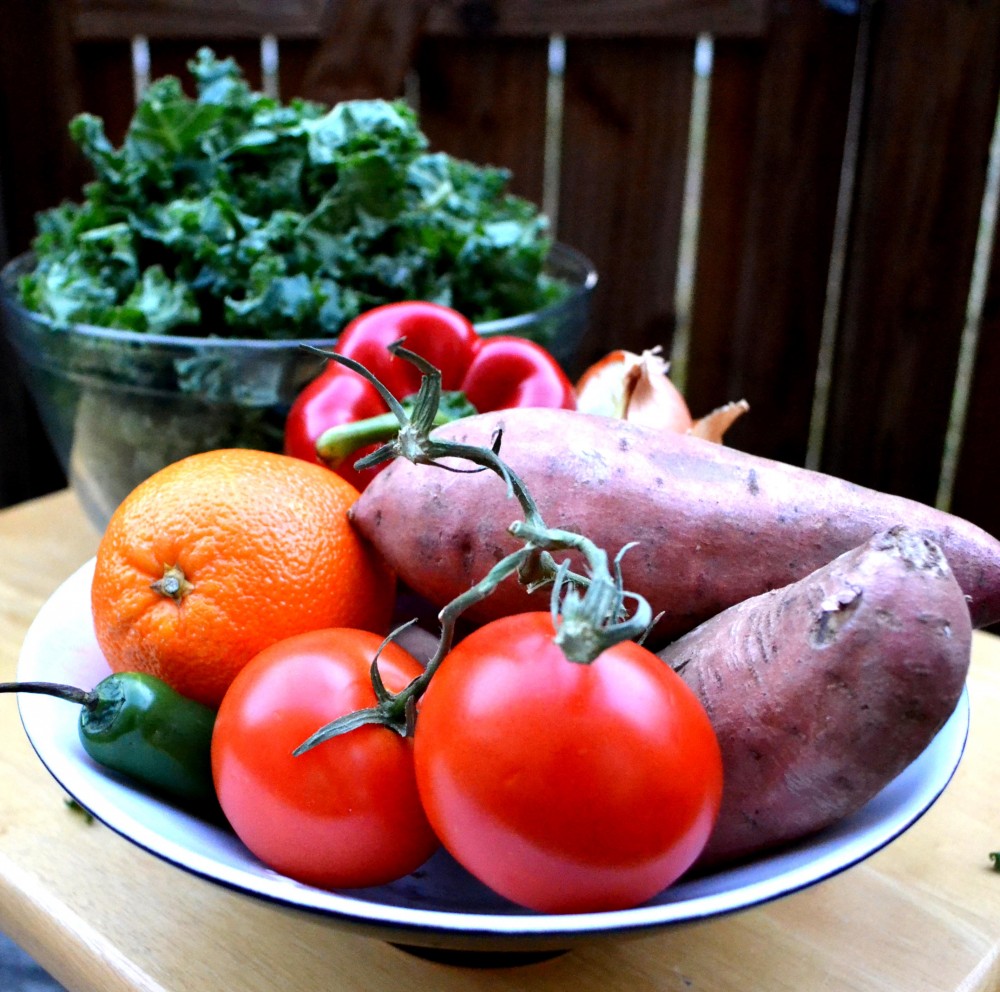 This dish was introduced to me by my friend and vegan cuisine mentor, Chef Ken Immer. Chef Ken is a rock star in the kitchen. He belongs on Food Network. Don't be surprised if you tune in one day to find his charismatic personality inviting you to try vegan cuisine, simply because it is delicious. Don't be surprised if you find yourself hooked. Even many a confirmed carnivore have!
What Chef Ken does with vegetables… with food in general… is like magic!
So, when Chef Ken suggests a recipe, or makes a dish, I take notice!
Parky's Southern Braised Kale with Sweet Potatoes, comes straight out of a cookbook called Passionate Vegetarian, authored by Crescent Dragonwagon; and yes, that is her real name. And, yes, she chose and adopted her name in the 60's. Yes, she later came to regret this choice, as her fame left her stuck with what she herself calls "a ridiculous name". (This tickles me.) Notwithstanding, if you are new to vegetarianism, or just interested in it, I highly recommend this book. Dragonwagon introduces the reader to all the vital components of a healthy and well-rounded vegetarian diet, and in a very non-clinical and highly readable way.
Parky's recipe features kale, and most pleasantly balances acidic, sweet, and pungent flavors, with the freshness of quick cooked vegetables. This is not an obligatory veggie on the side; this is a substantial, soul-satisfying meal. BTW, I have seen even haters of sweet potatoes consume every bite, looking for a hearty piece of bread to soak up every last bit of flavor from the bottom of the bowl.
Let this dish stand on its own as a meal, or add whatever you want – on the side. Seriously, look at the ingredients list; how could this NOT be good?
And, yeah, its highly healthy… nice little benefit on the side. 🙂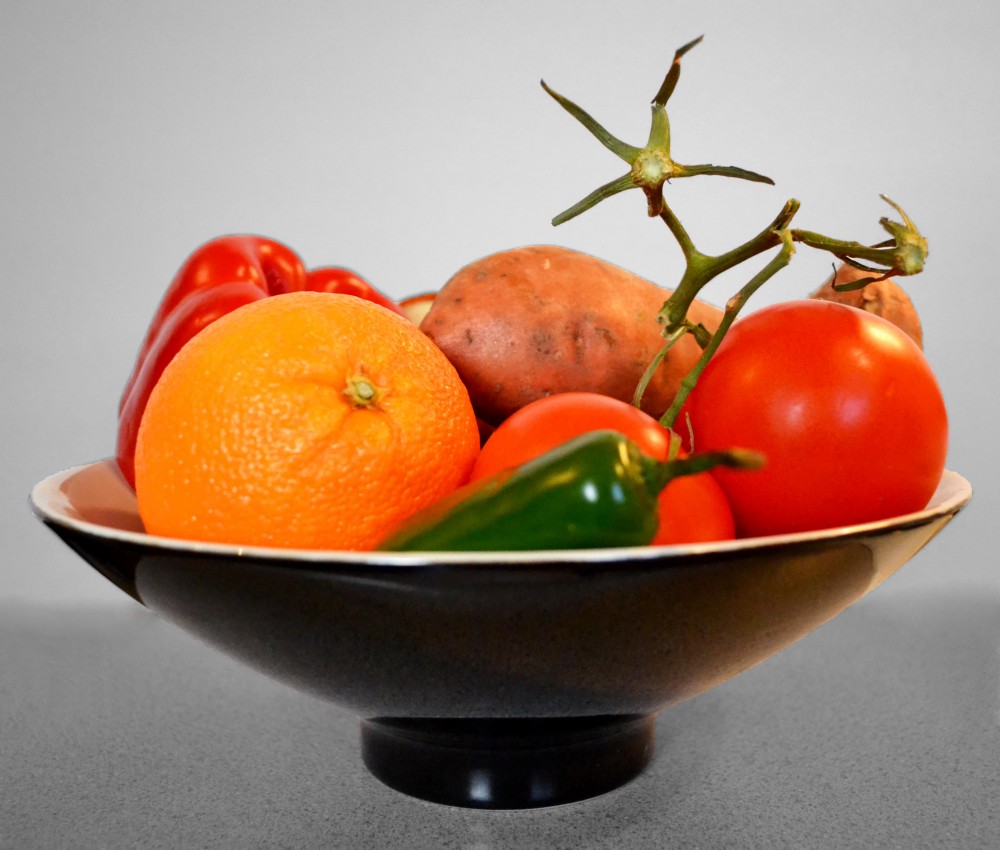 Parky's Southern Braised Kale with Sweet Potatoes
[pinterest]
Boil or steam sweet potatoes.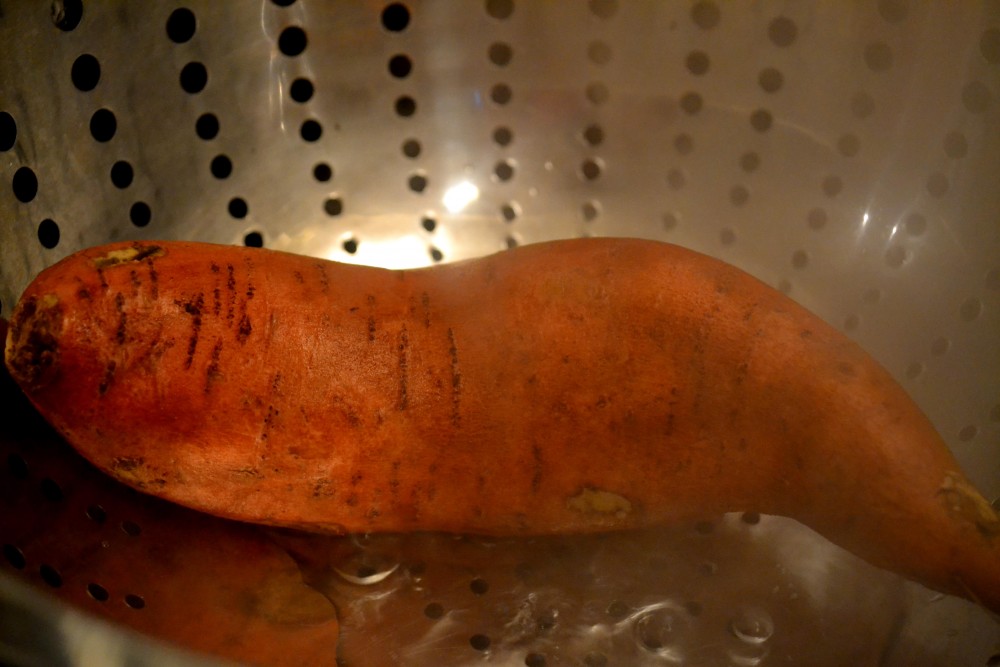 Cool and remove peels.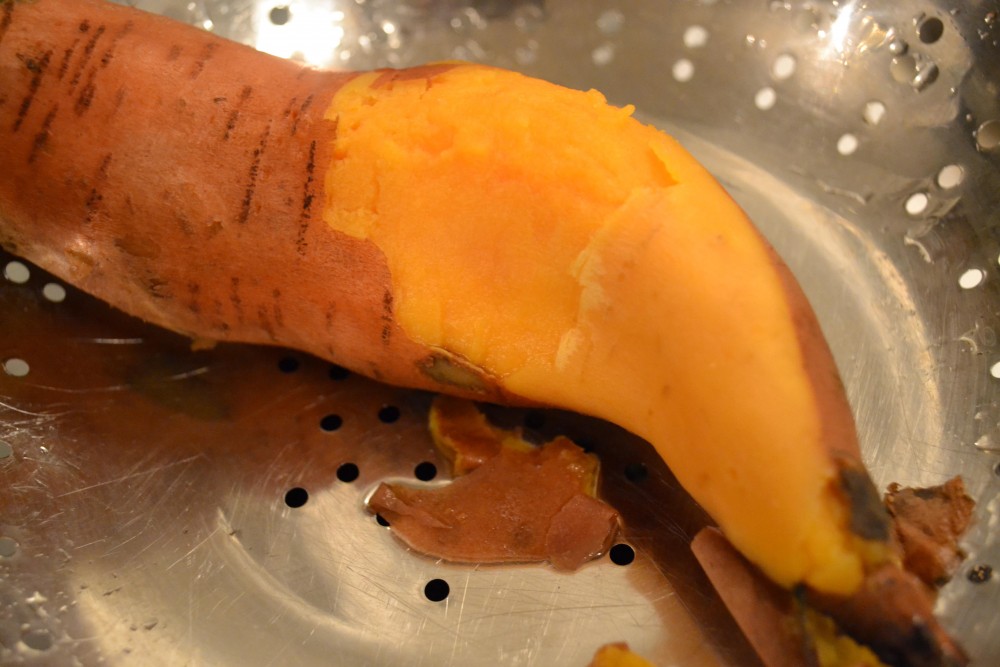 Cut thick slices.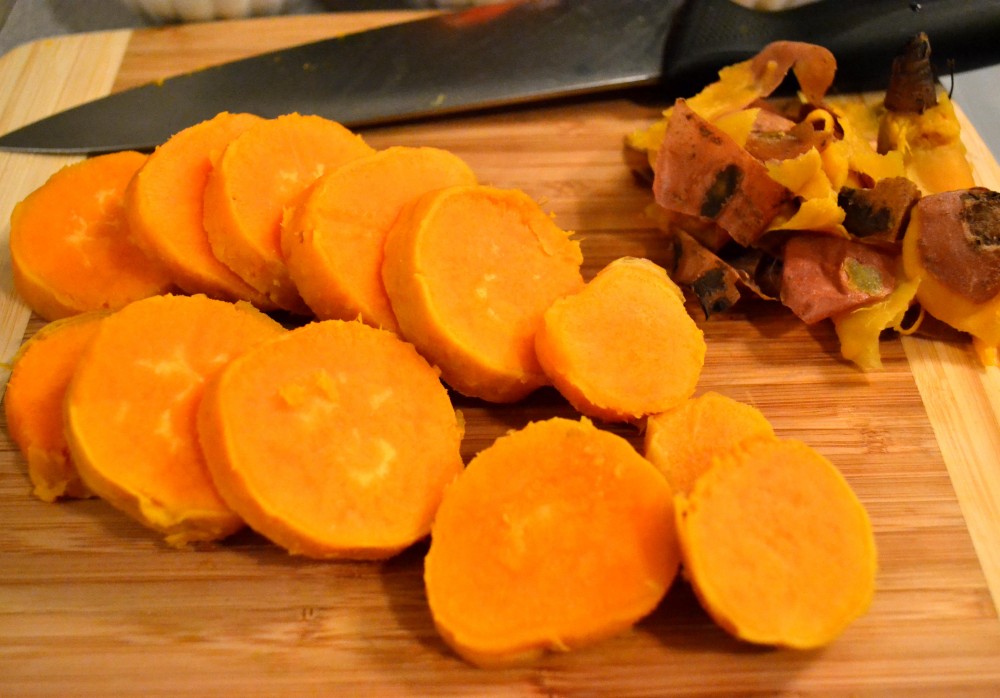 Dice and prepare all of your ingredients for quick and easy assemblage.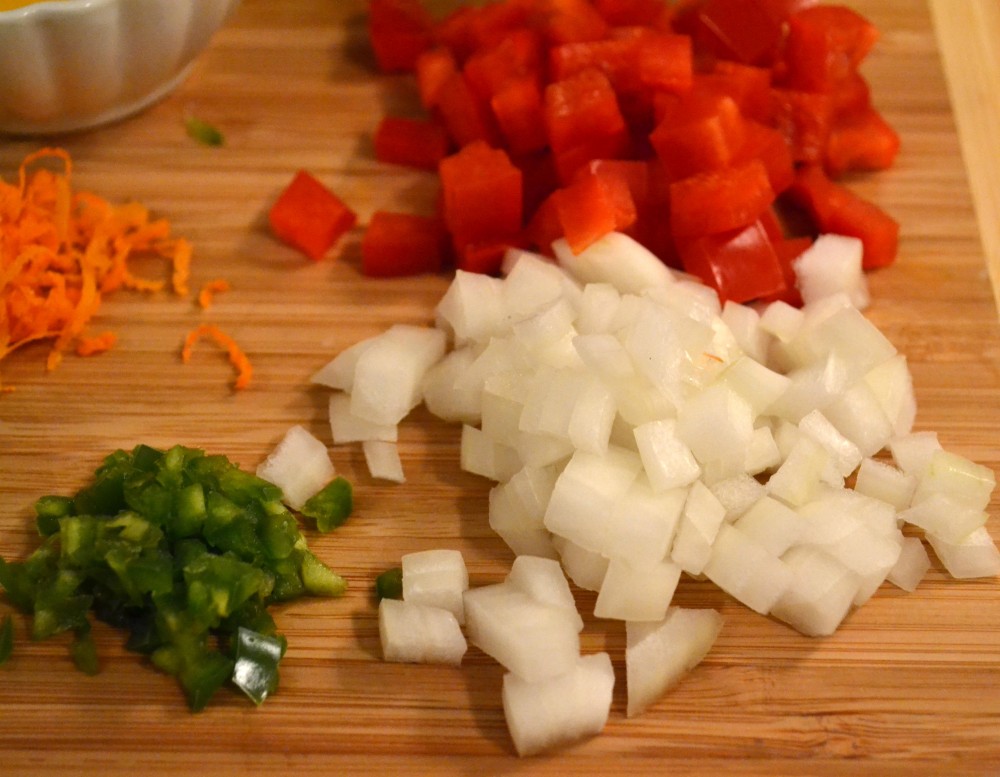 Zest and juice orange.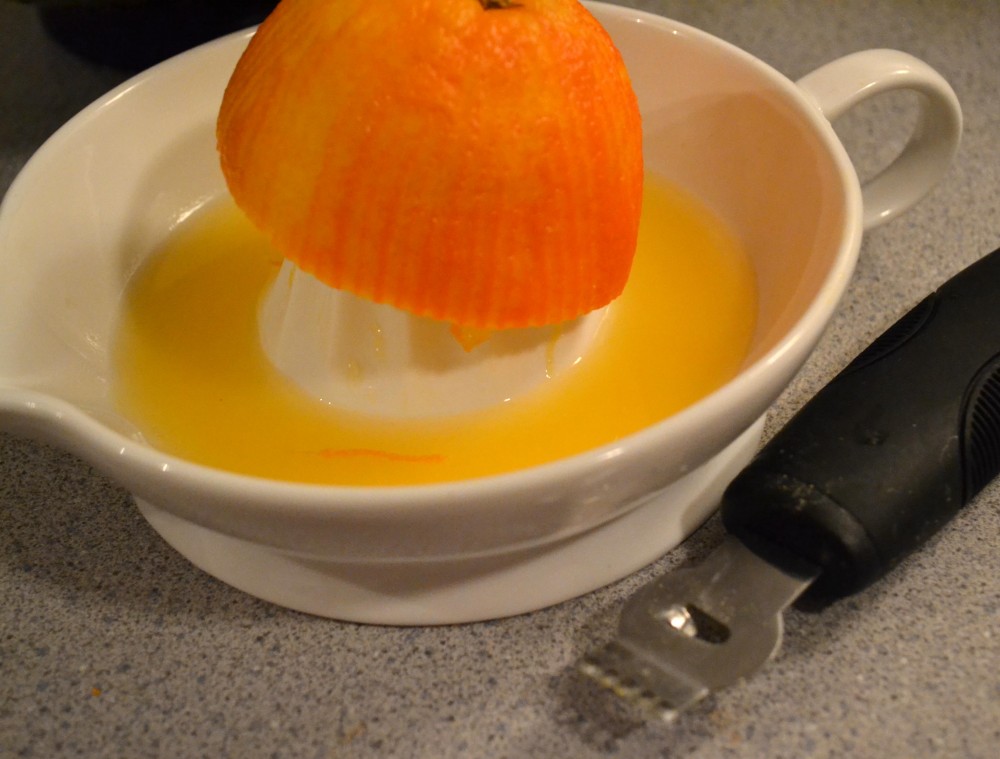 Heat oil in a dutch oven, or large pot. Add onion, red pepper, and jalapeno. Ah!!! The aroma!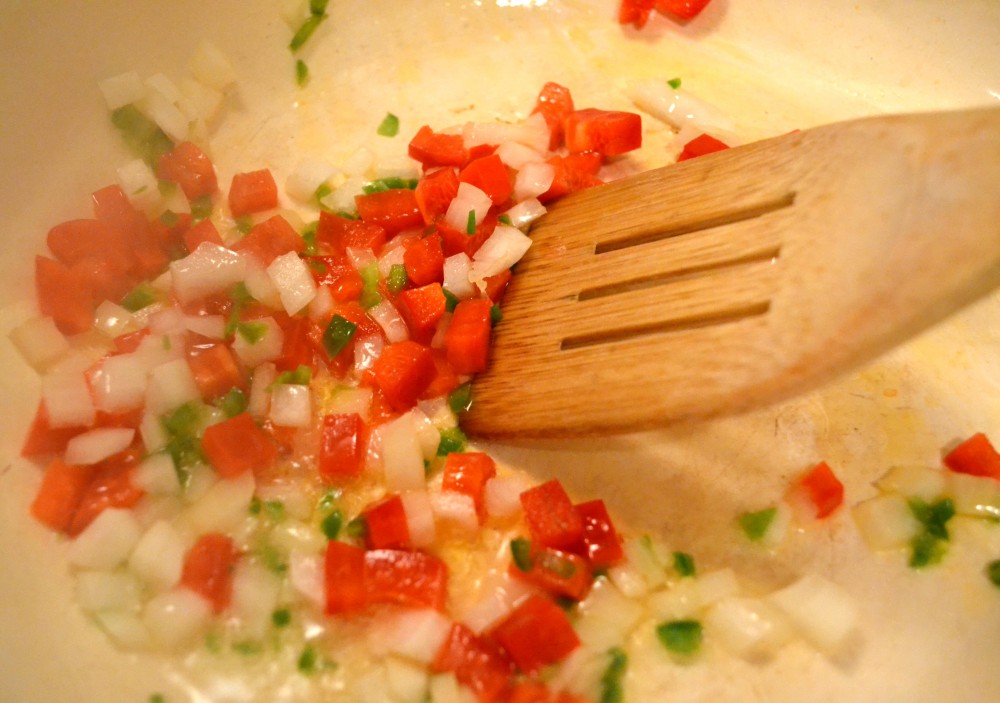 After about 5 minutes, add kale. It will begin to turn a deeper darker green.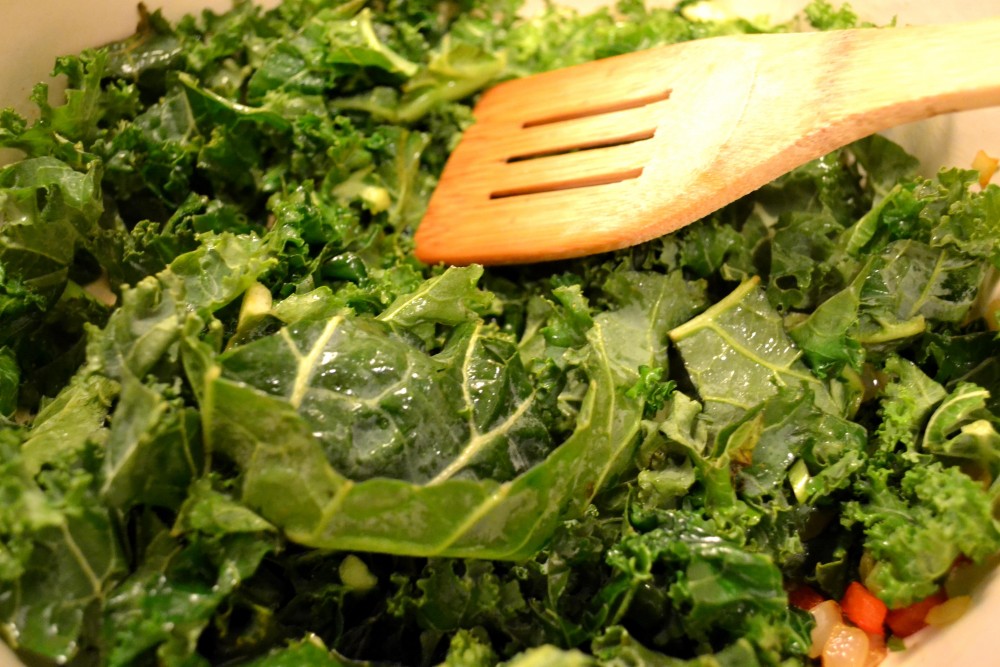 Stir. Then place sweet potatoes on top of kale.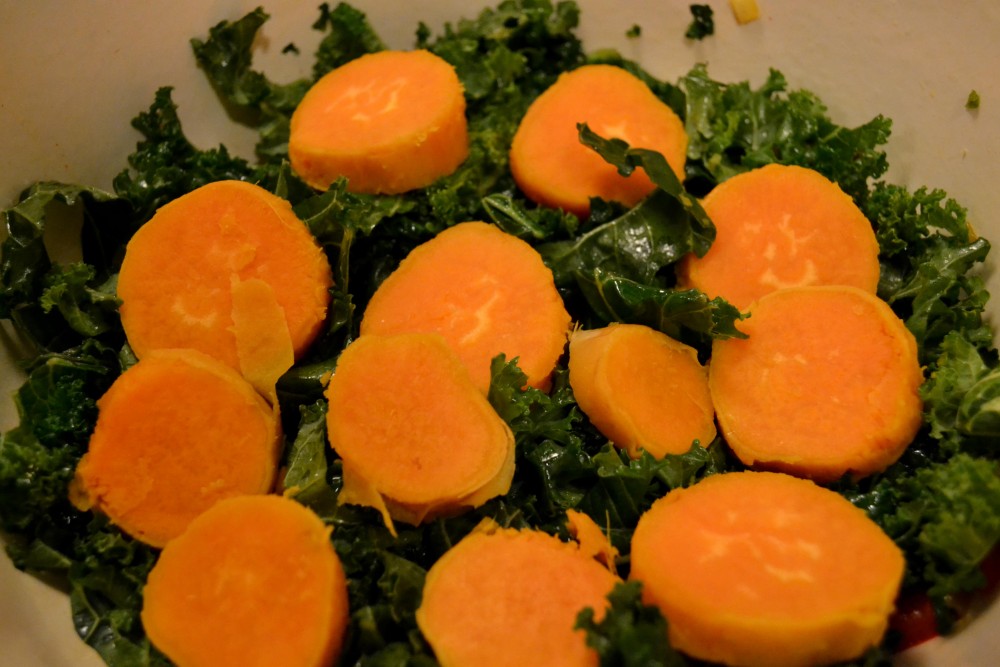 Pour vegetable both over vegetables.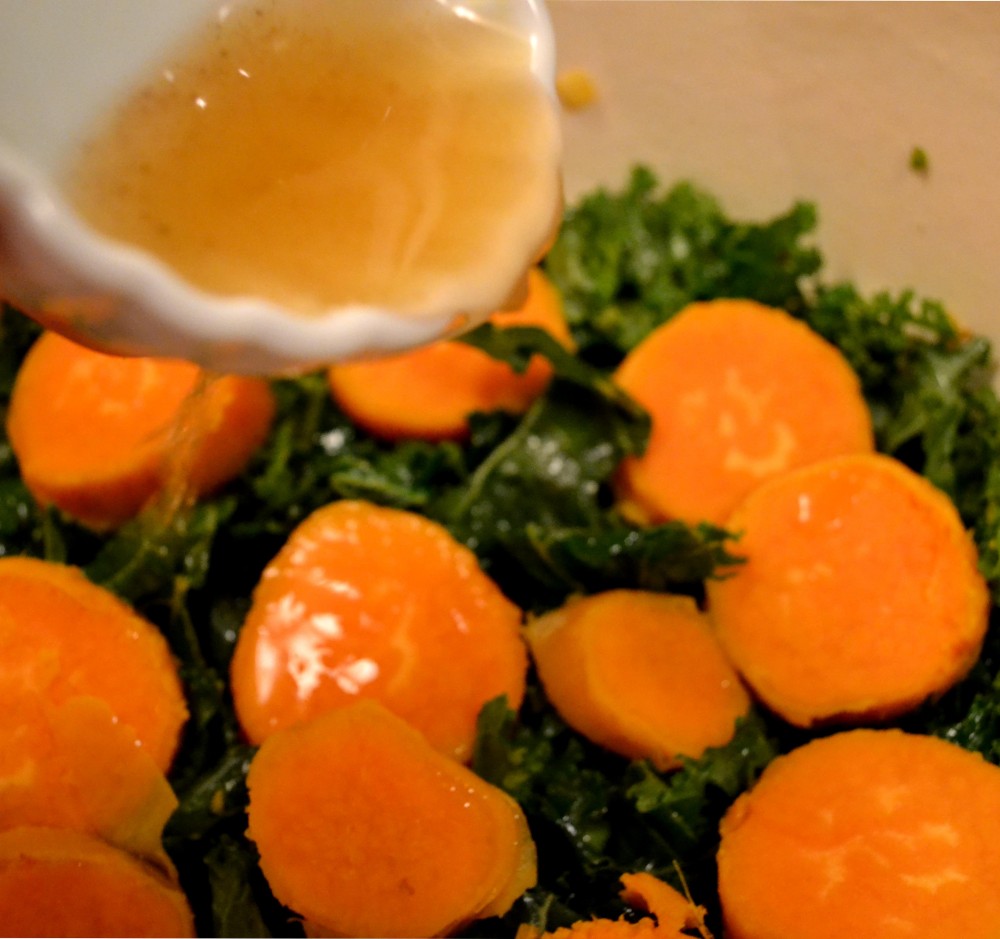 Cover pot and allow to braise for a few minutes.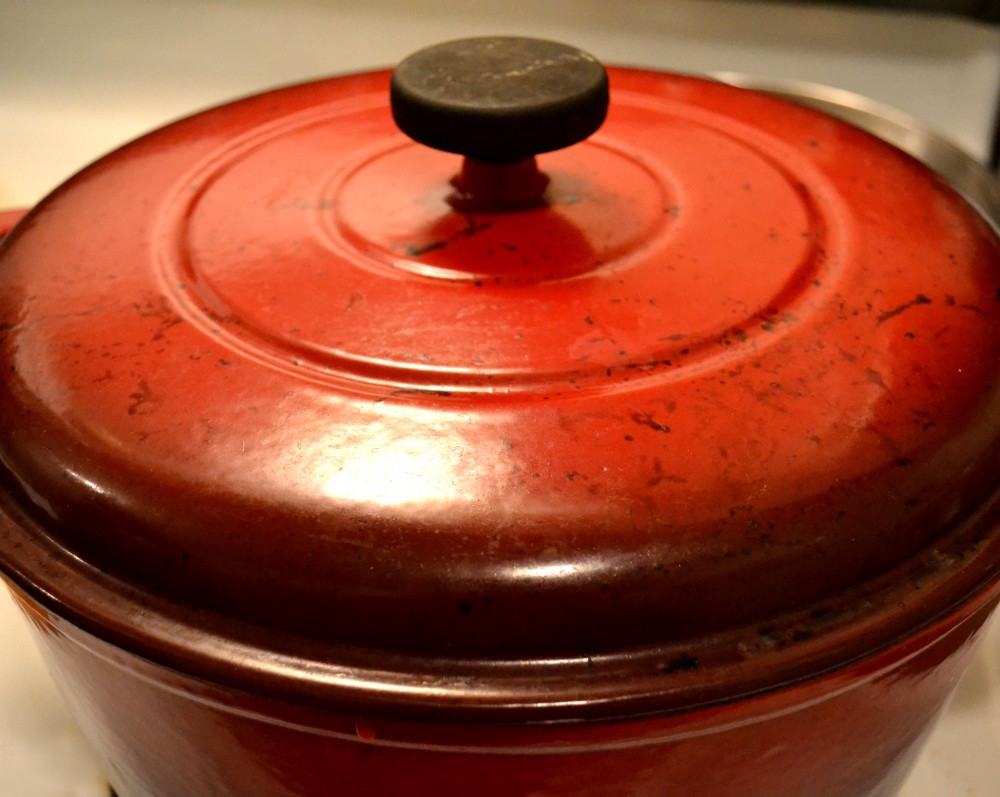 Next, add in tomatoes, orange juice and zest, and balsamic vinegar.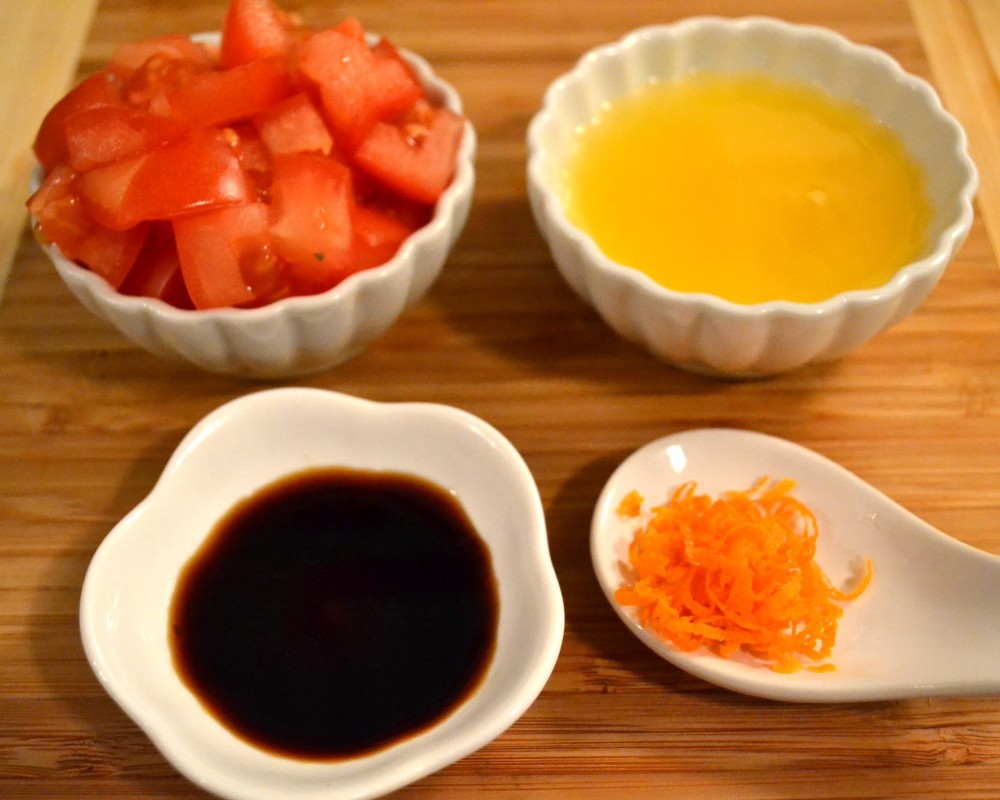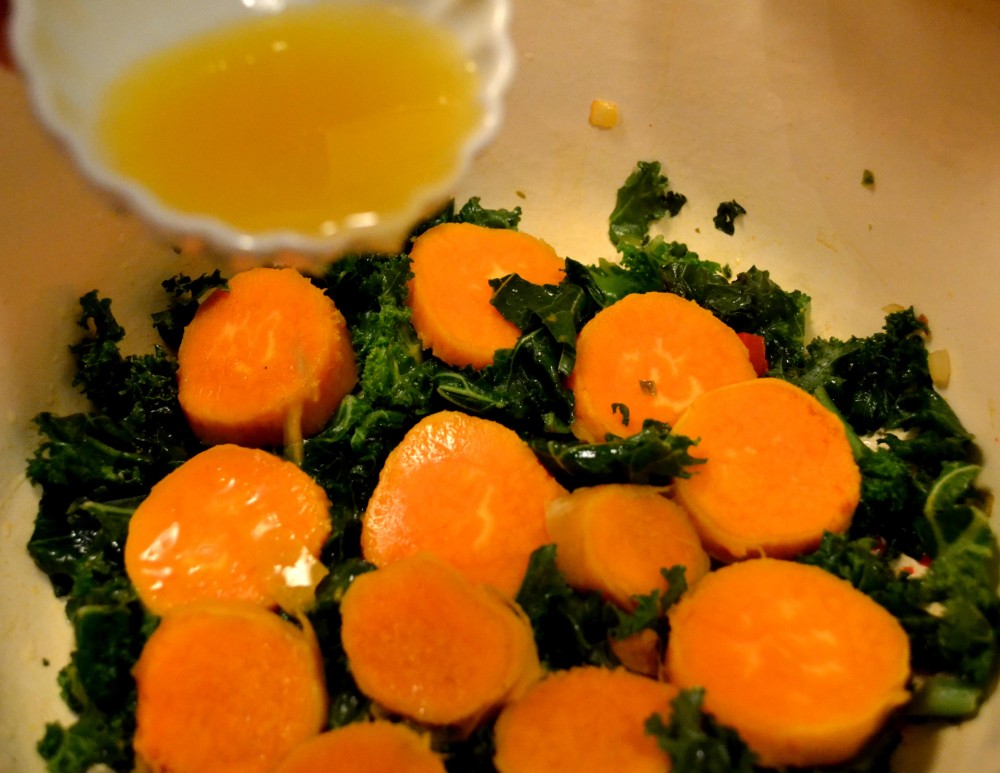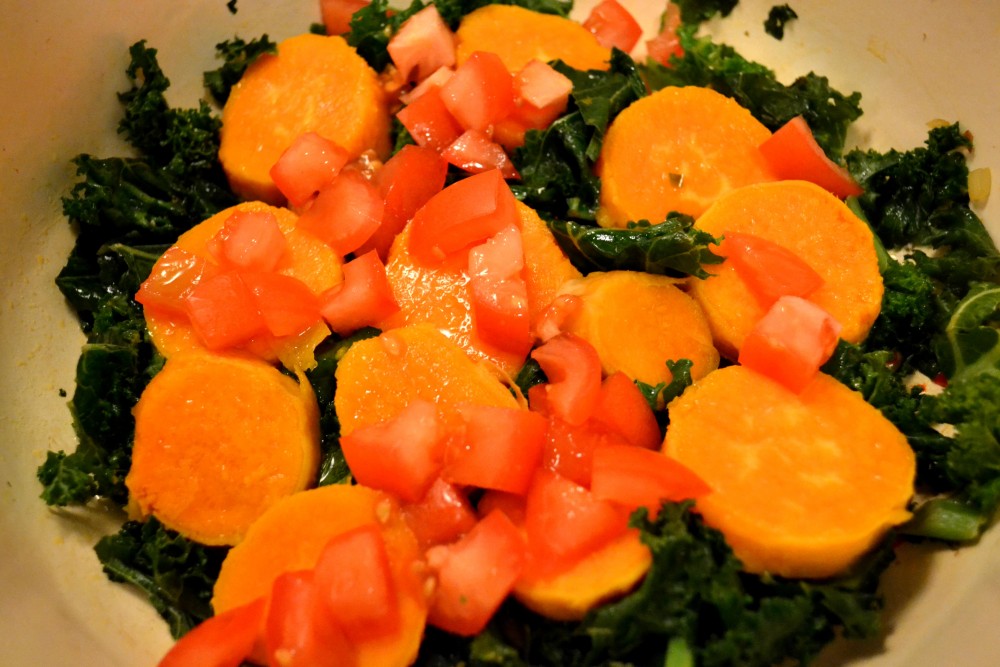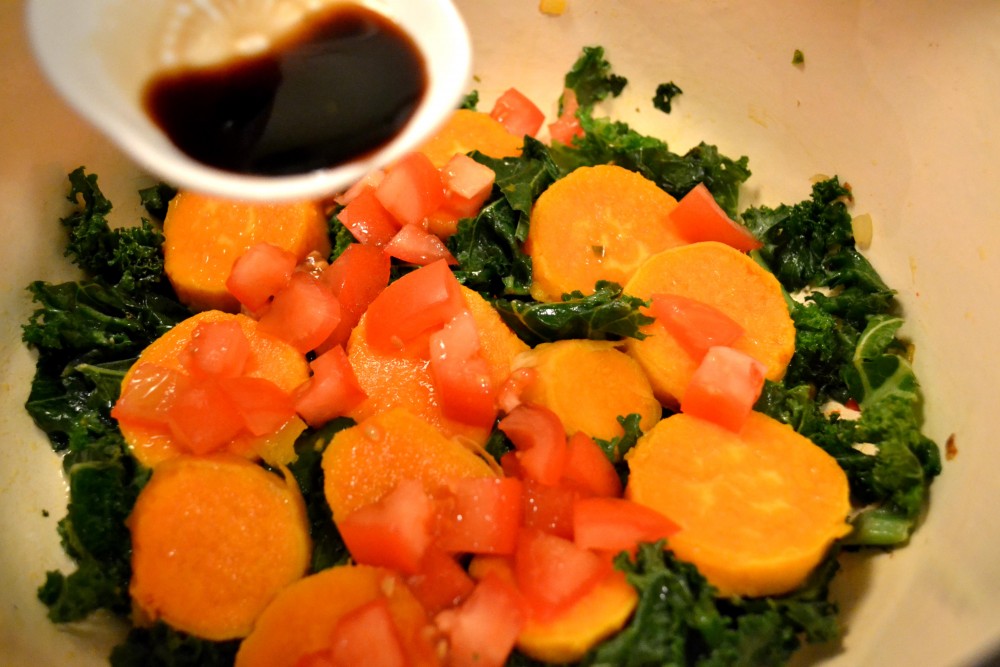 Serve immediately. If desired, over rice or with a nice wedge of cornbread.


Parky's Southern Braised Kale with Sweet Potatoes
By John Parkhurst, via Crescent Dragonwagon
Serves 4
Ingredients
3 large sweet potatoes, scrubbed
1 T mild vegetable oil
1 red bell pepper, diced
1/2 onion, diced
1-2 jalapenos, minced (seeds removed for mild heat, or left in for extra)
2 lbs kale, washed, tough ribs removed, coarsely chopped
1/3 c vegetable stock
1 orange – zest and set aside, juice and set aside
1-2 T balsamic vinegar
2 medium tomatoes, chopped
salt and black pepper, to taste
Method
Boil or steam whole sweet potatoes, until just tender, about 25 minutes. When tender, run them under cool water, remove peel. Cut into thick slices.
Heat oil in a Dutch oven or large pot. Add onions, red bell pepper, and jalapeno. Saute on med-high heat for about 5 minutes.
Add kale. Briefly stir. Top with sliced sweet potatoes. Pour stock over dish, cover, and allow to braise until kale is tender, but still bright green. This will take only about 4 or 5 minutes.
When kale is done, uncover and add about 1 t of the grated orange zest, about 3 T of the orange juice, 1 T of the vinegar, all the tomatoes, and salt and pepper. Taste. Add and adjust seasonings as desired.
Enjoy!
[pinterest]
Like what you see? Please Like, Share, and Pin!