Zucchini Ribbons with Tomato-Basil Broth
No pasta? No problem.
For a fun and low carb diet-friendly alternative, try using vegetable ribbons. You can make them from carrots, zucchini, broccoli stems, daikon, asparagus, parsnips… and you can season them any way you like.
Today, I happen to have zucchini, and want to use up some leftover items in my fridge. As with most of my recipes, you can follow them exactly if you choose, but you will have more fun taking the idea and personalizing it. Had my daughter made this, she would have kept everything exactly the same, but added potatoes.
Here's how…
Start with zucchini… or your vegetable of choice.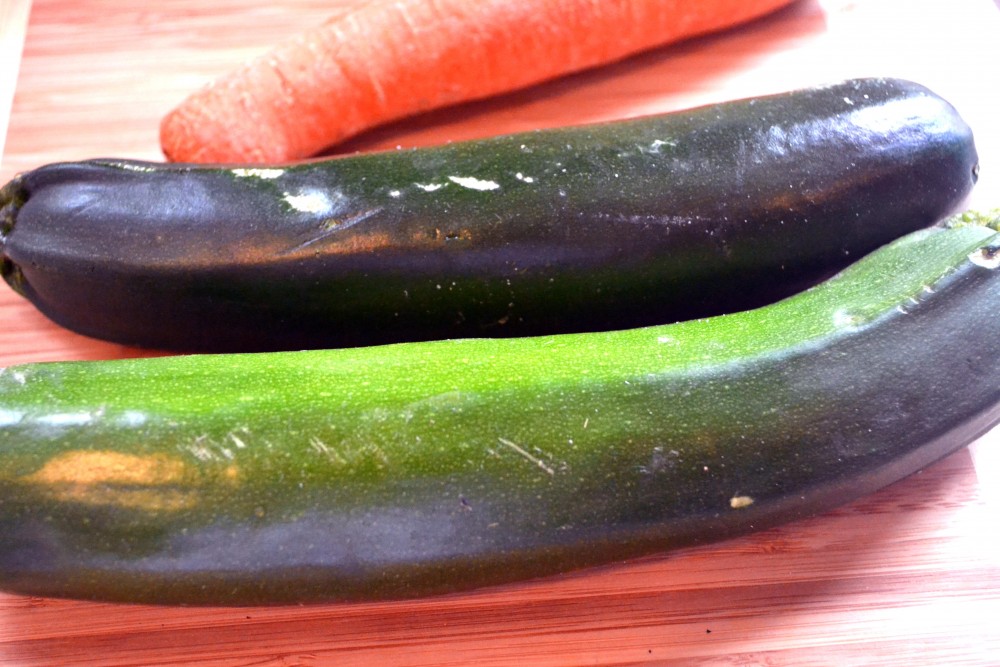 Use a vegetable peeler to shave thin ribbons of zucchini. Simply start at one end, holding the vegetable firmly, and slide peeler all the way across. Repeat until done. If you prefer, shave one side stopping at the seeds, and then the other side stopping at the seeds. Save the inner seeded part for another use, like a quick saute with onions later just for you. 🙂 Set aside.
Note: If you are making ribbons from a tougher vegetable, you may prefer to use a mandoline.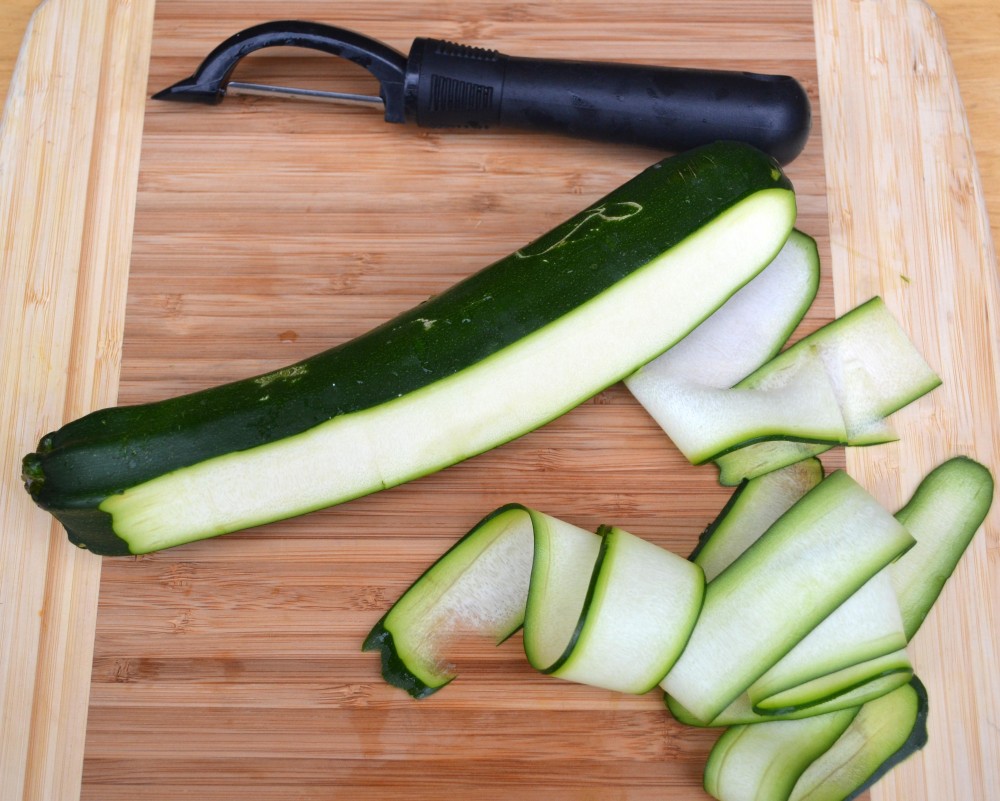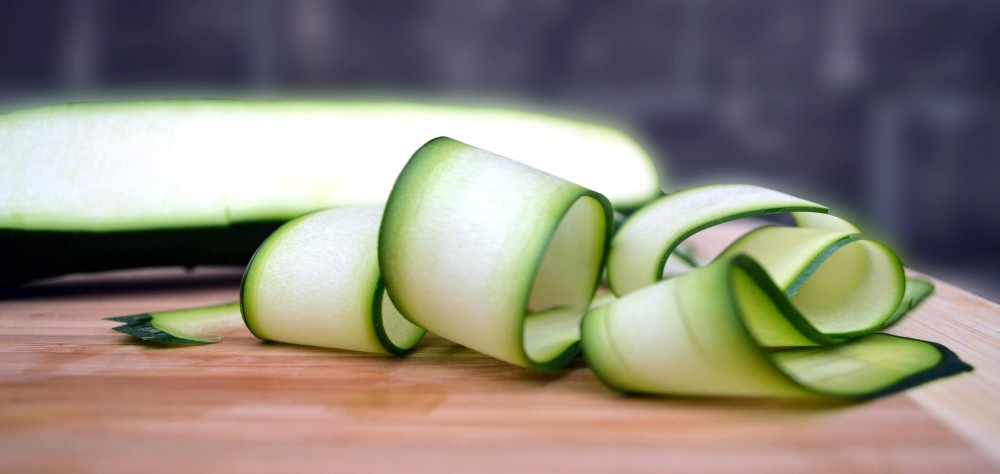 NOTE: You can slice these ribbons lengthwise to make them thin. I sliced mine in half. Do you want the width of a fettuccine? or a papparadelle?  A homemade egg noodle? Your choice.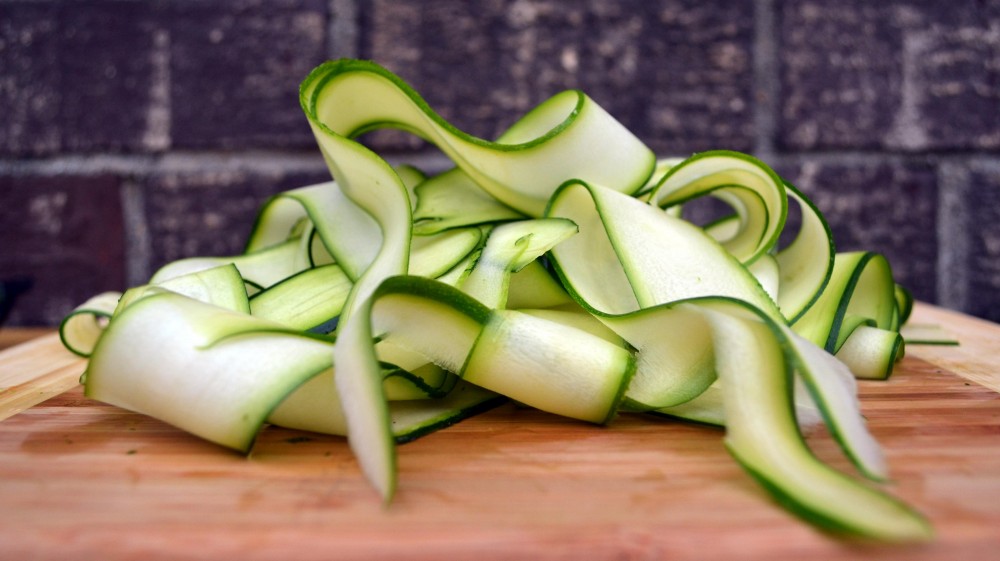 Chop a carrot, any way you like. I am feeling triangles today.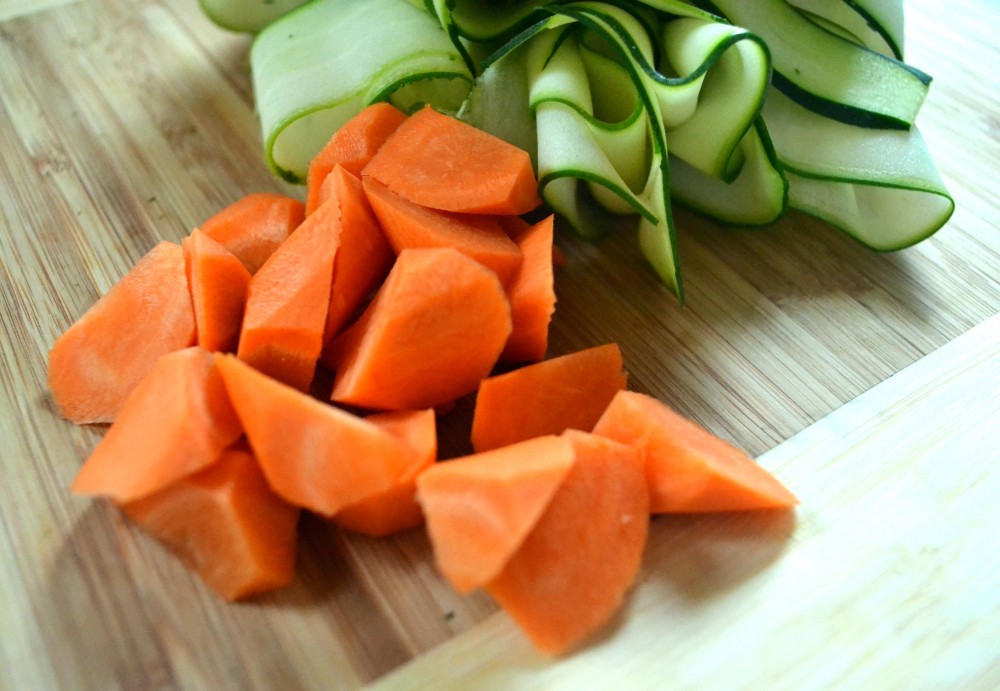 In a pot, bring vegetable broth to a soft boil, add in carrots.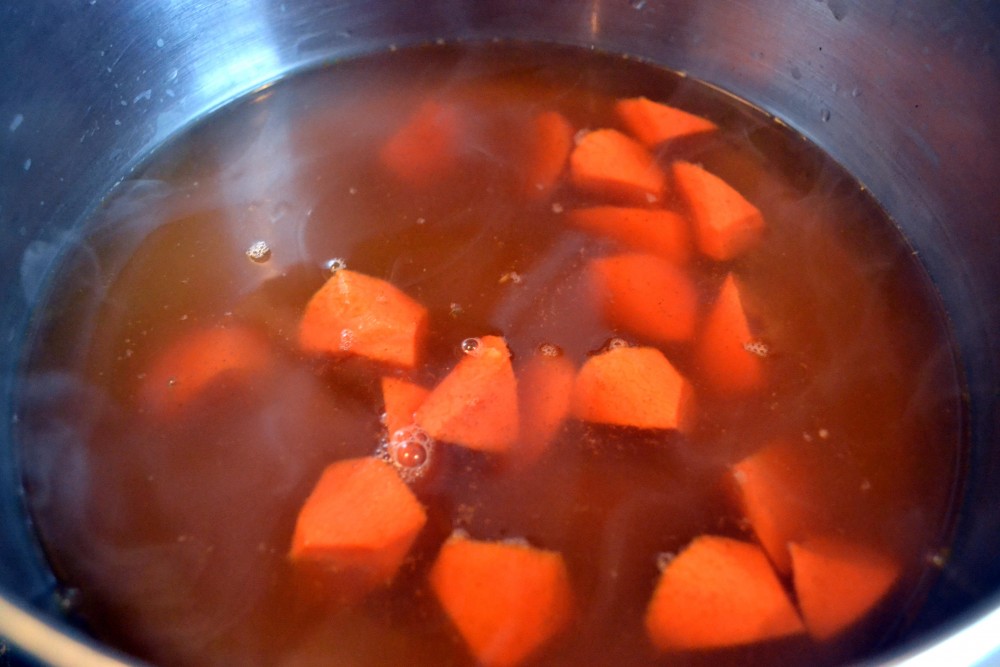 Add in your flavors, all your herbs, marinara or tomato sauce… we are going to let those flavors develop while the carrots become tender.
This is a quick soup. Alternatively, you could develop you broth, allowing flavors to simmer n a covered pot for about an hour, before adding vegetables. If you do this, and your base cooks down too much, just add more vegetable broth or water. This deepens the flavor, but takes longer. Your choice.
If you choose to slow cook your broth, add dried ingredients at the beginning of your cook time. If using fresh basil, add this at the end of cooking when soup is almost done.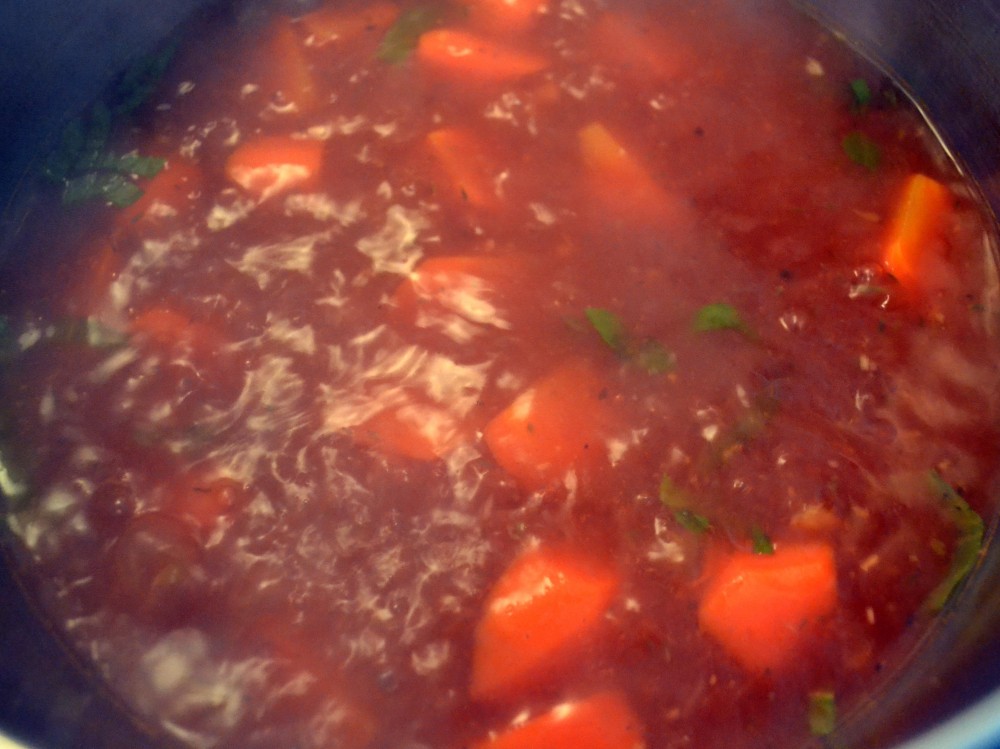 When carrots are just getting tender, add in zucchini ribbons. These will not need to cook for more than a few minutes. Don't turn them to mush! (My daughter likes them still a bit crisp.) Taste after a few minutes and remove from heat when it pleases your palate.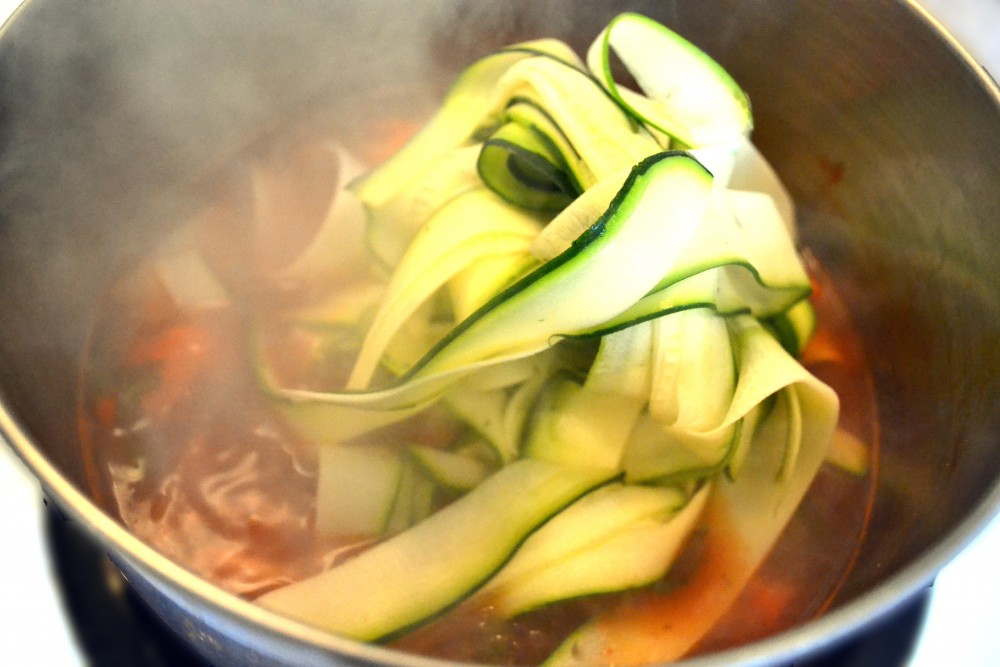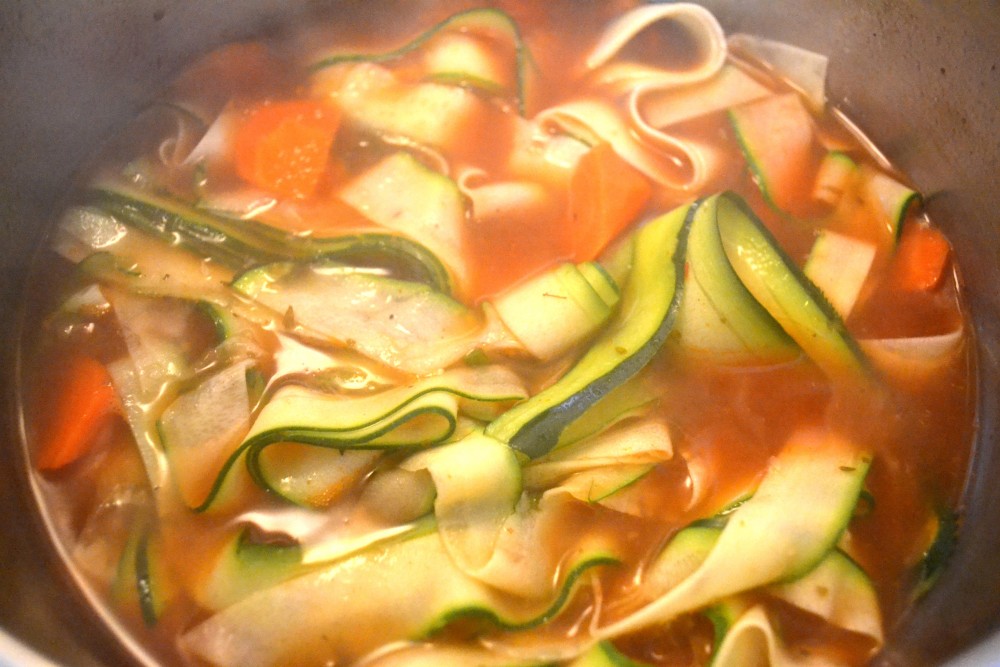 Serve in a bowl. If desired, garnish with a bit of fresh basil, chopped or whole leaves.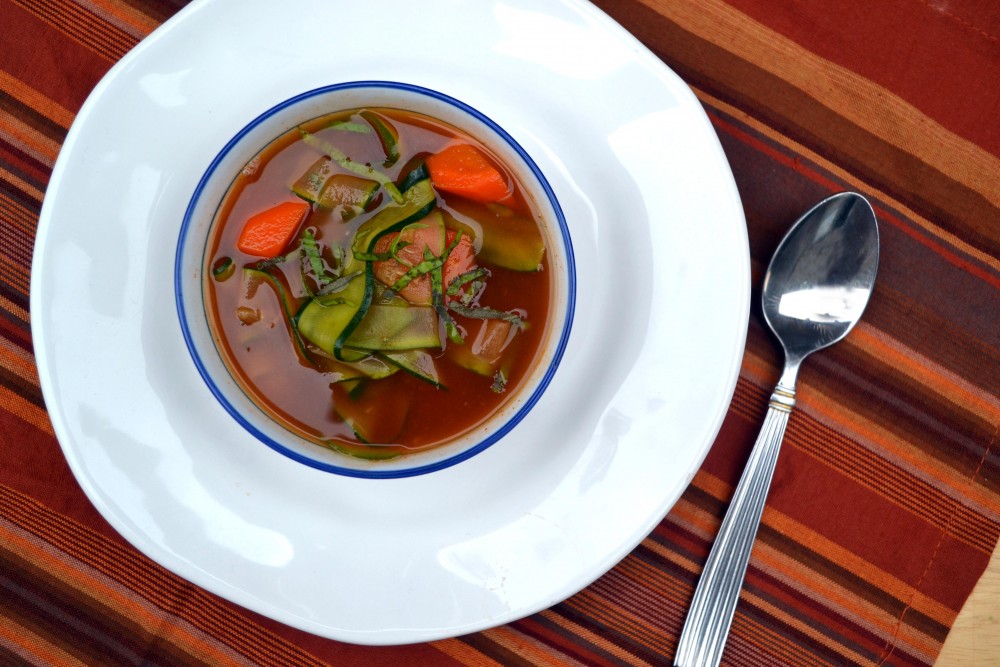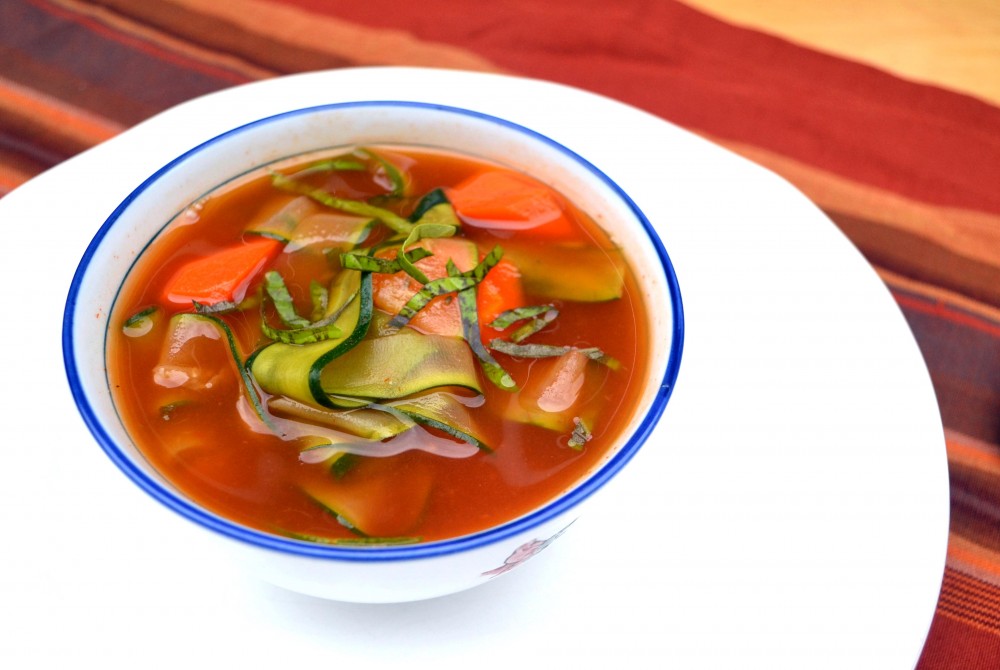 Zucchini Ribbons with Tomato- Basil Broth
1-2 zucchinis
3-4 c vegetable broth
1 med-sized carrot, chopped
1-2 clove garlic, minced – or use roasted (for a little sweetness)
1/2 t dried thyme
1/4 t dried oregano
1/4 cup marinara sauce or tomato sauce (I had leftover)
1 T fresh basil, chiffonade (sliced thin) – add more, if desired, for a stronger basil flavor.
sat and pepper, to taste
optional – crushed red pepper flakes for heat
optional, but highly recommended, 8 oz mushrooms
Method
With a vegetable peeler, shave ribbons of zucchini and set aside.
In a pot, add carrots, and mushrooms (if using), garlic, all of your dried spices, and and tomato sauce. If you are using leftover marinara, you will get all those flavors in your broth. If you are using tomato sauce, be sure to taste your broth and if you prefer a stronger herb flavor, by all means add more herbs!
Cook until carrots are just about tender. Then add your zucchini ribbons. When they are almost to your liking, add fresh basil – unless you have only dried basil, this would have gone in with your dried herbs.
Season with salt, pepper, a little heat, until your taste buds are happy.
Serve hot.
Enjoy!
If you like what you see, please SHARE, LIKE, and PIN!