Sunbutter Crunch Bar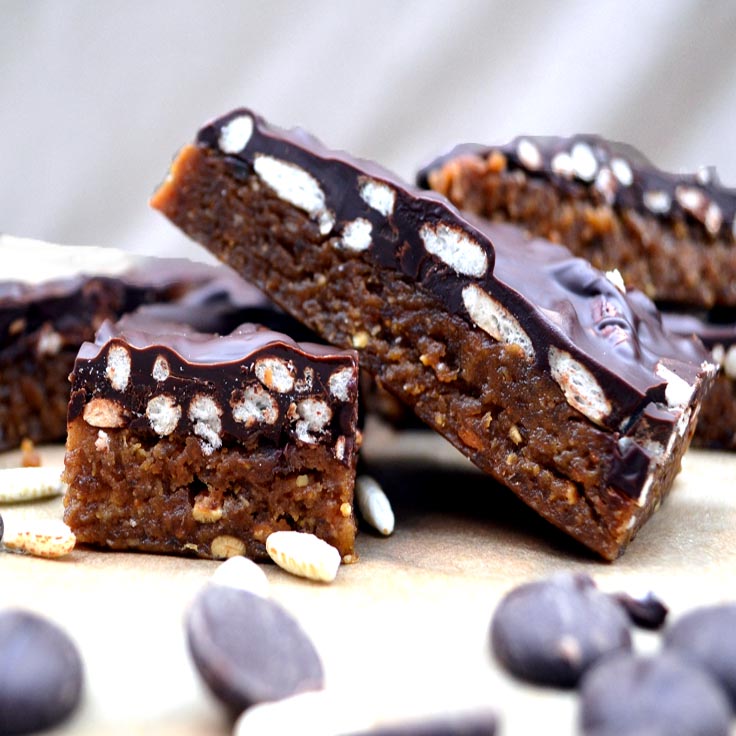 This is a dish for all occasions! It is party food. It is kid-friendly food. It is indulgence food. It is nutrition food! It is really a nutrition bar disguised as a candy bar. At the market, you usually find the reverse – candy bars disguised as nutrition bars.
In addition to being crunchy, chocolaty, and sweet, with no added sugar, they are easy to make and no need to bake. And because they are delicious – maybe most delicious – right out of the freezer, they stay good for as long as you need them to. Make these ahead of time for your next party!
Really, I can't  think of anything that is wrong with this bar! …except maybe that they disappear much too fast.
About Sunbutter
If you have not tried Sunbutter, I highly recommend it. The nutritional benefits of sunflower seeds are extensive. The taste is great! And if you have allergies or intolerance to peanuts, sunbutter makes a great replacement and is delicious just about anywhere you would use peanut butter.
What you get from sunflowers seeds:
… including, but not limited to…
A great source of Vitamin E, sunflowers seeds have anti-inflammatory properties which are beneficial for fighting disease such as rheumatoid arthritis, osteoarthritis, asthma, and also hot flashes during menopause, and some complications of diabetes
Vitamin E is also beneficial for prevention of cardiovascular disease, atherosclerosis, and colon cancer
A great source of Phytosterols, a plant compound which is believed to help lower cholesterol, and boost immunity
Magnesium, which is great for the cardiovascular and nervous systems
Selinium – another cancer-fighter
Phosphorus, Manganese, B1, B6, Folate, Copper, and Niacin, and Omega 6 fatty acids
Some TCM uses – beneficial for spleen-pancreas, lubricates intestines, beneficial for treatment of constipation (for dry conditions)
Where to get Sunbutter
If you can, buy good quality, without added ingredients. Many grocery stores carry sunbutter now; you can find it on the peanut butter isle. Or you can purchase a jar at a health foods store.
Sunbutter Crunch Bars
Using a food processor, process pitted dates until smooth. Add in sunbutter and peanut butter, if using pb. You may choose chunky or smooth butters. I like chunks. 🙂
Attention Dr. Kline's Kids! If you have trouble digesting nuts and seeds, use smooth sunbutter and peanut butter.
You don't need to buy medjools or any of the finer dates. The cheap dates taste great in this.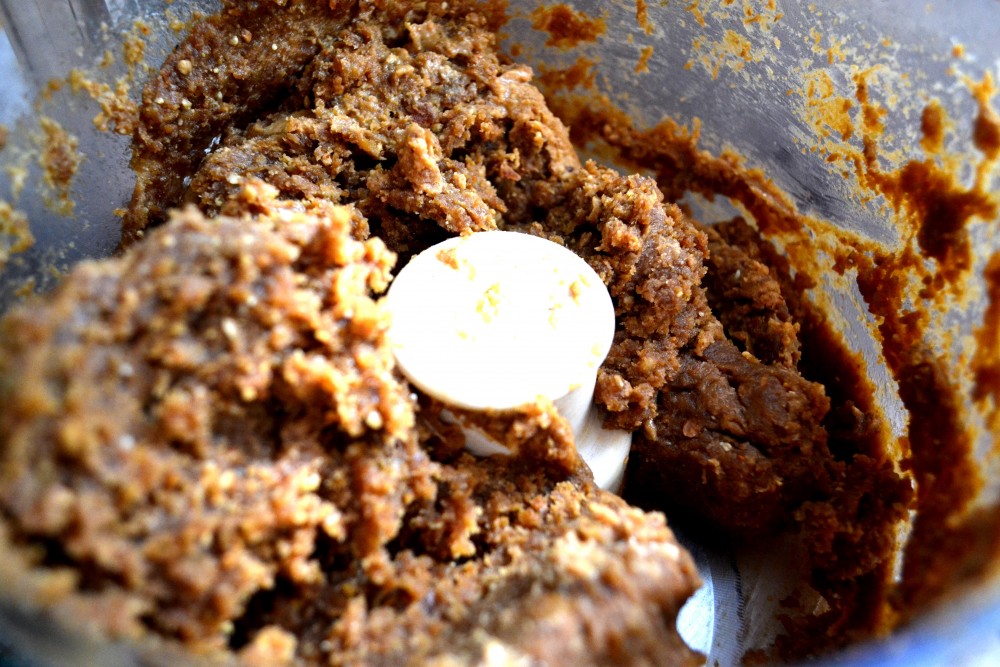 Transfer your processed date-sunbutter dough onto a cookie sheet lined with parchment.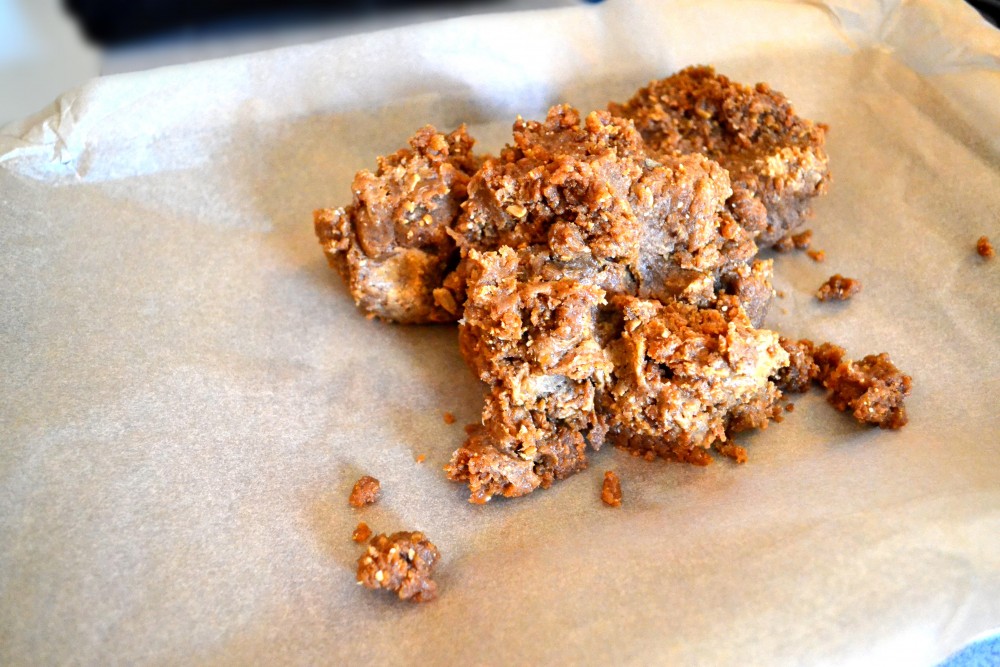 Press and smooth dough until you like the thickness and size. There is not a "right" or "wrong" here. It is personal preference. Pictured here is about 1/2 – 3/4 inch.
Also, you can see that our mixing job was not terribly consistent, but it doesn't matter. Every bite is still delicious.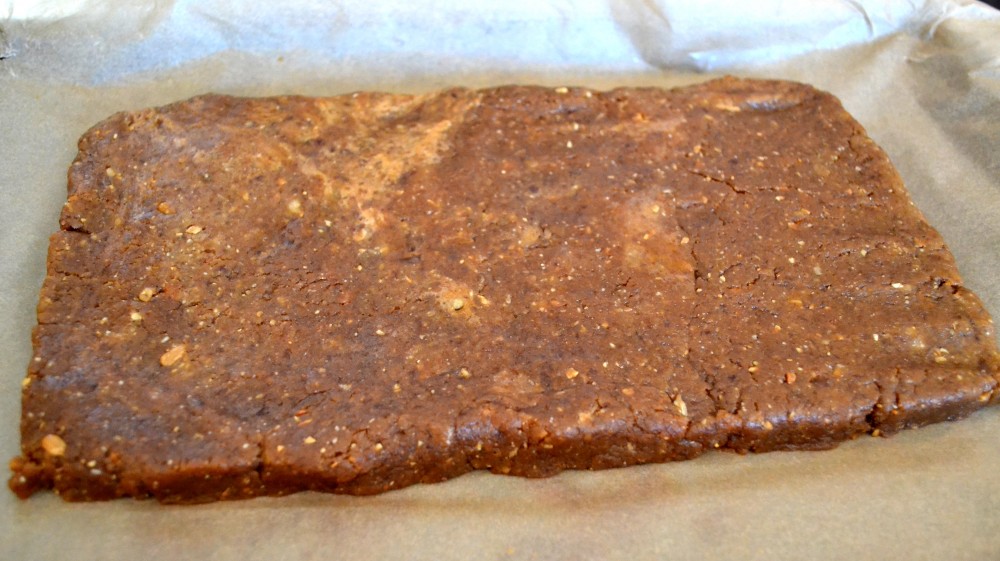 Spread rice crispy cereal evenly over dough and gently press it in.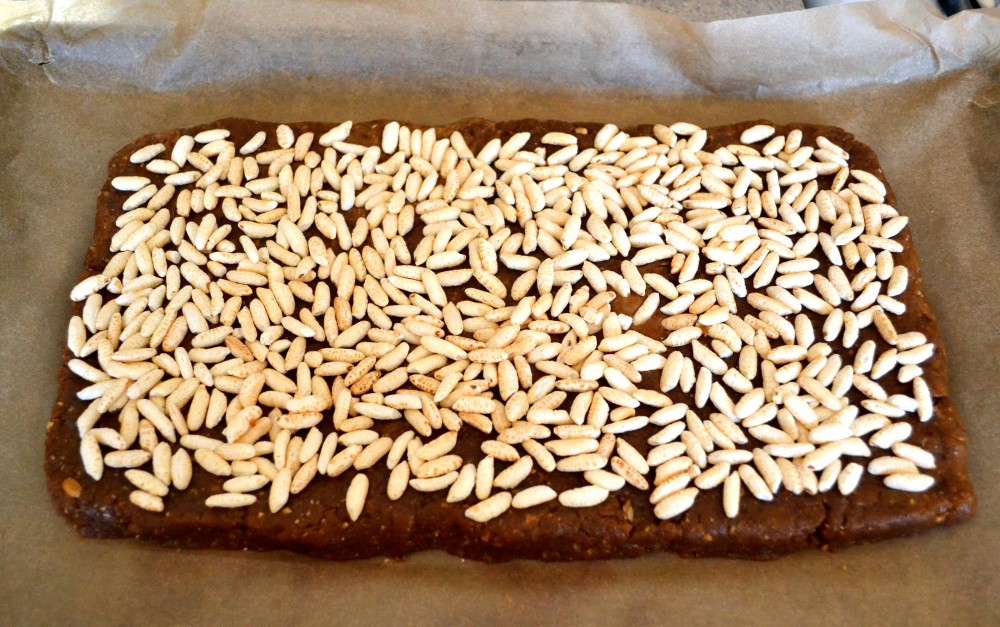 Melt chocolate. Take a moment to savor… and be thankful for its existence…
You can use any chocolate that suits you. We like dark chocolate in this because its bitterness beautifully balances the natural sweetness of the dough.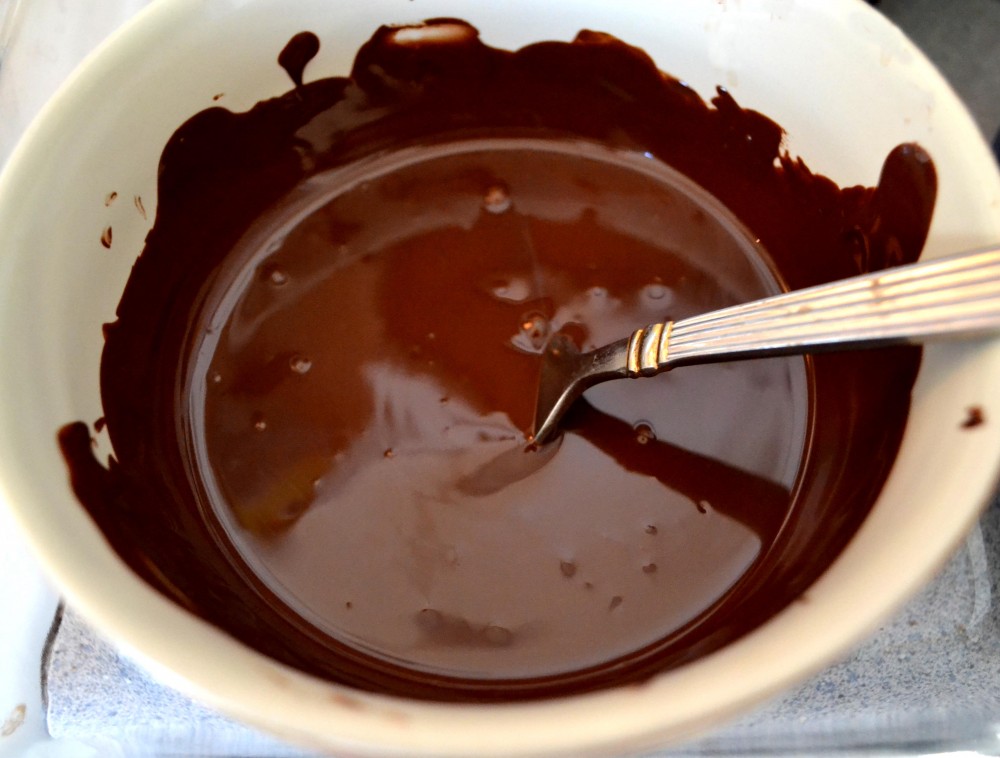 Pour melted chocolate evenly over everything.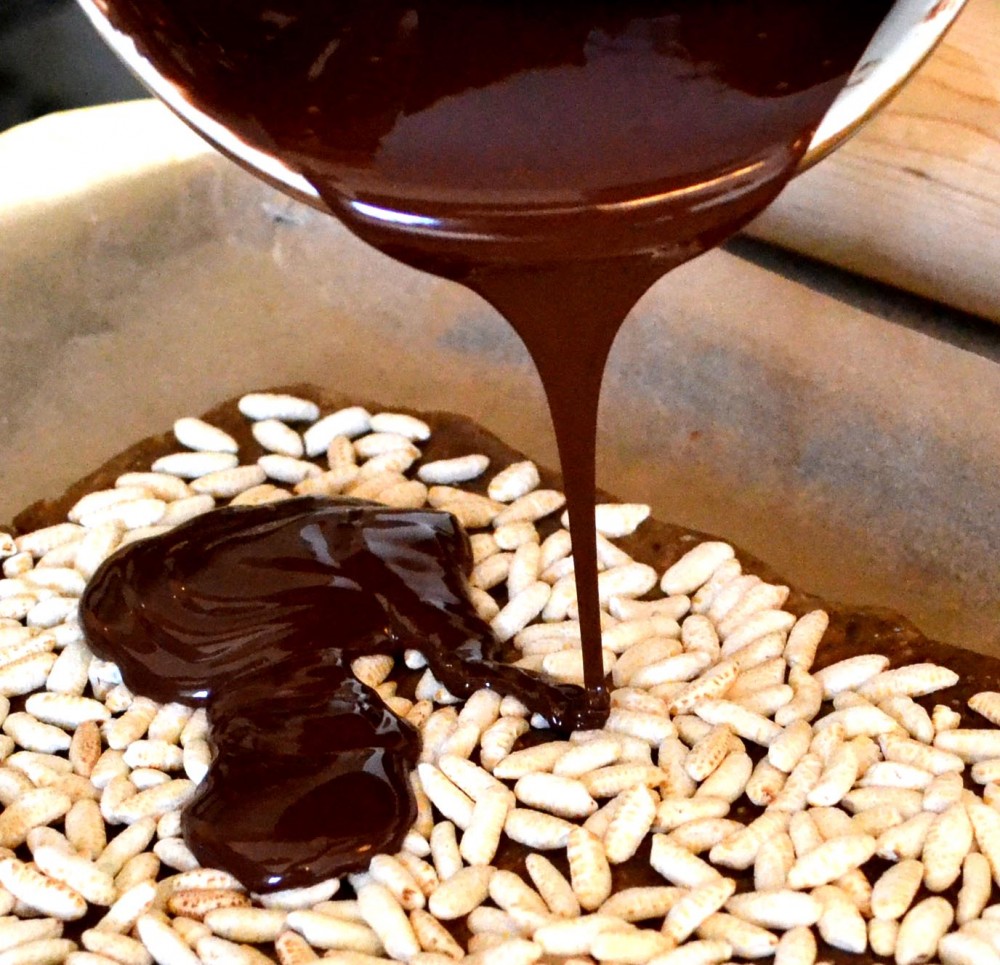 Use a spoon or spatula to even out chocolate layer.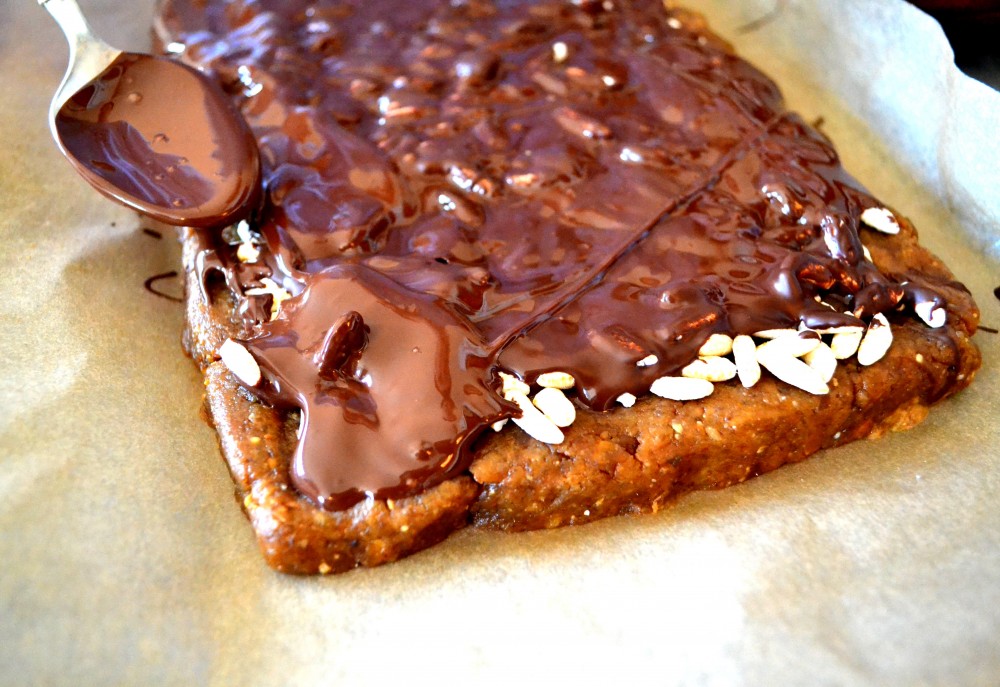 Place entire batch in the freezer until it is just set up enough to easily cut into pieces, without becoming too hard. But don't worry; if you mess this up, it will still taste great!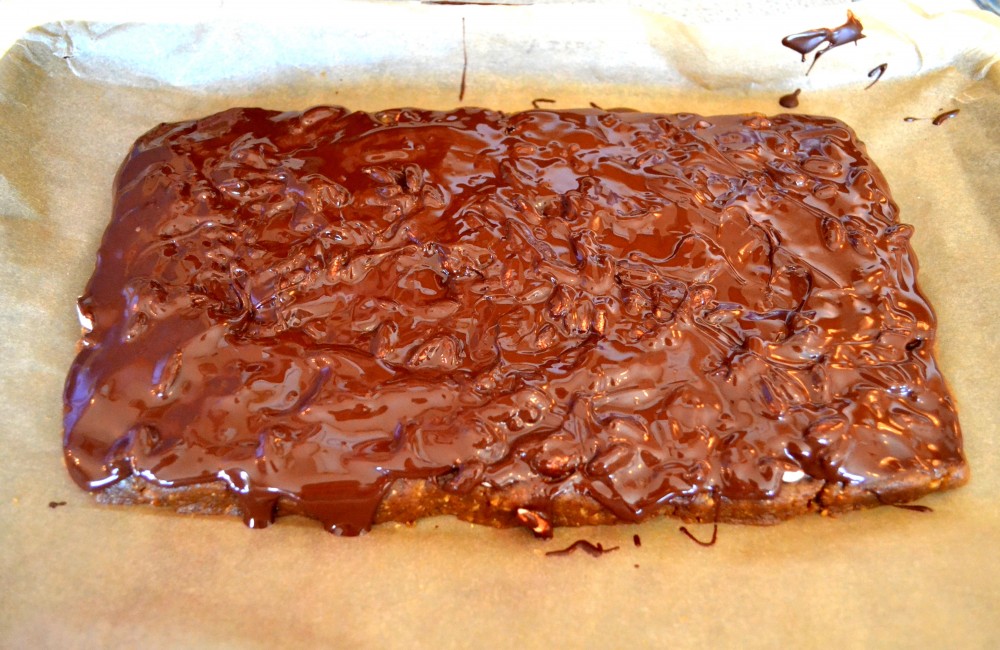 Cut into any size bars or squares that you like! We like candy bar rectangles.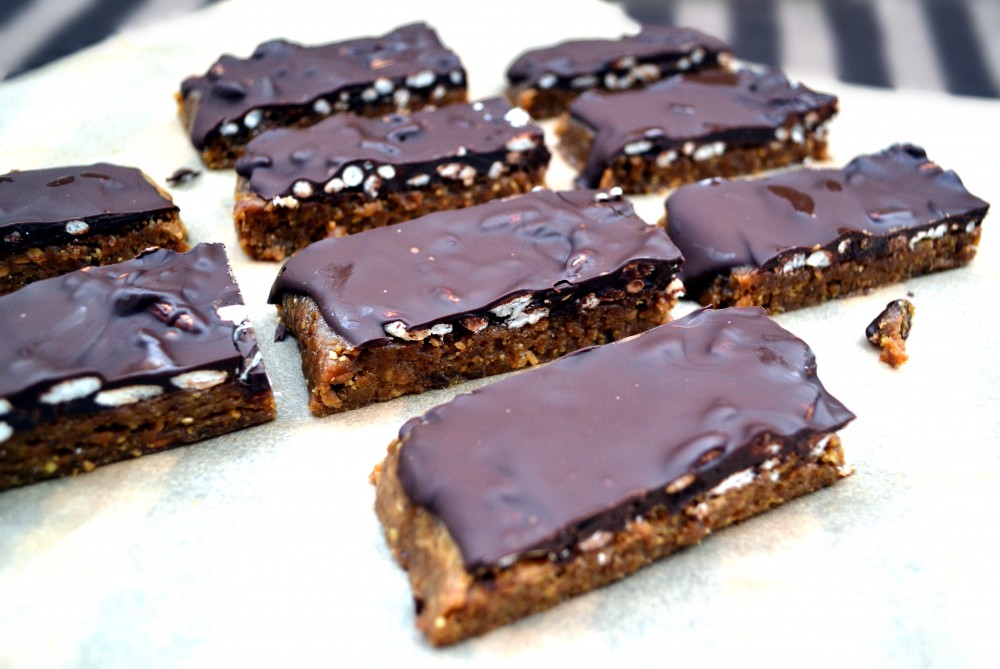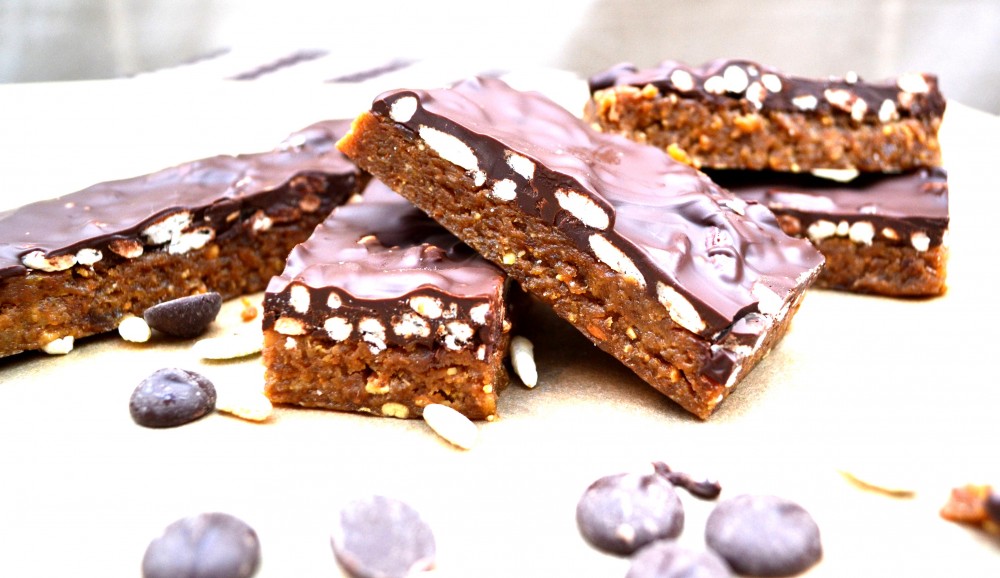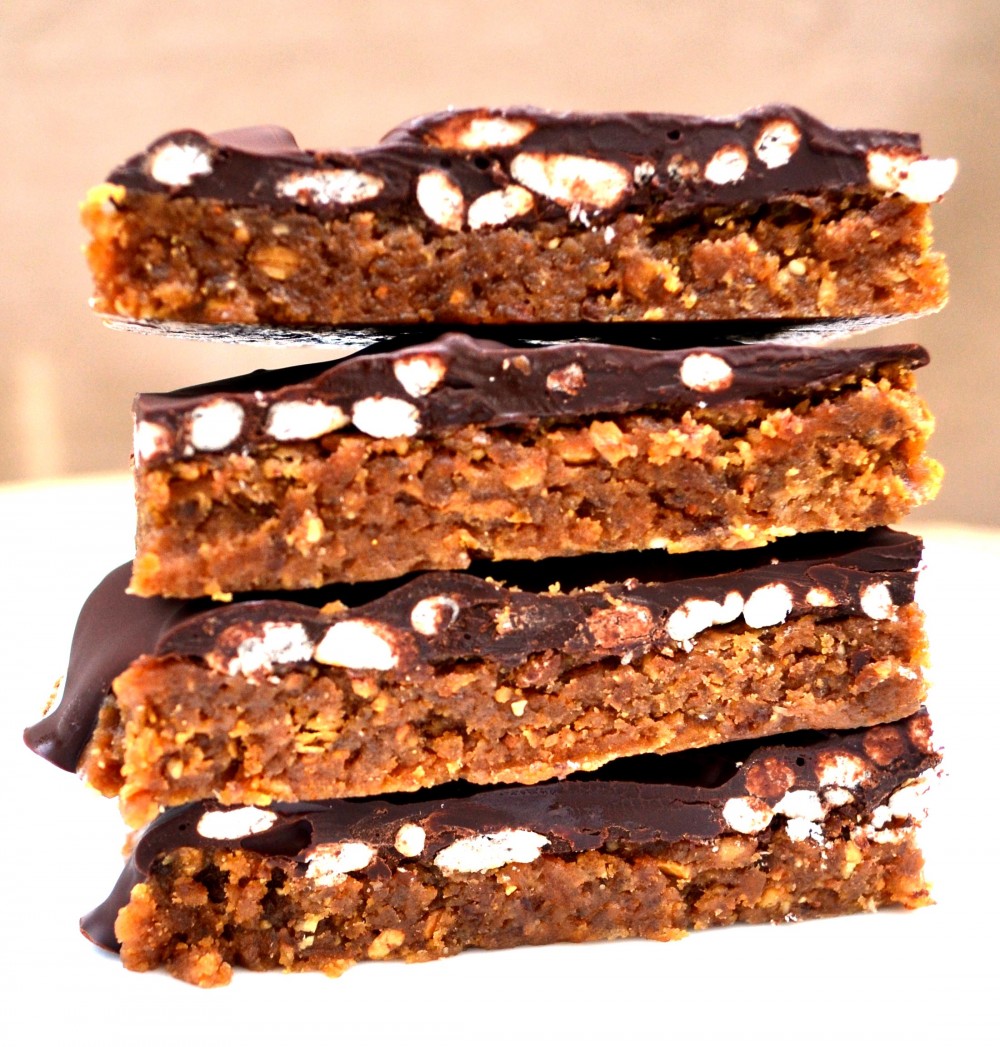 Sunbutter Crunch Bars
Remember to read labels for the ingredients you use. To keep salt and sugar low, or completely out, buy the ingredients below which do not have these items in their ingredients list. You don't need them.
Ingredients
16 oz dates, pitted, about 3 1/2 c by measure, or 1 3/4 to 2 c puree
3/4 – 1 c sunbutter and peanut butter combined – we really like equal parts
1 cup crispy whole grain rice cereal
8-10 oz chocolate chips of your choice, melted (suggested: dark)
Ingredients Notes: If you are unable to eat peanut butter, use all sunbutter. If your rice cereal has lost its crispiness, toast it up on a cookie sheet in a 350° oven for just a few minutes. Use any chocolate you like; we like dark because its bitterness balances the sweetness of the dough. Melt chocolate gently in a double-broiler, or in a microwave on a low setting for 30 seconds at a time, stirring between each 30 seconds, until spreadable.
Method
In a food processor, puree dates until smooth. Be patient, stop and scrape down sides of processor periodically. To read more about benefits of dates and puree methods, click here. Add sunbutter (and peanut butter, if using), and process until "dough" is well combined.
Place dough on a parchment-lined cookie sheet (that will fit into your freezer later). Use your hands or a rolling pin, to spread and press dough until you get an even layer, about 1/2 to 3/4 inch thick.
Spread cereal over dough in an even layer and gently press into dough.
Pour melted chocolate over all and spread evenly.
Place batch with cookie sheet in the freezer until chocolate is set just enough to easily slice into bars. Separate bars. Return to freezer. When bars have hardened enough to be solid, they can be transferred to a freezer bag. Sunbutter Crunch Bars may be enjoyed straight from the freezer.
Enjoy!
If you like this recipe, please Like, Share, and Pin.
To be informed of new postings like this, please Like Food Highs on Facebook, or subscribe by email.