This week's undeniable craving, beckoning me like the pied piper… Lowcountry Shrimp and Grits. How I would love to pop into one of Charleston's finest restaurants and order a plate. But it would be filled with butter and cream – YUM!!! – THAT is what I am probably craving… creamy cheesy grits covered in pungent buttery gravy, topped with spicy firm shrimp…
There is no way around it. We will be having shrimp and grits today. But sans dairy and gluten, or at least gf and less dairy – you choose. My recipes are usually easy to customize. But if you avoid dairy and gluten, there is no reason why you can't still satisfy both your nutritional needs and taste buds. I sacrifice nothing!
Shrimp and grits can be made with 1000 variations from red-sauced spicy New Orleans style to Southern gravy-covered, melt in your mouth. So good!
This recipe is filled with flavors that, to me, bring it all together into one harmonious bite. Cheesy, creamy, deeply flavored, spicy. With a sauce that has a bit of viscosity, but thin enough to pool around the grits. This is fine restaurant-worthy.
A note on ingredients: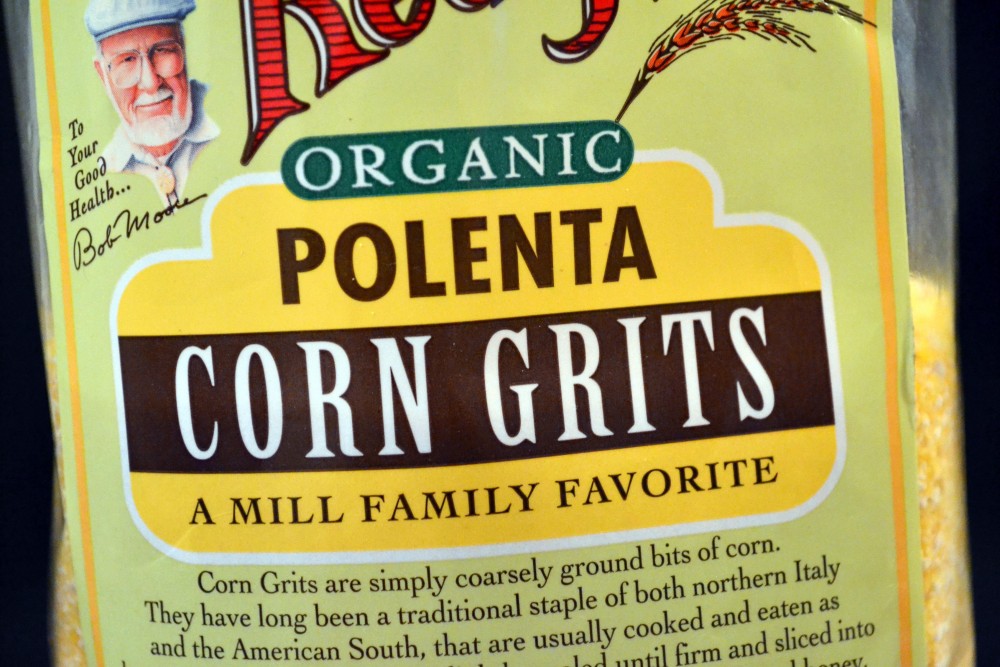 I highly recommend using nonGMO corn products. NonGMO grits, polenta, and Organic cornstarch are used in this recipe.
Gluten free: How easy! corn grits are already gluten free. Gluten might hide in the gravy. This recipe uses cornstarch instead. You can use another thickening agent, if you prefer.
Dairy free: Nutritional yeast is a delicious way to replace cheese. Stir it into cooked grits and you will get that creamy cheesy taste demanded by this dish.
Options: If you eat pork, you can crumble up some bacon pieces, or tasso, or whatever you like, and throw them on this dish.
Lowcountry Shrimp and Grits
And, yes, this was just as delicious as I wanted it to be.
Start with corn grits, polenta.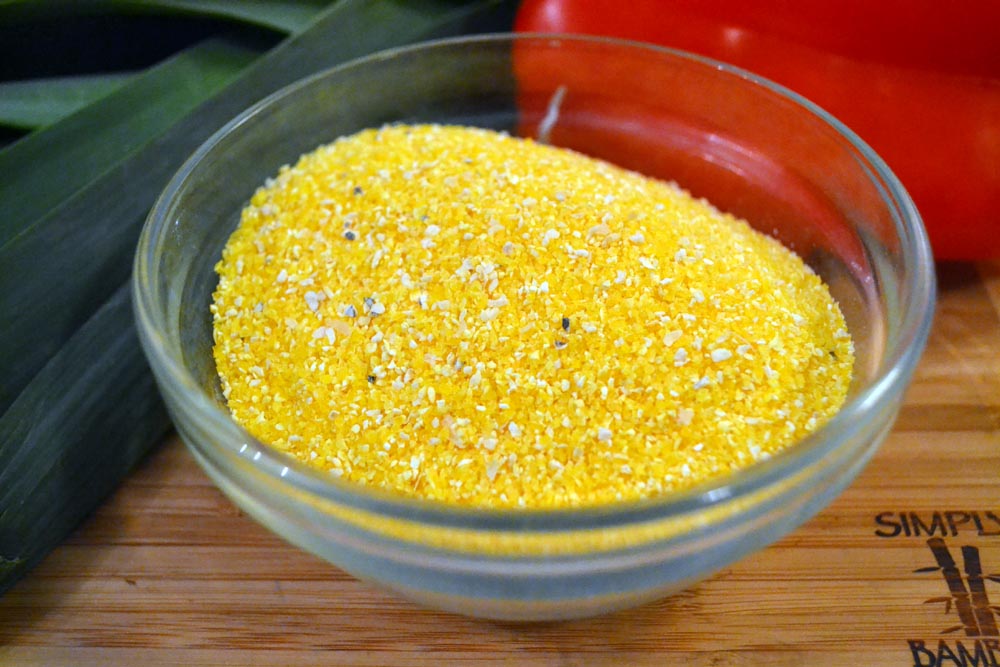 Cook grits according to package directions. Usually, it is just a matter of about 3-4 parts water to 1 part grits. Bring to almost boil, reduce to simmer, cook til done.
Add salt and melt in cheese or nutritional yeast at the end. I prefer a subtle cheesy flavor so that it does not overwhelm the other flavors. Use any amount you like.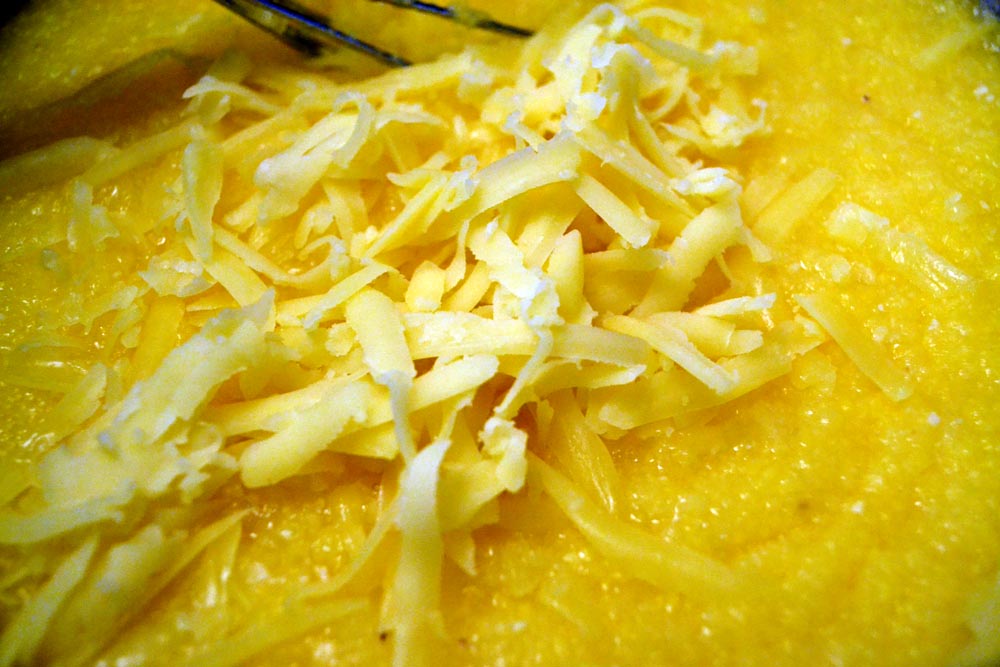 This is your flavor base.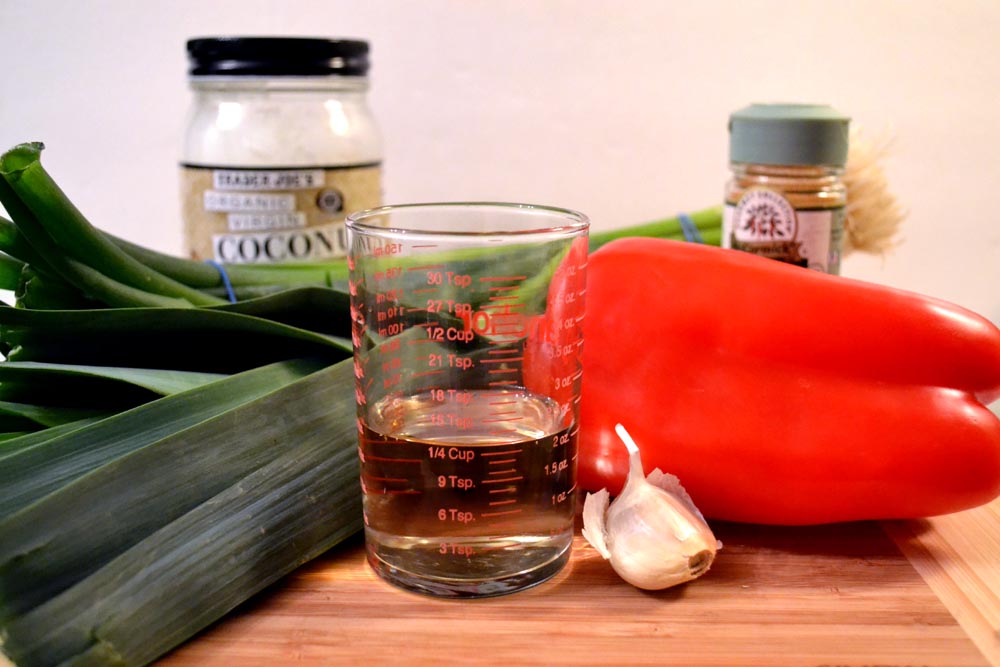 Your flavor base mise en place.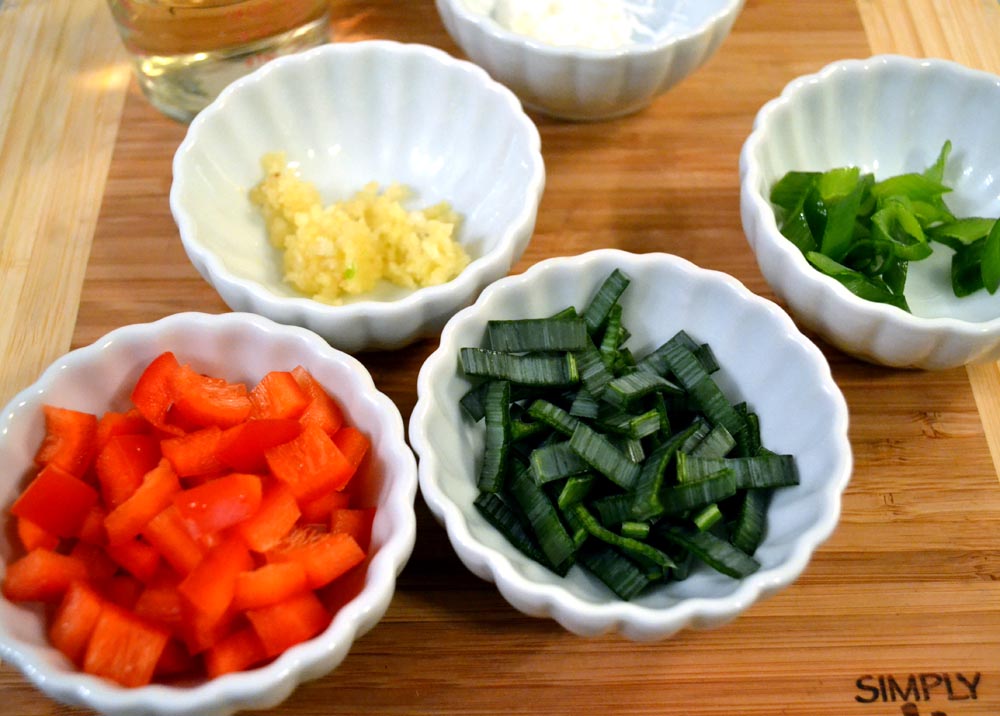 If you want some heat, sprinkle shrimp with cayenne and set aside.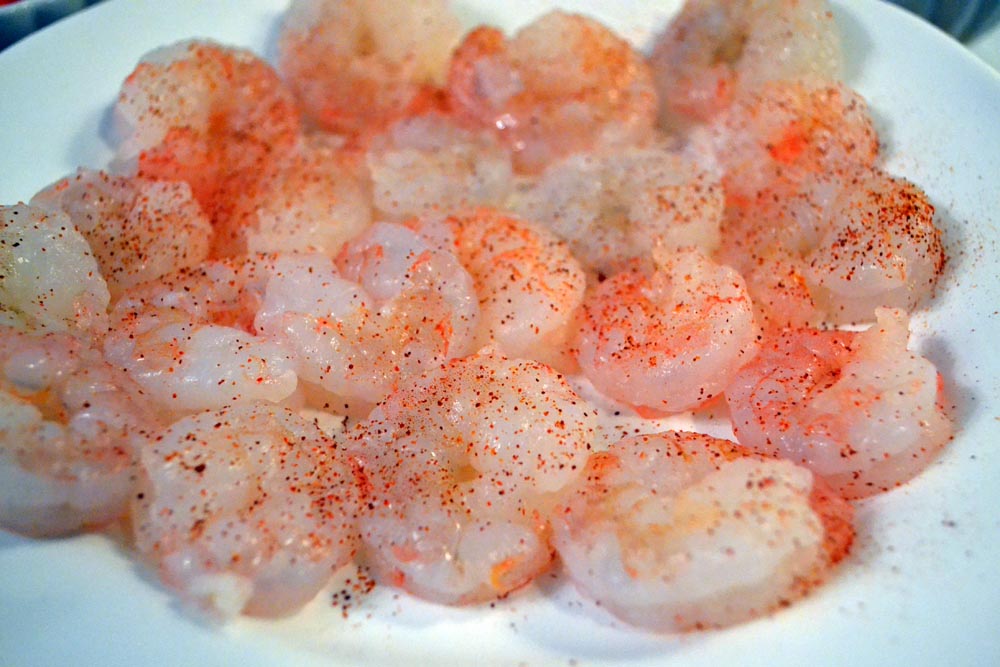 In a skillet, heat oil – we like coconut – and add red bell pepper and leeks or scallions. Cook til tender.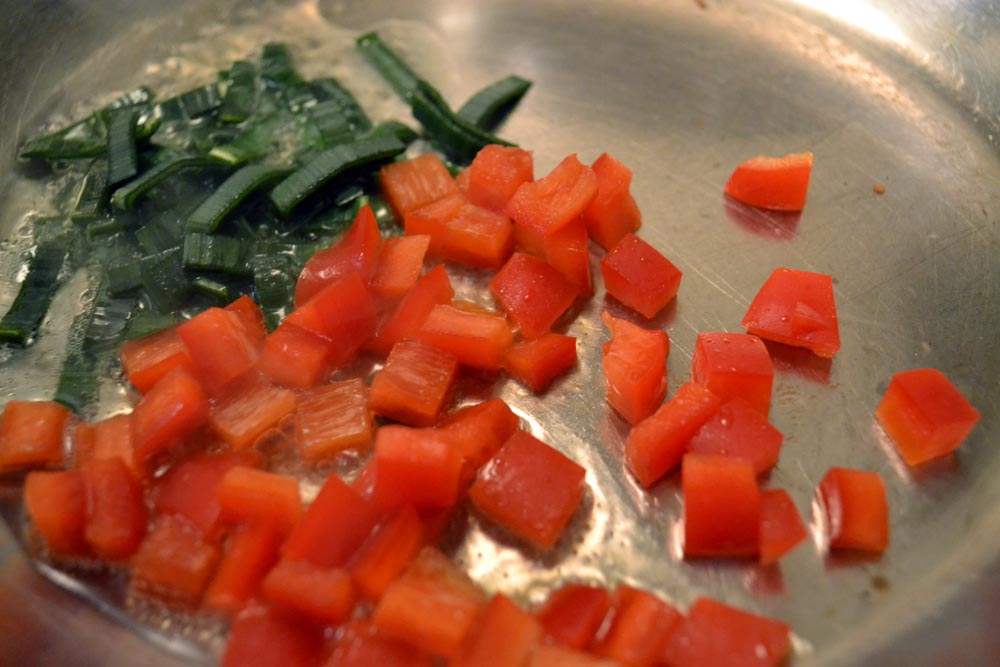 Add garlic and gently cook for about a minute.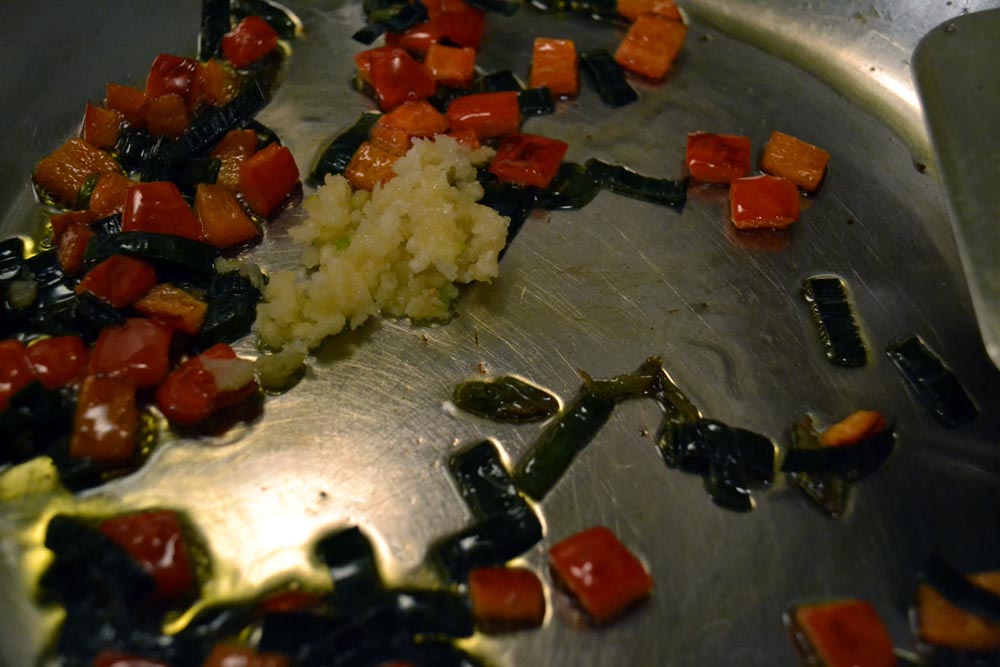 Okay… I should have cooked the shrimp first, but I wanted to give it a couple of minutes in its cayenne first.
Remove veggies so they do not overcook. Cook shrimp in batches, so as to not overcrowd the pan.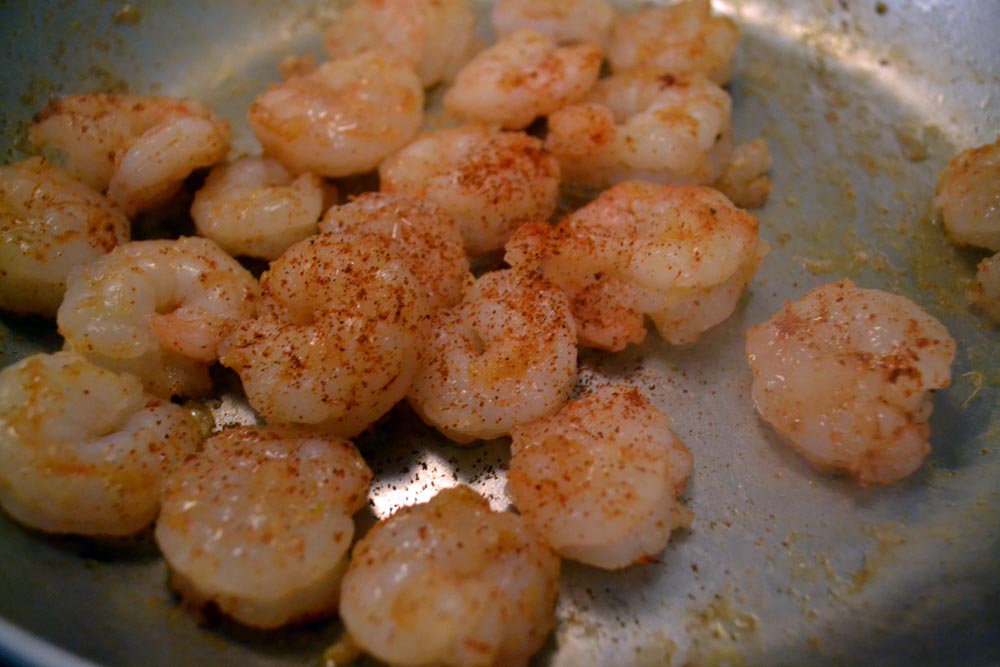 When the shrimp is just cooked – don't overcook! – remove it from the pan. Add veggies back in and deglaze pan with wine. We want all that beautiful flavorful fond in the sauce!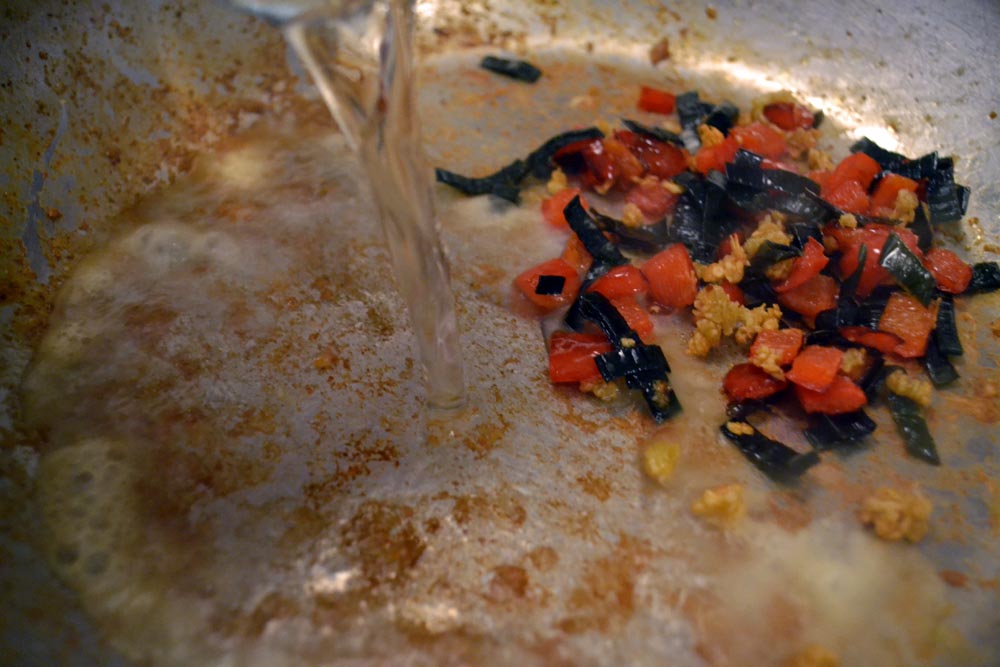 Scrape up all those bits in fond until the bottom of the skillet is clean.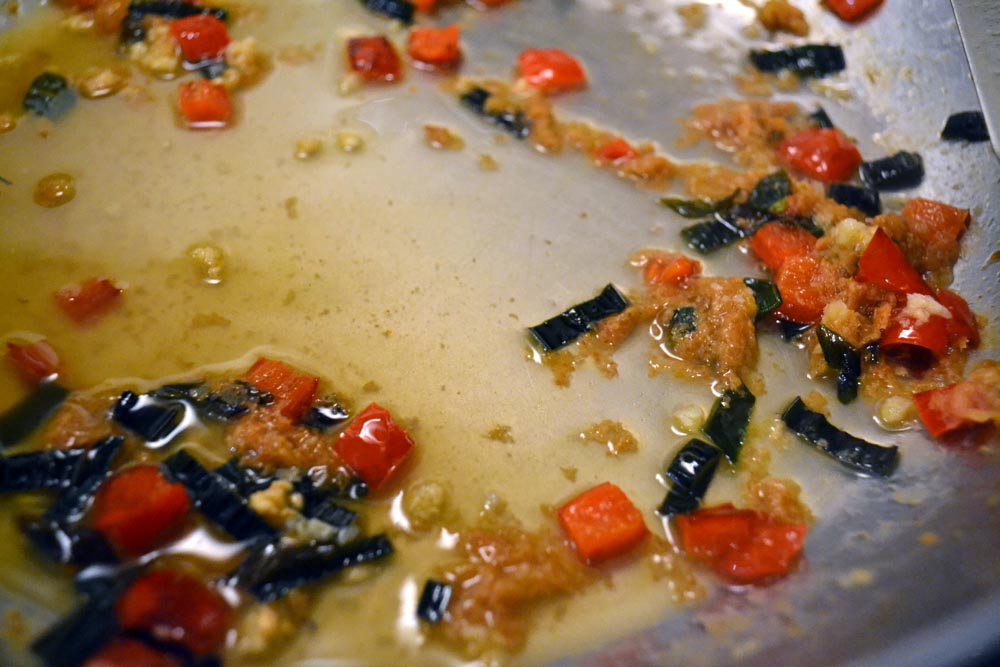 Cook wine down until it is reduced by about half.
Then add chicken broth.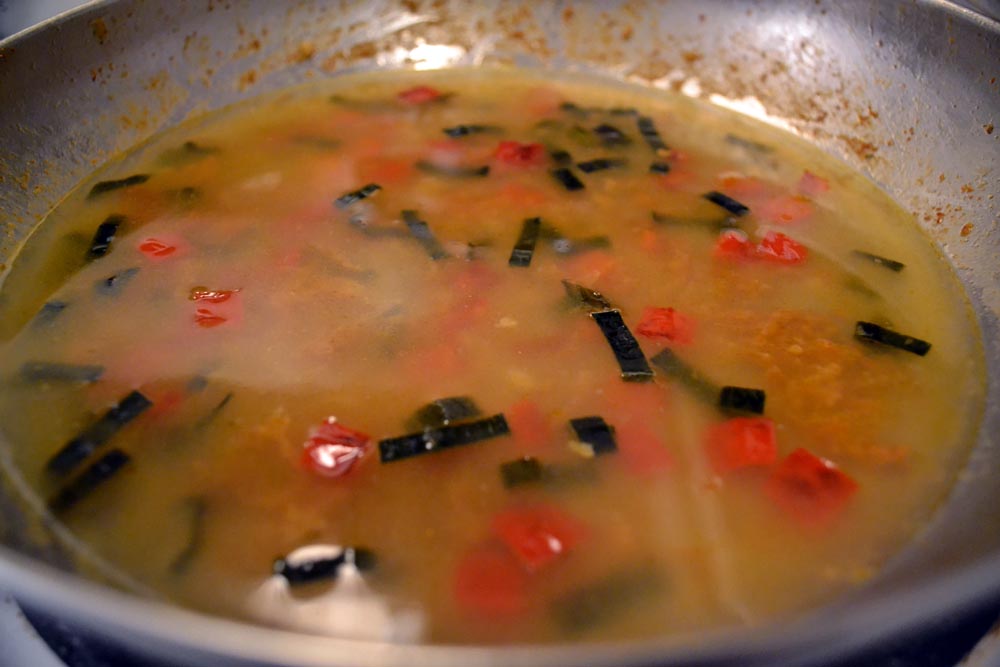 When sauce is heated through, whisk in a little cornstarch slurry to thicken.
Add more chicken broth as needed.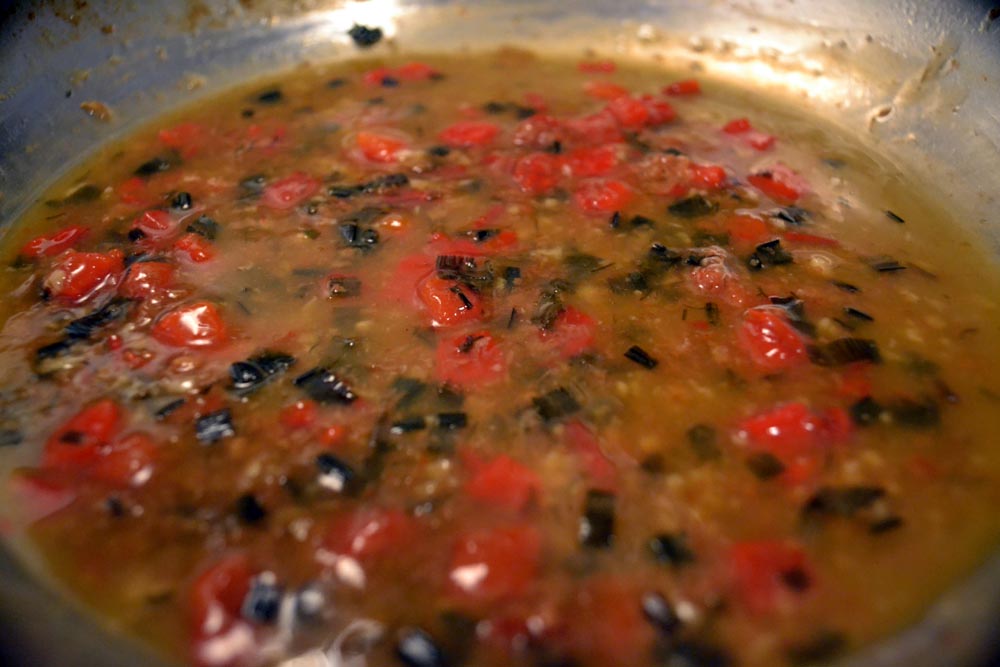 Optional: Finish sauce with a bit of butter, if not dairy-free.
Adjust seasoning. When sauce is done, add shrimp back in.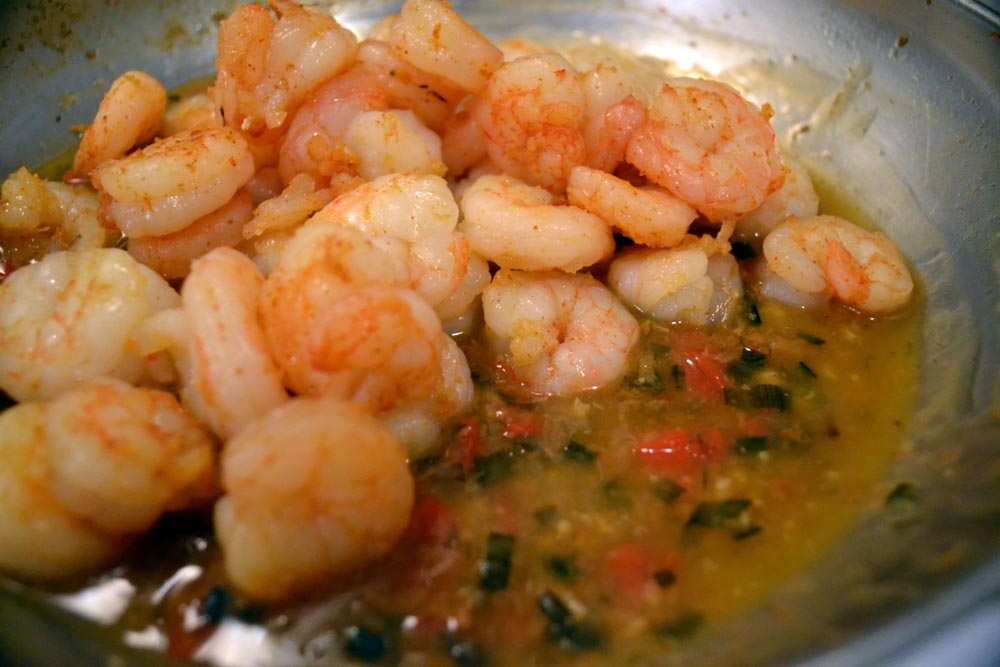 In a bowl, or dish, ladle grits, cover with shrimp and sauce, and garnish with green onion.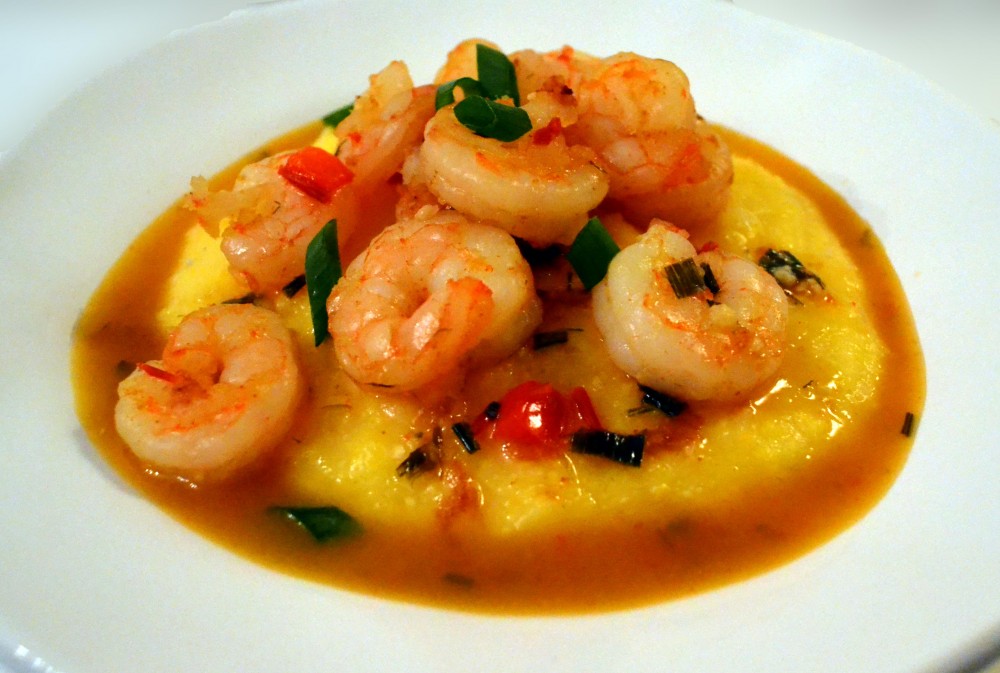 Uh… yeah! I can't talk now.
Lowcountry Shrimp and Grits
Ingredients:
1 c grits, preferably non gmo
cheese or nutritional yeast – I used 2-3 oz Irish cheddar and 1-2 t n. yeast… mmm
1 lb shrimp, peeled and deveined
cayenne, to taste
1 T cooking oil – we like coconut oil
1/4 c red bell pepper, diced
3 T scallions or leeks, diced (I used 2 T leeks, 1 T green green scallion)
1 clove garlic, finely minced
1/4 c white wine
1 c chicken broth (maybe more)
2 t. cornstarch (to thicken)
green scallion to garnish
Grits
Prepare grits according to package directions.  Usually, it is just a matter of about 3-4 parts water to 1 part grits. Bring to almost boil, reduce to simmer, cook til done. Add liquid if it thickens too much. For this recipe, we want a creamy texture. When grits are cooked, melt in cheese, or add nutritional yeast for a delicious "cheesy" dairy-free version. Salt and pepper to taste.
Shrimp and Sauce
Sprinkle raw shrimp with cayenne for heat. A little if you don't like spice, a lot if you do. Set aside.
Prepare all other ingredients. Having these things ready to go, your dish will cook rather quickly.
Although my photos are backward… either way will work… in a hot, oiled skillet, cook shrimp until just done. Do not overcook, it may cook a little more in the sauce. Cook shrimp in batches so as to not overcrowd your skillet. Remove shrimp from the pan.
Add a bit more oil if needed, and add red bell pepper and onions/leek to the pan. Cook until tender, about 5 minutes. Add garlic. Cook for about a minute.
Deglaze the pan with wine, scraping up all those delicious bits. On medium-low heat, reduce wine to about half. Add chicken broth. Cook on medium heat until heated through and broth begins to reduce. Whisk together cornstarch with equal amount of water until cornstarch is thoroughly dissolved. Whisk this into the sauce. Allow to thicken. Reduce heat, if needed. When the sauce is thickened, add more broth, if needed. Season with salt. Pepper, if desired. If not dairy-free, you can optionally finish sauce with a bit of butter.
Serve shrimp and sauce over grits. Garnish with green onion.
Yield: This should serve 4. In our house, it serves 3… and honestly, we would eat more.
Enjoy!
[pinterest]
If you like this, please Pin, Share, and Like
[fblike]
[tweet]