Springtime makes me think of lamb. Of course, lamb can be eaten year-round. In the fall, it can be prepared with bold, hearty flavors and spices. But in the spring, lamb is most tender, and works with simple flavors.
In general, lamb is a bit leaner than other red meats in the commercial arena. They are typically given less antibiotics and are often allowed to graze on unsprayed grass. Of course, knowing your purveyor and how their animals are treated and raised, will ensure that any animal protein you consume will be free of unwanted additives, and properly raised.
Today's dish is very simple and incorporates spring citrus. It is light and bright. And beautiful with spring dandelions.
Broiled Lamb Loin Chops in Orange Sauce
Marinate lamb chops in half of your orange sauce, for 30 minutes.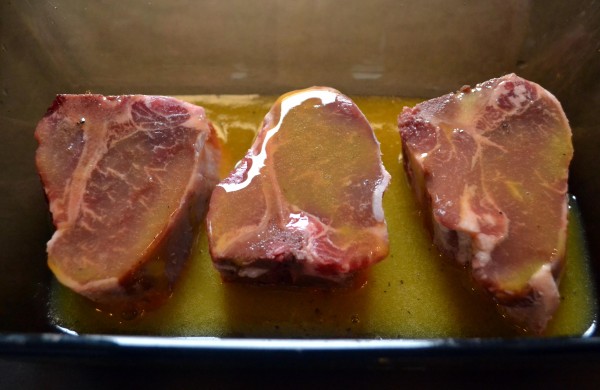 Broil on a rack until golden brown. This will take only about 5 minutes per side. Watch it closely and flip chops to brown both sides. Do not overcook the chops! They should be medium rare.
These should have black pepper all over them. Not everyone in my family responds well to black pepper.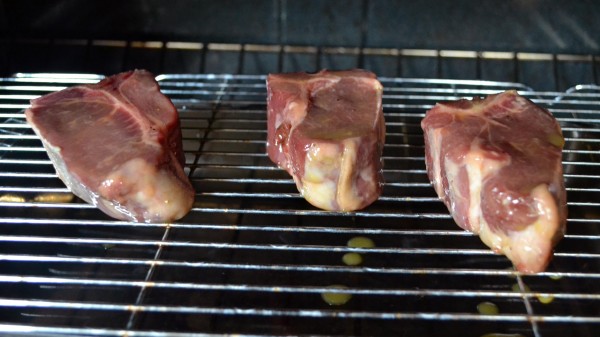 Heat the remainder of your orange sauce. Add a splash of lemon for brightness, and a sprinkle of herbs. Tarragon would be lovely, or parsley. This is to taste.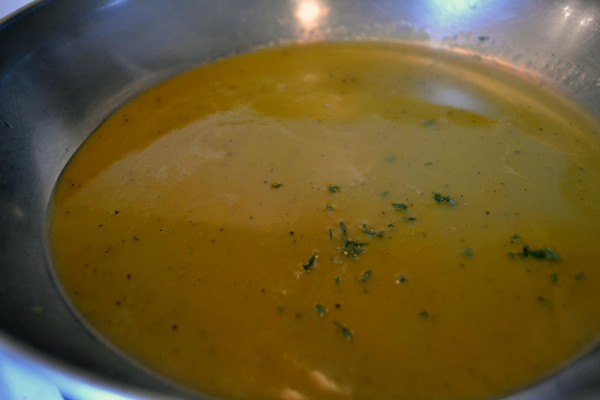 Plate with dandelion greens, if desired. See easy steps here.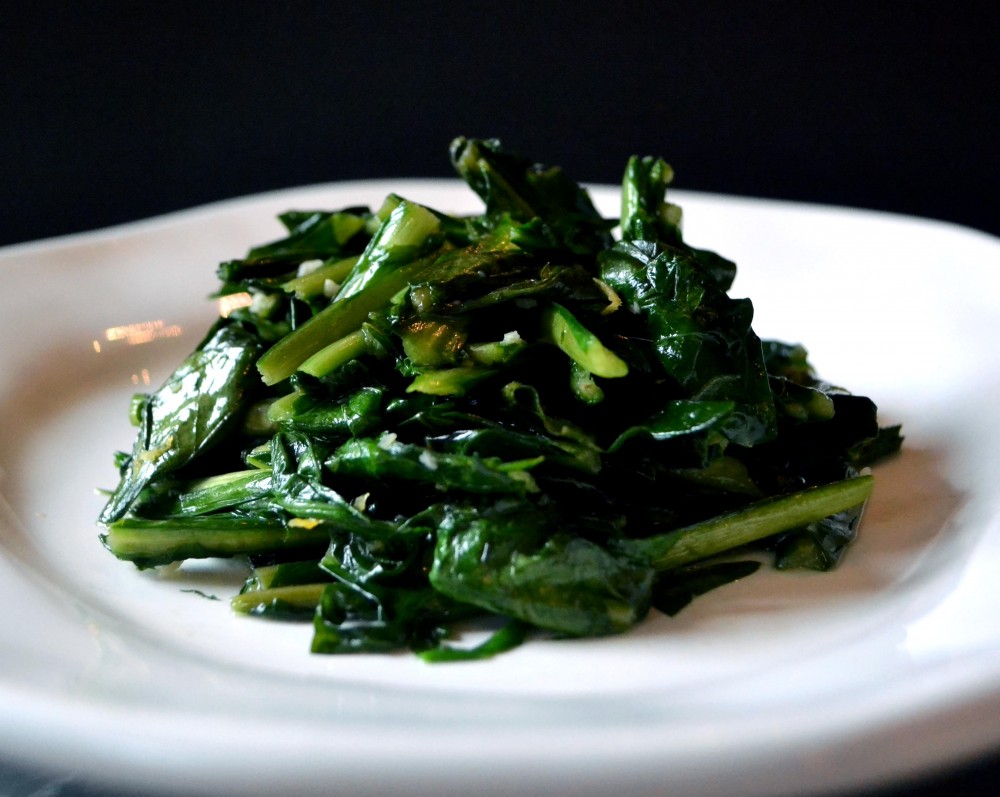 Add chops.
[pinterest]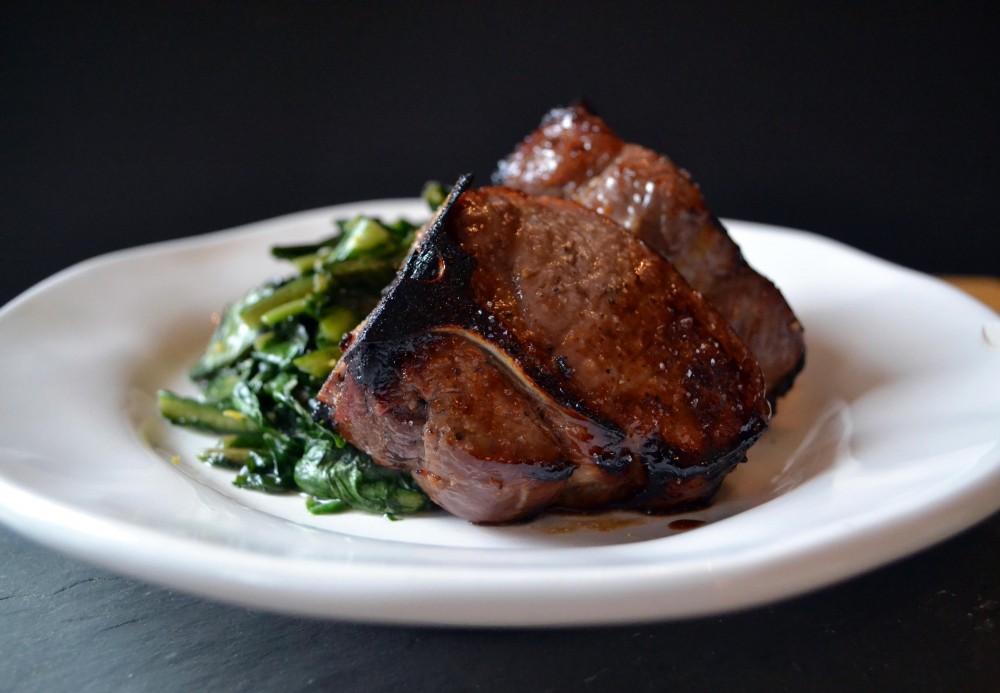 Drizzle with sauce.
[pinterest]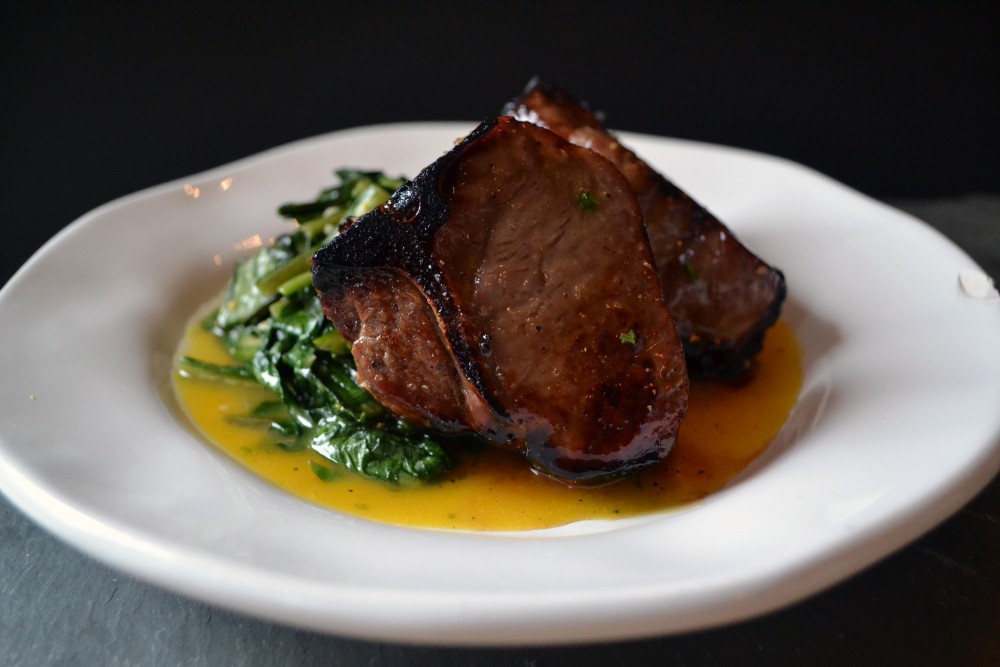 Broiled Lamb Loin Chops in Orange Sauce
When the orange sauce pools around the greens, delightful things happen. 
Ingredients
6 -8 lamb loin chops, about 4 oz each
6 oz orange concentrate
3 T honey (or thickened broth, see notes below)
salt and pepper, to taste (if you like pepper, don't be shy with it)
herbs, tarragon or parsley, to taste
lemon juice, just a splash to taste
sautéed dandelion greens, if desired – see simple recipe here
Method
Mix together orange concentrate and honey, with salt, to taste. Marinate lamb chops in about half of your orange- honey sauce, for 30 minutes. Then, salt and pepper your lamb chops. I like a generous amount of pepper. On a rack in the oven set about 6 inches from the top, broil your chops on one side. In will take about 5 minutes for them to brown. Flip the chops and brown the other side. Keep chops at a medium-rare. Remove from oven and allow to rest.
Meanwhile, heat the remainder of you orange-honey sauce. Add fresh lemon juice and herbs. I like a sprinkling of tarragon or parsley.  Taste and adjust seasonings.
Serve lamb chops over dandelion greens. Drizzle orange sauce over the top of chops, allowing it to pool around the greens.
Note on sugar: Any recipe which does not include refined or cane sugar, can be called sugar-free. In this recipe, honey is used to thicken the marinade. But it is really all about the orange. You can replace the honey with a arrowroot or cornstarch-thickened broth.
Enjoy!
[pinterest]
If you like this, please Pin, Share, and Like
[fblike]
[tweet]