Rum and… Gin and…
This started out as a playful venture, and led to a discovery a potential medicinal use, new to me anyway. Fruit plus assorted flavored rums… need I say more?
But then I stumbled onto an interesting little folk remedy. It seems that rum soaked raisins, or gin soaked raisins, are reported to sooth arthritic pain!  I am not endorsing this; I have no idea as to whether it works or not. Or maybe it works for some and not for others. If you know, please share!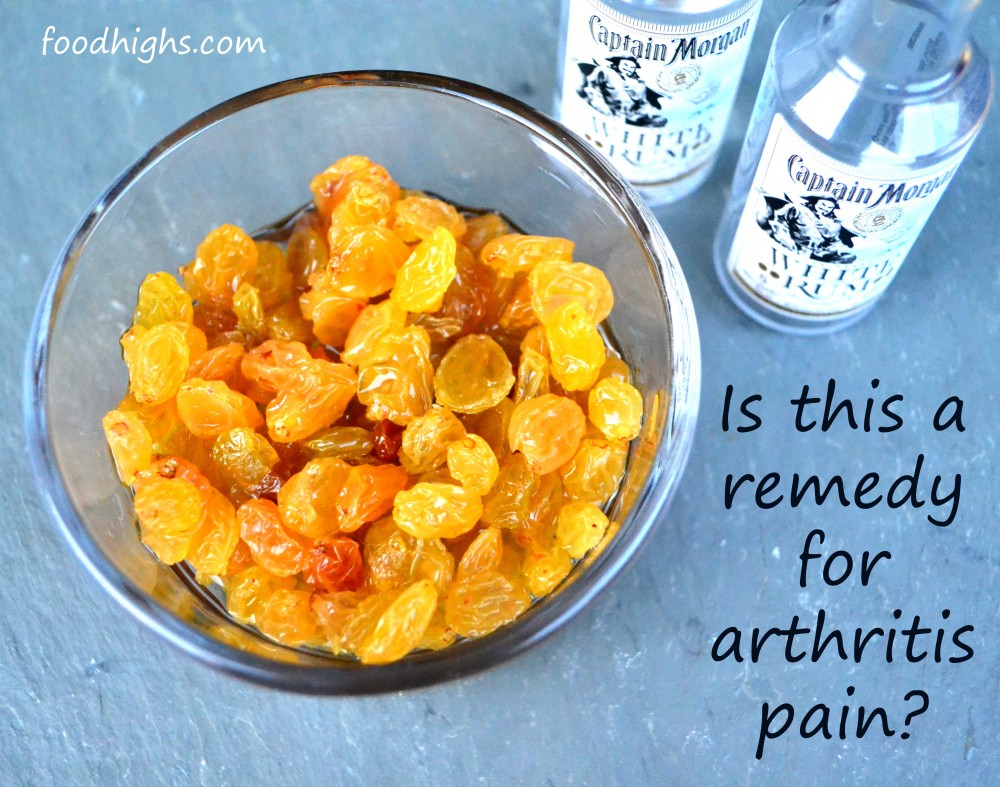 This is what I have learned.
Nobody is getting drunk from rum-soaked raisins. There is very little alcohol remaining in the raisins by the time they are eaten, and not enough to create a numbing effect. It is likely not about the rum or gin. It is likely not about the raisins. It is something about the synergy between the two.
Gin is recommended more often than rum.
There may be a component in juniper berries in gin that is beneficial.
Golden, or white, raisins should be used.
There have been no double-blind studies to determine why this works, if this works, or if there is a placebo effect involved.
Those who have suffered from pain and swelling, and have used this remedy with success, swear by it.
How to…
Soak golden raisins in enough gin to cover them. Some sources say to soak raisins for a few days, others recommend weeks.
Eat 9 soaked raisins per day. There are variations for this too. One of my Food Highs friends suggested doing this before going to bed.
Sources for more information.
People's Pharmacy – testimonial
People's Pharmacy – Guide to Home Remedies
Details, and specific instructions, including a chart, can also be found in the book Bottom Line's Secret Food Cures & Doctor-Approved Folk Remedies by Lidia Wilen.
Okay… Now it is playtime!
Things that come in miniature, aka cute and individual, are just irresistible! So I picked up these little mini bottles, along with a papaya, kiwi, and citrus fruit, and opened up the lab.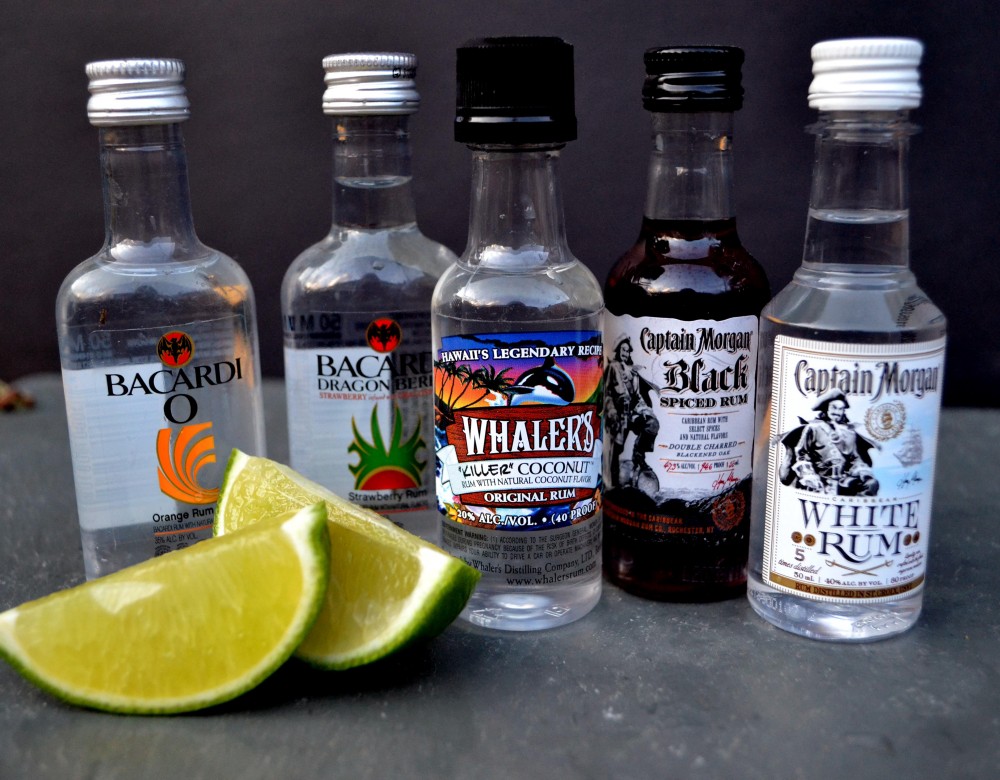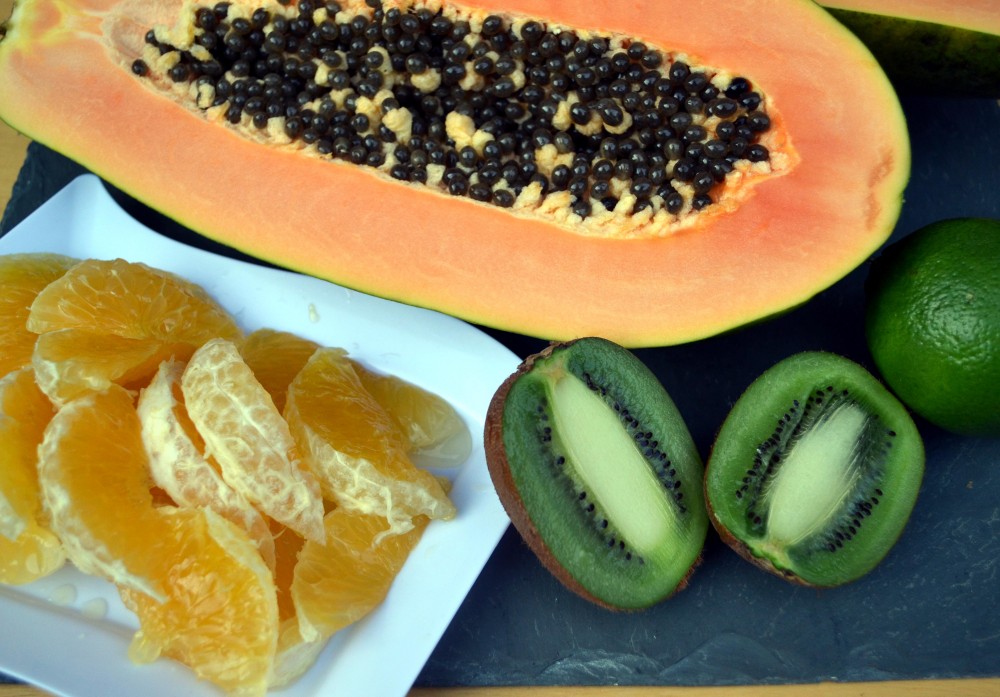 Uniq fruit… pretty cool… crossbreed of tangerines, grapefruits, and oranges.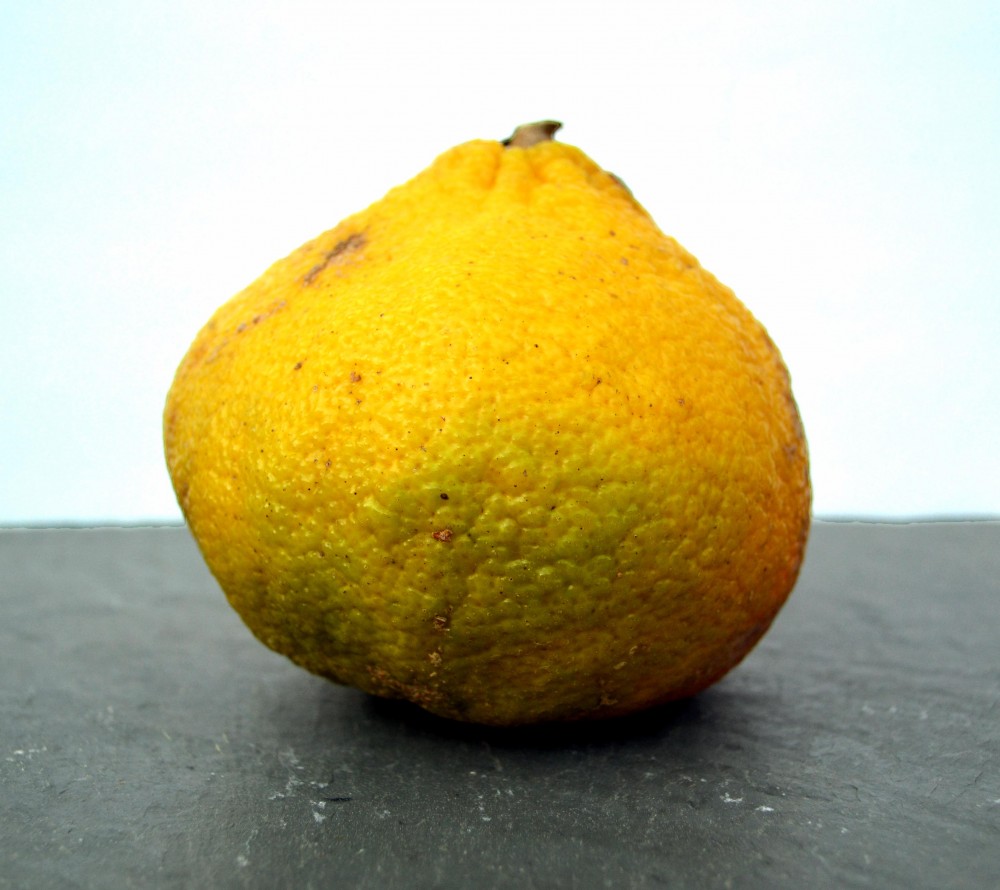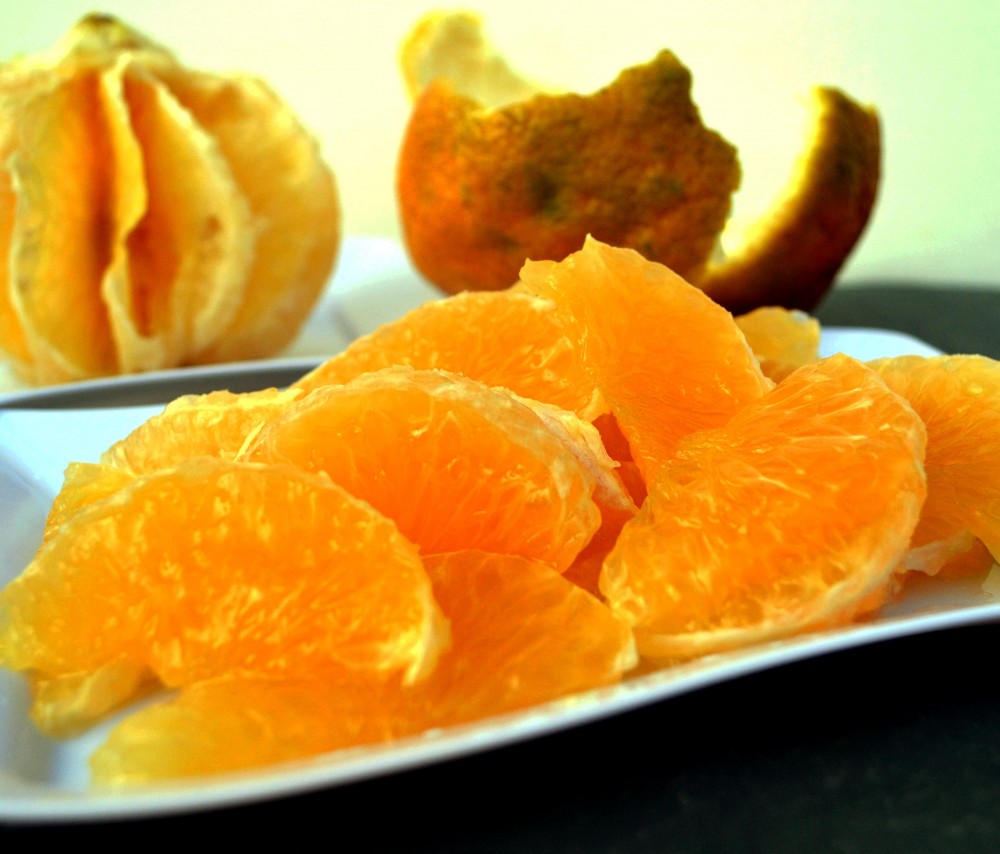 Dice and slice fruit. Lychees would be good. And blood oranges. And any exotic fruit.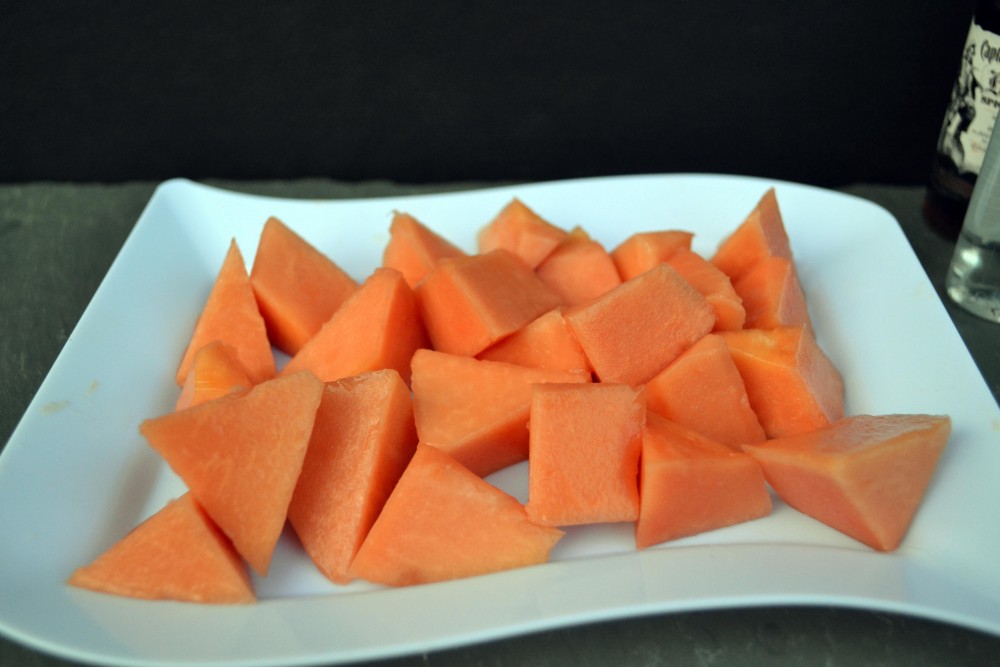 Then place fruit in glass jars or bowls, and cover each with a different flavor. I had spiced rum, coconut rum, dragon fruit rum, and orange rum.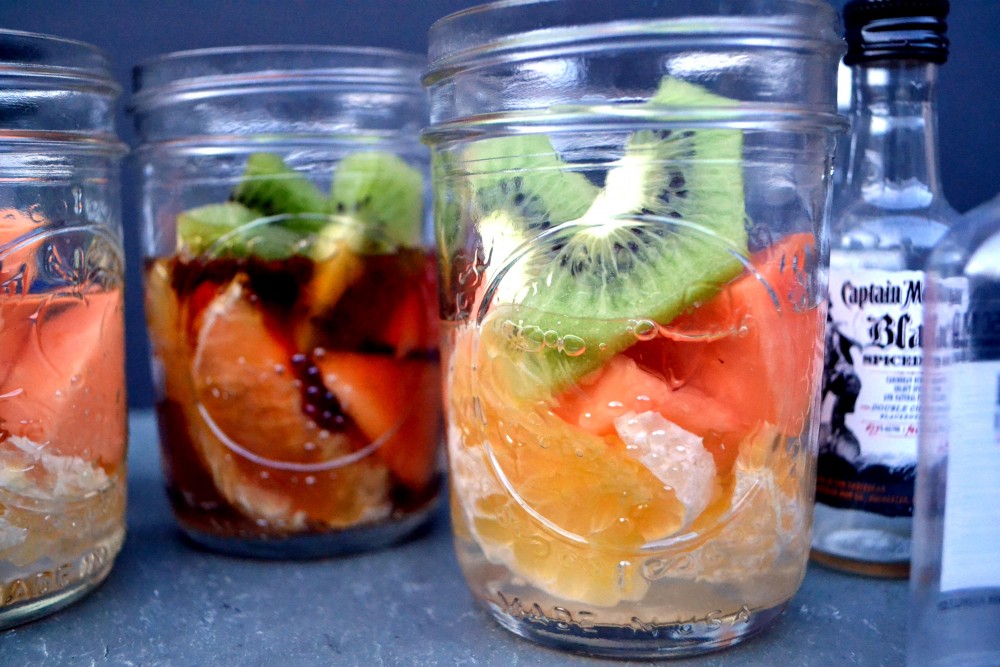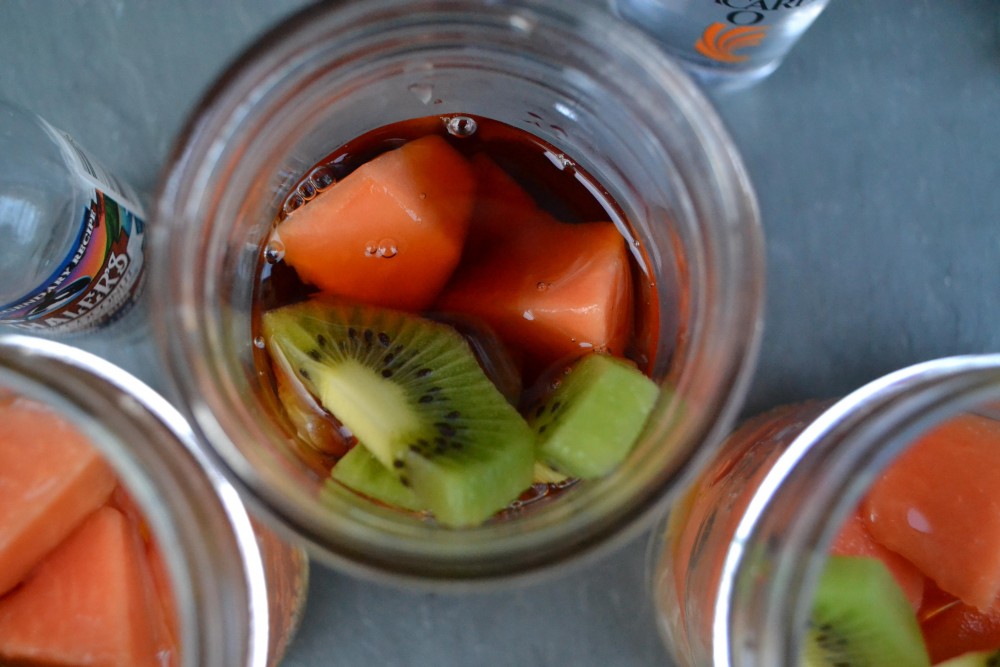 Soak fruit in rum for three hours. And serve!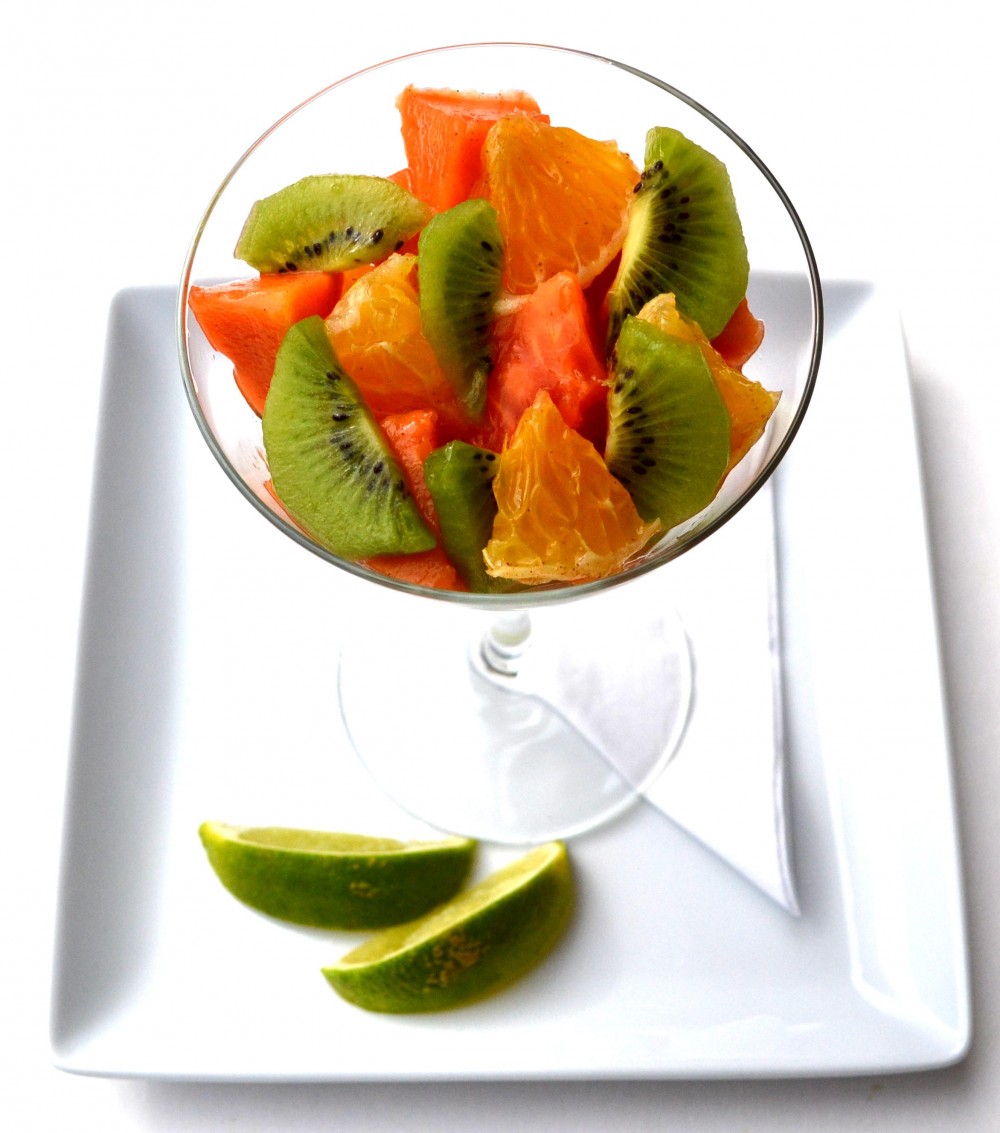 Results?
Of course, coconut rum is delicious in fruit! But hands down, dragon fruit rum is, in my view, the MOST delicious! And all you need is fruit and dragon fruit rum! The aroma alone is intoxicating. No need for ice cream. No need for chicken. …Although throwing this on top or aside these foods would be good. Just the dragon-fruit rum soaked exotic fruit IS dessert.
If you play with spiced rum, expect assertive flavors. Perhaps it would be best to just throw in some orange juice and drink it down with fruit on the side. 🙂
For a nonalcoholic marinated fruit option, soak fruit in orange juice and a few drops of almond extract. Also delicious!
Special diet notes:
This easy-peasy dessert idea is vegetarian, dairy-free, gluten-free, and nut-free.
…although you can add any of those things.
Enjoy!
If you like this, please Pin, Share, and Like