Kale and Quinoa Salad with Papaya Vinaigrette
Recently I had one of those days when there was NOTHING to eat in the house. Okay… so there was kale. There is almost always kale. And we had half a papaya from a day of playing with foods. (Rum and Papaya)
So, I am thinking salad. But there would be no settling for boring salad. The pantry and freezer would have to come through for us. And they did! I like this simple combination so well, that we bought all fresh ingredients and served it again a few days later for friends… on purpose.
There are always a variety of nuts in my freezer (and my house, Ha!). Often they are sprouted with all that extra nutrition and texture. Digging way back to the scary far darkest recesses of the freezer… score!!! … macadamia nuts. How beautifully these go with papaya. They were a little long in the freezer, but after a quick toasting and addition of a little honey, they were delicious!
In the pantry, we keep dried fruit. Dried fruit is sweet and a great source of fiber. Win-win. Golden raisins would provide a lovely sweetness and textural contrast.
Still, we could use a little more protein, Enter quinoa… another great pantry item. Or make it ahead and keep it in the freezer. Or sprouted in the fridge.
Add a quick papaya vinaigrette. Now we have something.
Assemblage
First the kale. Massage your kale! Why? Because breaking down kale by massaging it with your fingers until it becomes a little darker green, makes its nutrition more bioavailable (your body can absorb the nutrients better) AND takes out bitterness in the kale.
Basically, you are making a Super Food even more powerful!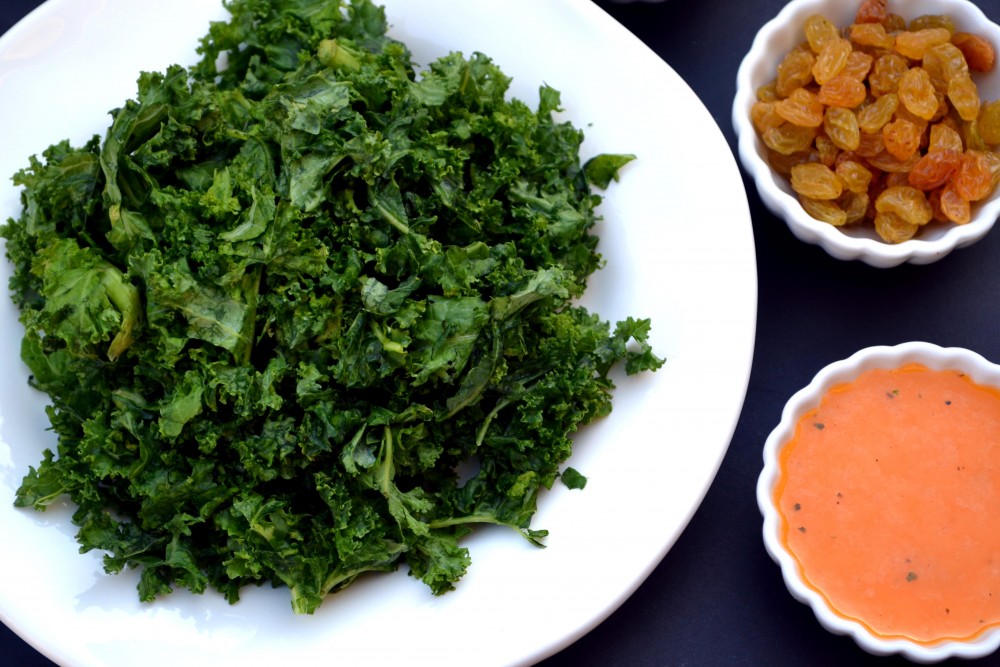 Macadamia nuts can just be chopped up for salad, and that's it. You are good to go. My macadamia nuts had been in the freezer a little too long. Also, I know that if I sweeten the dish, my family is more likely to eat it. If desired, you can toast your macadamia nuts in a skillet and drizzle on a bit of honey, agave, or maple syrup. Stir it around a little, then set aside for salad.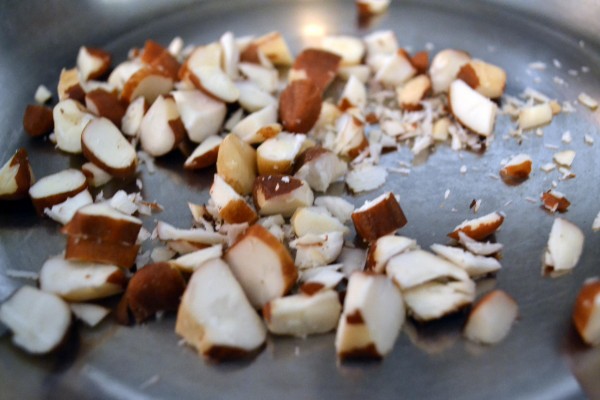 Quinoa can be made in about 12 minutes. I had red quinoa. This gives the salad texture, color and protein. If you do not eat grains, no problem. Leave it out.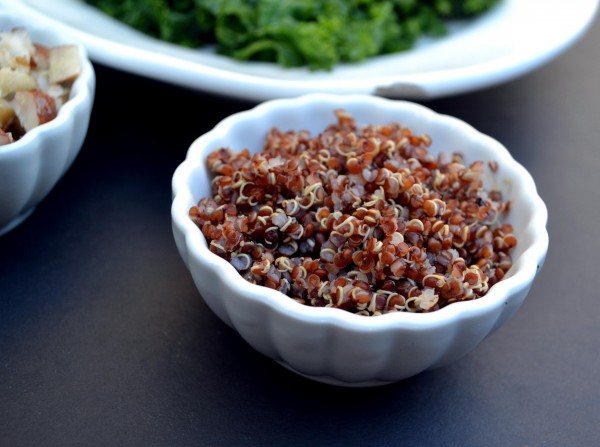 Now we need a dressing. Tossing our kale with a papaya vinaigrette will marry all the flavors beautifully. So yummy! And quick to make!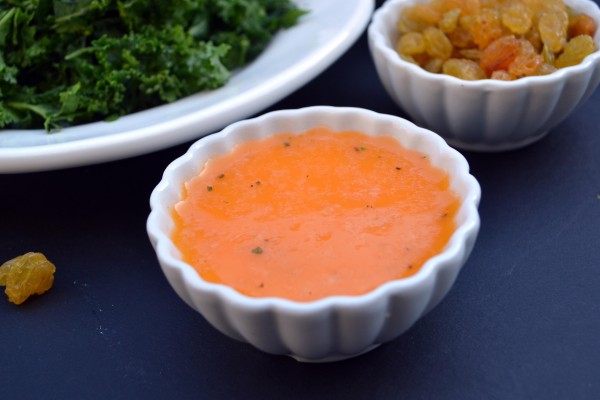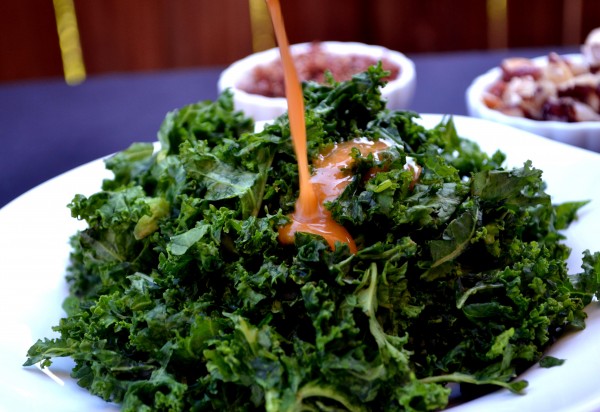 Add raisins, if you like them. I had some rum soaked golden raisins in the fridge. This was a rather pleasant addition.
Go crazy! Add anything else you have on hand and let each person throw on what they like.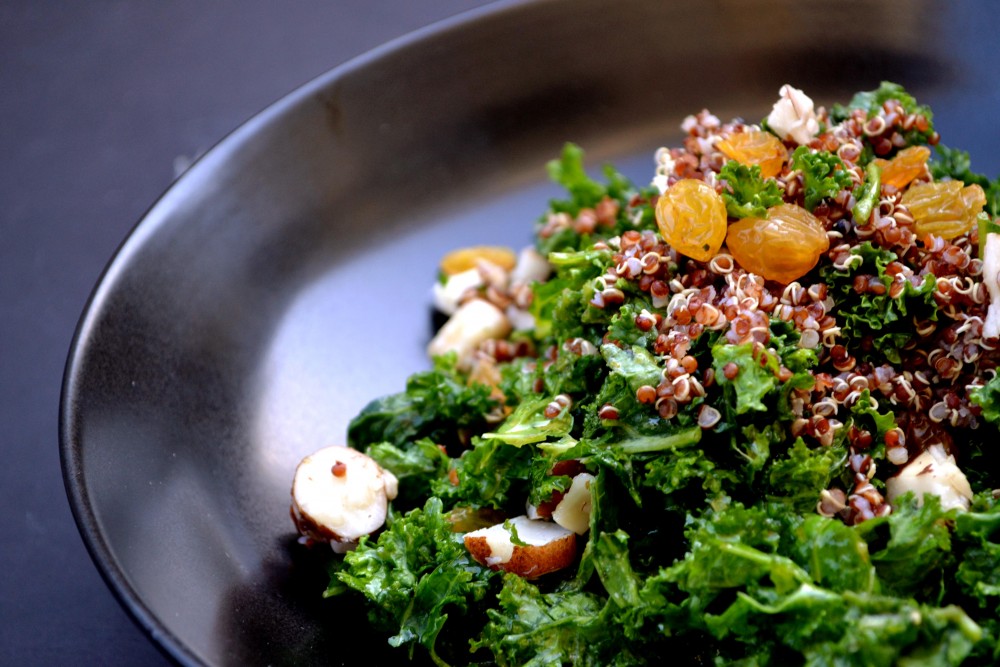 Yes, please!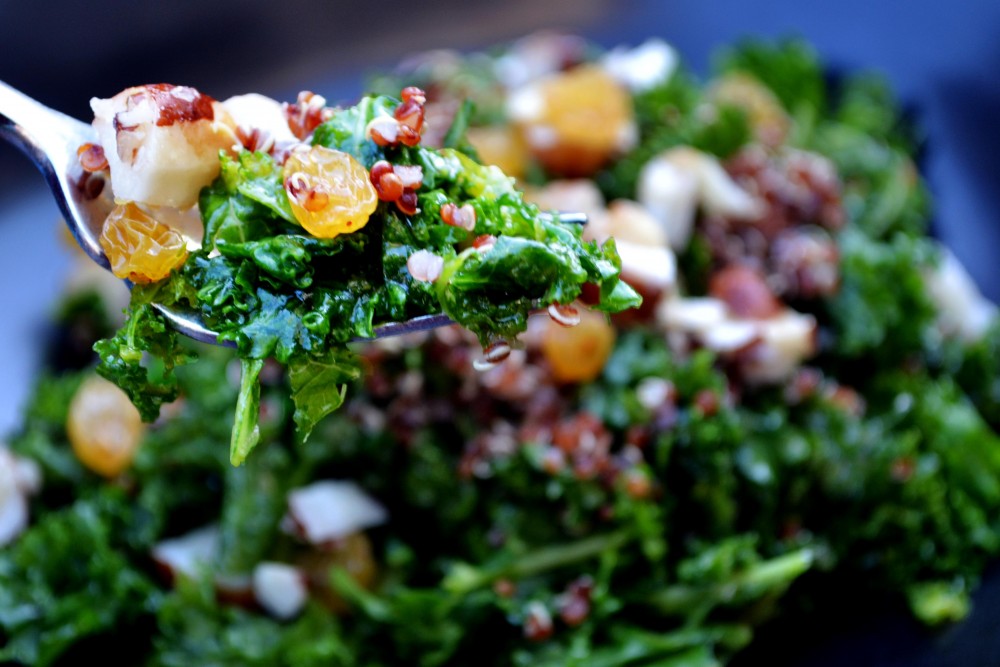 HA! I forgot my fresh papaya!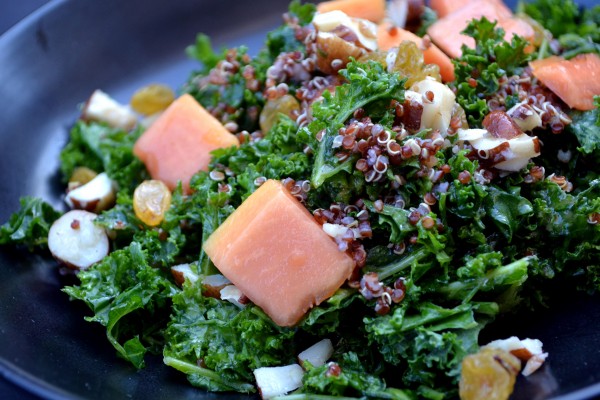 Kale and Quinoa Salad with Papaya Vinaigrette
Start with massaged kale and papaya vinaigrette and transform this any way you like. 
Ingredients
kale, massaged – as much as you like
papaya, diced (reserve 1/4 cup for vinaigrette)
red quinoa (or any quinoa you like)
golden raisins (or any raisin you like, even rum-soaked)
macadamia nuts
optional: drizzle of honey
Papaya Vinaigrette
1/4 cup papaya, diced
1/4 cup evoo or non GMO canola oil
1 T white wine vinegar (add more, if more brightness is desired)
salt and pepper, to taste
optional: mint, to taste
Blend all ingredients for vinaigrette until smooth and creamy. Taste and adjust seasonings as desired. Refrigerate until ready to use.
Prepare quinoa according to package directions. Set aside.
Massage kale until it starts to break down and turns a deeper green.
If desired, toast macadamia nuts in a skillet and drizzle on a bit of honey for sweetness. For a vegan dish, use agave or another sweetener.
Toss massaged kale with papaya vinaigrette. Add raisins, nuts, and quinoa to the salad, or serve these in separate dishes for the diner to choose variations.
Enjoy!
If you like this, please Pin, Share, and Like