My girl Starla has been salt-free for 30 days and counting! To those of us who crave those intense hits of salt on the tongue… say, sea salt on a potato chip or large Celtic crystals on caramel… this dietary feat may make Starla a bit of a super human! She would disagree with that. She would probably say that if she can do it, anyone can.
How does she do it? When Starla has a "mission" she leaves no stone unturned until it is accomplished. If she has to limit salt, she is not going to sacrifice flavor. So when she told me that she made a simple little salad dressing which had her daughter requesting kale in her school lunch bag, I knew that I had to steal it… I mean get her permission to share it.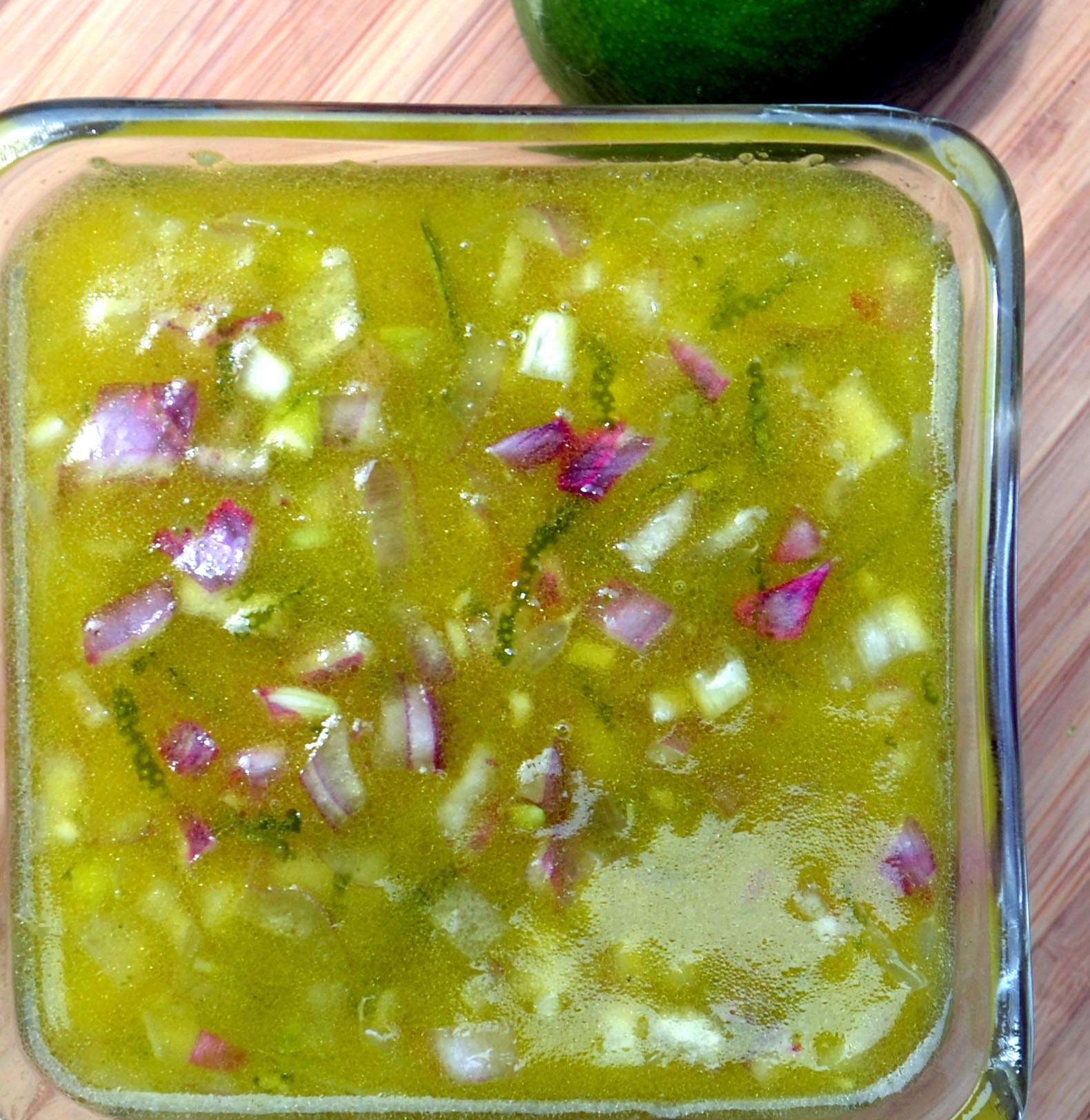 Starla's Full-Flavor Sweet Lime Dressing with No Salt and No Sugar
'Gotta share this photo anyway, but somehow the dressing looks so yellow in this photo. This is actually the same dressing as the in the featured image! We did use honey in our version.
[pinterest]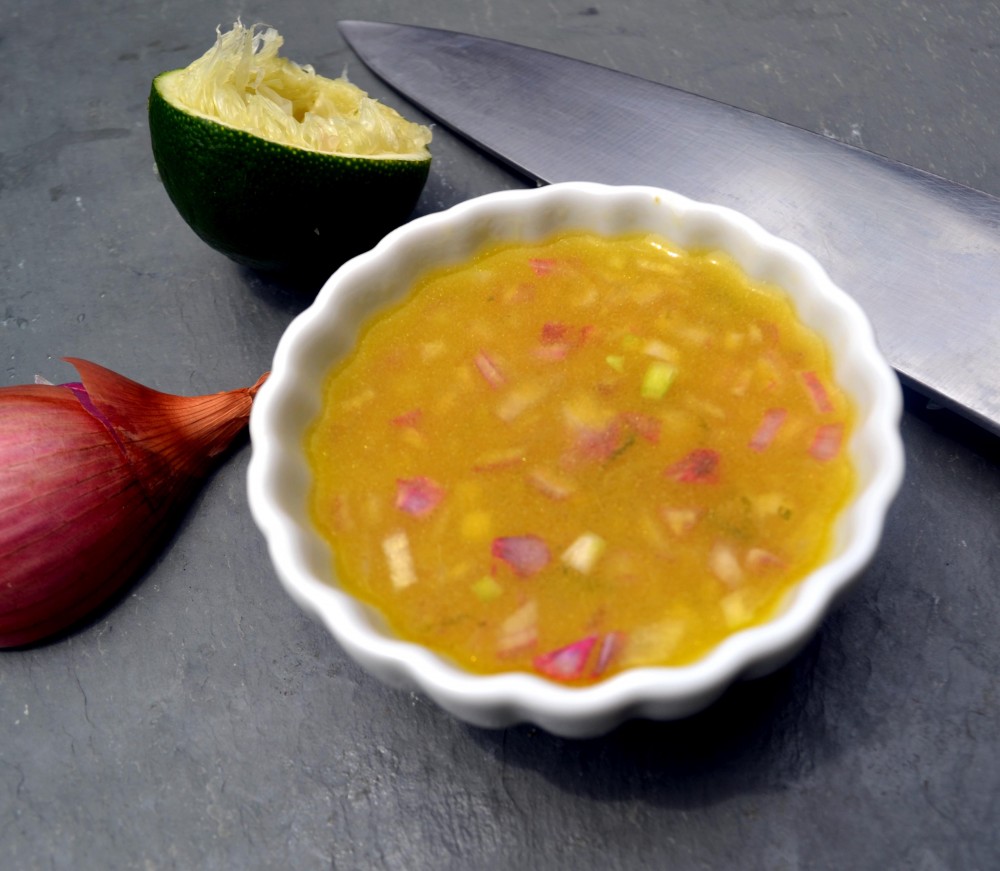 About Salt
If you have doctor's orders to reduce salt, check out this previous article on Food Highs for a quick intro and great options.
About Salt in Food Highs Recipes
My recipes are designed for versatility. I provide the framework, and formulas that have been tested among my own acquaintances, but there is always room for you to personalize each dish. This is the idea… you can choose to make the dish as written, or alter it for your personal diet.
This is why I usually say "salt, to taste". When it comes to taste and dietary needs salt is about as subjective as it gets! You can make most of my recipes, reduce or leave out salt, and bump up the other flavors.
How to Bring the Flavor without so Much Salt
It is true that salt enhances all your other flavors, but if you spend a little time playing with spices and other flavorings, you may be surprised at how much salt-free flavor you can build! You may also be surprised by how your taste buds adjust.
If you can't have salty, you can probably still have layers of tangy, spicy, sweet, sour, bitter, pungent, crunchy, crispy, creamy, buttery, etc. etc. etc. 🙂
Here are a few options:
Get to know spices. Pungent, earthy, intense flavors from around the globe, will delight the palate. Don't be afraid! Explore them all!
Use citrus fruits; I've never met anyone who felt the need to add salt to a fresh orange.
Add tomatoes; naturally complex in flavor, tomatoes can be sweet and salty, and also heart-healthy
Sweeten up a dish with whatever works for your body. There are many natural sweeteners that do not raise your glycemic index.
Add some heat to wake up your taste buds. Get to know the flavor differences between a jalapeno and a pablano.
Tang and acidity – Greek yogurt, kefir, splashes of lime or lemon (juice and peel), vinegars, bring a lot to the table!
Variety in texture – Give your food interest with contrasting textures, crunchy, crispy, chewy, creamy…
And we are just getting started! There is a whole world of low salt foods out there to explore.
Starla quotes:
I was inspired by your Kale Salad yesterday…It looked so good but I can't tolerate a fruity dressing right now. so I improvised… I've been looking for a Kale dressing that I can have. I can't seem to tolerate dates right now to sweeten it. So, I used just a tad of Stevia. Perfect!!! …but man, this was really good…the Kale is gone! And Tora wants to take some to school tomorrow in her lunch box  can you IMAGINE!!!!!!!
Massaged Kale Salad with Red Quinoa Here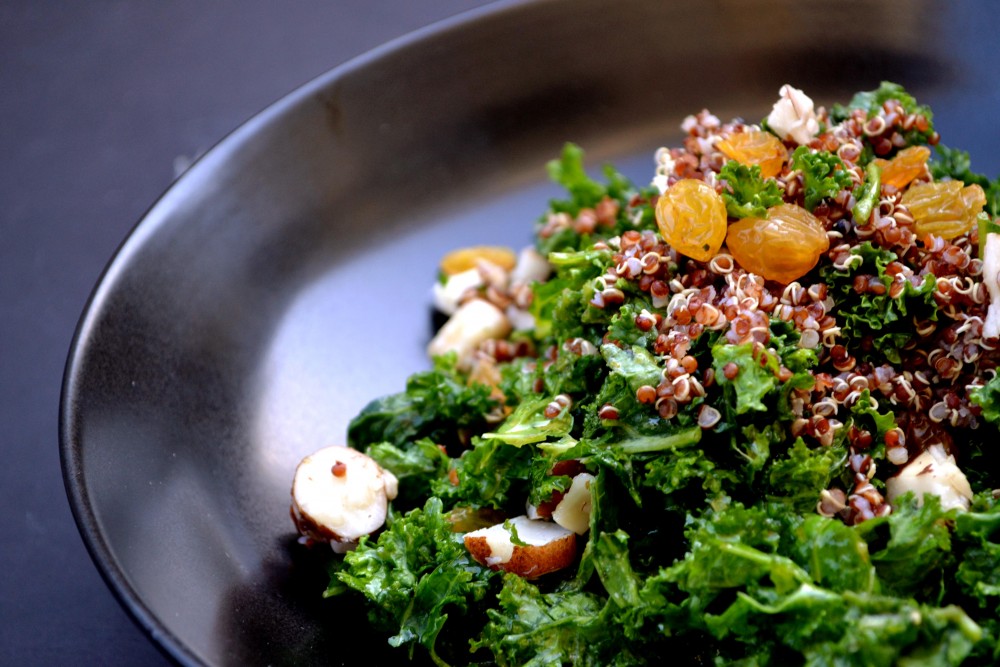 Starla's Sweet Lime Salad Dressing
This salad dressing packs tons of flavor; you will not miss salt. Starla and family pairs this with massaged kale. 
Ingredients
lime zest –  about 1 1/2 t
juice of 4-5 limes – about 1/2 c
2 T evoo
1/2 – 1 shallot, finely diced – about 1 1-2 – 2 T
1/2 – 1 clove garlic, finely minced – about 1/2 t
sweetener (see below, Starla uses pure liquid Stevia)
Method
Combine all ingredients. Use immediately, or refrigerate for at least 30 minutes, allowing flavors to blend.
Use on salads as desired. Enjoy!
Sweetener Options:
When adding the sweetener of your choice, start with less, taste your dressing on a leaf, and add more if desired. Two drops of pure liquid stevia (22.4 mg) is equivalent to:
about 1 t sugar
about 2 t honey, agave
about 1 1/4 t brown rice syrup
Starla uses Stevia because she has found that it works for her particular needs. If your body better processes another sweetener, or you prefer another, it is simple to substitute.
[pinterest]
If you like this, please Pin, Share, and Like
[fblike]
[tweet]