Lentil Wraps – Four Ways or More!
Under the heading of "good things in small packages", we have lentils! …cute, tiny parcels of folate, fiber, phosphorus, protein, and iron. When it comes to getting a nutritious meal on the table quick, lentils are a great pantry item to keep on hand year-round. They are infinitely versatile, fitting into almost any flavor profile. And unlike larger legumes, they cook quickly with no need for pre-soaking.
Embarrassingly easy lentil wraps are what's for dinner today. This is going to be less of a "recipe" as is will be "playing with food". Who needs maturity and decorum… playing with food is a blast! And when it comes in so many colors and shapes, why wouldn't you?
Four Beautiful Varieties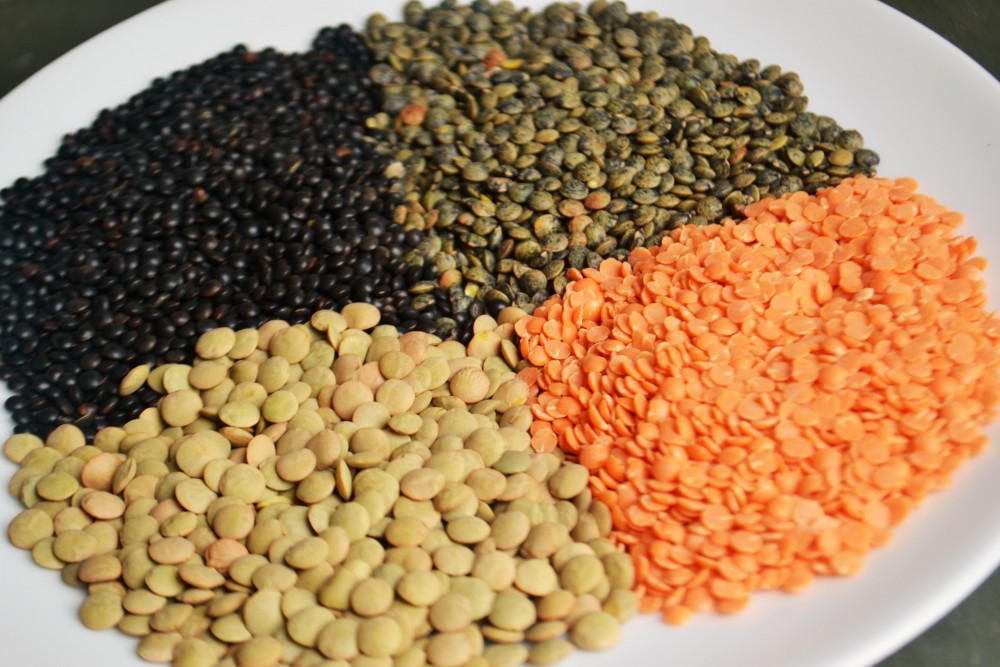 Green Lentils
This is a standard variety. Very versatile and easy to find, green lentils can be used in almost any dish.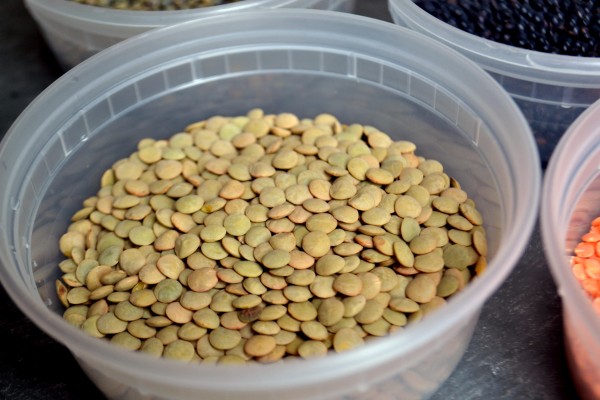 Black Lentils
Black lentils are a staple in my cupboard. They are so good with Mexican flavors, or just with rice. Great color, nice bite – if you don't overcook them, of course – and mild flavor.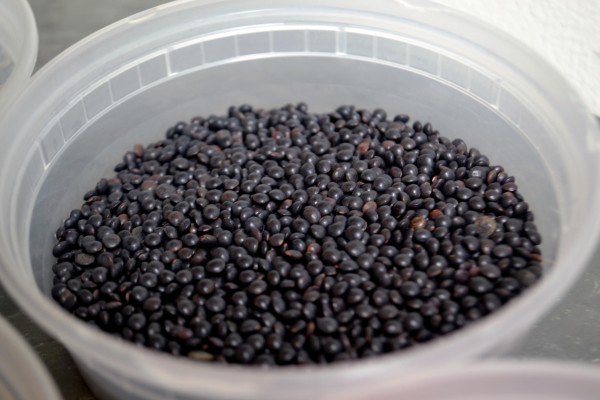 French Lentils
This variety is slightly peppery, very delicious, and feels a bit upscale, for lack of a better word. I love these. With no additional flavor, this variety is probably my favorite.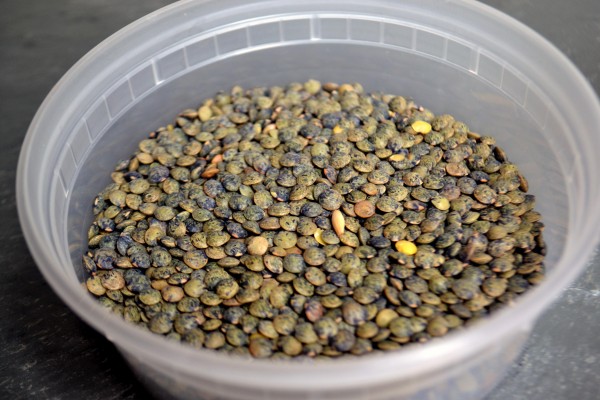 Red Lentils
Yellow when cooked, these delicate, slightly sweeter little lentils cook very quickly and are great for mash, puree, dahl, or stew. They do not hold their shape.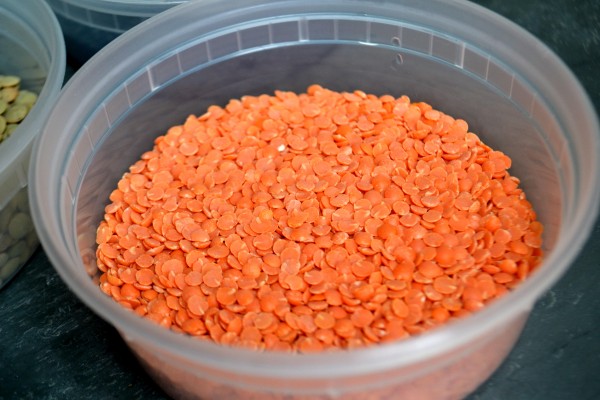 Green lentils simmering.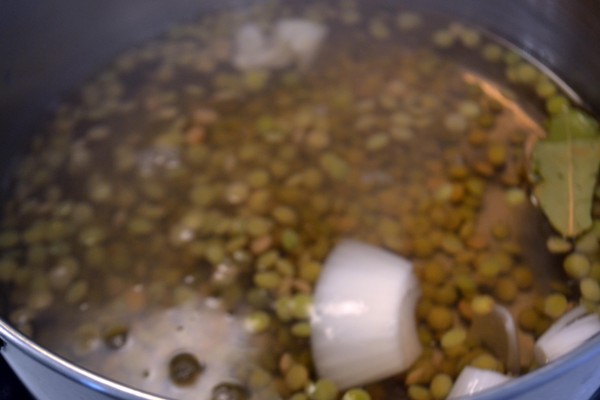 Green lentil, cooked, strained, and ready to season.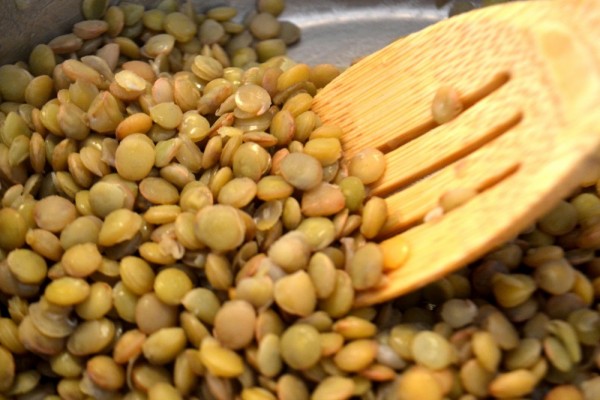 French lentils.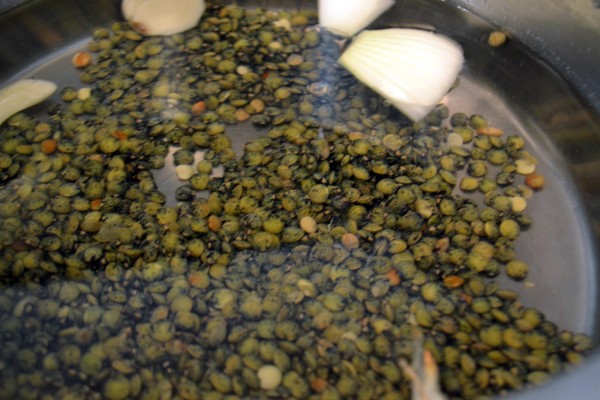 Cooked French lentils.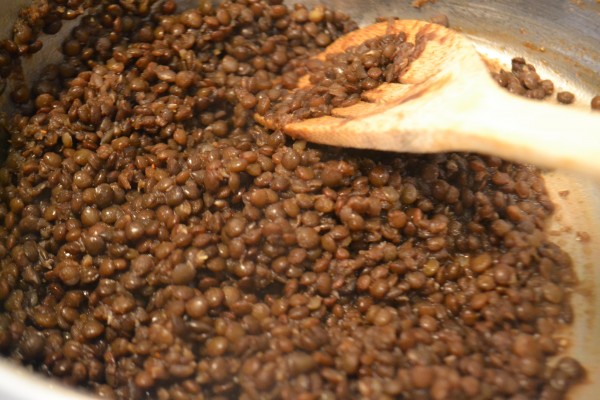 Four Flavors
These photos are not my favorite, but the wraps were fun! And delicious. We cut them into bites so everyone could enjoy every flavor. Of course, we could have used smaller leaves. You can certainly get creative!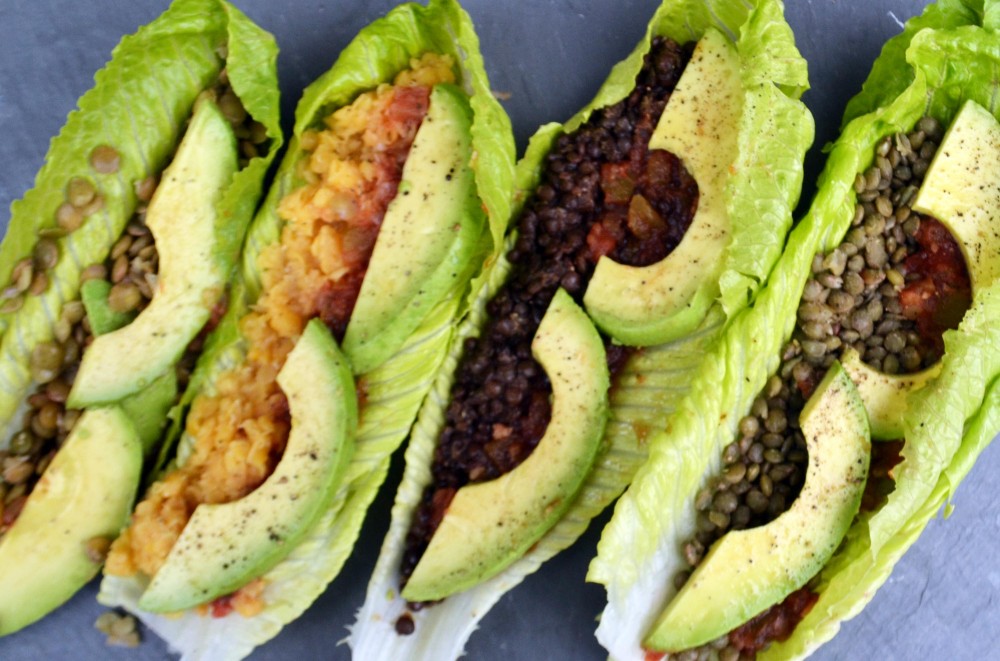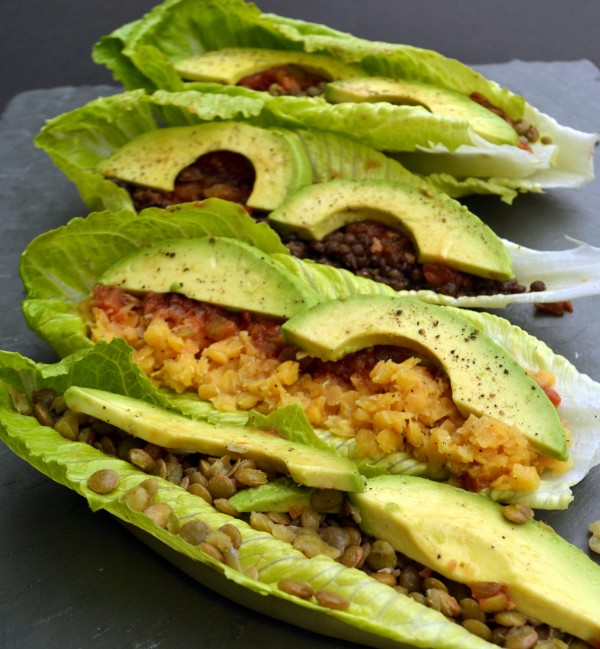 Black Lentils with Tex-Mex flavors in a Romaine Wrap, topped with tomato salsa, sliced avocado, and kale sprouts.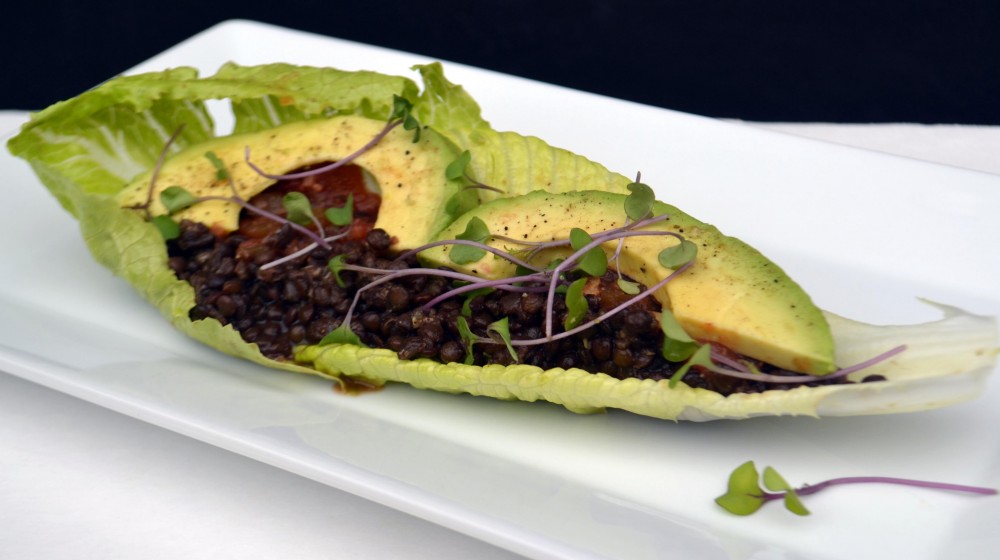 Lentil Wraps
This is a fun mix and match. Use any and all varieties you like!
Ingredients
lentils – green, black, red, french, or any combination you like
garlic cloves
onion
bay leaves
Optional seasonings
garlic powder
chili powder
cumin
nutritional yeast
salt and pepper
Optional Toppings, not limited to…
avocado
salsa
sour cream
cheese
sprouts
Method
Rinse lentils. Cook lentils, on variety at a time. Put lentils in a sauce pot and cover with water at a 1:2 ratio (1 part lentils to 1 part water). For about 1 cup dried lentils, add 1-2 garlic cloves, 1/4 onion, and 1 bay leaf.
Bring to boil. Reduce to simmer. Slower cook lentils until they are tender. Depending on the variety, this should take between 15 and 30 minutes.
Strain water from lentils. Remove garlic, onion, and bay leaf. Return lentils to the pot, and add salt, to taste, plus any other seasonings desired. Lentils can be left whole, or mashed.
Tex-Tex Lentils: To 1 cup cooked black lentils (or any variety desired), add 1/4 t. garlic powder, 1 t chili powder, 1/2 t. cumin, and for a cheesy taste without cheese, add 1/2 to 1 t nutritional yeast. (this also provides b vitamins)
Notes:
Lentils approximately double in size. If you want 1 cup cooked, use 1/2 cup dry.
Always add salt and seasonings to lentils after they are cooked
Assemblage of Wraps
Fill each wrap (leaf, tortilla, crepe) as desired, with lentils and toppings of your choosing.
Serve immediately.
Enjoy!
If you like this, please Pin, Share, and Like