Pâté with Apple Gelée
When Mom made liver and onions, the fragrance that perfumed the house was intoxicating. I am fairly confident that there were occasions when my feet left the ground and I floated into the kitchen on that wafting aroma… hmmm… too many Saturday cartoons maybe…  But that is pretty much where my love for offal ended. The flavor did not appeal to me, not even a little bit.
Appreciation for organ meat of any kind did not come until adulthood. Then there were deep-fried sweetbreads and pates and mouses and terrines… all "enjoyed" in culinary school. I am still not a big fan of liver flavor, but I did learn how to make it so that even I will eat it! – and kind of like it, on occasion.  The best liver I ever tasted was in an ice cream. It was shockingly fabulous!
The greatest PRO for liver is that it is a nutritional power house! It is mineral and vitamin rich. Just 4 ounces provides much more than the recommended daily allowance of B-vitamins!
Tips for making liver taste good:
Use good liver. It should be red, not yellowish. Grass fed animals are healthier than grain fed, and the liver is much more nutritious.
Keep liver fresh. Only buy and thaw what you will eat soon.
Soak it in a brine, milk, or acidulated water prior to cooking to remove impurities and improve texture
Do not overcook it
Add strong flavors, which is why garlic and onion pair so well with it
Add fat
A few more flavors that pair very well with liver – bacon, apples, butter, anchovies, red wine, sherry, balsamic vinegar, rosemary
Chicken liver is more mild than beef. If you already like chicken liver, then you will love this simple recipe.
Otherwise, give it a try anyway… just a little layered with sweet jelly and spread on apple wedges or toast. You may be surprised!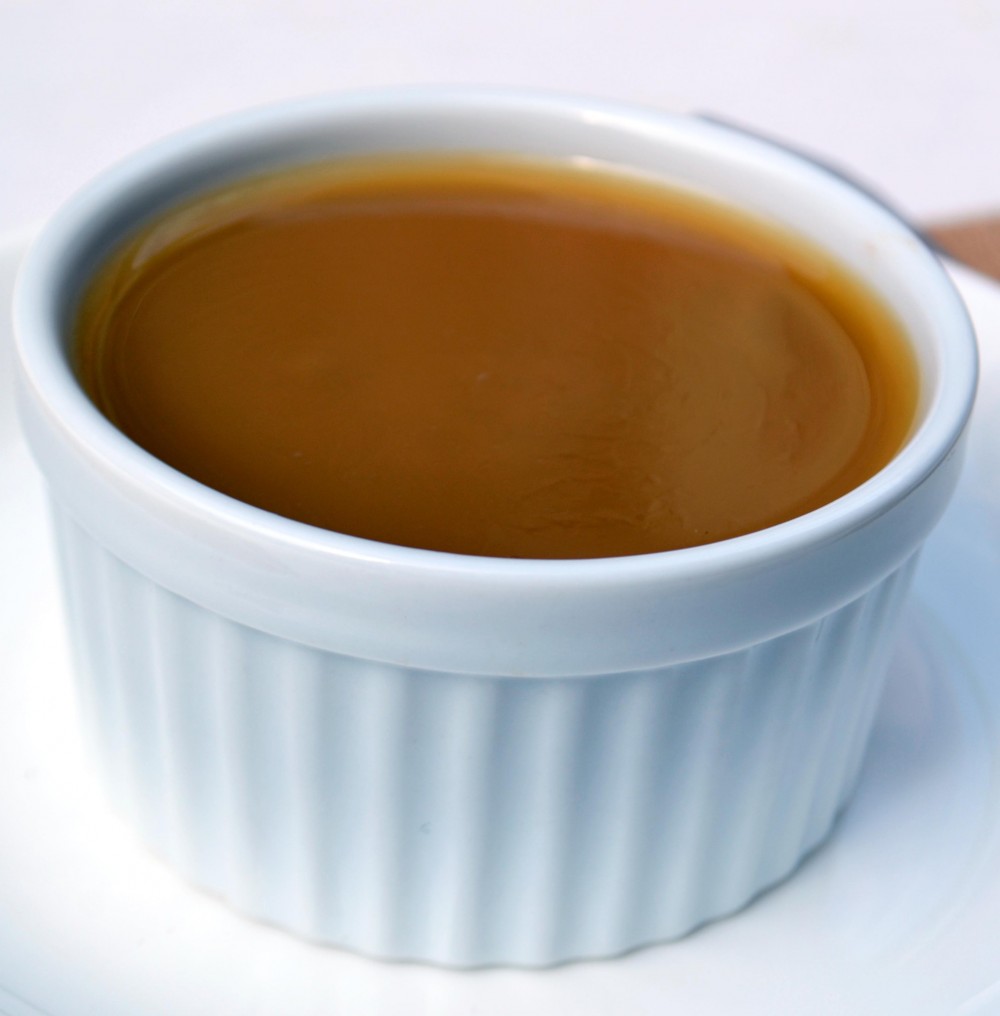 Chicken Liver Pâté with Apple Gelée
This is really good chicken liver…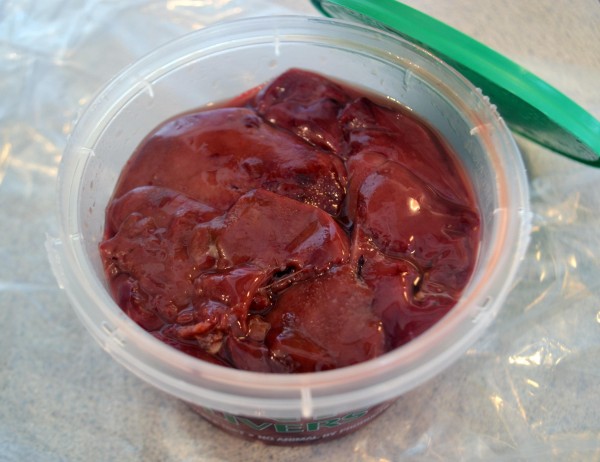 Cut away and remove connective tissue. Place liver in a brine and refrigerate for at least two hours. This helps to remove impurities as well as infuse flavor.
A more common method is to soak liver in milk.  Of course, you can choose whichever method you prefer.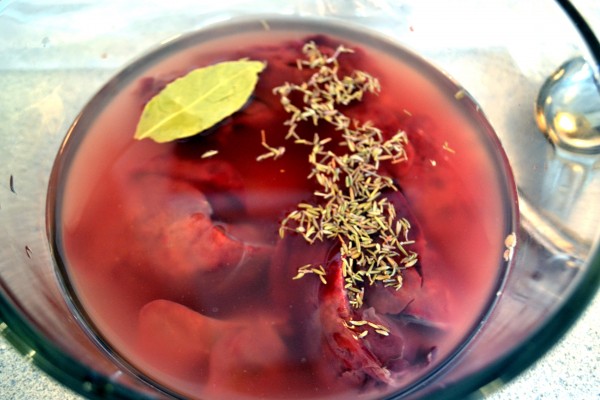 After brining or soaking, remove livers from liquid, rinse, and reserve.
In a skillet, saute onion in butter until tender. If you are dairy-free, you can use coconut oil. Pâté begs for fat.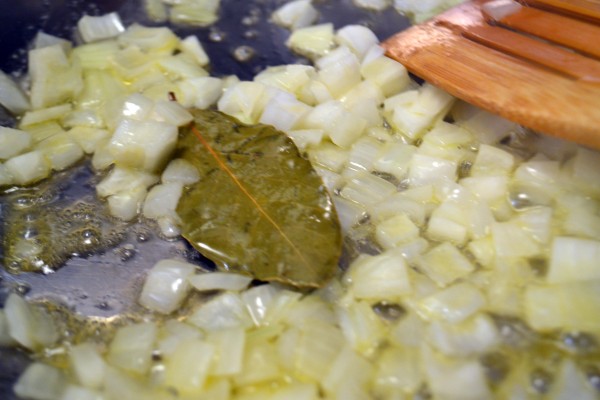 Add liver and brown. Most recipes call for leaving the interior slightly pink. For safety, they should reach 158° and hold for a couple minutes. Do not overcook.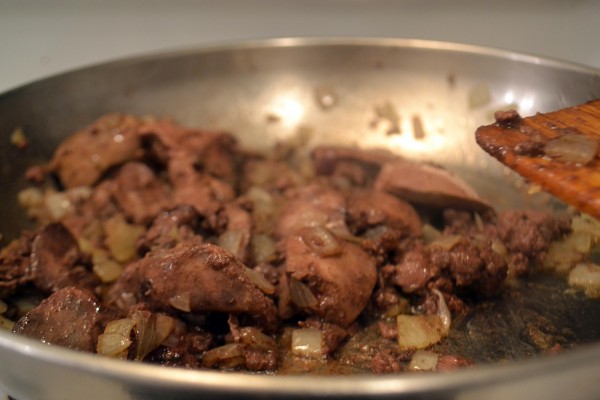 Allow the livers to cool a bit. Add all ingredients to a blender or food processor and blend until smooth. For creaminess, add as much full fat coconut milk or heavy cream as you like.
I use my little magic bullet for this and will scrape every bit off the lid.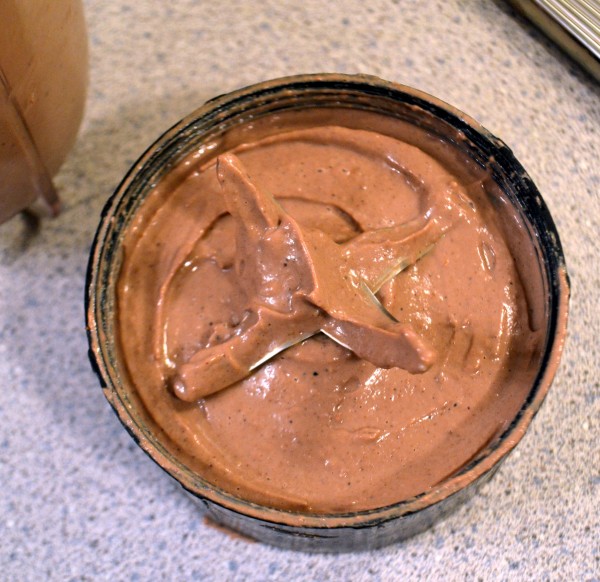 Put pâté in ramekins or serving vessels, cover with plastic wrap, and refrigerate for at least 6 hours. It should look like creamy pudding.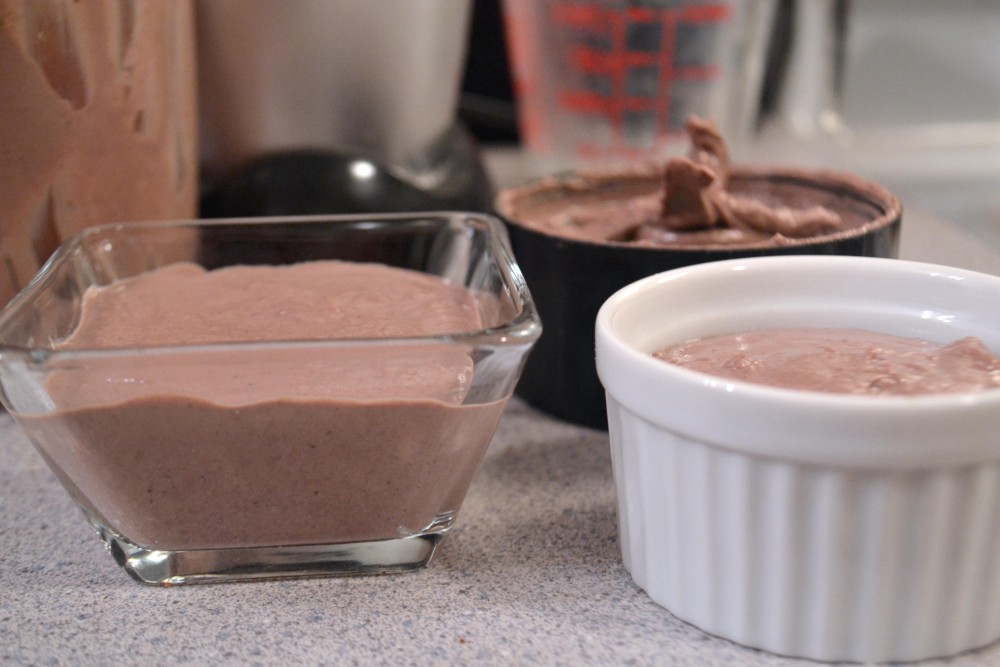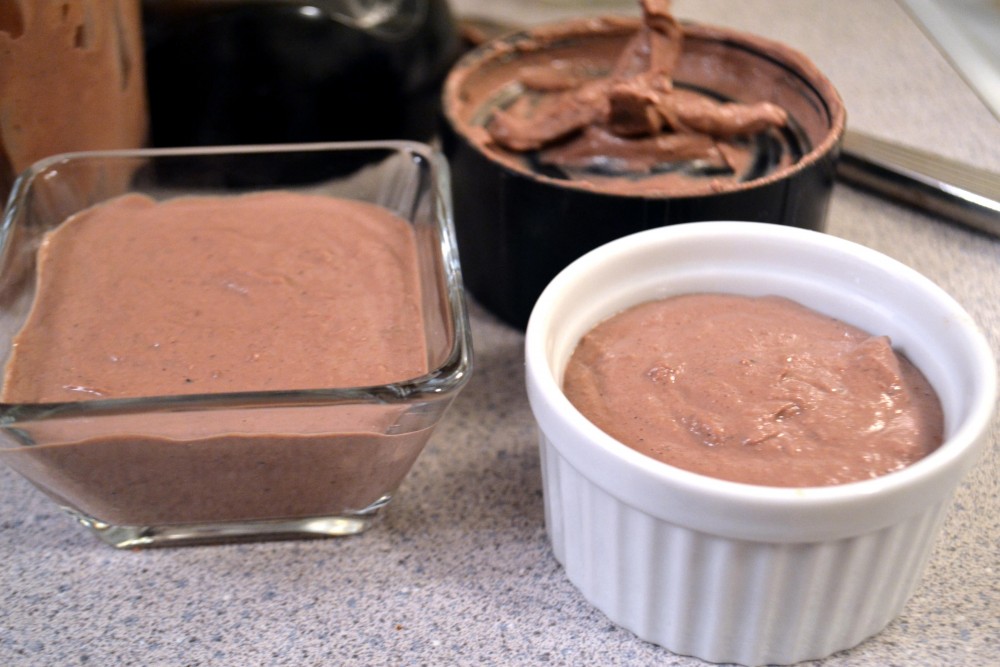 The sweetness of a gelée contrasts so beautifully with the strong meaty flavors of the pate. You can use a prepared or homemade jam or jelly, or make a gelatin to add on top.
Today I used agar agar in apple juice for a quick gelée. Recipe below. You can find more information about agar on my Caviar – Cold Oil Spherification post.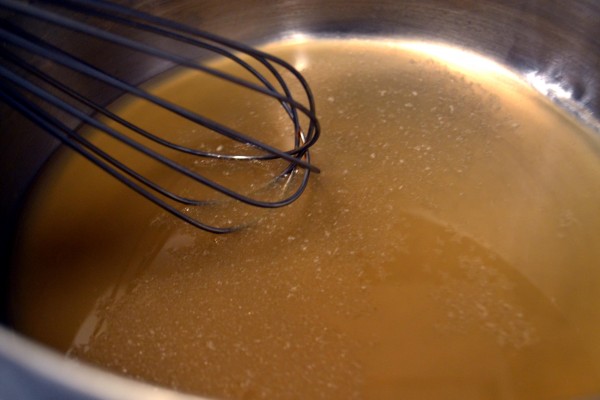 While warm from the pot, apple gelée can be poured over pate and will quickly set up for a beautiful presentation. I like this method because it takes only two ingredients – apple juice and agar – and it is SO quick and easy!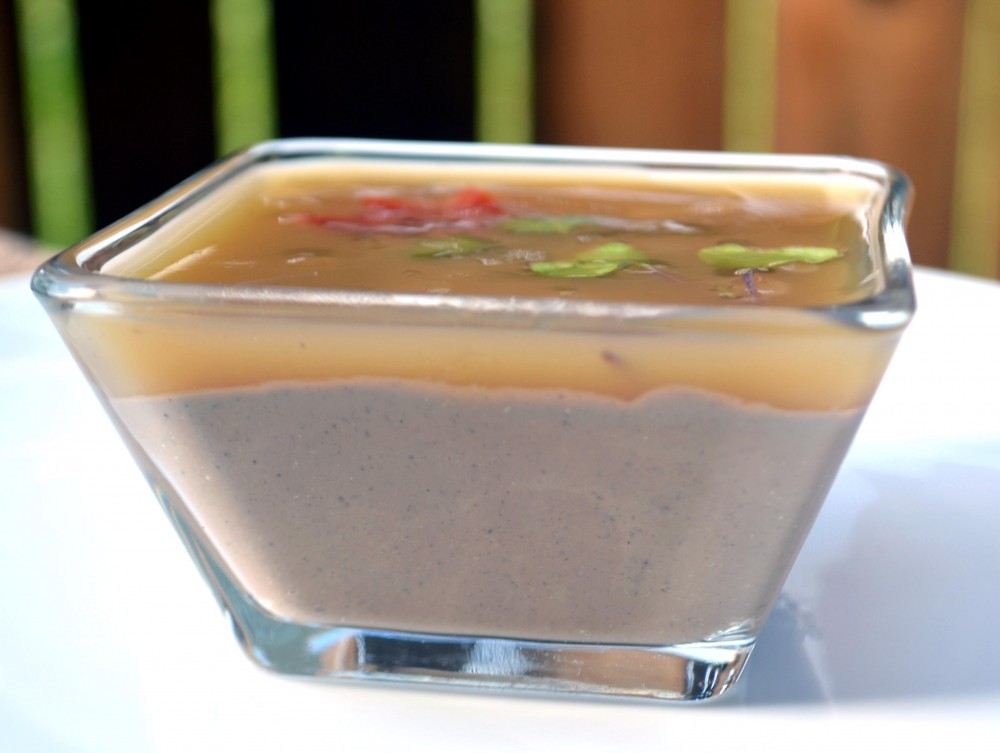 I added kale sprouts and tomato peel for a little garnish in the gel.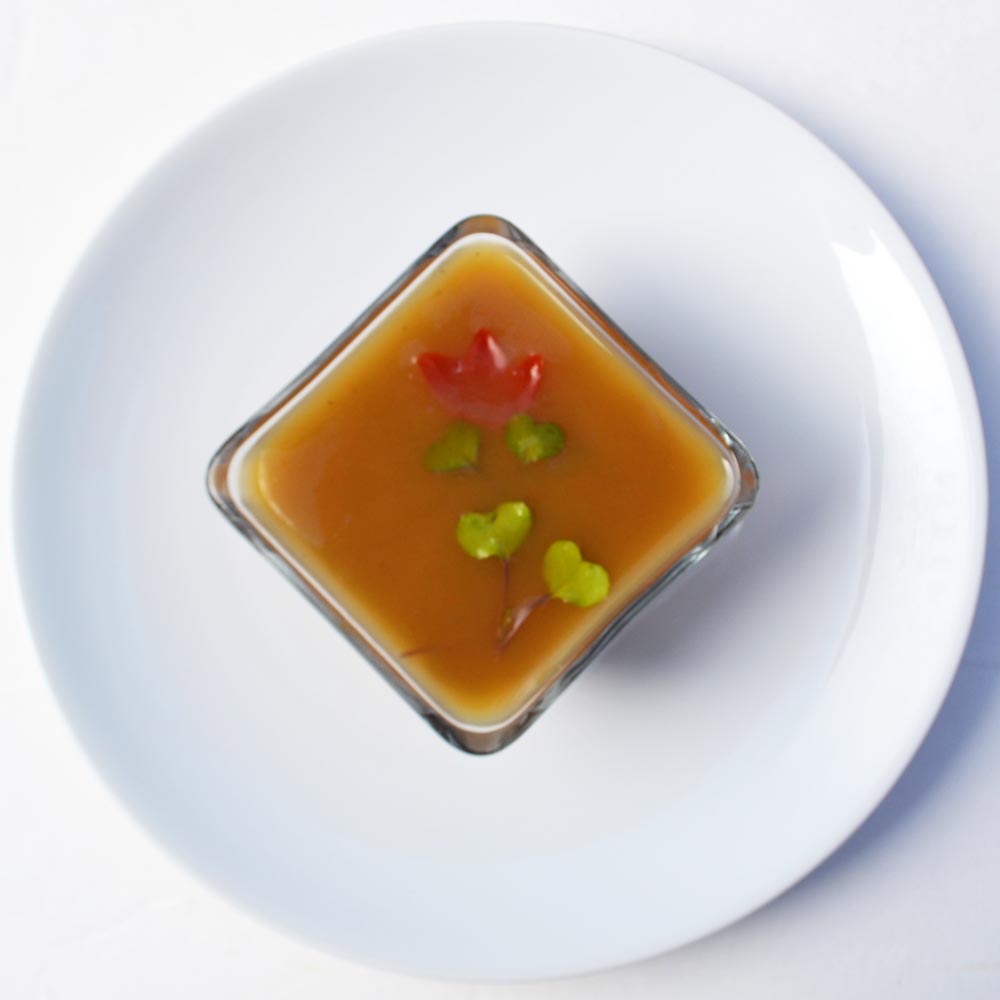 Simple and elegant.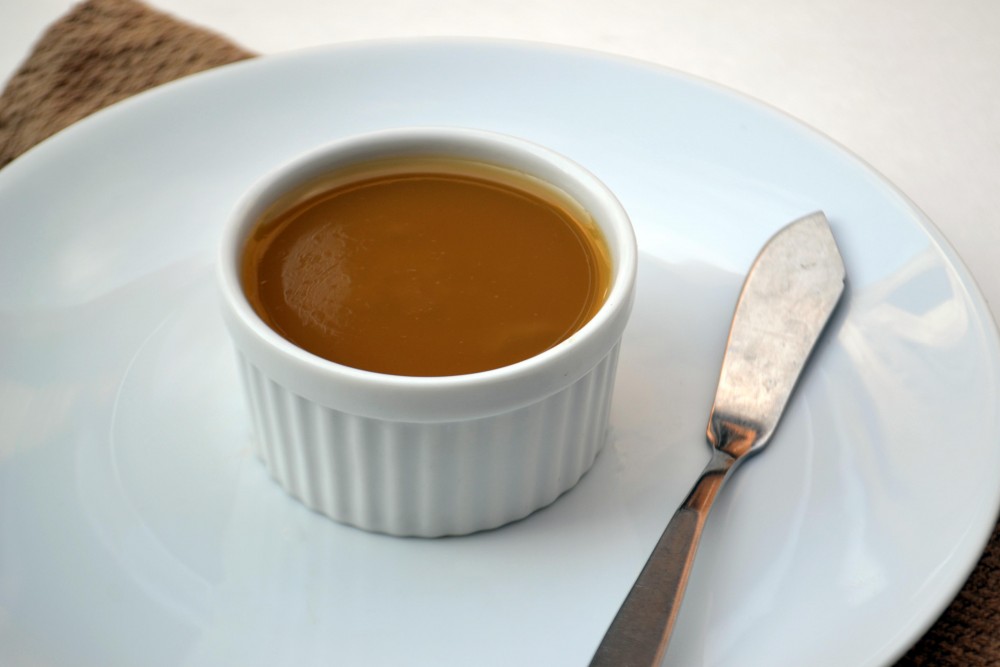 Chicken Liver Pâté with Apple Gelée
Serve this gluten free with apple slices, or spread pâté on toast points.
Ingredients
16 oz chicken livers, the better the livers, the better the pate
1 bay leaf (for brine)
1/2 – 1 t dried thyme (for brine)
salt, about 2 t per 1 cup water (for brine)
2-3 oz butter (or coconut oil for dairy-free)
1 onion, diced
1 bay leaf
2-4 T heavy cream (or full fat coconut milk for dairy-free)
Optional: 2-3 oz port wine, see notes below
salt and pepper, to taste
Method
Rinse livers and remove connective tissue. Cleaning livers removes bitterness. Place livers in a glass bowl (or any nonreactive bowl) to brine. Cover with water and add salt, thyme, and bay leaf. Refrigerate for 2-3 hours.
After brining, rinse livers and set aside.
In a skillet, melt 2 T butter (or coconut oil for a dairy-free pate). Add onions and bay leaf, and cook on medium heat until onions are tender. Add livers and cook until browned. (Cook liver in batches, if needed to avoid overcrowding the skillet) Keep a watchful eye, and preferably a thermometer as well. Ideally, for food safety, the interior of the liver should reach 158° and hold at that temp for 2-3 minutes. If you have no thermometer, it is better to err on the side of safety. Cook livers until they are just done, and avoid overcooking!
Remove bay leaf. Allow livers to slightly cool, then in a food processor or blender, puree liver and onion mixture with heavy cream (or coconut milk for dairy-free), until smooth and creamy. Taste, adjust seasonings, and if needed add more cream or coconut milk.
Pour into ramekins, cover with plastic wrap and refrigerate for at least six hours.
If desired, add a sweet apple gelée – any gelatin, jelly, or jam you like. See simple recipe option below.
To add wine, if desired:
Pâté is delicious when the skillet has been deglazed with sherry or port wine. This recipe was made for diners who do not include alcohol in their diet. But if you do, feel free to throw 3-4 oz into the skillet after livers are partially cooked.  Allow sherry or wine to reduce while liver finishes cooking. Then cool, add cream, and puree. This will take the flavor up a few notches.
Apple Gelée
Making your own gelée allows you to create a beautiful presentation on your pâté. However, it is not necessary. You can simply add an apple or apricot jelly to your pâté and toast. You can read more here.
You will need:
1 c Juice
1/2 – 1 t. agar (using less creates a softer texture)
small sauce pan
whisk
Pour juice and agar into sauce pan off heat. Whisk together. Allow to sit for about 10 minutes. Turn on heat and bring mixture to simmer. Simmer about 5-10 minutes. You can check to see if mixture is ready by putting a small drop on a plate. It should solidify in about 20 seconds or so.
Pour mixture over pâté and refrigerate to set up. You do not have to wait until pâté is set to add apple gelée.
Enjoy!
If you like this, please Pin, Share, and Like