Garden Fresh Pickled Banana Peppers – No canning!
Out of the blue, a dear friend delivered to me a bag of fresh vegetables straight from the garden. Happy Happy Joy Joy! In that bag of delectable goodies were three precious banana peppers. I have been craving pickled banana peppers! How did she know?
Pickled peppers on pizza, pickled peppers on sandwiches, pickled peppers in a salad… yes, please!
Prepared jarred peppers usually have added ingredients that I just do not want. But pickling these beauties myself will be super quick and easy, and allow me to put anything in them that I like!
The only hard part will be waiting… but it will be sooooo worth it. I highly recommend taking advantage of summer's harvest by pickling something (not your own liver, please). You do not have to boil jars and spend a day laboring in the kitchen through a complicated process. A quick brine for a small batch will do nicely! Then refrigerate all that flavor and let the brine do the work for you.
So easy!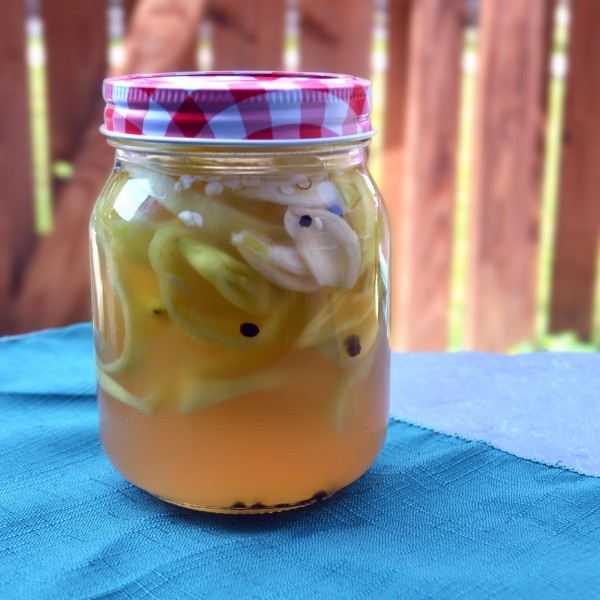 I had three lovely little peppers. If you have more than 3-5 peppers, simply make more brine.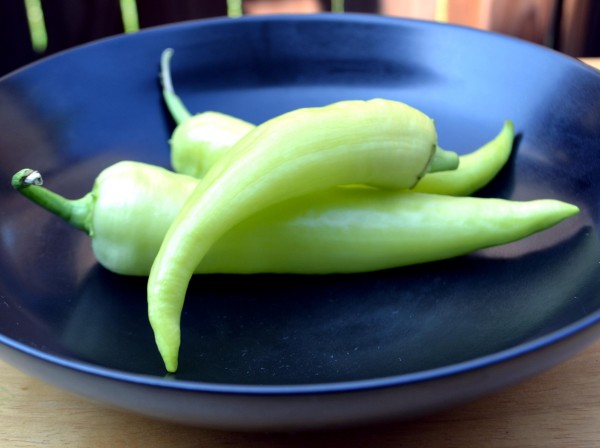 Slice peppers and add them to a jar.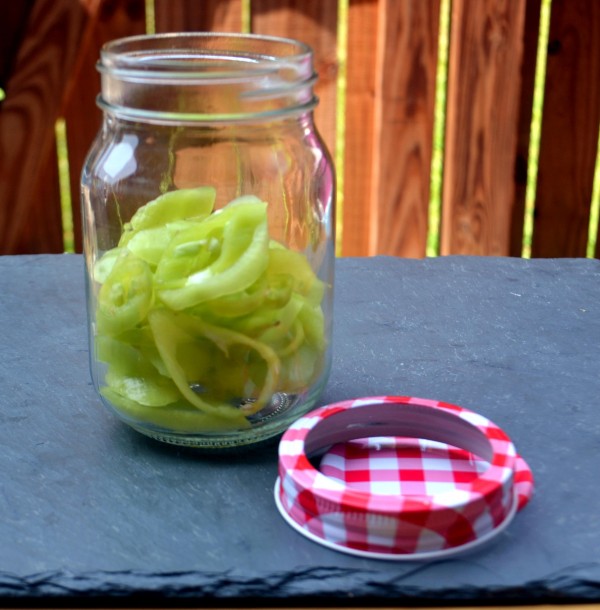 Make a quick brine.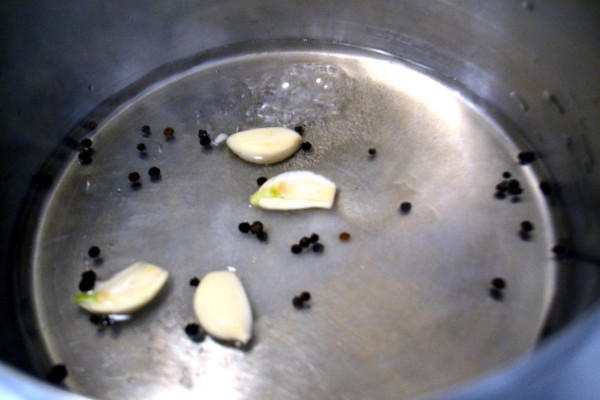 Pour brine over pepper rings. Put a lid on it, cool, and refrigerate for a day or two.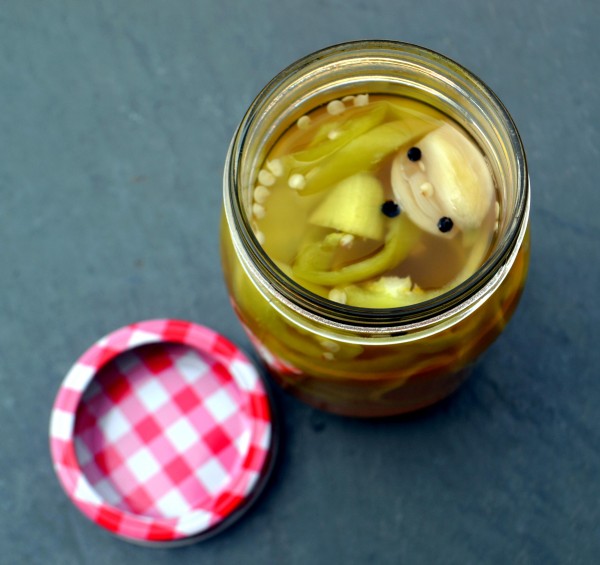 Garden Fresh Pickled Banana Peppers – No canning!
Ingredients
1 cup banana peppers, sliced
1 cup water
2 cloves garlic, sliced or smashed
2 T cane sugar
1/2 t black peppercorns
1 t sea salt or kosher salt
vinegar – apple cider or white
Method
Clean and slice banana peppers anyway you like. I like a slight diagonal cross cut. Remove and discard the seeds. Place pepper rings into a mason jar.
To prepare the brine, place water, garlic, sugar, salt and pepper into a pot. Bring to a boil. Cook, stirring frequently, until sugar and salt are completely dissolved. This will only  take a couple of minutes. Some water will evaporate; that is fine. Add vinegar. Mix through. Pour brine over pepper rings, directly into the jar. If your jar is too small for all of the brine, be sure to strain out the garlic and peppercorns from the extra brine and add them to the jar. Put on the lid. Allow to cool on the counter. Refrigerate for a day or two before eating the peppers, allowing flavor the develop. They should stay good for about two weeks…. if they last that long.
Note: I like to use raw unfiltered Braggs Apple Cider Vinegar. This is one of those ingredients that is best saved as a finishing ingredient. Cooking it destroys some of its nutritive power. For this reason, I add it after cooking the rest of the brine.
Today I have only about 1/4 cup left of my cider vinegar, so I used that plus 3/4 cup white vinegar.
Enjoy!
If you like this, please Pin, Share, and Like