Fresh Bing Cherry and Walnut Crumble
What goes on our table, and on this blog, is generally dictated by what looks fresh and delicious at the market. Two days ago, there were a variety of cherries available. My eyes were drawn to a heaping counter full of intensely deep red, sweet Bing cherries. Plus, they were on sale. 🙂
When produce is fresh in season, at its peak, you often need not do much of anything to it. All that nutrition and flavor is ready-made for you. However, my teenagers are unlikely to wash, stem, and pit fresh cherries to eat. They will more likely neglect them, in favor of something savory or quick, and allow mold to take over these beauties.
So, against my instinct, I am obliged to do something to these cherries… not much! … but something. More will be done to the delicious sweet nutty crumble topping.
This Cherry Crumble is gluten-free and refined sugar-free. It is sweetened with just a bit of honey, not much is needed. The crumble on top is a sweet buttery mix of nuts and seeds. And if it is a really hot day, this dish can be oven-optional!
A quick tip: Soaking nuts the night before is not necessary, but it does give almonds and walnuts a lighter, crunchy "pop" when you bite into them, making them less chewy, and it improves nutrition absorption.
Another quick tip: Grinding walnuts into a flour, or using an almond flour, gives the topping a great texture without need of grains… in case you can't have grains or just prefer to leave them out.
By the way, all of these cherries were devoured in one day. All that nutrition in my children's bodies, and not the compost bin. Happy thought. 🙂
Soaking Walnuts and Almonds for Crumble Topping
'Could not be easier!
This is 1/2 cup raw walnuts and 1/2 cup raw almonds, placed into a container and left to soak in the fridge overnight.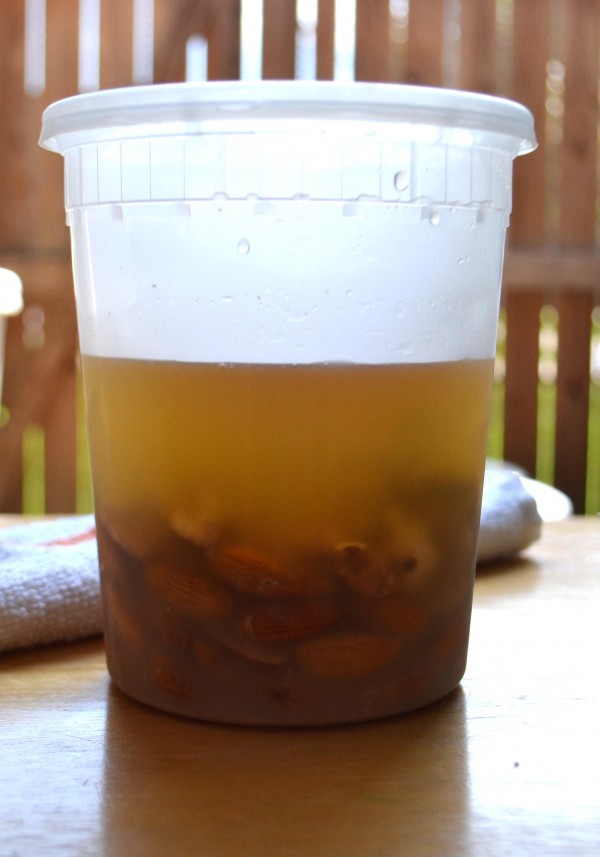 In the morning strain and discard soaking water. You must eat an almond… while enjoying the change in texture… it is mandatory. Yum!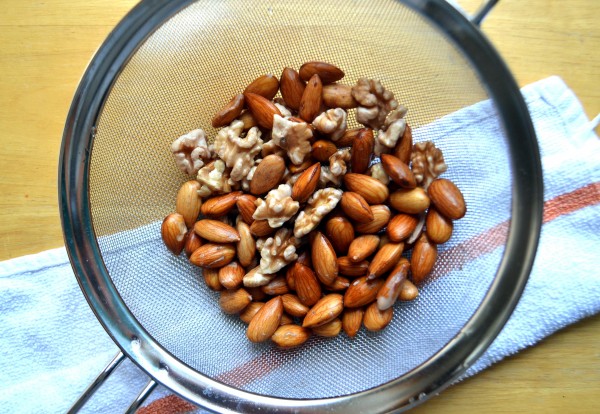 Air dry the nuts, or use a clean towel. Nuts you will not use soon, can be frozen.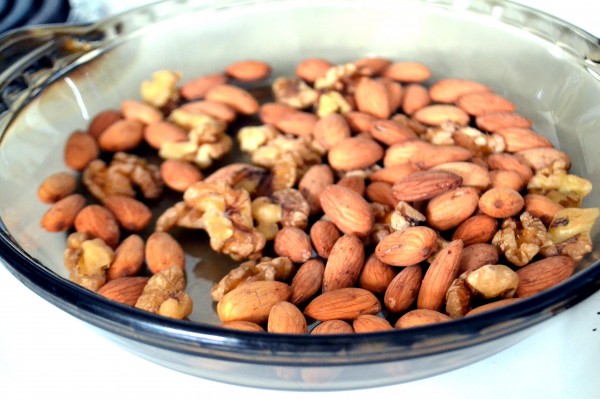 Nutty Crumble Topping
For the crumble topping, coarsely chop the nuts. This should be rustic, no even chopping here. A variety of sizes provides textural interest.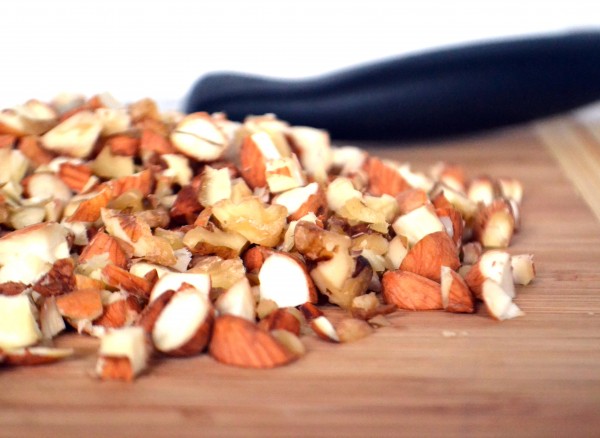 Grind walnuts into a flour, using a food processor, being careful to stop before turning this into a nut butter, even if you are left with some pieces of walnut mixed in.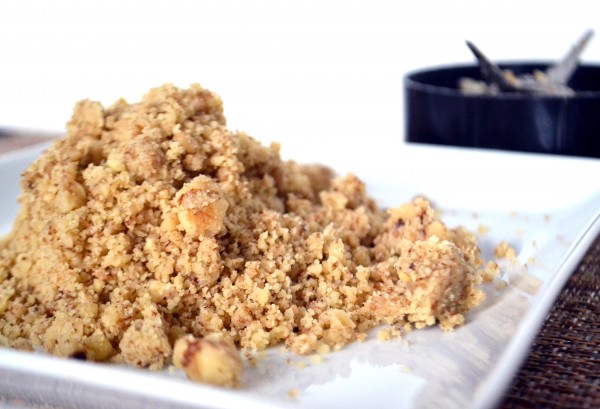 If you don't have a food processor, a good chef's knife will also create a coarse flour.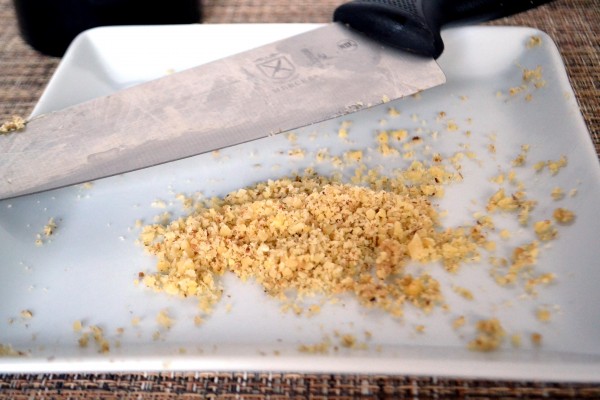 Add the walnut flour, along with ground flax seed and flavors, to the chopped nuts.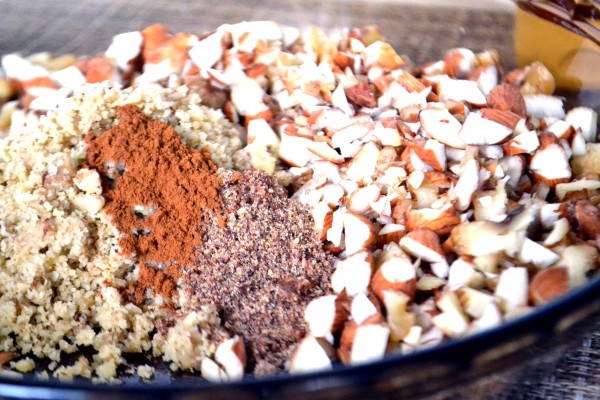 Mix to combine.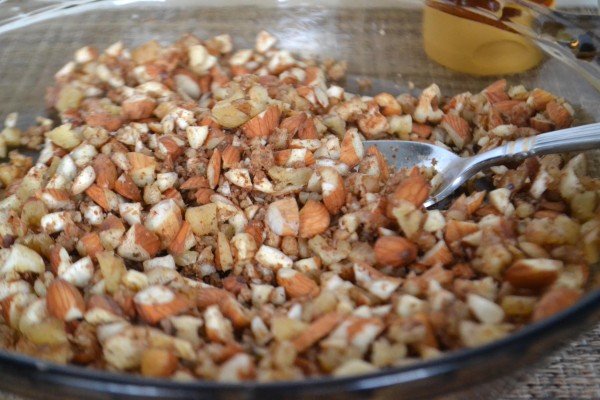 Bring on the honey! Or another sweetener. And, I do add melted butter. You can use coconut oil, if you prefer.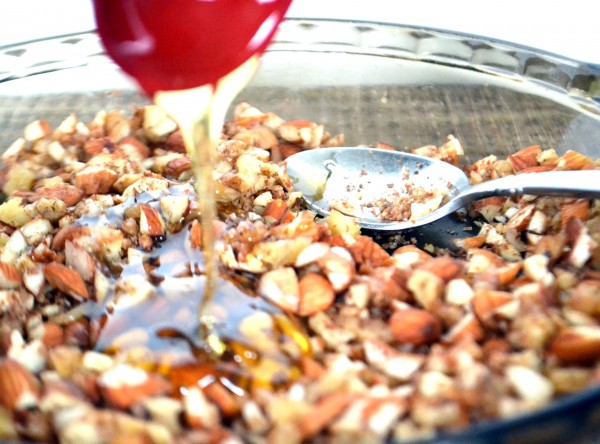 Combine and mix, resisting the urge to eat all of the topping as-is.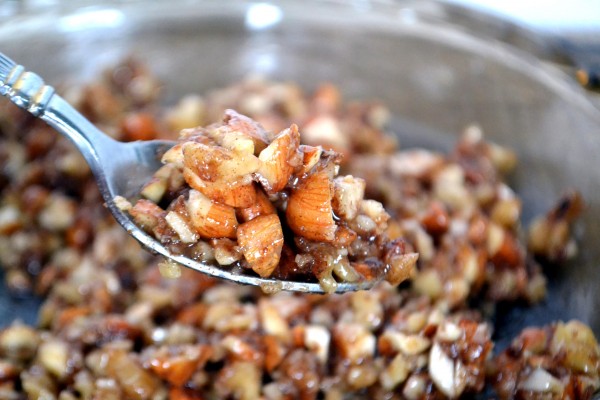 A Cherry Filling
Now the cherries. Wash and stem them…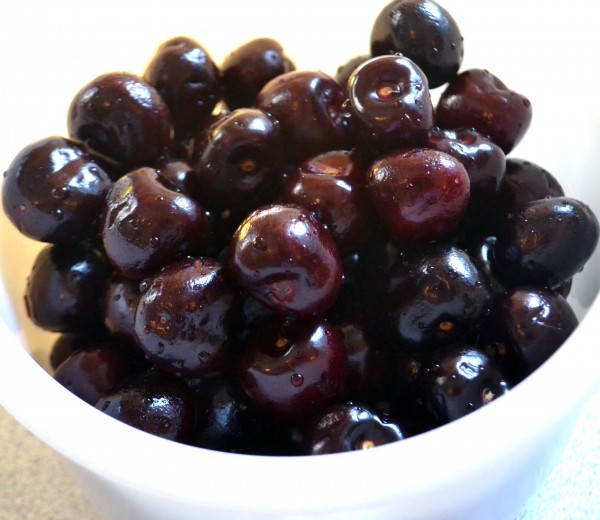 Pit them. If you do not own a cherry pitter, and you like cherries, please get a cherry pitter.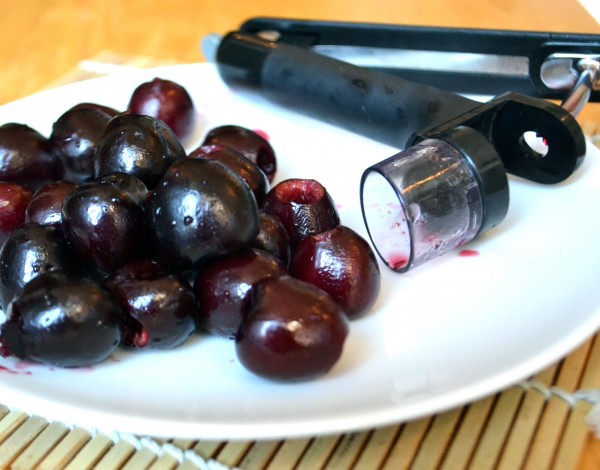 Into a pot, add cherries, lemon juice, a wee bit of honey, and ground flax. Or a cornstarch slurry, if you prefer.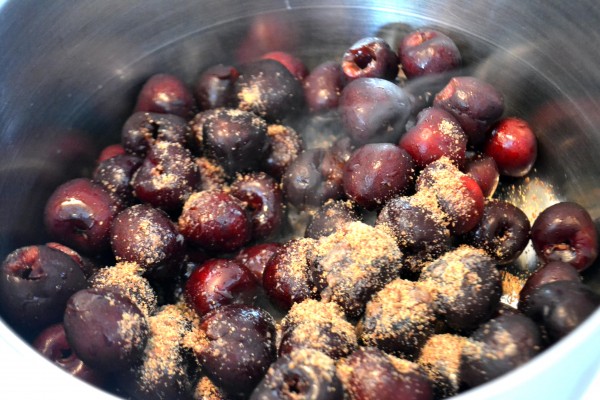 Cook for just a few minutes, just to allow the cherries to break down a little, and juices to mingle with the honey and lemon.
Done! Fresh cherries don't need more than that.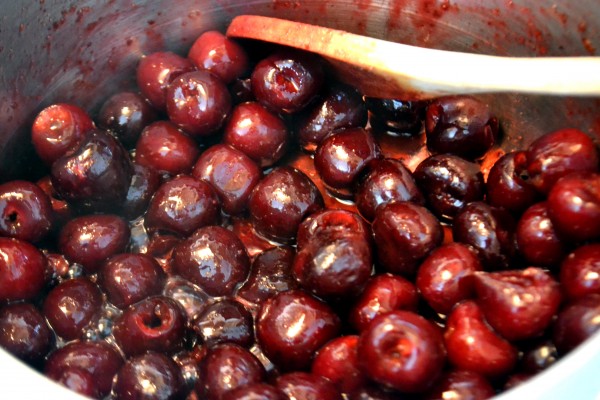 Put all the cherries into a pie plate, or divide into 4 equal parts for one-cup ramekins.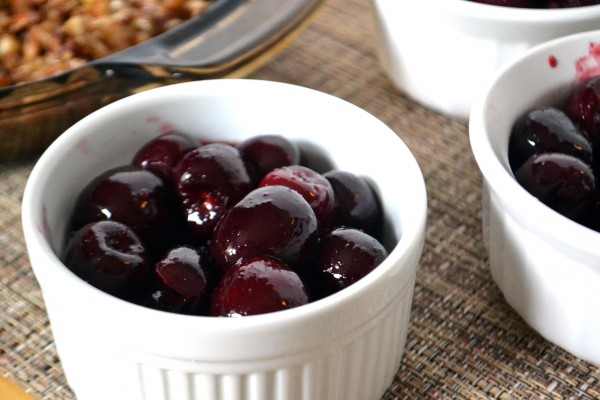 Add the nut crumble topping. If you prefer to not turn on your oven, this is delicious as-is.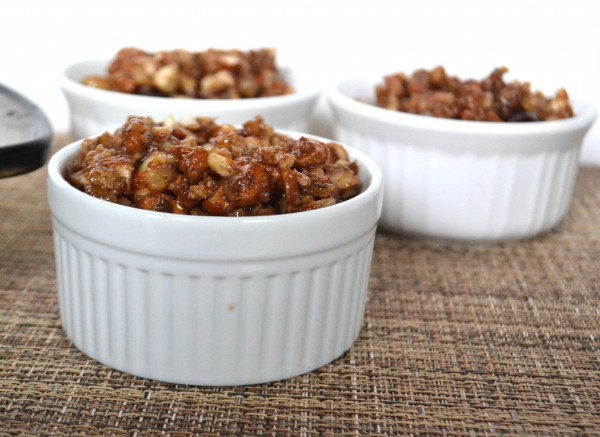 Or, you can toast them for about 10 minutes, or until the tops are golden. I almost left these in too long. Almost.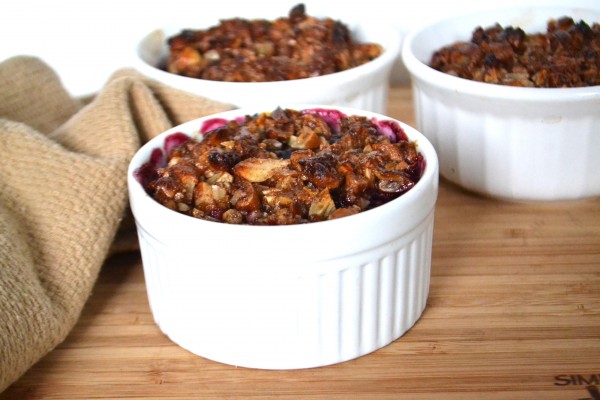 Serve, with or without ice cream.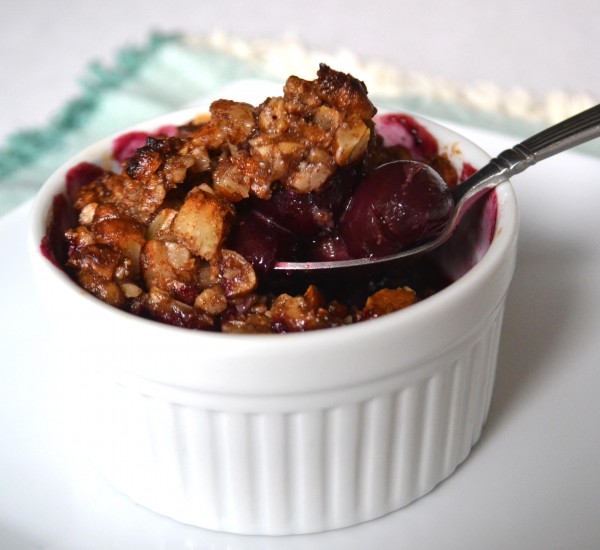 Mmmmmmmmmm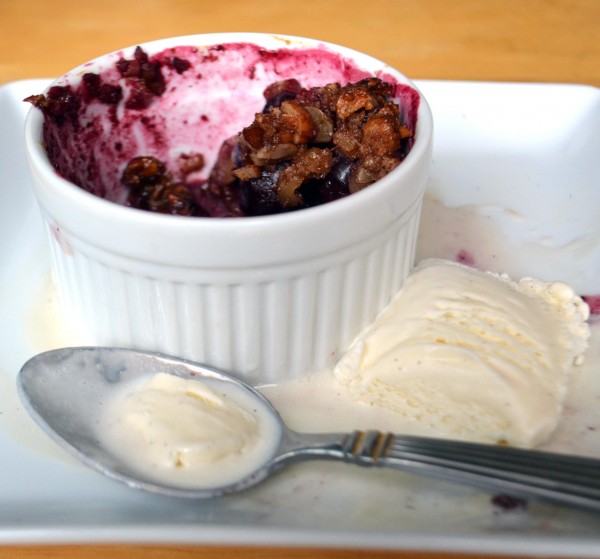 Fresh Bing Cherry and Walnut Crumble
It is easy to sub out sweeteners, if you do not eat honey. Start with a small amount and add more if your sweet teeth demands it. Fresh sweet cherries do not need much added sweetener, but if you are using a tart cherry, sweeten away! 
Preheat oven to 350°
Ingredients
For the crumble topping
½ c raw almonds
½ c raw walnuts
¼ c (or more) walnuts, ground to flour consistency (can be rough)
½ T flax, ground (it is preferable to grind flax seed as needed)
½ T cinnamon
Pinch of salt
2 T honey (or another sweetener, if preferred)
2 T butter (or coconut oil, if preferred)
For the filling
4 cups cherries, pitted (Any variety you prefer.)
1-2 T honey (or another sweetener, if preferred)
½ T ground flax (or use a cornstarch slurry)
½ T lemon juice
Method
Optional: (but I like it) Soak whole walnuts and almonds in the best water you have, in the fridge, overnight. Drain them. Discard water. Dry them with a clean towel.
Coarsely chop walnuts and almonds and place into a mixing bowl. Add 1/2 T flaxseed, cinnamon, and salt. Mix. Add honey and butter. Mix to combine. Taste. Adjust flavors, if desired. Set aside.
For the filling, in a sauce pot on medium heat, combine all filling ingredients. (Ground flaxseed will thicken the sauce, but you can use a cornstarch slurry, if preferred. In a separate small bowl mix together about 1 t cornstarch with about 1 t water.) Cook for about 10 minutes, stirring occasionally, until cherries start breaking down and release juices.
Place all of the cherry filling into a pie plate, or divide it into 4 portions and and fill four one-cup ramekins. Spread nut crumble topping over cherry filling.
If it it is a hot day and you prefer to not turn on the oven, this is actually quite delicious as-is. Otherwise, bake for about 10 minutes, or until nut crumble is toasted and golden. Keep an eye on it.
Enjoy!
If you like this, please Pin, Share, and Like