Chicken & Barley Soup
There are two reasons for posting this dish.
Zucchini season – and a need to use this vegetable every chance I get
Phase One of The Fast Metabolism, NY Times bestseller, authored by Haylie Pomroy
Make that three reasons – it sounded good! And it is warm, earthy, and comforting. With mushrooms and barley, it is meaty without needing a lot of meat. It is lean, nourishing, and a lovely way to wind down after a long day.
This recipe came from Haylie Pomroy's book The Fast Metabolism. Recently, I blogged a "What does this look like" review of the methods described in her book, and wanted to provide you with a recipe or two to go with it. Of course, anyone can use, or modify, this recipe for any purpose, but if you have been considering using Pomroy's methods, this will give you a good taste of Phase One.
Chicken and Barley Soup
This is a one pot meal. There will not be much clean up. 🙂
You will need a cutting board to prep your vegetables. And you will need to shred the chicken breast. Other than that, everything gets cooked all together, for an easy dinner.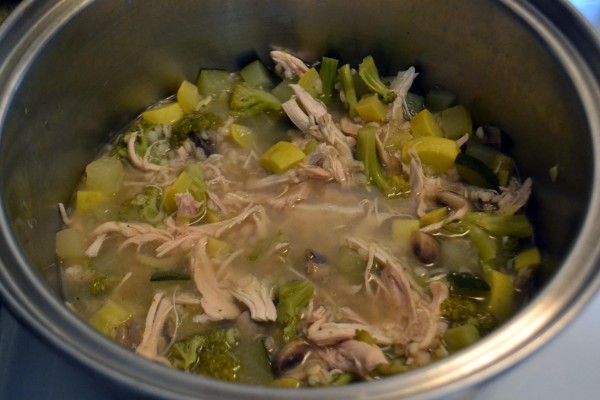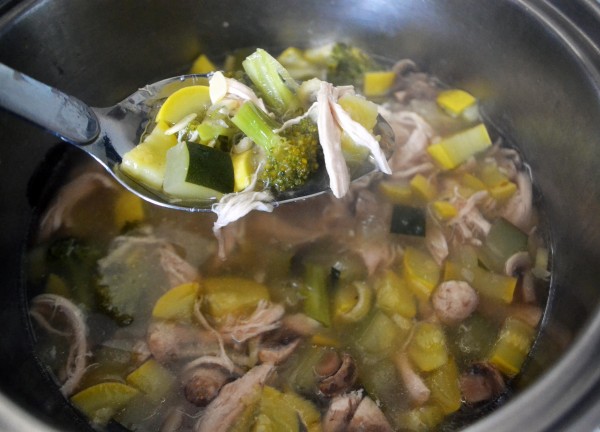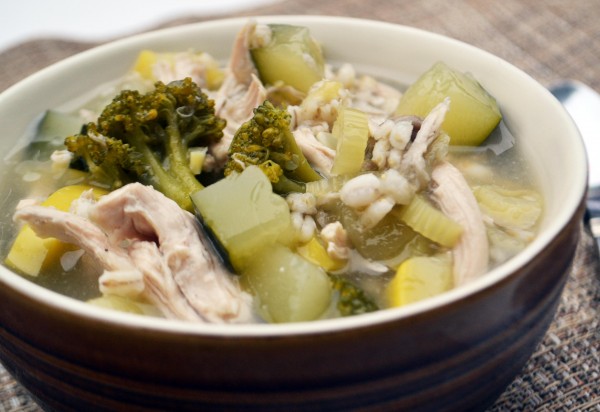 Haylie Pomroy's Chicken and Barley Soup
Ingredients:
4 cups chicken broth
4 cups vegetable broth
2 1/2 lbs skinless, boneless chicken breast
1 cup onion, diced
1 T garlic, crushed
1 whole bay leaf
1/4 t. sea salt
1/4 t. black pepper
2 cups butternut squash, peeled and cubed
2 cups yellow summer squash, cubed
2 cups zucchini, cubed
1 cup broccoli florets
1 cup fresh mushrooms
1 cup barley
Method
Put 4 cups of water into a large soup pot and add the broths. Add the chicken, onion, garlic, bay leaf, salt, and pepper. Bring all ingredients to a boil. Reduce heat to low and allow to simmer for 1 hour.
Add the vegetables and barley to the soup pot. Bring back to a boil and simmer on low for another hour or two, until vegetables are desired texture.
Notes: The recipe does not call for it, but I am assuming the chicken should be shredded or chopped. I removed my chicken when it was cooked through and shredded it. Then returned it to the dish as it was finishing.
Also, I had no vegetable broth or butternut squash, so I used my homemade chicken broth and water to achieve a nice broth. When you refrigerate leftovers, the broth will continue to be absorbed by the barley grains. You may wish to add a little liquid upon reheating.
Enjoy!
If you like this, please Pin, Share, and Like