Is zucchini piling up in your garden? Or running out of your ears?
A friend recently gifted to me the BIGGEST zucchini I have ever seen! Seriously, we got four, count' em, four meals out of this thing (see recipes 2-5). Truth be told, it is really not optimal to let zucchini grow that big. They are better, tastier, more nutritious, if they are plucked from the garden before they turn into zeppelins. Still, free garden food? Yes, please. I will happily take it!
If you are getting tired of zucchini (ie: zucchini bread, zucchini lasagna) and looking for ways to utilize an abundant crop, here are a few ideas which will have you making full use of the season.
#1 Goat Cheese Tart with Roasted Eggplant, Zucchini, and Caramelized Onions
Seriously, do I need to say any more than that?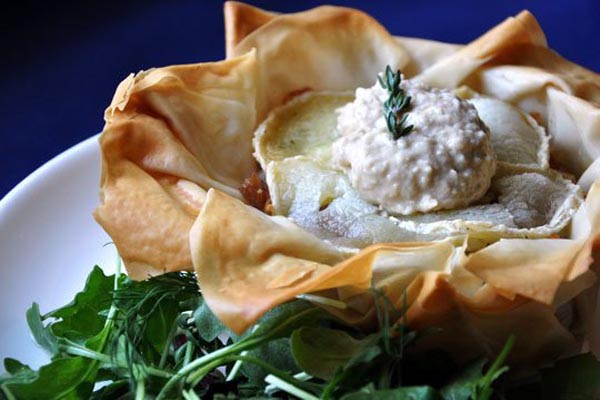 #2 Stephanie's Creamy Zucchini Risotto
From that mega-zeppelin zucchini, my lovely and talented daughter made a delicious creamy zucchini risotto for us. Sadly, we ate it all quickly and took no pictures. This dish is just too luxurious and indulgent to not share, so I googled an image (below).
My daughter used homemade chicken broth – so much flavor. And she added large diced zucchini so we got bursts of zucchini flavor contrasted by creamy buttery risotto.
She toasted about one cup of arborio rice in olive oil, butter, and onion (diced), then on low heat, added chicken broth in several stages (about 3 cups), stirring, and letting the rice slowly drink in the broth. Season, mmmm. Cook until creamy and delicious. You will know. Risotto should be creamy. It should not hold its shape.
If desired, add a little Parmesan.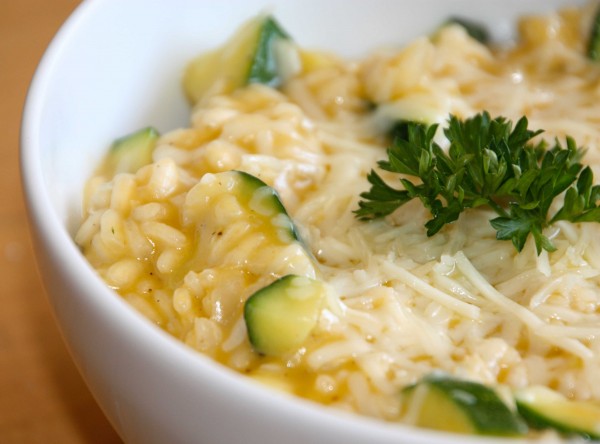 #3 Chicken and Barley Soup
Soup and Zucchini – a no-brainer. Zucchini flavor is mild enough to make it an ideal addition to almost any soup.
This is a 2-for-1 bonus meal! Make extra to use in recipe #4.
This soup is hearty and satisfying. Zucchini in this dish adds volume and nutrition, and a welcome textural balance to lean chicken breast and hearty barley.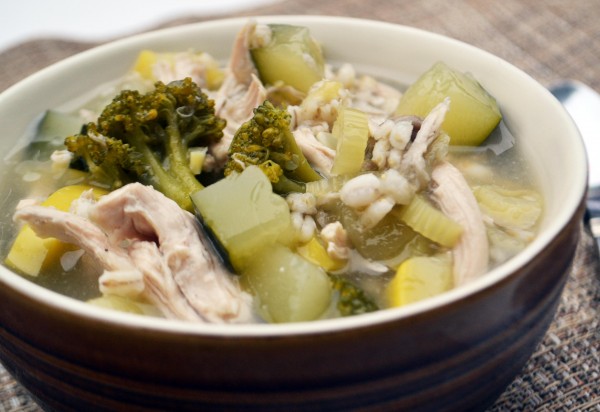 #4 Cheesy Zucchini Santa Fe Soup
The second part of your 2-for-1!
In a soup pot, make a roux – about 3 T melted butter (we like grass fed) combined with 3 T AP flour (we like spelt flour). Add chicken broth. I used about a cup, or so. Then leftover Chicken and Barley Soup goes in, along with spicy tomato salsa, and a little milk. This method is very forgiving. You do not need to measure. I used about 2 cups broth, 4 cups leftover soup. 1 cup salsa (we really like spicy salsa), and 1-2 cups cheese. But the sharper the cheese, the less you need. Salt and pepper, to taste.
When the soup is heated through and bubbly, remove from the heat and add piles of shredded sharp cheddar cheese. (off heat, so the cheese does not break)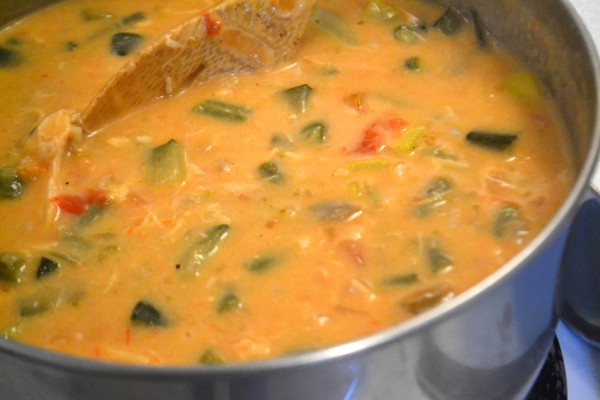 #5 Zucchini and Any-Bean Chili
I could eat chili all day. In fact, when I made this, I did. This was all that was left for the photo.
Zucchini works very well in a chili. It adds a lovely texture variance and the spices cling to it, making each bite rich and full of flavor. Bonus: This particular recipe is packed with nutrition!
Recipe to be posted soon!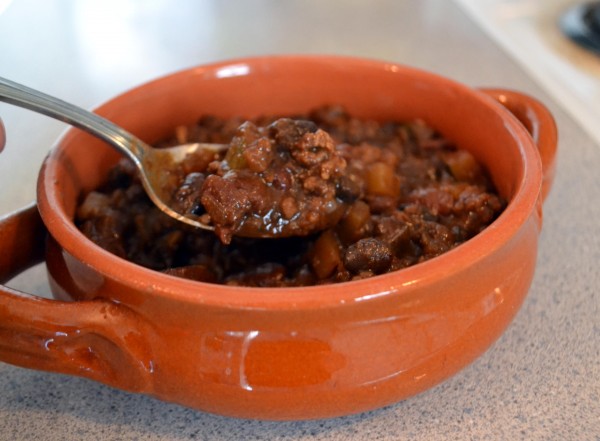 #6 Zucchini Ribbons
This is just elegantly fun. Simultaneously simple and dramatic.
You only need to dress these with a vinaigrette or your favorite dressing. Done! Or you can cut each ribbon length-wise into thinner strips and use them as a pasta substitute.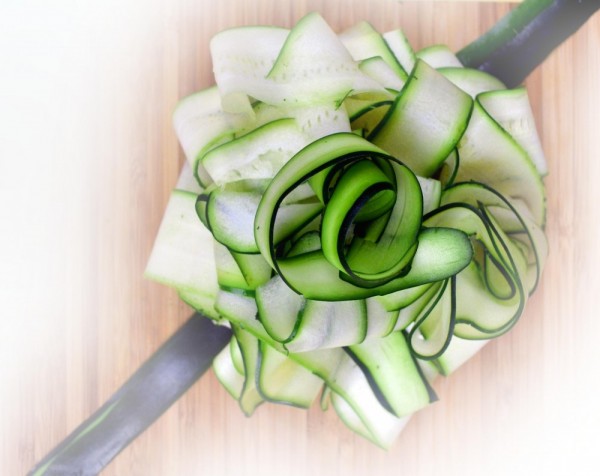 #7 Tex-Mex Seven-Layer Dip
The image says it all! No gluten. Little, or no dairy. No fructans. Perfect for a Low FODMAP diet.
When you remove texture and flavor that you might otherwise get from some difficult-to-digest-if-you-have-IBD ingredients, you need to add something special back in. Simple shredded zucchini adds texture and interest to the beautiful flavor layers in this popular dish.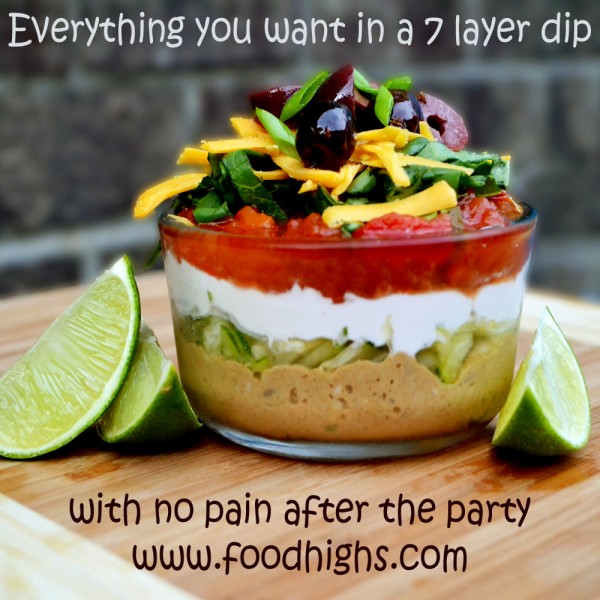 #8 Zucchini Fries
Baked. Crispy. Flavor. Yep. This works. Great with soup!
Recipe from WanderingSpice.com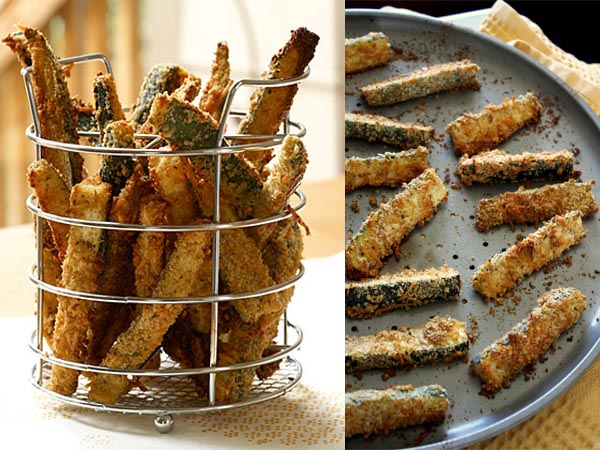 #9 Zucchini Butter
Grass-fed butter or olive oil for a vegan option. I could make a meal of this slathered on crusty bread.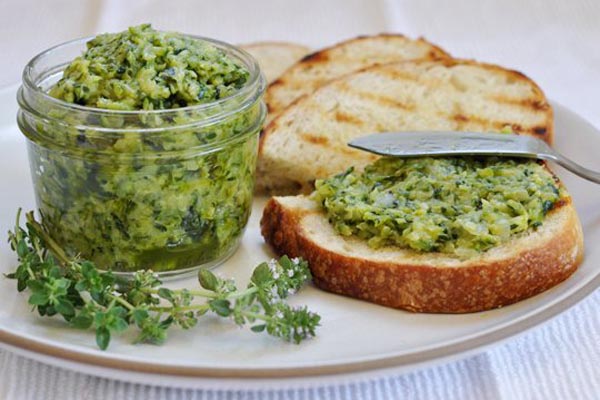 #10 Zucchini-and-Green-Zebra-Tomato Lasagne with Basil-Pistachio Pesto
This is the obligatory lasagna for my list. But no way would I give you a boring lasagna! We are not just replacing noodles with zucchini slices.
How about a RAW lasagna? The ingredient list here makes me salivate like Pavlov's dog. The presentation is striking. And no cooking!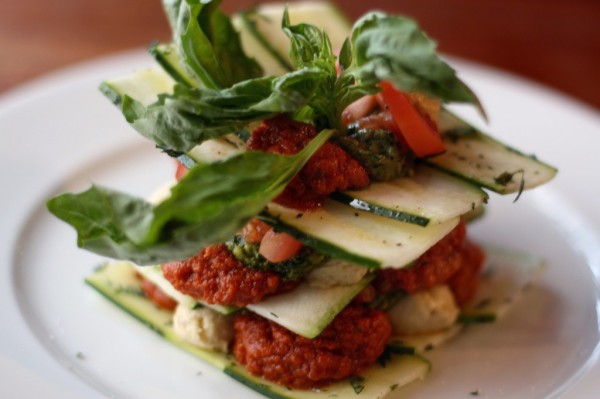 Bonus (because I promised only 10)
#11 Zucchini Bread
'Not just any zucchini bread! This one is chocolate!!! And gluten-free! And dairy-free! And I am including it because I have not tried this one yet, but really want to!
Recipe from Whole Lifestyle Nutrition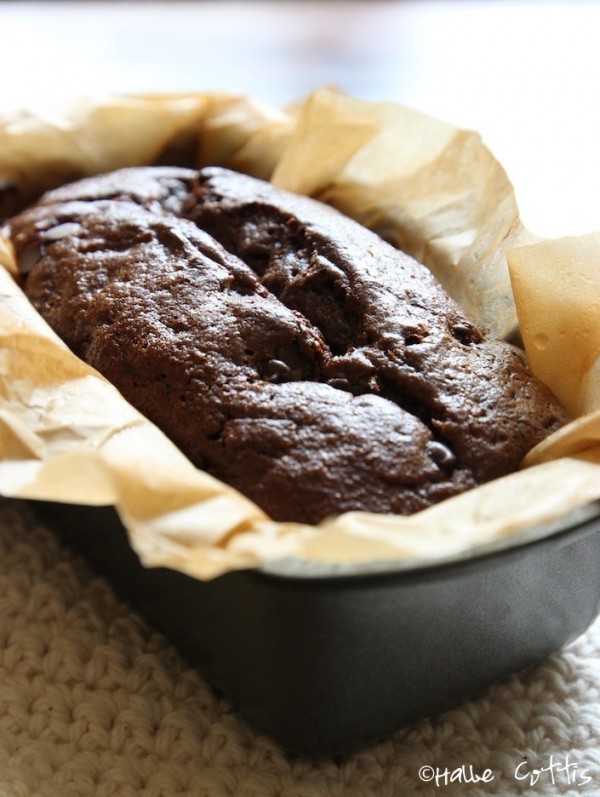 Enjoy!
If you like this, please Pin, Share, and Like
[pinterest]
[fblike]
[tweet]