Zucchini lasagna has secured its place as a classic for gluten and dairy-free diners who do not want to sacrifice the comfort of a good hearty lasagna.
If you are going to make a zucchini lasagna, I highly recommend that you start with your Grandma's tomato sauce. Grandmothers make THE BEST sauces. If your Grandma didn't make lasagna, you can use my Gramma Betty's sauce. My Gramma Betty's lasagna, to me, is the definition of comfort. Of course, it is filled with tons of ricotta, cottage cheese, and mozzarella. Somehow she takes simple ingredients and makes them extraordinary. I dream of the stuff!
So in today's dish, the pasta gets replaced with roasted strips of seasoned zucchini, and the dairy is replaced with cashew cheese. But the sauce will not be touched. It isn't broken. I do not intend to fix it.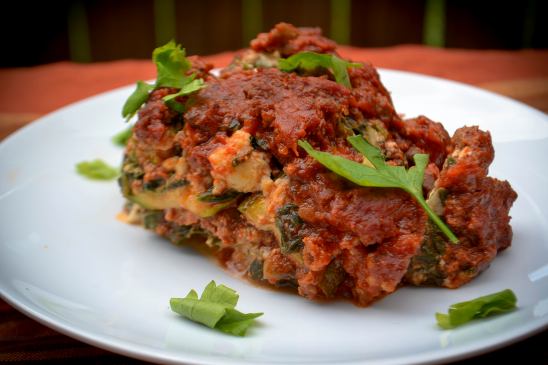 Gramma Betty's Lasagna Gone Caveman
This dish is great for a Paleo (Caveman) diet. All legal ingredients!
Ingredients
10 oz package frozen spinach (preferable organic)
2 zucchini squashes, large
dried oregano, to taste
Gramma Betty's sauce, or your Gramma's sauce 🙂 – See recipe below
salt and pepper, to taste
parsley, to garnish
Method
Preheat oven to 350°.
Prepare sauce. Set aside.
Thaw spinach. Holding spinach over a strainer, squeeze out excess water. Combine spinach with cashew cheese. Don't mix too thoroughly. Rustic is nice. Add salt and pepper to taste. Set aside.
Using a mandoline or very sharp knife, slice zucchinis into 1/4 inch even slices (or close enough). On a parchment lined cookie sheet (lightly sprayed with cooking oil), lay out zucchini slices. Sprinkle over zucchini just a little dried oregano. Just a little sprinkling will provide great flavor. Roast zucchini until it is fork tender; this will take about 10 minutes or so. Remove from oven and set aside.
Layer lasagna as follows:
A little sauce in the bottom of the pan.
A layer of roasted zucchini
"Cheese" layer – half of your cashew cheese and spinach mixture
A layer of meaty sauce
Another layer of roasted zucchini
"Cheese" layer – half of your cashew cheese and spinach mixture
Top with meaty sauce.
You may have a little sauce left over, depending on the size baking dish that you use. A 9 X 9 will leave you with extra sauce. You should be able to fit it all into a 9 X 13. Extra sauce gets used up quickly in my home. I could eat it out of a bowl.
Bake until lasagna is hot and bubbly and cooked through. If you want a little more cheesy flavor, sprinkle the top with nutritional yeast.
Garnish with parsley.
Gramma Betty's Lasagna Sauce
This could not be more simple! The secret ingredient is time. Don't rush it!
Ingredients:
1 lb ground beef – grass fed for a paleo diet (And just for this lasagna, I add 1/2 lb Italian sausage too)
1 T olive oil
1/2 – 1 clove garlic, minced
1 medium onion, chopped
1/4 t dried sweet basil
2 (6 oz) cans tomato paste
3 c water
salt and pepper, to taste
Method
Brown beef in oil. Add onion, and garlic and cook til tender. If there is excess grease, drain to remove it. Add meat mixture to sauce pot. Add basil, tomato paste, and water. Cover and simmer for at least one hour, stirring occasionally. Salt and pepper to taste.
Notes: To save time, you can certainly make all of these lasagna components in advance, and then assemble them on the night you would like to eat it. OR… make the whole lasagna ahead and then just bake it off when you are ready to eat.
Enjoy!
If you like this, please Pin, Share, and Like
[pinterest]
[fblike]
[tweet]