When corn is in season, it is so sweet, juicy, and delicious, that I could eat it right from the cob… no cooking, no salt, no butter… just like crunching on a fresh crisp apple. In this raw corn salsa, we are pretty much doing just that.
Any fresh corn will do nicely. This organic red corn just looked so lovely that it had to go in the salsa. Red corn loses color when cooked, so a raw preparation is ideal. Add some avocado for butteriness, and lime and cilantro or parsley, for flavor, and we have a gorgeous dish that can stand on its own, or accompany just about any protein. My favorites with this – fish, or for a vegetarian option, black bean enchiladas. Mmmmmm
[pinterest]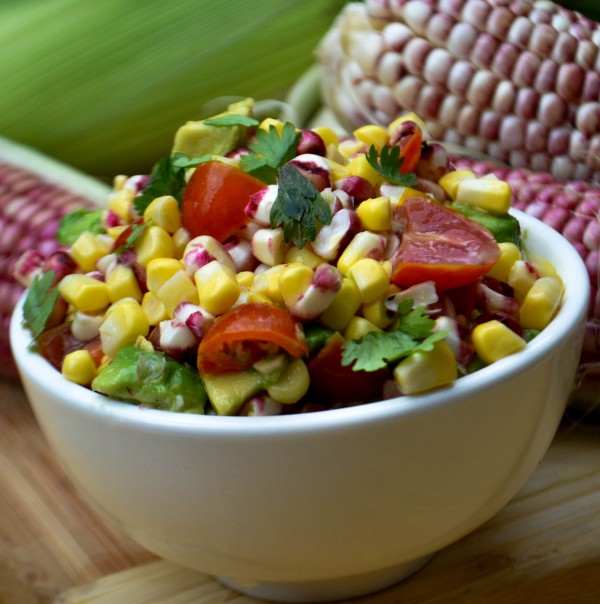 Raw Fresh Corn Salsa
Ingredients:
4 ears of fresh corn on the cob
1 pint grape or cherry tomatoes, halved or quartered
1/4 cup red onion, diced
zest of one lime
juice of one lime, or more if desired
1 T olive oil
jalapeno, finely diced, to taste
parsley or cilantro, to taste
salt and pepper, to taste
Method
Using a sharp knife, hold each ear of on its end and in a large bowl, and slice off the kernels. If you do not do this all of the time, here is a handy dandy little method from Food and Wine's Test kitchen. I use a large shallow plastic bowl so that I do not have to bother with the second bowl. You can save the cobs for soup stocks.
Add corn to all the other ingredients and combine. Be sure your avocado is covered with lime juice so it does not brown.
Chill your salsa for at least 1/2 hour so flavors can develop. Yum! If you are concerned about a browning avocado, combine everything else and dice fresh avocado when you are ready to serve your salsa.
Enjoy!
If you like this, please Pin, Share, and Like
[pinterest]
[fblike]
[tweet]