Sweet Bell Peppers 101
We are celebrating colorful sweet bell peppers today. The season is coming to a close, soon they will be more expensive. 🙁 Grab them while you can for salads, stir-fries, fajitas, or mixed into rice or pasta.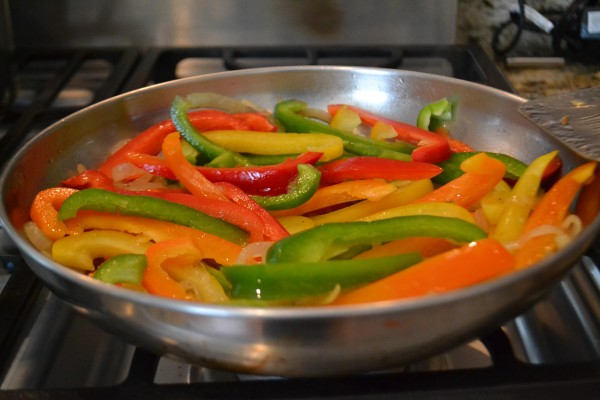 Sweet Bell Peppers come in green, yellow, orange, red, purple, pink, blue, rainbow, aqua, violet, maroon, white, black, and brown. The color is determined by the variety, as well as the stage of maturity. If left on the vine, the most common variety of green peppers will turn yellow, then orange or red. Each color produces its own flavor and nutritional composition. 
But, frankly, they are ALL good in a salad.
Green Bell Peppers
The green pepper variety that you are likely to find at the market are fully developed, yet unripe, although some varieties remain green when fully ripened. Green peppers have a bitter taste. Generally green peppers are less expensive because they are picked early, before they are ripened.
The nutritional power of a green pepper is in its abundance of chlorophyll.
Yellow Bell Peppers
If left on the vine a little longer, our green peppers will yellow. These are sweeter than green peppers.
The nutritional power of a yellow pepper is its Vitamin C.
All peppers are a good source of Vitamin C, but yellow peppers pack the most. Yellow peppers also contain higher levels of  iron, lutein and zeaxanthin carotenoids (for eye health). Green and red beat out yellow for fiber content.
Orange Bell Peppers
Orange is a mature pepper color. Its sugars are developed and it is sweet, and slightly fruity.
The nutritional power of a orange pepper is in its slightly higher levels of alpha-, beta-, and gamma-carotene.
Red Bell Peppers
Red peppers are fully ripened and sweet. Paprika and pimiento are made from dried and ground red peppers. They are very versatile in recipes.
The nutritional power of a red pepper is in its abundance of Vitamin A, and other phytonutrients. Red peppers have more of the carotenoids lycopene and astaxanthin. They are considered royalty in the world of peppers for both nutritional and culinary purposes.
Chocolate Brown Bell Peppers
This variety starts out green and matures to a chocolaty brown color on the outside, deep red on the inside. Its flavor is sweet.
White Bell Peppers
Varieties of white peppers start out white, and may turn pale yellow, peach, or red. They have a mild sweet flavor.
Purple Bell Peppers
Generally purple is a mature pepper color, although some varieties may be purple in the unripe stage. They come in shades from lilac to deep dark, almost black color. Purple Beauty Peppers are purple on the outside and green on the inside.
Sources and More Information
Enjoy!
If you like this, please Pin, Share, and Like