Are you missing the bright red juicy tomatoes of summer? This is one of those few items for which I will occasionally turn to the canned goods isle of the supermarket. Still, I am going to prefer the non-chemically peeled, preferably organic brands. And if I can find them in glass jars, all the better!
Kale is available year round and a GREAT choice for green leafy vegetables in winter. It stand up well in soups, and it just loves hanging out with tomatoes.
This is a highly flexible and forgiving soup. My favorite kind of easy weeknight dinner. I start the base, make my own delicious hearty bowl, then let everyone else "fix" it to their own liking. 🙂

Build a base of FLAVOR.
When you start with a good strong flavor base, you can take it, pretty much, any direction you like and it will be delicious.
Onions, carrots, celery, and garlic mingle and with broth and tomatoes… what could be wrong with this!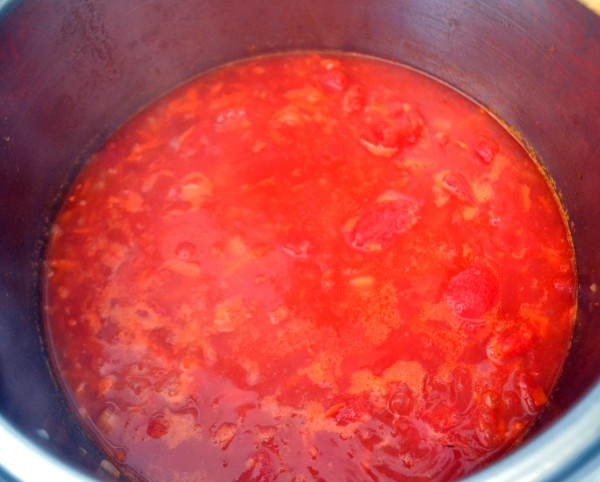 My dear son's preference
Smooth with basil and oregano, and usually extra garlic. My son purees all his tomato products. This is a great idea for anyone who loves a creamy potato soup without additives, dairy products or gluten.
You could make it even creamier by adding in some coconut milk. Or if you can handle dairy in your diet, heavy cream.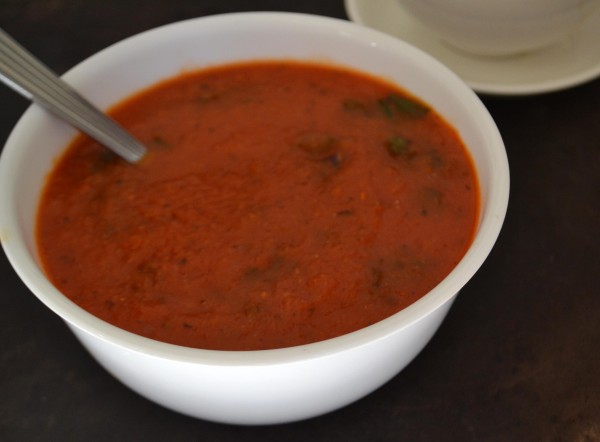 Mine is better. 🙂
Chunky bites with bursts of tomato flavor and spicy! I prefer variation in texture with each bite owning its own flavor. Yum! Red pepper flakes make it as spicy as I want it. Plus. this just feels nourishing. And it is!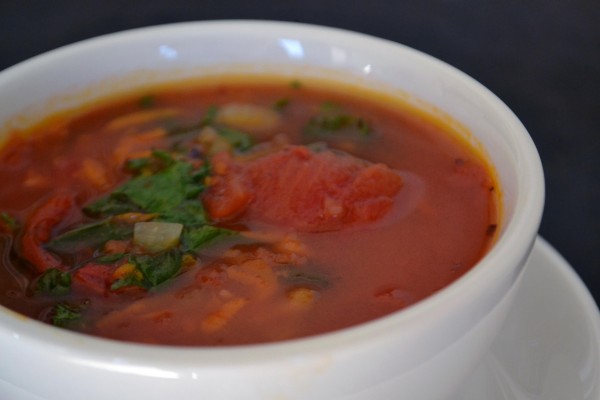 Tomato and Kale Soup – Any way you like it!
Ingredients
1 T cooking oil (we like coconut)
1/2 small onion, diced
1 medium carrot, shredded
1 rib celery, diced
2-3 cloves garlic, minced
4 cups (32 oz) broth (vegetable or chicken)
1 32 oz can whole tomatoes
sliced kale, about 2 cups
optional flavor additions: red pepper flakes, basil, oregano
salt and pepper, to taste
Note: you can add flavor and save time by purchasing crushed tomatoes with garlic, onion, and herbs.
Method
Build your soup flavor base.
Saute onion, carrot, and celery in oil in a sauce pot, on medium temperature for just a few minutes to wake up their flavors. Stir in garlic and cook for just a couple more minutes. Add broth and cook for about 30 minutes, or until vegetables are tender.
Add tomatoes. Use your spoon or spatula to break up whole tomatoes. (I start with whole tomatoes because I prefer chunky bites.)
Option: If you want a smooth tomato broth with kale, using a blender, or immersion blender, puree the broth at this point. If not, ignore this step.
Add in any flavors you like. My son always adds basil and oregano. I was in a red pepper flakes and black pepper mood. Add what you like, taste, and adjust seasonings. If you are using fresh basil, wait until your soup is almost done before adding it in.
Continue to cook and allow flavors to marry for about another 15 minutes.
Add kale and cook for another 5-10 minutes, or just long enough to soften the kale.
Note: Kale is best when it is either briefly cooked or slow cooked. It it not quite as good in between. My son cooks his kale forever!  The good thing about this soup is that it is good at pretty much any stage. Longer time simply develops the flavors, providing a bot more intensity.
Enjoy!
If you like this, please Pin, Share, and Like
[pinterest]
[fblike]
[tweet]