Barbara's Hot Horchata
Thank you Barbara for sharing this warm cozy yumminess! This is now on my to-do list. Mexican flavors, rice milk, chocolate… this is a no-brainer.
Usually horchata is served over ice on a hot sunny day. It is a sweet rice-nut-seed milk, flavored with vanilla, cinnamon and sugar. Fruity flavors and sometimes spirits are added in.
You can make your own horchata – which will be posted on this blog at some point – or you can purchase it. To make it an inviting winter drink, Barbara heats it with milk and cocoa. Then she toasts marshmallows on top, making for a chocolaty melty cinnamon-spicy mug of happiness. 🙂 Just ask her daughter.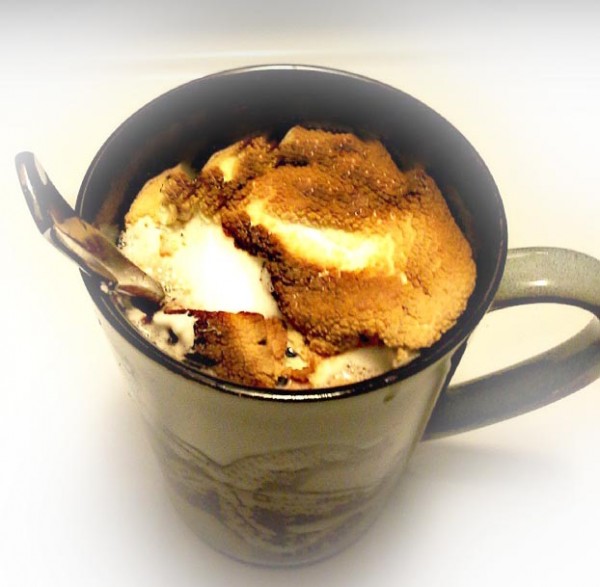 Barbara's Hot Horchata
Ingredients:
a mug of hot milk
hot cocoa, to taste
a tsp of prepared horchata
marshmallow
Method
Stir horchata and cocoa into hot milk. Add a toasted marshmallow to the top. Barbara toasts them in a toaster oven while the milk heats.
Easy clean-up tip: Barbara puts a little coconut oil on the tray so the marshmallow doesn't stick to it.
A comfy blanket and a good book or movie would go great with this. 🙂
Special Diet Notes
To make this dairy-free, just don't add milk! Fill your mug with horchata, melting in cocoa.
For nut allergies – if you are purchasing a prepared product, read the label. Horchata is traditionally made with tigernuts, which is really a tuber. But it is commonly made with almonds.
Enjoy!
If you like this, please Pin, Share, and Like