This is for my friend Kayrie, and for anyone who loves a hearty soup that will fill you up without weighing you down. My tastebuds can't seem to get enough of this soup! I enjoyed a warm bowl every morning until it was gone! …right down to the last tiny lentil.
This comes from ATK's new vegetarian cookbook. Kayrie expressed interest in a good vegetarian dinner, and as I had been carrying around my new toy, aka "The America's Test Kitchen Complete Vegetarian Cookbook", I tossed it over to her and asked her to choose something. She leafed through the pages and quickly found this one – White Lentil Soup with Coconut Milk and Mustard Greens.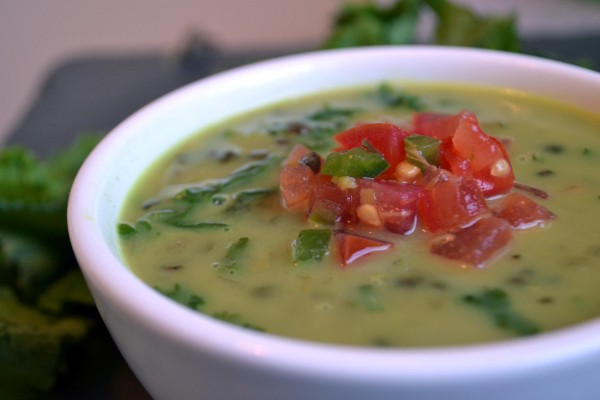 This was a great choice! What a lovely evening we had chopping, dicing, and layering flavors. Sadly, we could not find white lentils anywhere. Whole Foods had black, yellow, green, orange, and a few other colors, but no white! So we used some french lentils from my pantry. French lentils hold up very well in a soup. Our mustard greens did not have much of a mustardy bite, but were still very delicious. When soup was done, we filled up our bowls and were surprised that after all those incredible aromas, the first bite was … mediocre. But the second bite was kinda good. The third was delicious. Which each bite, the flavors layered and built on the palate and each bite was more delicious than the last. The final bites were heaven.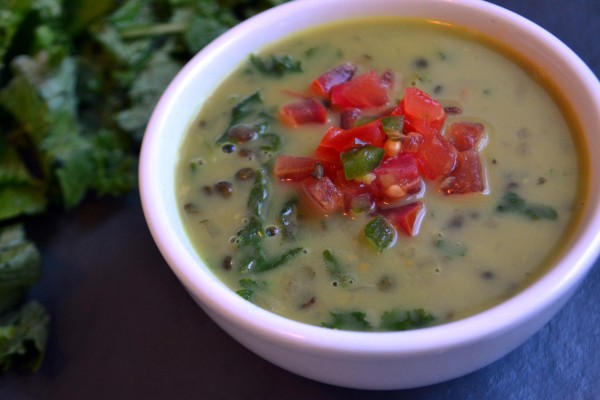 The recipe calls for adding a little lime/tomato salsa to the top of the bowl. Do not skip this! It enhances flavors exponentially. For a twist, Kayrie had the idea of adding okra to this soup, which also sounds amazing!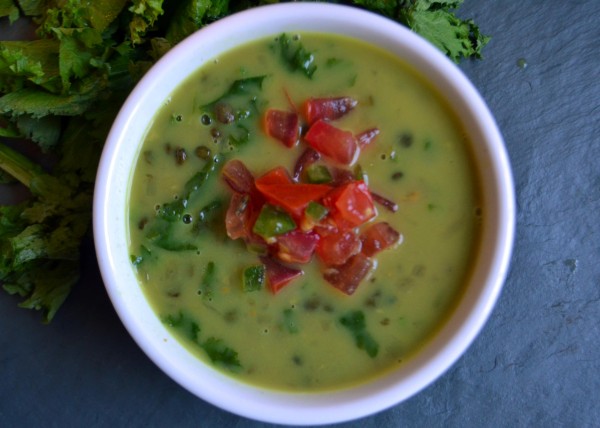 And, oh! This happens to be vegan  and gluten free too.
From America's Test Kitchen
White Lentil Soup with Coconut Milk and Mustard Greens
This recipe comes straight from America's Test Kitchen's new book! (I am a fan)
Ingredients:
2 t cumin seeds (we had only powder, and used a little less)
3 T vegetable oil (we used coconut oil)
1 onion, chopped fine
salt and pepper
2 jalapeno chiles, stemmed, seeded, and minced
2 T grated fresh ginger
4 garlic cloves, minced
1 cup white lentils, picked over and rinsed (we had french lentils)
5 1/2 c vegetable broth
1 bay leaf
1/2 t turmeric
14 oz mustard greens, stemmed and chopped (we use stems too)
3 plum tomatoes, cored and chopped fine (we just dice them & use everything)
1 T lime juice
3/4 c canned coconut milk
Method
Toast cumin in 8-inch skillet over medium heat until fragrant, about one minute. Transfer to bowl. (Because we had only cumin powder, we skipped this and added cumin powder with the garlic in step two, to allow it to bloom)
Heat oil in Dutch oven over medium heat until shimmering. Add onion and 1/2 t salt and cook until onion is softened and lightly browned, 5-7 minutes. Stir in half of jalapeno, ginger, and garlic (and cumin powder, if you are using powder in lieu of seeds) and cook until fragrant and beginning to brown, about 3 minutes. Stir in lentils, broth, bay leaf, turmeric, and one teaspoon toasted cumin and bring to simmer. Reduce heat to low, partially cover, and simmer until lentils are tender, 40 to 50 minutes.
Meanwhile, microwave mustard greens in a bowl until wilted and tender, 3 to 4 minutes; transfer to colander and let drain. In a separate bowl, toss tomatoes, lime juice, remaining 1 teaspoon toasted cumin, remaining jalapeno, and 1/4 t salt. (See notes)
Discard bay leaf from the soup. Puree 3/4 c soup and coconut milk in a blender until smooth, about 30 seconds, then return to the pot. Stir in mustard greens and bring to brief simmer. Season with salt and pepper, to taste. Top individual portions with tomato mixture, and serve.
Notes: I'm very sure there is a sound scientific reason for microwaving the greens; it is probably delicious! But I can't bring myself to do that, for fear of losing nutrients. I threw them directly into the soup.
Enjoy!
If you like this, please Pin, Share, and Like
[pinterest]
[fblike]
[tweet]