When a yummy dish from a brilliant blogger appears on my screen, I save it, fully intending to make the dish. But usually, it never gets made. Instead, I make whatever is already in my kitchen, usually from whatever is in season or was a good price.
Food blogs are fabulous sources for inspiration! Hopefully, you use this blog to inspire you to make your own kitchen masterpieces. Take an idea, tweak it, and make it your own.
Recently, these little Paleo donuts from Dr. Sarah, The Paleo Mom, appeared in my newsfeed. Those adorable little donuts look so chocolaty and cakey that they prompted a little impulse baking. (most of the time, baking is my dear daughter's job)
As if the lure of "chocolate" were not reason enough to try these, they are made from plantains! Plantains and bananas digest very well in my family. Nuts, not so much. This recipe calls for plantains, and no nuts. And did I mention, it adds chocolate. How can that possibly be wrong?
Dr. Sarah's donut recipe calls for lard, palm shortening, or ghee, all of which would be delicious! She says that using coconut oil may make the donuts more chewy. So, being the rebel that I am, I had to try it with coconut. A few minutes after making a batch, they were all gone, so it seems that the coconut oil was fine. Because of the eggs, the texture is a little spongy. It is very light, and will definitely satisfy a sweet tooth.
I don't have a cute little donut mold, but I do have a muffin top tray… so tweaking just a tiny little bit, this easy batter becomes 6 muffin tops.
This is what they look like as muffin tops. Not as cute as the little donuts, but just as delicious!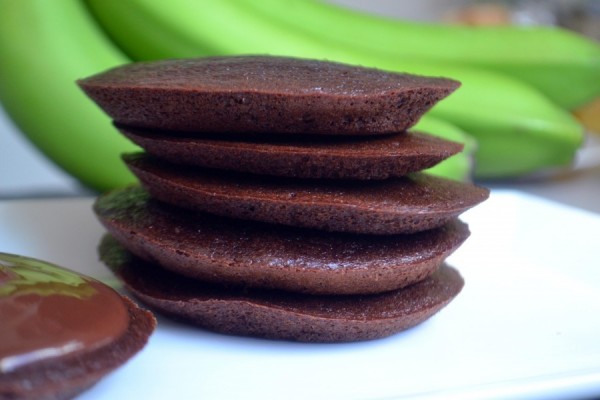 Topped with chocolate. Mmmmm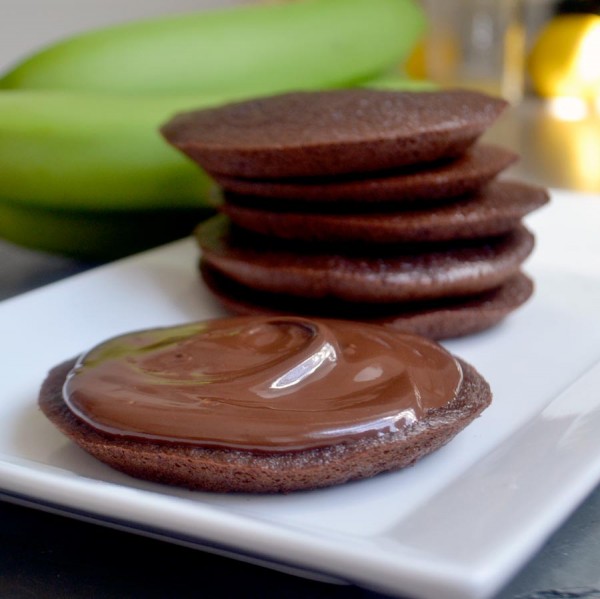 Filled with chocolate and turned into a chocolate muffin top sandwich…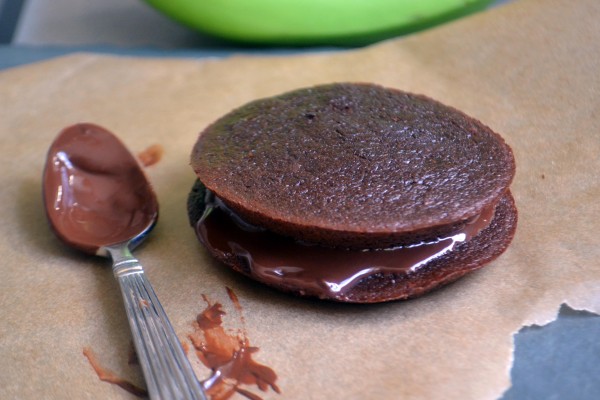 Chocolate cravings officially satisfied. 🙂
Paleo Mom's Recipe for Chocolate Glazed Chocolate Donuts
Click here for details and to see those cute donuts!
Ingredients:
1 large green plantain
2 eggs
4 oz bittersweet chocolate (I used organic chips from the bulk bin at Whole Foods)
2 Tbsp lard, palm shortening, or ghee (I used coconut oil)
1/2 tsp ground vanilla bean (optional) – vanilla bean is better! but I had extract & threw in a splash
1/4 tsp baking soda
generous pinch salt
Method
Preheat oven to 350º
Peel and quarter plantain and put in a blender with the eggs.  Puree until completely smooth.
Meanwhile, melt chocolate and lard (coconut oil) together.  Now would also be a good time to plug in your mini-doughnut maker. – I just pulled out my handy-dandy muffin top tin. 🙂
Add vanilla bean, baking soda and salt to the plantain-egg mixture in the blender.  Blend a few seconds to combine.
Turn blender on low, remove the little insert in the lid so you can pour stuff in.  Slowly pour the warm chocolate-lard mixture into the blender and keep blending until it's entirely incorporated.
Fill your muffin top tins. Bake for just a few minutes, until knife inserted in the center comes out clean.
Carefully remove and let cool on a wire cooling wrack before glazing.  Repeat with remaining batter.
You can get the Paleo Mom method for glaze here. It looks great! I needed a quick chocolate topping, so I used the microwave on medium, 30 seconds at a time (stirring between 30-second intervals) to gently melt chocolate chips with a spoonful of coconut oil. Mmm
It worked.
Enjoy!
If you like this, please Pin, Share, and Like
[pinterest]
[fblike]
[tweet]