Hash with Adzuki Sausage
I could eat this every morning. But that would be much too much potato.
The one real "trick" to making a good hash is in the treatment of the potato. Other than that, you just need lots of good flavor. In this version, fresh crisp green pepper melds with pungent onion, savory, spicy, Italian adzuki sausage, and creamy-crispy salty potato to make a very tasty bite.
You can use any sausage you like; click here for the recipe for Adzuki Bean Italian Sausage. Happens to be vegan. No soy. No wheat. No nuts. So much flavor!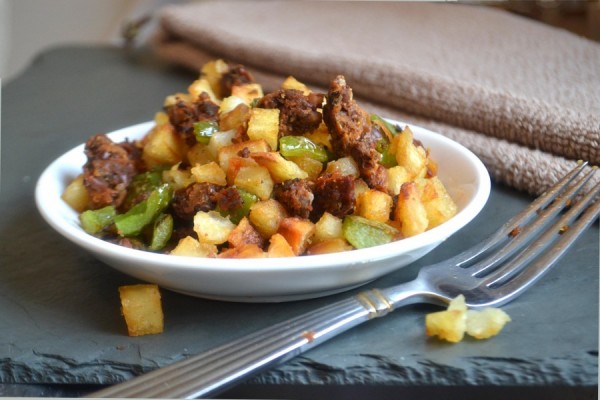 The one real "trick" to making a good hash…
First, brown your potato.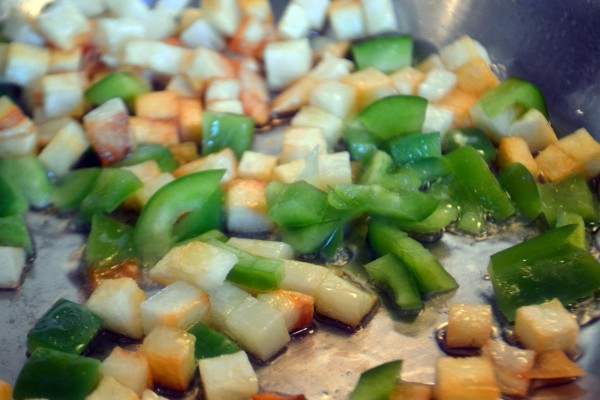 Then smoosh it with a potato masher. Nest, let it just sit there getting all browned and crispy on the bottom. Let it just build and develop flavor for you. Mmm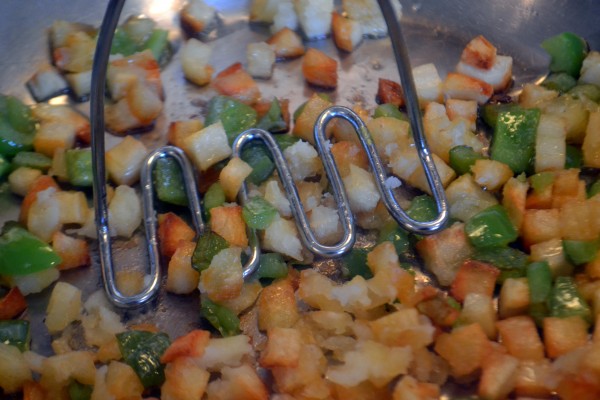 Salt it, pepper it, stir it around, and mix in your sausage.
Delicious and DONE!
But if you are not making a vegan dish, a fried egg with a runny yolk will provide an easy sauce, softening the potato and making it amazing!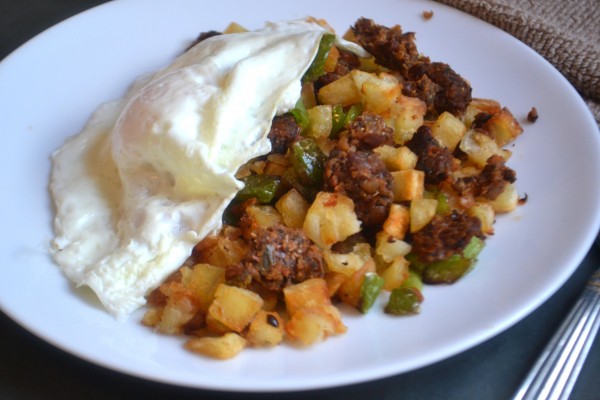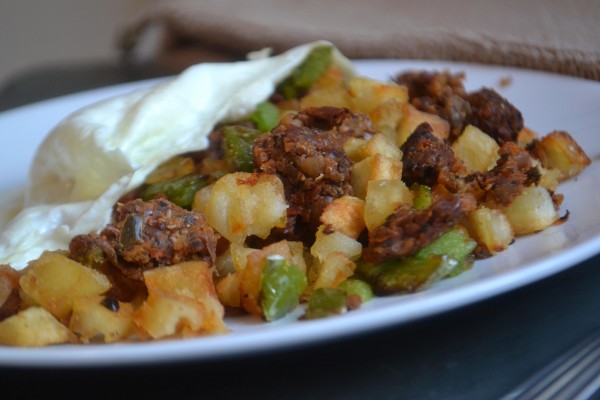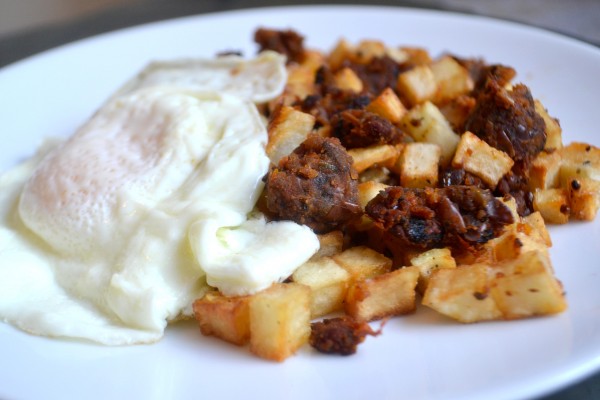 Hash with Adzuki Sausage
With or without an egg on top, this is simple and delicious… provided your sausage is already made.
Ingredients
cooking oil
one small potato per person, small dice
green bell pepper, small dice
optional: thinly sliced onion
optional: jalapeno pepper, small dice
salt and pepper, to taste
adzuki bean sausage – get recipe here
Method
In a skillet, saute potatoes in oil. Add onion. When potatoes start to brown, add green bell pepper and jalapeno pepper, if using. Using a potato masher, break down and smash potatoes just a bit. Then allow them to sit in the skillet and get crispy brown on the bottom. This is flavor! When potatoes are to your liking, salt and pepper, to taste, stir them around, gently stir in some of your adzuki sausage, and remove them from the skillet.
If desired, top each serving with a fried egg.
Serve immediately.
Enjoy!
If you like this, please Pin, Share, and Like