While I am on a vegan lunch roll, here is another one! These babies are packed with protein, good fats, and vitamins.
These lunches are really more "idea" than "recipe". These ideas are not just for vegans and vegetarians; they are also for all those nonvegans out there who want to just incorporate more veggies in their diets. With a thousand other things on our minds, it is easy to run low on inspiration. There is always the granola, hummus, nuts and apple slices, which are great! …but they get old.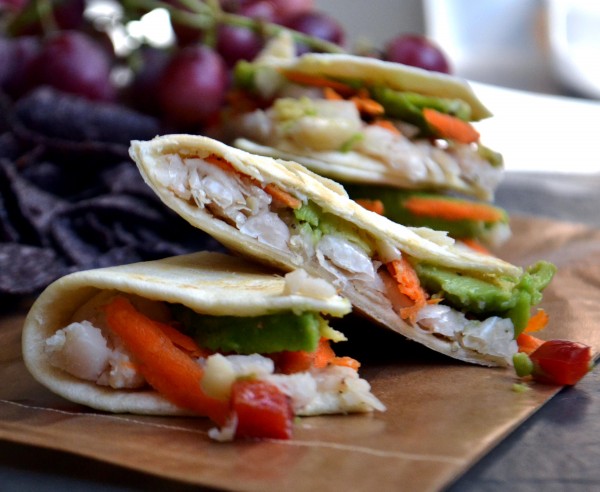 Jazzing up lunch can be as simple as this…
Super Simple White Bean Quesadillas
You can use canned white beans, or cook your own. Which is best?
Dried beans soaked for an hour or overnight and then cooked until tender retain life. They are very nutritious and, of course, do not contain a tinny flavor or bpa or any unwanted ingredients, just whatever you put in there. For this recipe, you can cook your beans with fresh onion and garlic.
Canned beans lose a lot of the nutrition, but they are incredibly convenient. If you need to save time, they can be a good option.
Once you have cooked beans, and you can certainly to this in advance, drain them well, and then just mash them up a bit so that they will hold the quesadilla together. I like to leave them with some chunks for texture, but you can mash them up as much as you like. Season your beans simply with salt and pepper, maybe some garlic and onion powder, and if desires, chili powder and cumin. (A little cumin goes a long way.) Just be sure to incorporate your seasonings while the beans are hot enough to melt them in.
If you really need to save time, buy seasoned beans.
There! Beans done!
Grate and chop whatever veggies you like. Pictures below are chopped onion and red bell pepper and grated carrot. I like these flavors with white beans. If you like some heat, mince a little jalapeno or serrano pepper to go in there. This is a grate place to use up whatever you have on hand. This can also be done in advance, placed in a sealed container, and refrigerated.
Veggies done!
Time for assemblage…
Starting with organic tortillas on sale – they don't actually have to be on sale, I am just still really happy about this:
Lay out one tortilla
Spread seasoned beans on one half
Spread your chopped and grated veggies over the beans
Over the veggies goes a layer of sliced avocado. Mmm This healthy fat will satisfy your hunger and get you through your afternoon. Sprinkle a little lemon over it so that it will stay mostly green until lunchtime. Salt and pepper, to taste.
Fold the other half over and press it down a bit
In a heated and lightly oiled skillet, brown quesadilla on one side, then gently flip it over and brown the other side. This will give it a bit of crunch.
Cut it into pie shaped pieces, and pack it up. In a separate little container, take some salsa for dipping. Mmm You can always add vegan sour cream or another dip.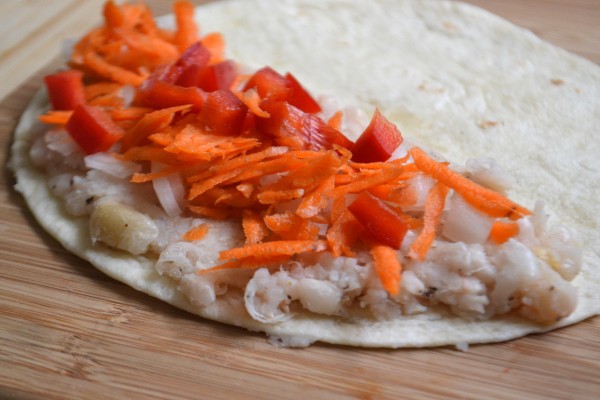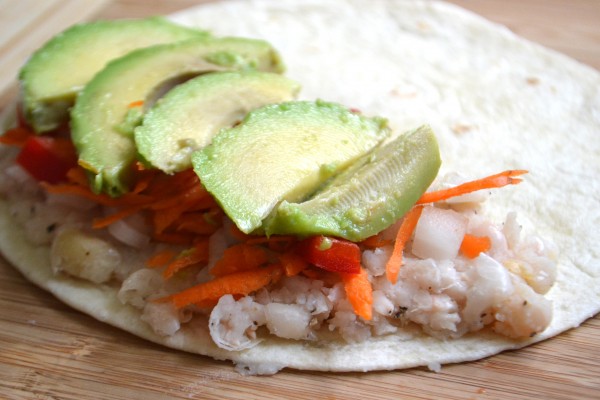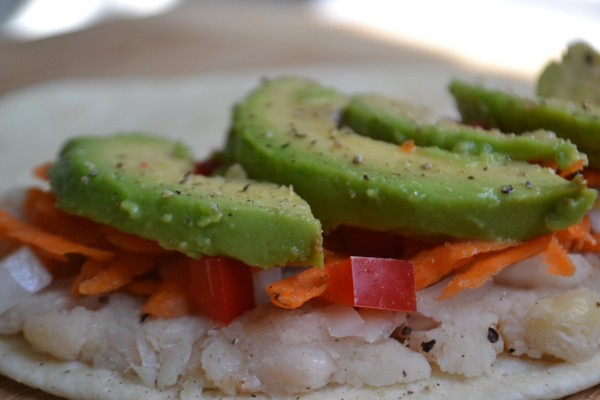 You will need:
flour tortillas
beans
salt, pepper, garlic, onion, chili, cumin (see above)
fresh veggies, such as carrot, red bell pepper, and onion
optional: hot peppers, such as jalapeno
avocado – about 1/2 avocado per quesadilla
lemon juice (for flavor, and to prevent browning of avocado)
optional accompaniments: salsa, vegan sour cream, chips and fruit on the side
Enjoy!
If you like this, please Pin, Share, and Like
[pinterest]
[fblike]
[tweet]