This rice is Masaharu Morimoto-inspired because if you are going to make sushi rice, why not look to the master? A properly cooked rice is an important hallmark of a good sushi restaurant. It is sushi 101. Every Japanese chef must master this technique. Taking a page from the master chefs, you can make a mean sushi rice in your own kitchen too.
According to his gorgeously illustrated book, Morimoto, The New Art of Japanese Cooking, the master chef gently folds sake-mash vinegar, sugar, and salt into the warmed freshly cooked rice, with a wooden sushi paddle, to create the perfect flavor and texture. As the rice is seasoned in this manner, steam evaporates and it begins to cool.
By the way, it is worth its price to buy this book just for the pictures. Even if you never duplicate a recipe, it is inspirational. If you just need to get your creative juices flowing, you can sit down with a cup of hot tea and leisurely leaf through the pages. In the master's hands, even the simplest of foods are magically transformed into works of art. After perusing the images, no doubt, even your next pb & j will turn out prettier and made with more love.
[pinterest]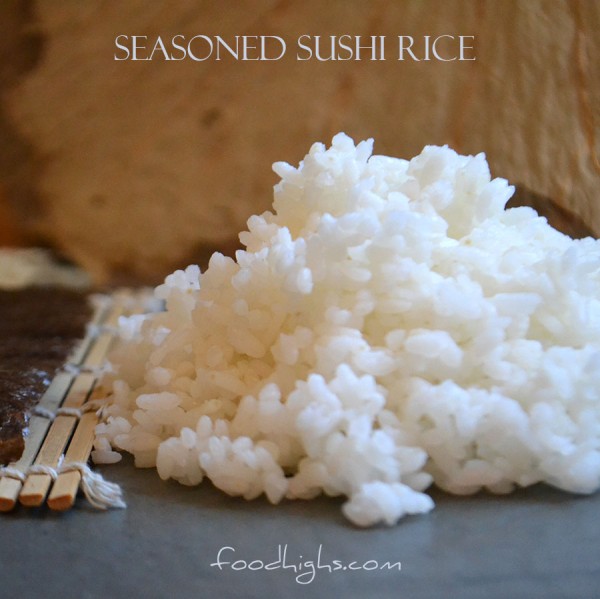 Sushi Rice
Morimoto ratios, in his book, are 10 cups cooked rice : 1/2 cup akazu (sake-mash) vinegar : 1/2 cup rice vinegar : 1/2 cup sugar : 1/4 cup salt. You can, as he suggests, adjust these ingredients to your liking. To follow is seasoned rice to my liking, and plenty for 2 or 3 sushi rolls.
Ingredients:
3 cups cooked short-grained Japanese style sushi rice (about 1 cup uncooked rice will make 3 cups cooked rice)
2 T vinegar (Morimoto uses equal parts sake-mash vinegar and rice vinegar or white wine vinegar)
1 T sugar
1/2 T salt (Morimoto uses more. You can adjust this to your taste.)
Method
Cook your rice, in a rice cooker or according to package directions.
While rice cooks, combine vinegar, sugar, and salt
Place hot rice into a large bowl. (Morimoto uses a large wooden tub)
Add vinegar and sugar mixture by holding a wooden spoon or paddle over the rice and pouring the mixture so that it hits the back of the spoon first and gentle disperses over the rice.
With the wooden spoon or paddle, gently cut and fold the rice (instead of stirring) so that the flavors are well incorporated and moisture evaporates as the rice begins to cool. Break up any clumps of rice as you go. Keep your paddles free of grains of rice so you do not get little hardened pieces.
When finished, allow rice to sit 5 or 10 minutes before adding it to your dish.
Enjoy!
If you like this, please Pin, Share, and Like
[pinterest]
[fblike]
[tweet]