It's about to get all "Chopped" up in here.
What do you do when you buy too many Japanese Jeweled Sweet Potatoes? You could make casseroles.
What do you do when you make too many casseroles? Let them eat cake!
My local market recently had piles of these beautiful deeply colored sweet potatoes, labeled Japanese Jewels. I am still questioning whether they really fall more under the category of yam, but for my purposes today, no matter. Either yam or sweet potato, they are definitely nutrient and flavor treasures, and because I was asked to make sweet potatoes for a gathering, I loaded up.
Just look at the color of these beauties cooking up for casserole… mmmm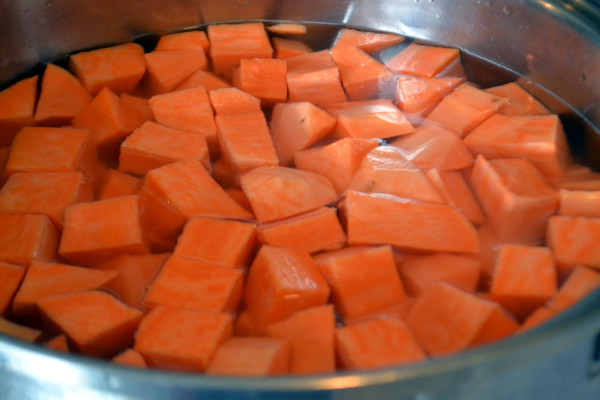 A casserole for everyone
It would seem that virtually ANY sweet potato casserole will do! Here is what we have available…
For our gathering, first a straight forward crowd pleaser. I prefer simple flavors and so kept this casserole organic and simple.
sweet potatoes (or yams)
nonGMO vegan brown sugar, because we usually have this in the house (big fan of calcium-rich molasses)
spices – cinnamon, nutmeg, vanilla
real butter – we like Irish grass-fed
topping – raw chopped pecans and marshmallows
Next, we needed to fill vegan tummies. Two ways!
sweet potatoes (or yams)
coconut sugar and some of our vegan brown sugar
spices – cinnamon, nutmeg, vanilla
vegan butter
topping one – crumble of raw chopped pecans, oats, coconut oil, vegan butter, maple syrup, cinnamon, salt
topping two – chopped raw pecans and vegan marshmallows
Then, for the nut allergies AND vegan.
sweet potatoes (or yams)
nonGMO bown sugar
spices, cinnamon, nutmeg, vanilla
vegan butter
vegan marshmallows
We ended up with many casseroles, in 4 varieties, and many sweet potato casserole stuffed bellies.
Here is a vegan version.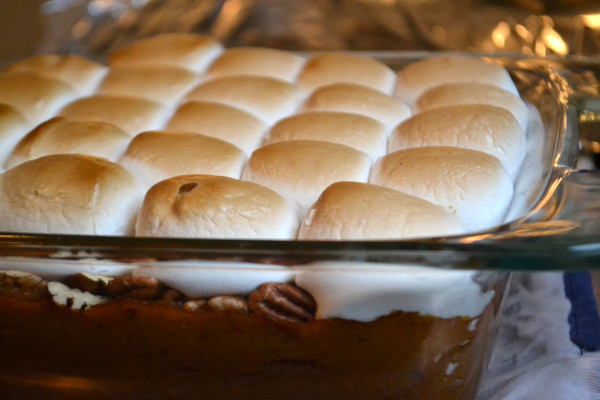 Seriously, check out the melty goodness, and buttery sweetness.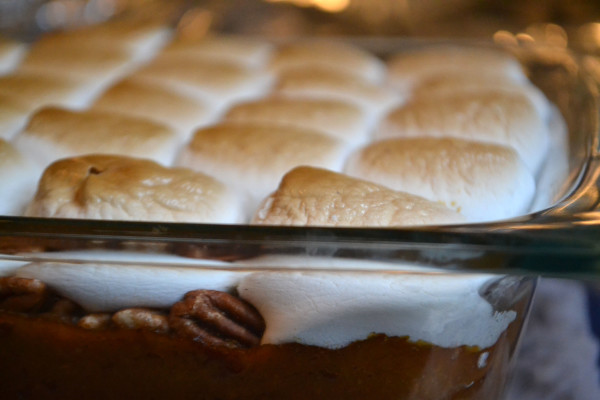 Let them eat cake!
Just for my little family I made the mistake of trying to make a less-sweet more-savory casserole. My children did not approve. Sweet potato casseroles have always confused me. I feel they are desserts masquerading as side dishes. Should they really be so sweet? Anyway, we ended up with lots of savory, slightly sweet casserole left over. Some topped with nutty oat crumble, some topped with marshmallow. Good organic ingredients! These need to be consumed.
My first thought was to just scoop out the sweet potato for cake. That should work well. But not wanting to waste all that topping, the decision was made to go for broke, blend it all up together as though it were a mystery basket ingredient in Chopped, and bake it all, every molecule, in a cake. No waste! I was a wee bit concerned that the texture would get funky from the oats and marshmallow, but nothing could go wrong with these flavors. All of these flavors belong in cake.
Here is the sweet potato casserole mixed into cake batter. Promising!
Here it is baked. Come on, now… Mmmm
Moist, sweet, aromatic, perfect with a cup of hot coffee.
Just give me my $10,000.00. Presentation is lacking, but I win on flavor. 🙂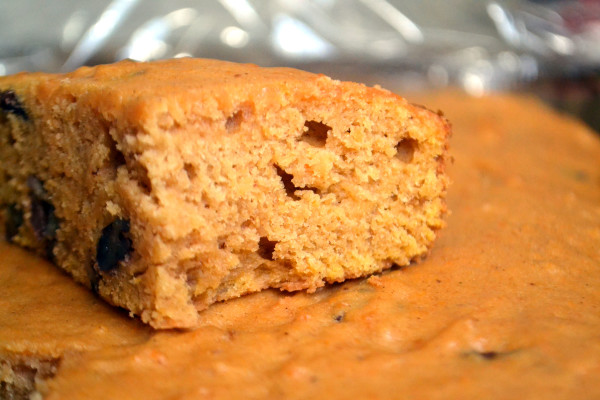 Sweet Potato Casserole Cake
For this cake, I had about 2 1/2 cups leftover sweet potato casserole. If you have a different amount, adjust the recipe accordingly. If you have less, you can also always just add more mashed sweet potato.
Ingredients:
1 cup butter, softened to room temp (I used a vegan butter, which also was to plentiful in my fridge)
about 1  to 1 1/2 cups sugar – start with less, add more as needed, depending on the sweetness level of your casserole
4 eggs – the one thing that makes this not vegan, egg substitute will probably work
1/2 to 1 t vanilla, to taste – depending on how much you already have in your casserole
2 to 2 1/2 cups of your leftover casserole
2 t baking powder
1/2 t baking soda
1/4 t salt
about 3 cups all purpose flour (we use organic)
optional: add more spice if needed, cinnamon, nutmeg
Method
With a hand or stand mixer, cream together butter and sugar. Add eggs and vanilla and mix to combine. Next comes the leftover casserole. I like to blend in the marshmallow topping first, then throw in the rest. Mix until it is all well incorporated. In a separate bowl, mix together the dry ingredients, thoroughly combining, baking powder, baking soda, salt, and flour. Add dry ingredients to wet ingredients a little a at time, mixing as you go, until it all ingredients are combined. Adjust seasonings by adding more spice, if desired.
Bake in a bundt cake, 9 x 11 cake pan, or two round cake pans, slight oiled, in a preheated oven at 350° until a toothpick inserted in the middle comes out clean. Depending on your oven and cake thickness, this may take 30 – 50 minutes. Bundt cakes will take longer. Keep an eye on it.
After removing from oven, allow cake to sit for a few minutes before diving into it. My son loves this cake fresh from the oven; I prefer the next day cold with hot coffee. If you like, you can make a little cream cheese frosting, vegan cream cheese frosting, or simple icing to go on top. But we are happy with just the cake. 🙂
Enjoy!
If you like this, please Pin, Share, and Like
[pinterest]
[fblike]
[tweet]