When it comes to easy lunches, leftovers are like a free ingredient. And almost anything can be wrapped up in a tortilla and fried, baked, or just wrapped cold for a quick lunch. You probably have your own version of the "quick wrap"… if you eat tortillas. By the way, tortillas do also come in Paleo. To follow is a leftovers use-up via the quick wrap method using what I had on hand today.
To me, the beautiful thing about a pan "fried" tortilla is that added element of crunch. Whatever soft. smooth, creamy foods are used for filling, that crispy crunchy golden texture on the outside just makes the whole thing sing.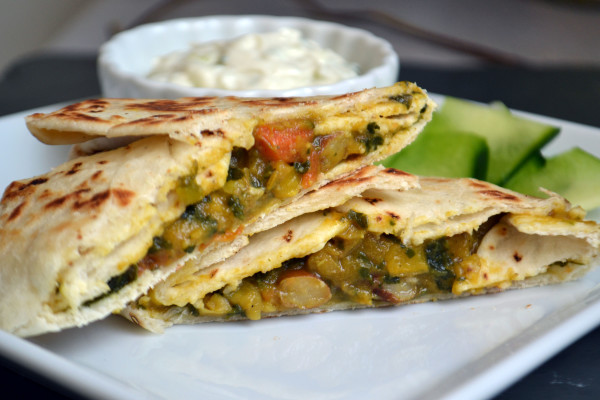 Leftover vegetable curry = a great ready-made filling.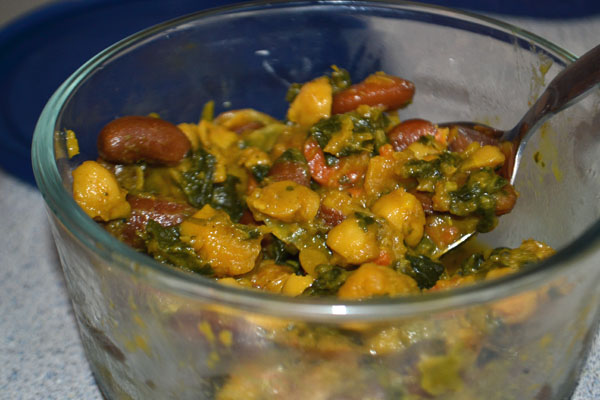 Almond Raita Dip whisked together and refrigerated until ready to eat or pack for lunch. Happens to be vegan. Crazy delicious.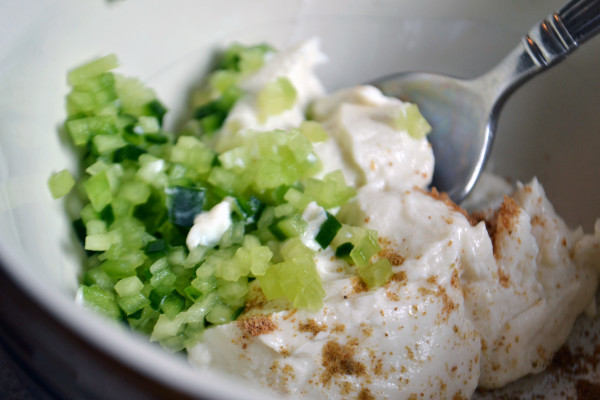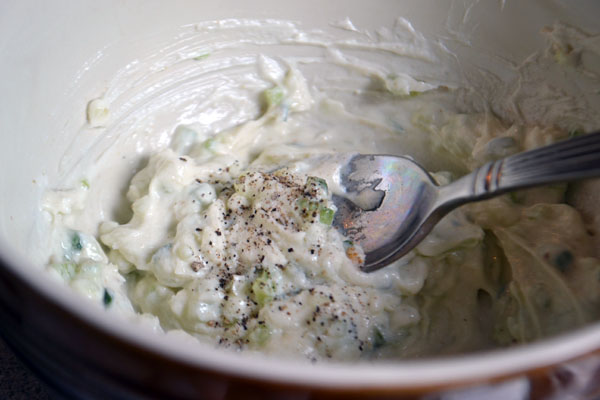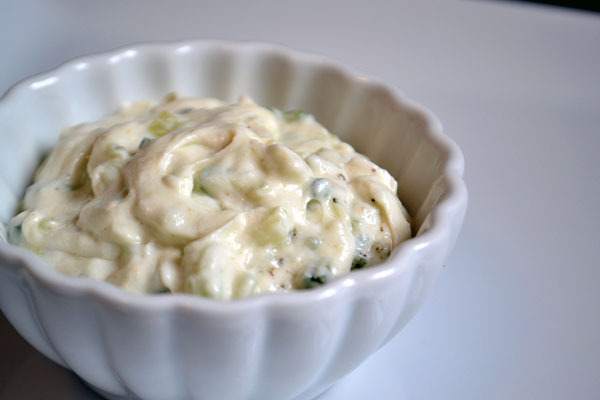 Wrapping it up!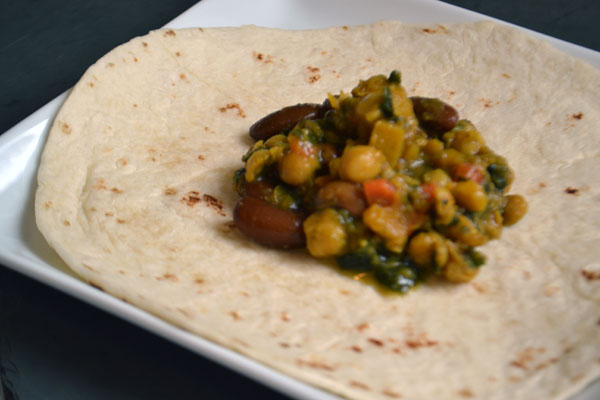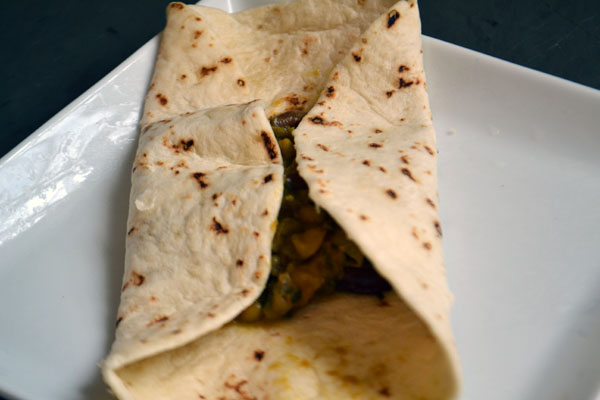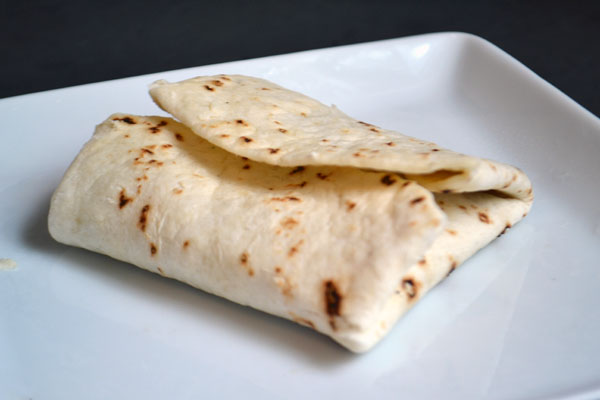 Skillet fry in very light oil until golden brown. Seam side down first.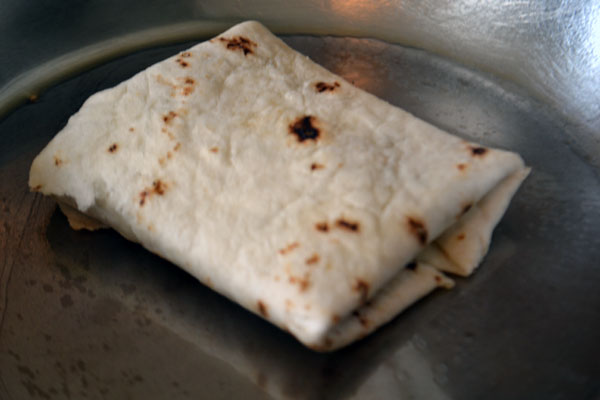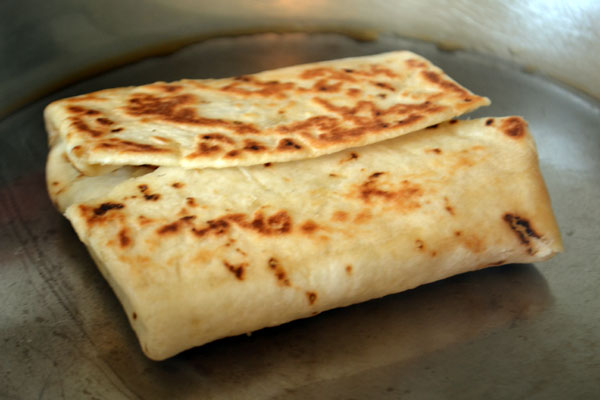 Slice on the diagonal for dipping and Enjoy!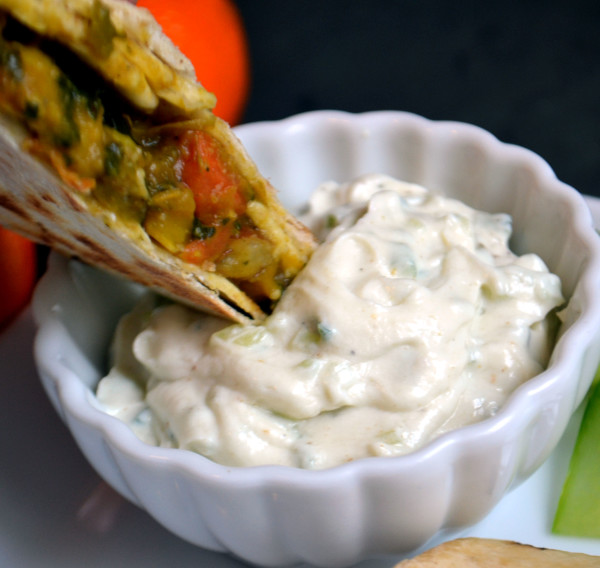 Vegetable Curry Dish or Soup
This can easily be a two-meals-for-the-price-of-one dish. Enjoy the first meal as a curry over rice. Save the leftovers for a delicious burrito lunch.
Ingredients:
1/2 cup chickpeas, soaked overnight
1/2 cup red kidney beans (optional: soaked for about an hour or overnight for better digestion)
1 cup diced butternut squash (I don't even peel it)
2 small-medium carrots, diced small
2-3 cloves garlic, finely minced or pressed
1 cup frozen or fresh chopped spinach (organic)
1/2  t turmeric
curry powder, to taste – start with 1/4 teaspoon and add more if desired
cumin, to taste – start with 1/4 teaspoon and add more if desired
optional: cayenne pepper or red pepper flakes, for heat, to taste
salt and pepper, to taste
Method
Prep all your ingredients, slicing, dicing, measuring. Drain chickpeas and run a knife over them to chop them up smaller. This will create a pleasing texture. Tip: to keep them from rolling all over the place, I do this on a cutting board placed inside a cookie sheet.
In a medium-sized pot, add about 2 cups water. Then the first five ingredients (chickpeas, red beans, butternut squash, carrots, garlic) in the order above so that beans are fully immersed on the bottom. Add more water as needed. If you are not making a soup, then just add enough water to cover everything plus a little more so the beans can plump. Bring to boil, reduce to simmer. Simmer until beans are cooked. As a general rule of thumb, if you randomly choose three beans and they are all cooked, then you are probably good to go.
When beans are just cooked, add all other ingredients. Spinach at the end prevents it from becoming completely mushy. Waiting to salt the beans until after they are cooked prevents them from doing strange things (like crinkly skins falling off and uneven texture).
Liquid note:
If you are making this as a soup, you will want to add enough water to make it soupy. You may even want to puree part of the soup for creaminess. Butternut squash should make it a bit creamy already.
If you are making this as more of a vegetable curry to go over rice, or in a tortilla, keep an eye on the water level, adding only what you need to cook the vegetables through. Then allow most of the water to cook out.
Almond Cheese Raita
This is just enough for just one quick serving of dip to go with one Samosa Burrito lunch. At some point I will make a batch of this and blog that too. But having these ingredients on hands makes for a delicious quick flavor boost for lots of dishes. And, of course! You can make more any time you like.
Ingredients:
3 T vegan cream cheese – I use kite hill mmmmmm
1 heaping T finely minced fresh cucumber
pinch of coriander
sprinkle of cumin
a few drops of lemon juice
salt an pepper, to taste
Method
Combine all ingredients. Taste and adjust seasoning as desired. If you like a loose dip, add water to thin it out. Refrigerate and let the flavors meld until you are ready to use it.
Curry Burritos
If you have a filling and dip prepared, this is the fast and super easy part! 
Ingredients:
tortillas
filling, like this leftover Vegetable Curry
cooking spray
dip, like this easy almond raita
Method
Soften tortillas in the microwave for 20 seconds – this works well for me. For more tips, click here
Place filling in the center of tortilla and wrap it so that filling does not leak. Use an amount that fits your tortilla.
In a heated and lightly oiled skillet, place your burrito seam side down. Cook until it is golden brown and crispy.
Flip the burrito over and brown the other side.
Cut burrito in half on the diagonal – so you have created delightful corners for dipping.
Add your dip and lunch is served! You can pack this up for a to-go lunch too. You my lose a bit of the crunchiness, but dipped into the sauce, this will still be delicious.
If you like this, please Pin, Share, and Like
[pinterest]
[fblike]
[tweet]