Travel Food Challenge! – Vegan
So usually, because I am a wee bit let's say… frugal, when we hit the road we do so with food packed. Sandwiches, granola bars, fruit, etc. And addresses for markets! Whole Foods always has things we can eat and feel good about, so they go on the list.
This June we were New York bound! So excited! And also pumped to step outside the box. We wanted to avoid the fast food traps and eat plant based foods on the road, but relying primarily just on what we could find along the way. Yep… no back up grocery stores. No piles of packed foods to haul. No cooler. Well, maybe a few things. No need to go cold turkey. The idea was to see how difficult it would be to eat vegan on the road – without  the safety net of a stash. Although my family is not vegan, we are plant-based, which means we eat a lot of vegan foods.
The perimeters:
We want real food. I am not a fan of fake meat and fake cheeses. I don't mind a little, but this is a "sometimes" food, Cookie Monster.
If we can get organic, nonGMO whole foods, that is optimal!
We will drive a little out of the way, but it must be reasonable.
Gotta get variety! If every meal tastes the same I will shoot myself.
No fast food chains! No lettuce and tomato in a cup from a burger joint or a tortilla smathered with bean dip.
Limit salads.
Here we go!
Day One Vietnamese Food for the Ride
First stop Phoenix Garden. We found this place with a little advance planning. Google vegan + location.
This is a pretty terrible image, but just look at all that green! This makes me so happy. For some season, we thought this was a Chinese restaurant, until the first bite. Vietnamese flavors sing! We are off to a very good start. Filling vegan food with good flavor AND veggies… yes! Plus, you can't go wrong with crispy crunchy spring rolls. We probably should have ordered a whole batch of these.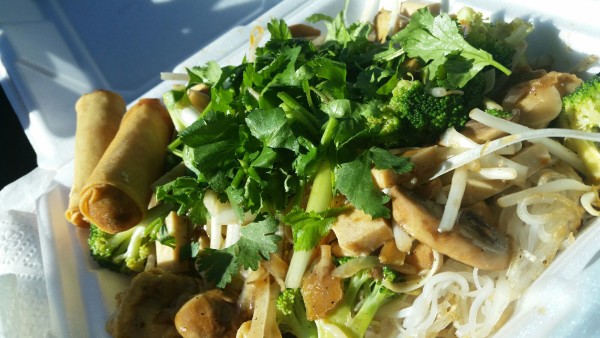 Day Two Washington D.C
So excited about this one! Shouk is a cool little Washington D.C. spot that does not advertise their vegan ingredients. They just make great food. Real food! No fake stuff. EXACTLY my kind of vegan. 🙂
Somewhere my daughter saw something that described this cuisine as Israeli. In any event, we are talking Mid Eastern flavors, roasted veggies, preserved lemons, hummus… but not the same ole tired hummus… very good stuff! We ordered Ratatouille Pita, which my daughter loved, and Cauliflower Pita, which my carnivorous son scarfed down, and the Polenta Fries, which we ALL love! Well seasoned. Great flavors. If you eat here, do not skip the polenta fries! It would be sinful.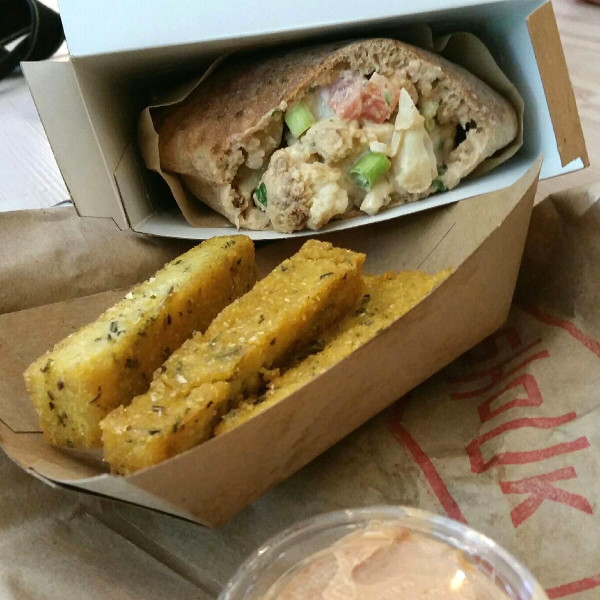 Day Three – On the way to Hershey PA
This discovery happened because of a need for a bathroom break. This was a complete unplanned little surprise. I think we were in Charlottesville when we found this. Noodles has many locations, but none in South Carolina, – yet – so it was new to us. They offer variety, real food, pretty good ingredients, and any dish that is not already vegan can be made vegan. If you like pasta, there will be something for you on this menu.
Because we already have enjoyed Vietnamese and Israeli food, I chose Indonesian.  It came with spicy peanut sauce, rice noodle stir-fry, broccoli, carrots, napa and red cabbage, Asian sprouts, cilantro, crushed peanuts and lime. It was really good! And what I could not eat, my carnivorous son finished.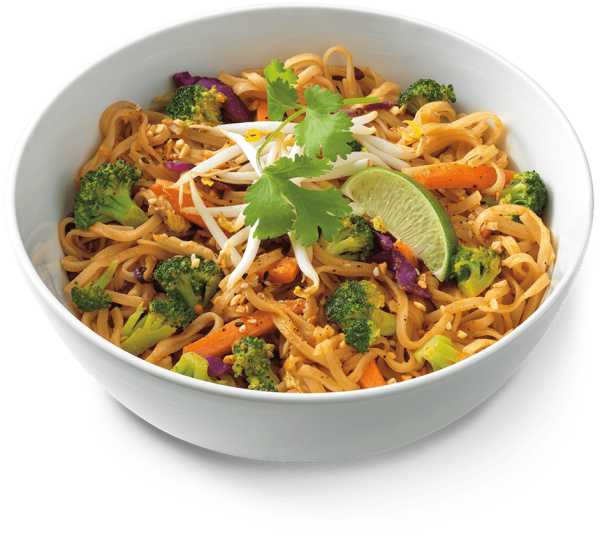 We also tried the Whole Grain Tuscan Fresca. We forgot to leave off the parmesan, but very good with fettucine, balsamic vinegar, olive oil, white wine and roasted garlic, red onion, tomato, spinach, and Italian parsley.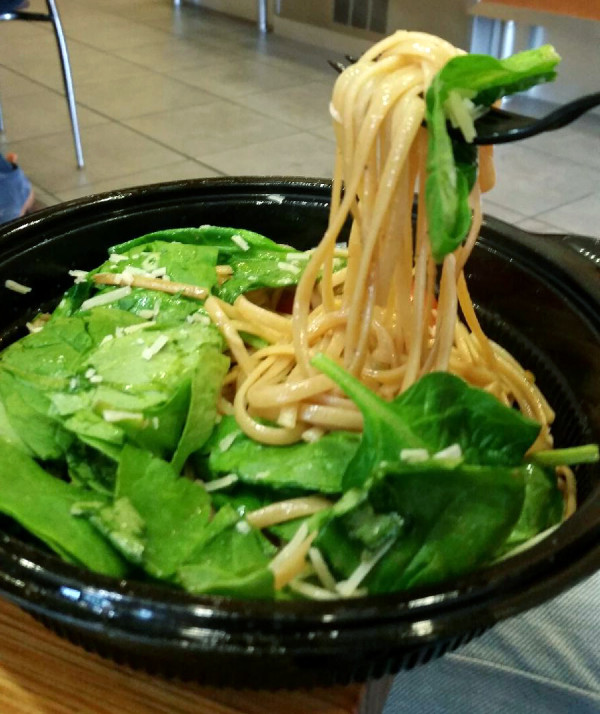 Mac and cheese called to my son.. not vegan.
On to Hershey!
If you are a die-hard vegan, you will want to ignore this part…
Chocolate World was on the agenda. Certain people in our family insist upon it. But guess what! Although the happy cows on the little Chocolate World ride are disturbing, one can pick up some vegan items, even here! You can peruse the cafeteria and find probably find a few vegan or vegetarian choices. They actually have roasted veggies kissed with cocoa powder, but alas! they put butter in it.
But this is vegan…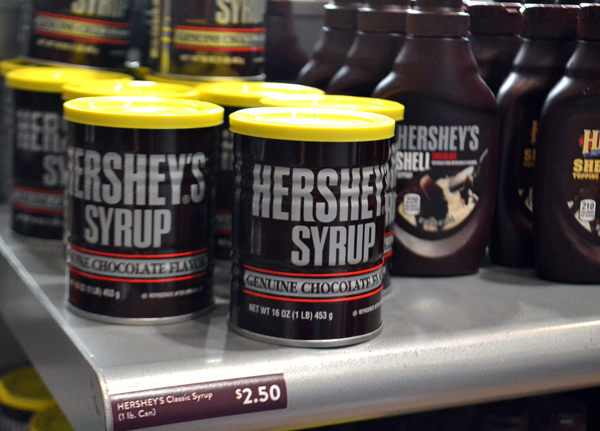 This is vegan and amazing!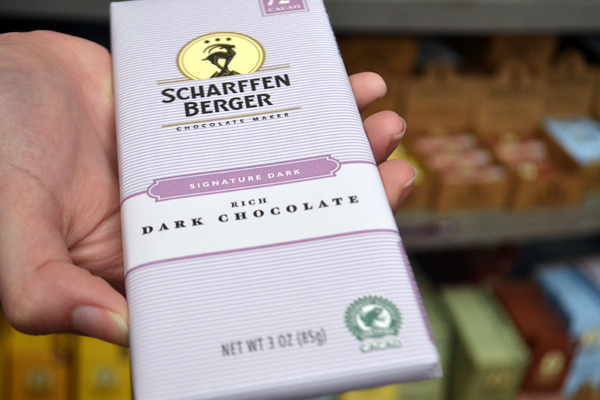 And some of the candies claim to be vegan… like Jolly Ranchers, which frankly are the most delicious of the hard candies.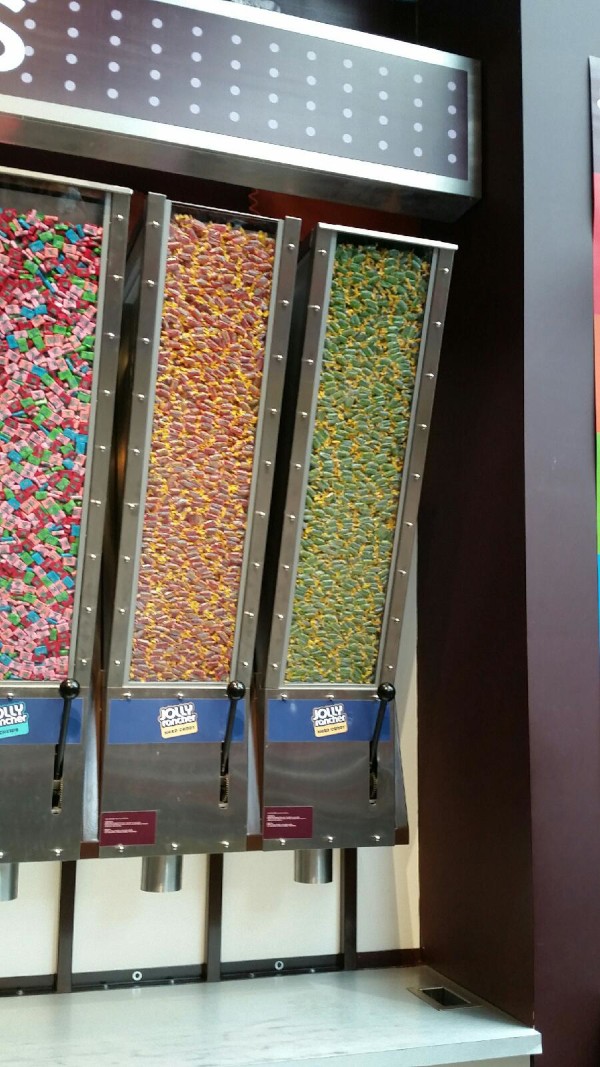 Day Four Chinese Take Out!
Pine Bush NY has this little individual family owned treasure! Pure City 😀
Yes, there is some fake meat involved, but it is very good fake meat. AND they use real plants, with no GMO's or MSG. The family that runs the restaurant are themselves devoted vegans. The matriarch developed traditional recipes that fit their lifestyle and they are patronized by vegans and many nonvegans who just like the food. They have been in business for many years now even though there is not a large vegan community in Pine Bush, NY.
We were craving Chinese food, so we ordered enough to feed us for at least two meals.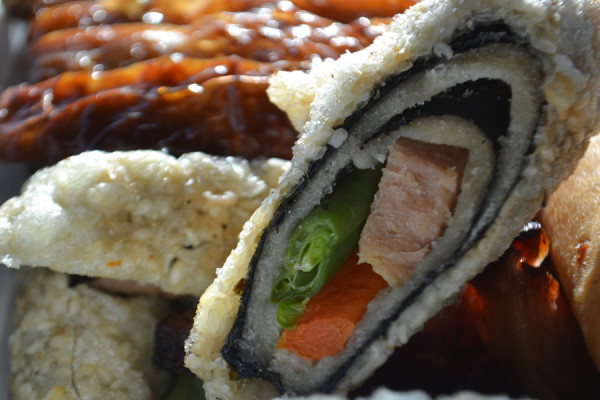 This is a Pure City Platter with lots of delicious little bites and tidbits. There is no Pu Pu Platter in authentic Chinese Cuisine, so it was good to see that this restaurant does not go there. 🙂
The sesame crusted seaweed pictured in the back is to-die-for, and I have not seen or tasted this version of a crispy seaweed in any other restaurant. Loved it! We each had a favorite from this plate.  The asian bbq flavors and meaty texture work! – even for a hater of fake meat. My son loved them. I loved the little roulades. We also added Wonton soup to the order (not pictured), which was the first thing devoured (dear daughter). The broth this chef develops with vegetables is deep and well balanced. With the pillows of stuffed wontons, any meat eater would accept this as real satisfying food. We all love the egg rolls – well, duh.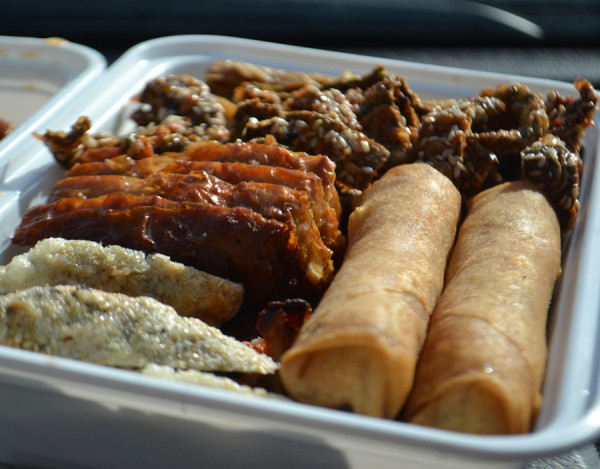 Crispy Golden Mushrooms, which the Menu describes as "black mushrooms squeeze excess moisture dredge in cornstarch and deep-fry the mushroom until crisp with sesame sauce". This looks like a sweet meaty Chinese America dish, but it is not overly sweet at all. It is very rich and savory. And really how can you go too wrong with fried mushrooms?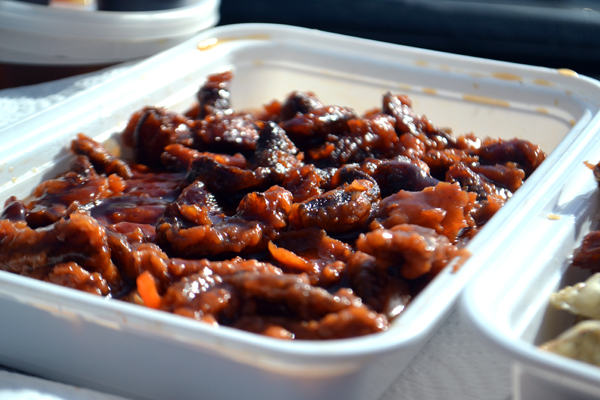 While we were there, they were shucking fresh green beans, probably for their Fresh Golden Walnut dish, which I really want to try. Yep… real food.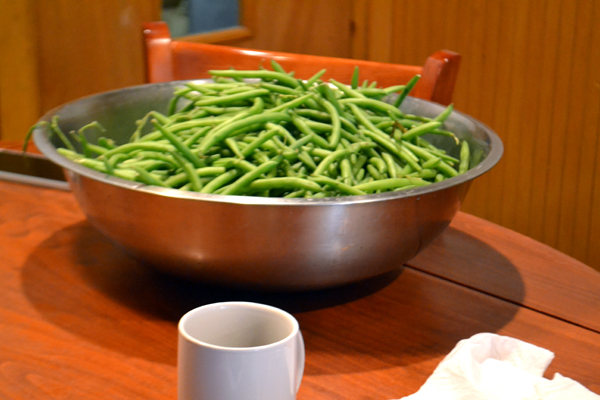 According to my son, there is always room for desert. This Mango Pudding is a jelled dish, like a panna cotta. The firm jelled texture requires some getting used to, but they flavors are very good.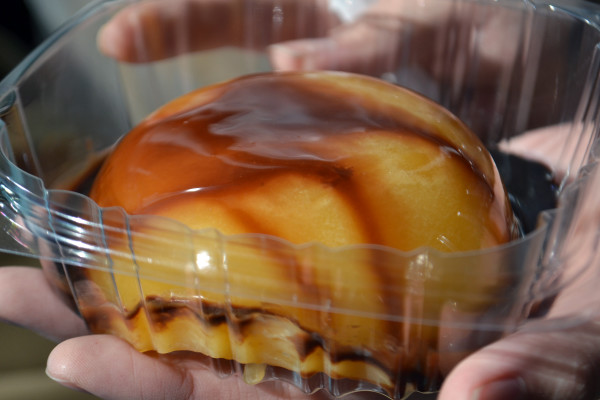 Day Five – Time to Lighten Up
Warwick, NY near our final destination, and visiting friends, we were able to nourish our souls and invigorate our spirit at The Conscious Fork. So good!!! We started with shooters. A serious hit of nutrition in a tiny 2 ounce cup. Then moved on to sammies and smoothies.
Pictured here is their Kim's Reuben. Frankly, to my taste buds this is a misnomer. When I eat a Reuben I want to be punched in the face with sauerkraut before it blends with the rye bread and meaty corned beef. That said, this was a really delicious sandwich. The onions are lightly pickled. They will not punch you in the face, but they do work and play well with the buttery avocado. And the bread! Maybe the most delicious bread I have ever eaten. Soft, earthy, crazy yummy… I could eat a loaf a day.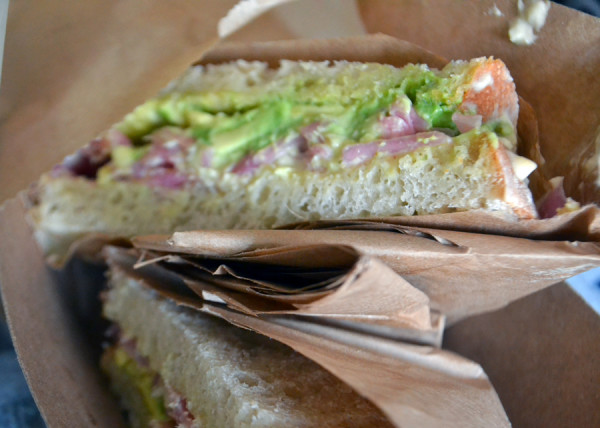 Conscious Fork smoothies are made fresh from real fruit and veggies. Nothing diluted. All good stuff! They are all yummy, but we highly recommend the Picture of Nectar with berries and bananas. Simple. Delicious.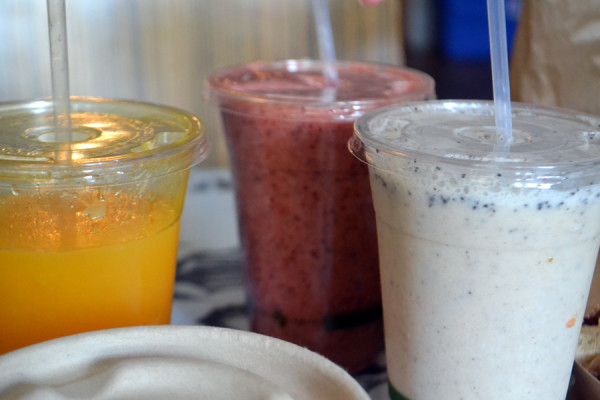 But of course, we also left with a batch of macaroons.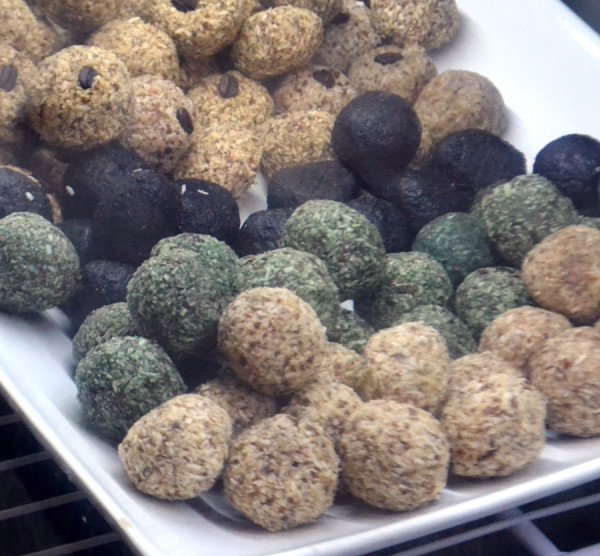 Day Six – New York City
What a fun day! We walked around ChinaTown and spent hours touring the Met. Phenomenal! The city offers tons of vegan options and we did find bubble tea with tapioca pearls and we enjoyed crispy seaweed at a really good Chinese Restaurant… I cannot remember the restaurant name; it was not a vegan restaurant. There were tons of places I wanted to try but time got the better of us.
I would give good money though to have a picture of our Gina K trying bubble tea for the first time. 🙂 She was not a fan.
Day Seven – Friends
On this day, our friends made dinner for us. Gina K's homemade spaghetti – so good! This, after a day of hiking for the crazy people, I mean the kids, and resting up for the ride home for me.
We had fruit… that's vegan. 🙂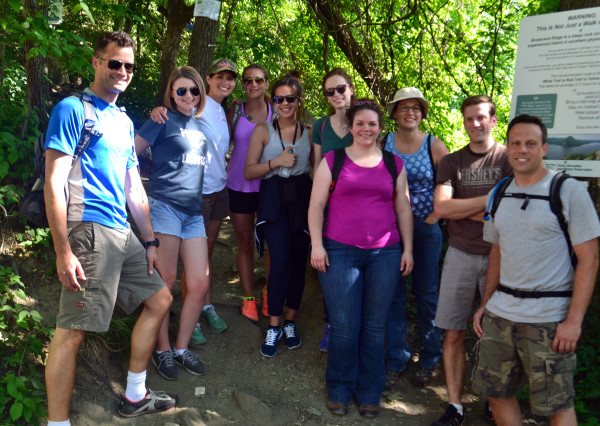 Day Eight  – homeward bound
So we have enjoyed Vietnamese, Mideastern, Chinese, Indonesian, Italian, American, but no Mexican yet. On the way home we found it! Another unplanned surprise and a better-than-the-average-bear chain. California Tortilla. This is not a vegan restaurant, but it was not too hard to manage a delicious filling vegan plate of food… at least we are pretty sure it was vegan.
Real avocados, fresh bells peppers, and a wall of flame make this place a pretty cool find. They have several locations along the east coast. 'Coulda used a little more salt, but definitely hits the Mexican cuisine bells and whistles.
Pictures are really bad. We were tired. Ready to get home.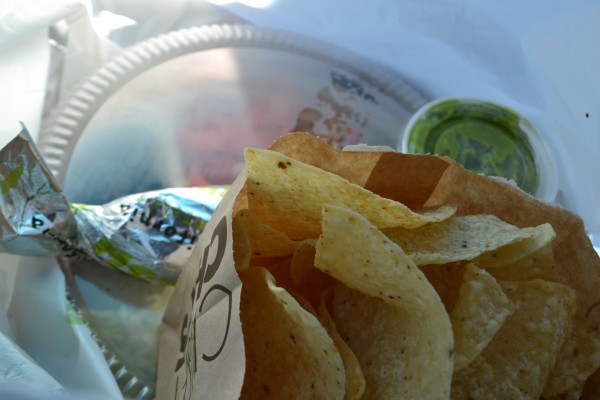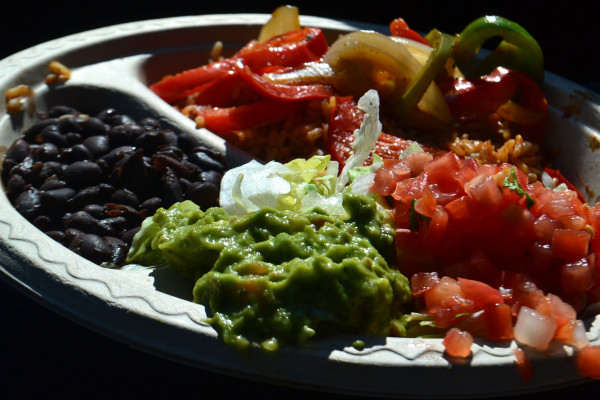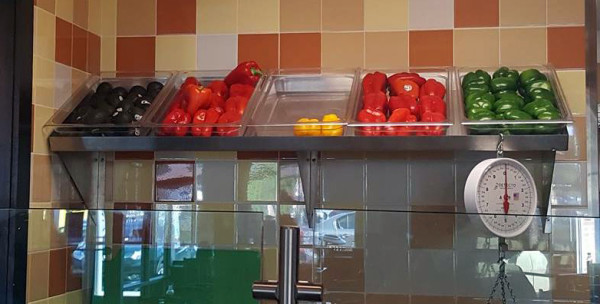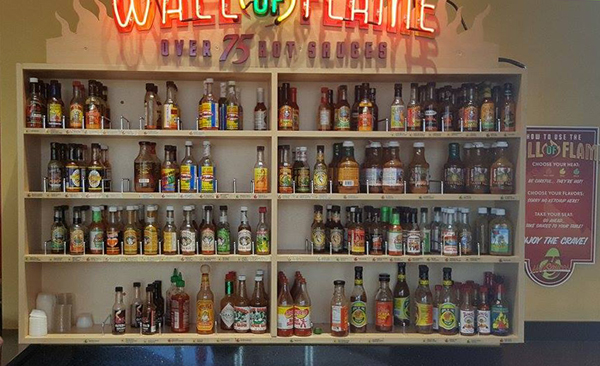 Home… Happy… Satisfied… Feeling Good… Was easier than expected… Time to Sleep. 🙂