Freezer Use Up – Sorbets, Ice Creams, and Cookies
Recently I purged my freezer. See why HERE… especially if your freezer is due for a purge.
Like a lot of freezers, mine harboured half-eaten pints of sorbet and ice cream. These items REALLY need to be repurposed before they develop a film of freezer burn and lose their yumminess.
These are the sweet items taking up valuable freezer space:
Neglected containers of sorbet that the kids requested and just did not eat
Raw nut and date freezer cookies; we keep forgetting they are there
A mystery puree thing… hmmm… smells like banana, nut, and dates maybe? Perhaps a bit of organic silken tofu in there? Anyway, it is sweet and gotta be nutritious so it goes in this category.
Frozen mango and berries
Sprouted miscellaneous nuts which should be used up while still nutritious
What to do… what to do…
We need just one unifying ingredient to bring this all together into one decadent dessert. Eureka! Oreos!
Yep, I am going there. Organic Chocolate Sandwich Wafer Cookies are available. But the name-brand will also work. If it helps to get the more nutrient-dense ingredients in my family and clear out valuable real estate in my freezer, the compromise may be worth it.
This crust is just those chocolate cookies and butter (daughter's vegan butter), with walnut & dates ground together in my food processor.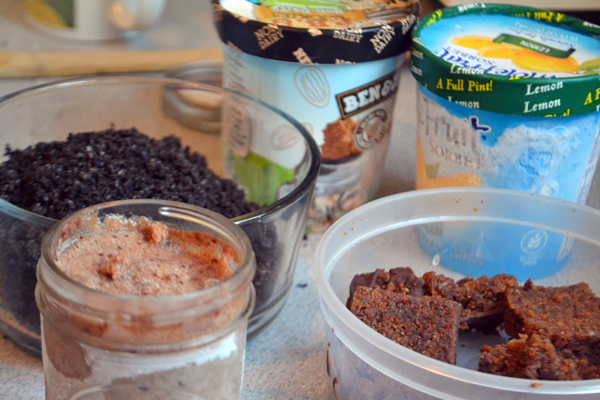 This is what I have. If you have interesting frozen items and cookies, cakes, or brownies to use up, a layered dessert is a quick and easy repurpose.
Easy Method
Allow frozen sorbets and creams to soften. Mushy them up helps with even consistency. We just need this soft and pliable enough to form and layer.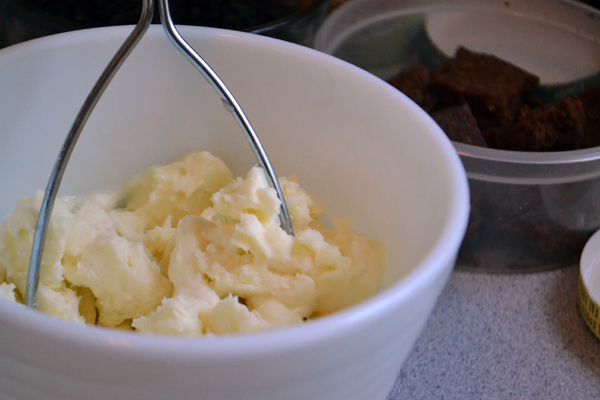 Now we just layer… Any mold will do. I am using a cupcake tin, large size.
The lemon sorbet went in first, on the bottom, because I want it on top when we unmold them.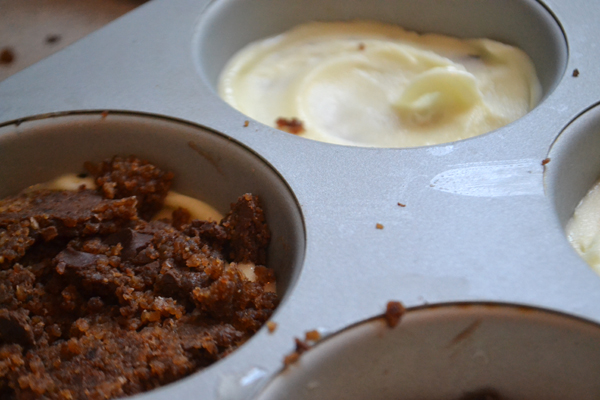 This chewy nut-date cookie layer – so yummy! It is basically a version of this recipe, without the top.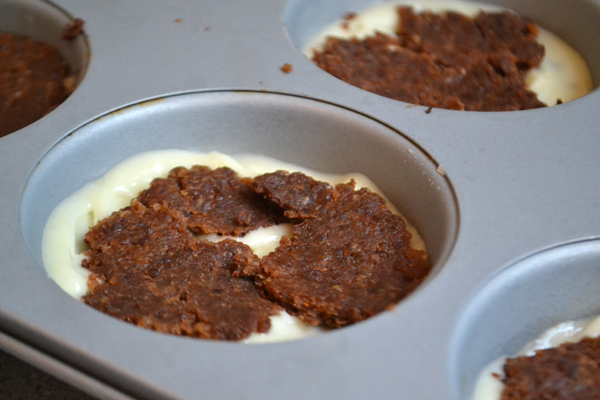 Another frozen creamy layer… then the tiny bit of Ben & Jerry's PB & Cookies No Dairy.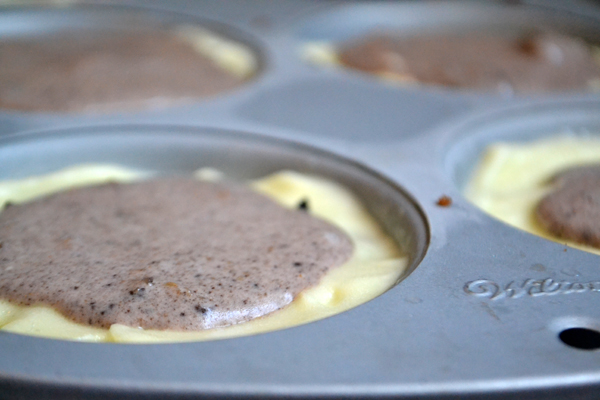 On top, which will be on bottom when inverted, a layer of Chocolate Sandwich Cookie Crust.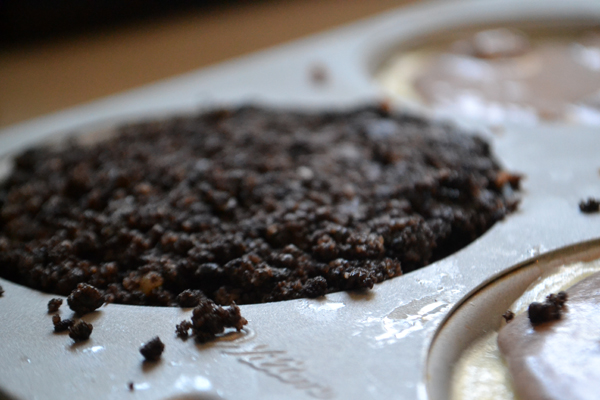 If you want cleaner lines, allow each layer to harden in the freezer before adding the next. If you don't care so much about "pretty", just save time and layer it up all at once.
Allow to harden in the freezer. Then gently run a knife around the edge to remove, invert, cover with whipped cream or whipped coconut cream if you have it, drizzle with chocolate, cherry in top… whatever you want!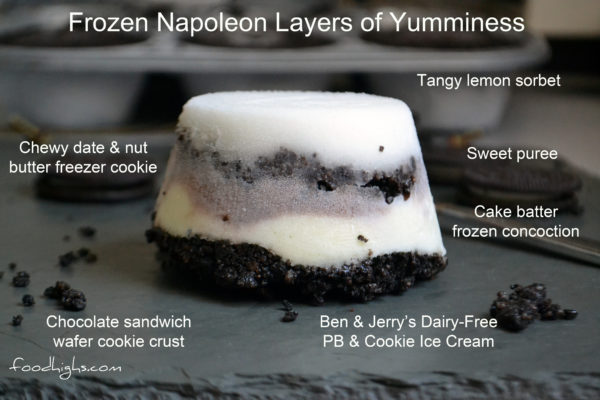 Highly recommended… garnish with broken cookie pieces for texture.
This concoction had multi flavors and textures, creamy, chewy, crunchy.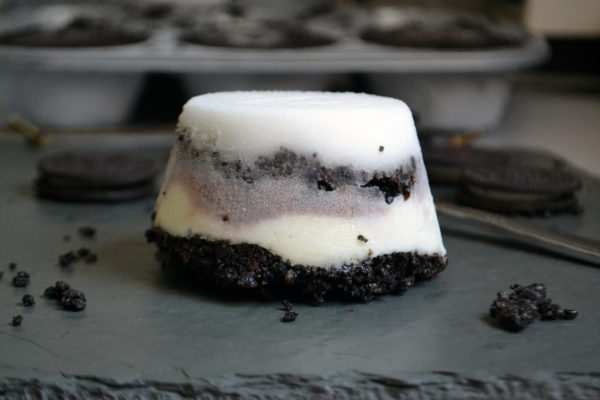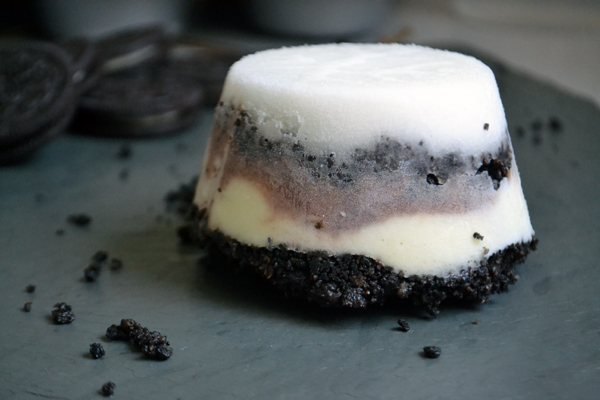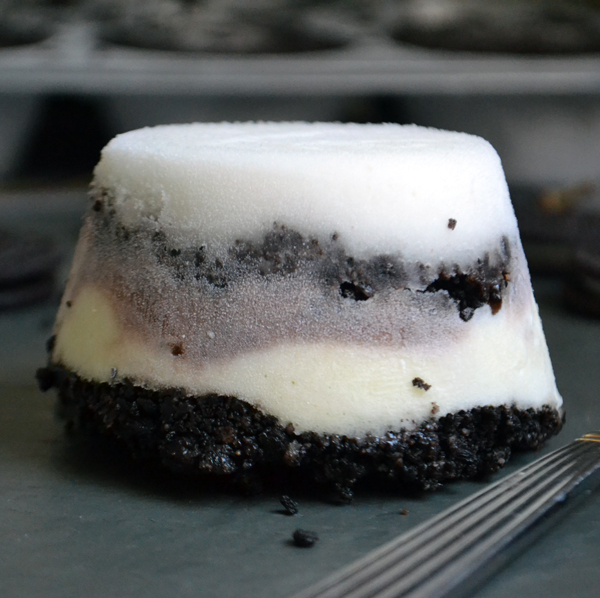 Note: The plan was to add a frozen fruit layer, but we decided to use those up in breakfast smoothies instead. I forgot to add my sprouted nuts. Those would add a great crunchy texture.Maybe we will chop them up and sprinkle on top.
Sorbet Cake! Well, pie? Napoleon? Layered Goodness Dessert kind of thing…
If you have any combination of leftover sorbets, ice creams, cookies, and the flavors will be reasonable together, layer them into any mold you like.
For the crust:
Into a food processor go 18 Sandwich cookies (Oreos), miscellaneous sprouted nuts (we have almond and walnut today) and the little tiny bit of leftover date-walnut crust. Plus about 1-2 T melted butter. Drop the mic! Crust done!
Of course, you only need the Oreos and any butter to make a crust.
Each frozen treat can now be softened and layered. Amounts do not matter because the idea is to use this simple method to finish off whatever you have on hand.
Mine went down like this:
Lemon Sorbet with Mango mixed in (actually I forgot the mango)
a thin layer of crust
Mystery puree (probably banana, dates and nuts)
Date-Walnut Raw Freezer cookies, flattened, broken
Cake batter frozen concoction thing
Ben and Jerry's Dairy-free PB & Cookies
More (Oreo) crust
Because these would be flipped over before serving, they will end up with the thicker Cookie Crust on the bottom and the lemon sorbet on top.
Added to that I used organic whipped cream for my boy and whipped coconut cream for my girl to garnish their own plates. Plus crunchy cookie crumbles for garnish. Done!
I have learned from experience that people will eat just about anything with whipped cream on it. 🙂
Enjoy!
If you like this, please Pin, Share, and Like