My five favorite reasons for Build Your Own family dinners:
Easy to make items ahead to get dinner on the table fast!
– we dine in very little time
Opportunities to expand the palette with add-ons to familiar meals


– we dine both inside and outside the box

Shared labor


– we dine as a team

You build it, you will probably eat it too


– we dine with less waste

One meal feeds many diets, from Vegan to Paleo


– we dine together 
Tonight we go to Thailand
This dish is delicious! And a natural build-your-own dinner. In Thailand the diner customizes his or her own plate as desired, balancing sweet, sour, salty, and hot flavors which are usually offered in jars and condiment bottles. Why not do this at home?
Jok is essentially a rice porridge that is very popular in Thailand. It is adapted from Chinese Congee. Feel free to adapt further to your own family's liking. Swap out the proteins and flavors. Keep the broken rice; it is awesome! …although a paleo cauliflower alternative could be very interesting. hmm
Jok is a common breakfast food, although it is eaten all throughout the day. You can make it at home, order it in a restaurant, or pick it up from a street vendor with condiments of your choosing wrapped up in plastic bags. You can even get it at Thailand McDonald's if you feel so inclined. Ask for McPorridge.
This is the ideal Build Your Own dinner. If you make the broth ahead, and better yet prepare the other ingredients and throw them in container in the fridge, you can have dinner on the table in minutes! No kidding. Minutes! Basically the time it takes to reheat.
[pinterest]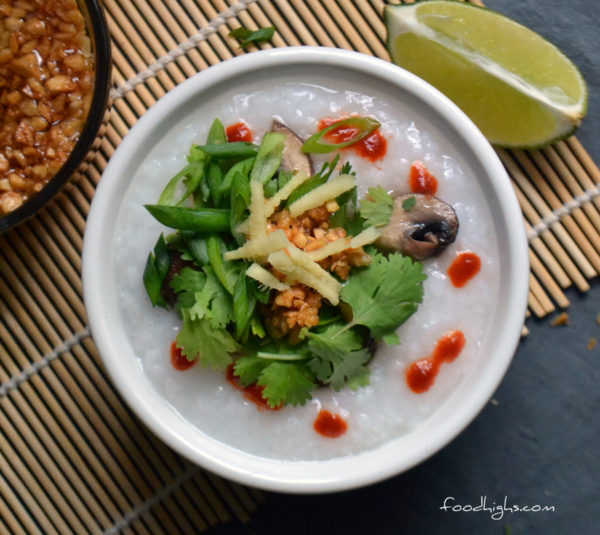 Healthy perks: rice cooked into porridge makes other foods added to it more digestible and bioavailable. Jok is often served to sick people, convalescing people, and to ease a hangover.
It's good stuff.
Let's Make Jok!
Step One:

Make stock and refrigerate or freeze until needed.
Step Two:

Prep your add-ins and refrigerate until needed.
Step Three:

Make your Rice Base. This can be done in advance or just before dinner time.
Make Ahead Stock
On a day when you are home and can have a pot of broth gently simmering and developing flavor all on its own while you do other things… this would be a great time to make your both and refrigerate it.This takes a couple hours on the stove, but very little attention. The stovetop will do the work for you. And if you make a lot, it will be the based for many meals. Cook once, eat many times.
Options:
Vegetarian diners in the family can just leave stock out of their individual Jok bowl. Or make a quick Thai veggie broth.
If pork bones (or the quality you prefer for pork bones) are not available, use chicken. You can add a bit of pork meat to the broth (preferably abf and humanely raised).
Cook up a lot of broth and have the base for many dinners!
Click this link for Traditional Thai Pork Broth.
Click this link for Thai Veggie Broth.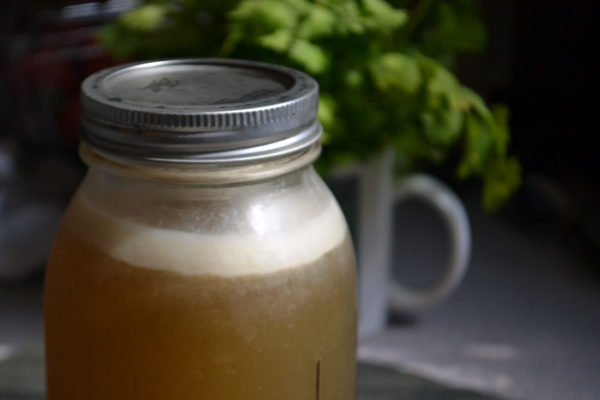 Meaty Pork Balls, Mushrooms, and other add-ins
Some advance cooking can yield components for several meals, only dirtying your dishes once. Click the links for easy recipes.
Most of your add-ins can come in prepared bottles. Easy! Choose what your family likes. Swap out flavors if you like. But for traditional Thai flavors, here are some delicious basics:
Meatiness:
For traditional: make ahead pork balls (Jok Moo Sub) Make double, or several batches, and have this dinner component for MANY dinners and lunches.
The pork balls are traditional, as are liver and pork intestine. This is YOUR family dinner. Feel free to change up the protein any way you like! Leave sugar out of the pork balls, or omit them altogether and use shrimp, chicken, seitan, or tofu.
Vegetarian: Saute mushrooms with shallots, or any chunky veggie desired
Poach, fry, parcook, or steam an egg for each serving, if desired.
I haven't tried it yet, but slices of silken tofu instead of egg could be really good here.
Thai flavors:
Salty: Soy sauce, liquid aminos, coconut aminos, fish sauce
Sweet: Palm sugar, brown sugar, cane sugar
Sour: Lime wedges, rice vinegar
Hot: Sriracha, any hot chili sauce, white pepper
Other essential Thai flavors are:
garlic: crispy garlic oil adds texture, flavor, and richness
green onion: dice fresh green onion
ginger: dice or julienne fresh ginger
cilantro: To make it easy, place a fresh bunch into a mug with water. Everyone can pick their own leaves.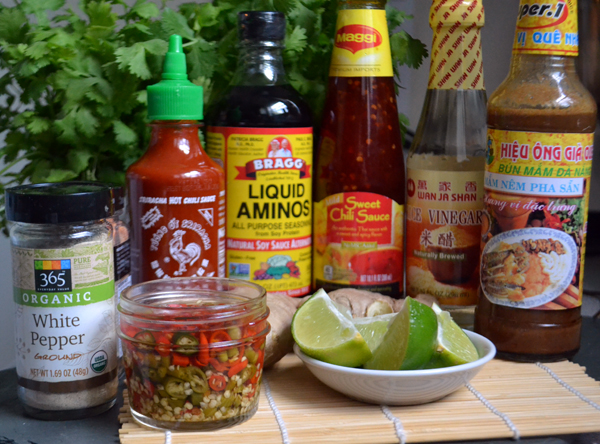 Rice Base. This can be done in advance or when needed.
The rice base can be made on dinner night or in advance and thrown into the fridge. In my house, we always make extra and refrigerate it for easy lunches. Scoop out the amount needed. Heat it in some hot stock, broth, or even water. Good to go!
Click here for stupid easy Recipe for the Rice Base. Just rice, water, and salt. So easy!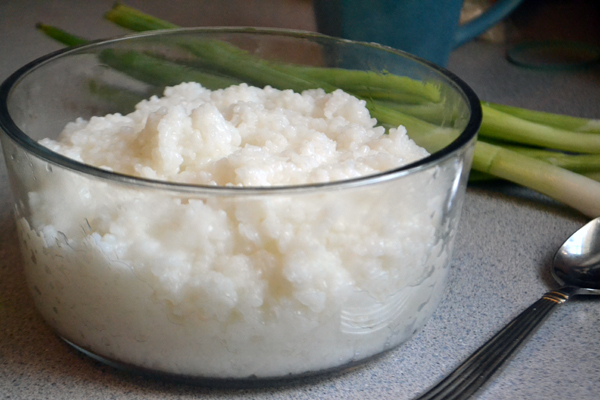 How to Set the Table for Build Your Own Thai Joke Night
Reheat your broth. You want this nice and hot to heat (or even cook through) the rice and pork balls or mushrooms.
Set out the rice base with a scooping spoon.
Set out whatever add-ins you are using.
Add an egg for anyone who wants one. Traditionally the egg goes on the bottom. Yolk is left runny.
Let each person fill their own bowl with rice and whatever else they want!
Egg on the bottom… if desired.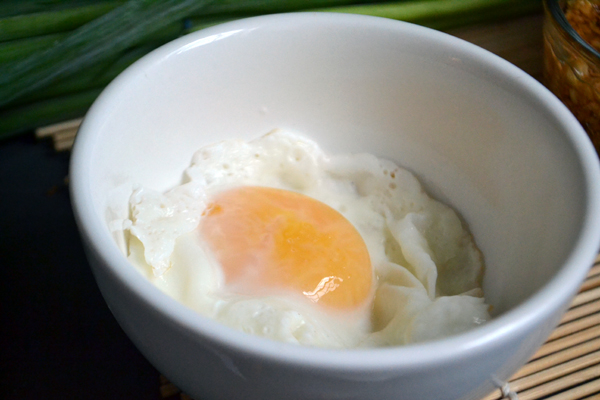 Rice, mixed with broth and meat or mushrooms, and any or all those flavors. Mmm
Jok Moo Sub (with pork balls)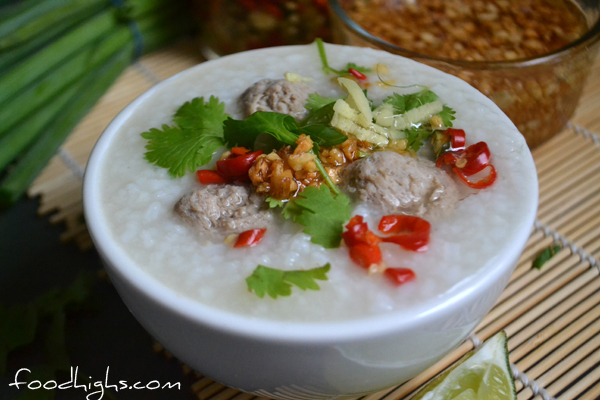 Jok with Mushrooms and Shallots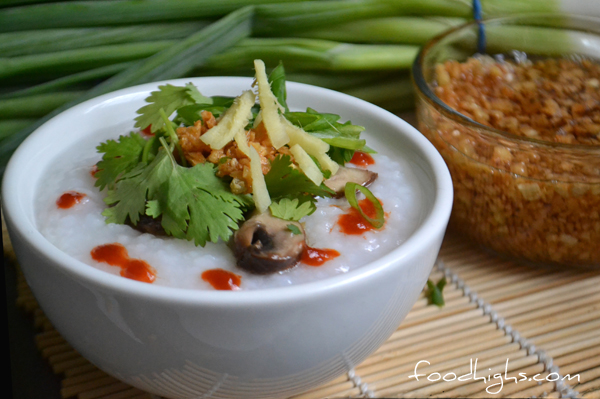 If you serve components in glass bowls with lids, then clean up is a cinch! Just put the lids on them and refrigerate for lunches of Jok, soup, or a noodle plate.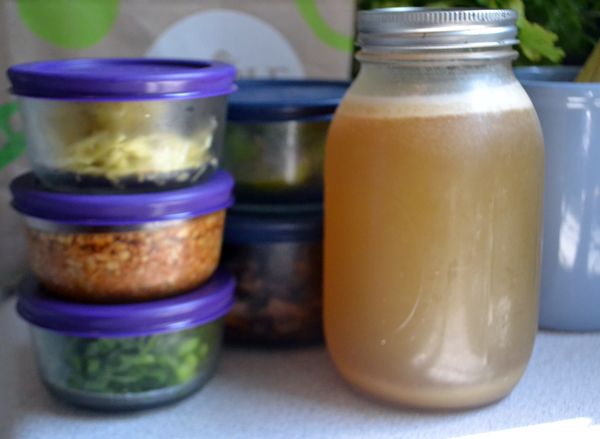 Recipe Links:
But wait! There's More!
Thai Food and Travel Blog – Images of Jok Street Food – HERE
If you like this, please Pin, Share, and Like
[pinterest] [fblike] [tweet]