Build Your Own Fish and Chips – Vegan to Paleo
Because last week's Build-Your-Own family meal had so many flavors and ingredients from which to choose – and it was awesome – a change in pace feels like a good idea. This week's dish, inspired by English Beer-battered Fish and Chips, is made with only a few carefully chosen ingredients.
One batter for almost all diners, gluten-free, dairy-free, vegan, paleo.
Two protein choices.
Two or three chip choices – all made at once. Everybody chooses what works for them.
Flavor add -ons.
One amazingly versatile and crazy crunchy batter. Fry everything in the same pot. Add roasted chunky English-style Chips.
If you have no dietary conflicts in the family, pick and choose what you like best and enjoy! This is a yummy way to add nutrition and variety without adding labor.
Building Blocks
Crowd Pleaser Batter
For me, the happiest place is that space on the Venn Diagram where Paleo and Vegan meet. In that space, there are no major allergens, aside from nuts. These can be easily replaced with seeds or coconut. Almost everybody can start there. and then build a delicious diet using whatever other ingredients they choose.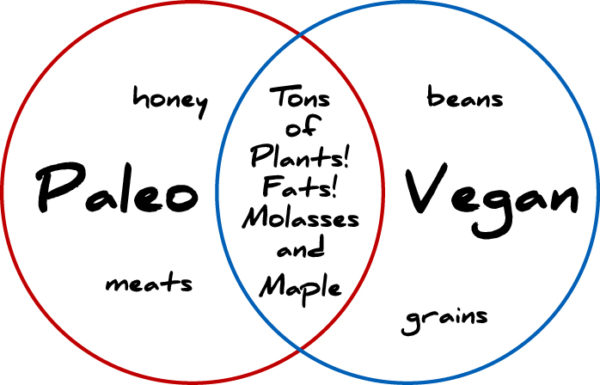 This batter recipe (below) is a crowd pleaser because it fits into that space which satisfies both paleo and vegan people. If needed, the nut flour can be replaced with more coconut flour or a seed flour.
This batter is:
gluten-free
grain-free
dairy-free
egg-free
alcohol-free (if desired)
And yeah, it's still good. According to my picky son, it is "Insanely Good".
A blend of tapioca, coconut, and almond provides substance, lightness, and flavor. Without the bitter hoppy beer flavor, almond flour nicely compensates. Walnut flour might be even better, but almond flour is much easier to find prepared. Club soda provides carbonation needed for the right finished texture with all that bubble action going on. The only thing that feels "missing" to me is that yeasty flavor that traditional beer batter provides. So, we just add yeast. You can fry just about anything coated in this batter and it will taste great!
By the way, if you would like to use beer, you can absolutely replace the the club soda with your ice cold beer and leave everything else as-is.
Proteins
Because this is a dish inspired by a good ole English platter of Fish and Chips, I am using cod for my meat-eaters and firm tofu for my vegetarians. But you can certainly fry up just about anything you like in this batter. That is the whole point of the build-your-own family dinner. You choose.
Of course, cook your tofu first to avoid cross-contamination.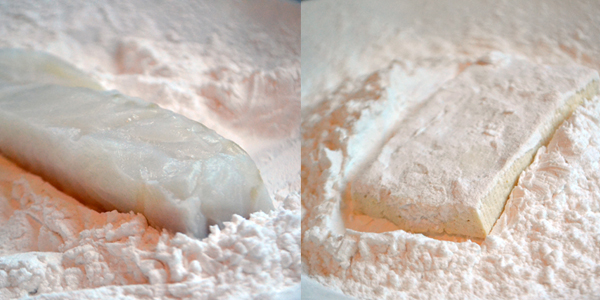 Chips
Chips can be made from any number of root vegetables or tubers. For that familiar starchy potato crunch and flavor, russets are great – of course! – if your family eats them. If not, then any variety of sweet potatoes will bump up nutrition, add flavor, and hit those chippy bells and whistles. You can fry them in the same oil, or to reduce oil, roasted chips work very well. And they can roast while your cook your protein.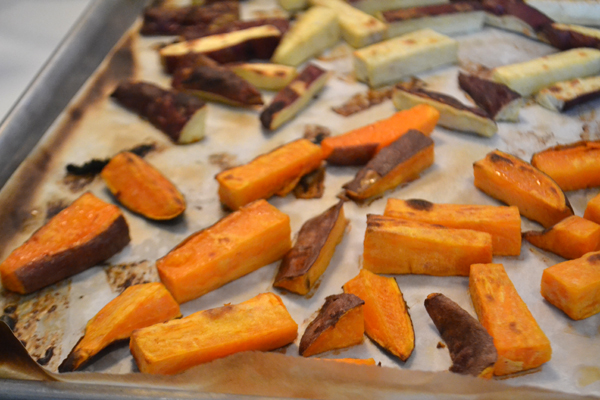 Condiments
Traditional Fish and Chips condiments include lemon wedges, tarter sauce, and malt vinegar.
Suggestions for the table:
mayo, whatever brand your family uses. We keep a vegan and an organic on hand.
sweet pickle relish
mustard
lemon wedges
malt vinegar (not paleo)
ketchup, kid-friendly
any other flavor you like
Acidic ingredients will cut the fat in the fried foods.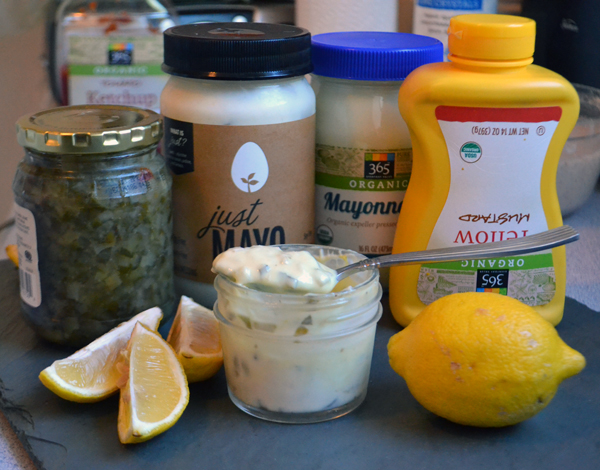 Each person can spoon out and mix up their own tartar sauce.
Scoop out your choice of mayo, mix in a little sweet pickle relish and either lemon or mustard, salt and pepper if you need it. Adjust to your taste. Done!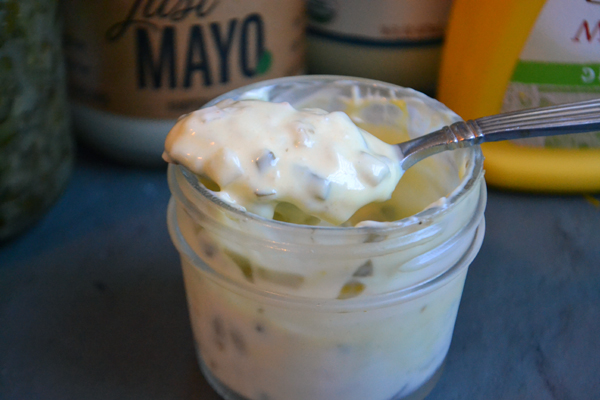 The Build-Your-Own part actually takes place a little in the kitchen and a little at the table. One batter keeps it simple. Use any protein you like! For that matter there are a lot of veggies that would be delicious in this batter too. I used up all of this leftover batter on onion rings.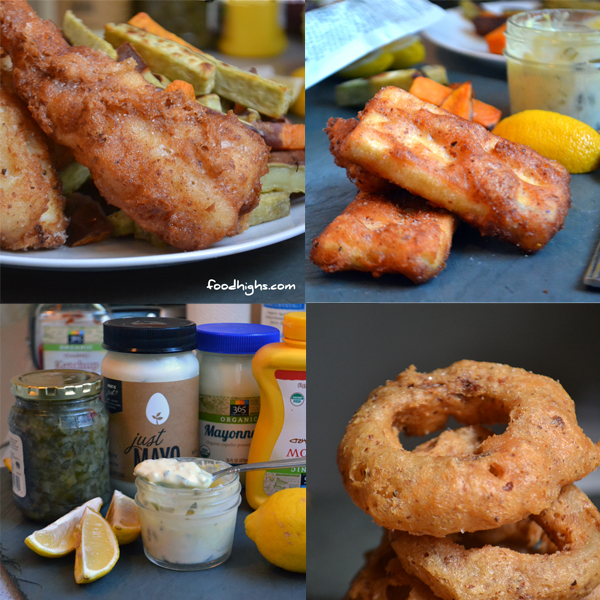 Beer Optional Batter
This batter is highly versatile and forgiving. If you have a nut allergy, replace almond flour with more coconut flour or a seed flower. If you cannot tolerate yeast, leave it out and add more beer or club soda. Fry just about ANYTHING in this!
Check out images and more detail at these links for Battered Tofu and Battered Fish.
See Roasted Chip-Cut Sweet Potatoes here.
Yields about 2 cups batter – enough to batter a couple lbs cod or tofu slices.
high temp cooking oil, enough to deep fry (see note)
1 1⁄2 teaspoons active dry yeast

1/2

cup warm water.

1/2

cup tapioca flour, plus extra for dusting
1/4 cup coconut flour
1/4 cup almond flour – for nut allergies, consider sesame seed flour or sunflower seed flour
about 1/2 cup cold club soda or beer, just enough to make the batter about the thickness of pancake batter
salt, to taste (not too heavy, you can add more salt later)
optional: for flavor, you can add a sprinkling of any spice you like, such as paprika or turmeric
Method
Sprinkle yeast over warm water. Let is sit for a few minutes to activate the yeast.
Measure flours into a mixing bowl.
Add your activated yeast. Stir.
Add cold beer or club soda a little at a time until the thickness of the batter is like pancake batter.
Season, to taste. Set aside batter while you prepare other parts of you meal.
Frying
In a pot, heat oil for deep-frying to 375 degrees F.
When oil is hot, dredge your protein (cod, tofu, etc) with tapioca flour, coating all sides. This will help the batter to stick. Dip coated protein into your batter, thoroughly covering it. If there is excess, scrape it carefully in the side of the batter bowl to remove a bit.
Place one end of the battered cod or tofu onto the oil, swooshing gently back and forth. The drop it into the oil. The swoosh should help to prevent sticking to the bottom of the pan. The swoosh will also tell you if your batter is not quite hot enough, or too hot. It should sizzle.
Flip frying pieces as needed to brown all sides. When your protein is golden brown (I like it a little darker than golden), remove it from the oil and place it on crumpled paper towels to drain. Salt immediately.
Serve immediately. Add tartar sauce, lemon wedges, malt vinegar, and chips, if desired.
Note: For deep frying at high temperature, I like a nonGMO canola oil. For us, this is a "sometimes" food. Any high temp oil will work.
If you like this, please Pin, Share, and Like