Any salad makes for an elegant Build-Your-Own meal. Add make-ahead wontons for some crunch and you have an easy power meal.
You probably will not have leftover wontons, but if you do they are still yummy eaten at midnight by refrigerator light… not that we would ever do this. If you have leftover salad base, then lunch the next day is done! Or, these veggies are equally delicious repurposed as a stir-fry. Two meals for the price (or prep time) of one.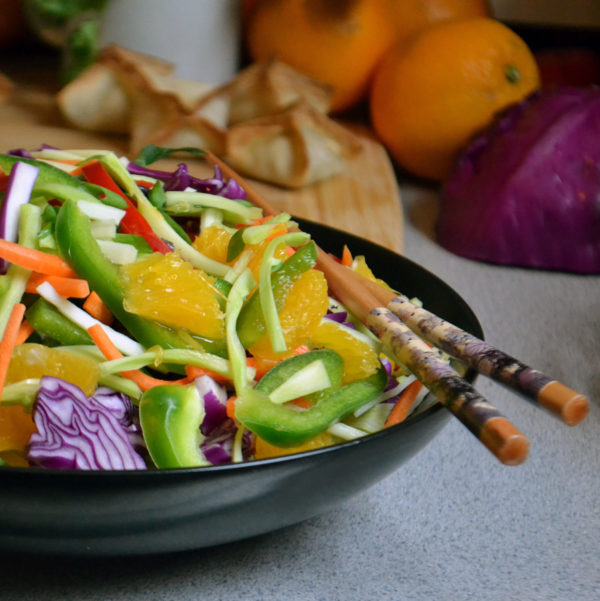 Prep
Choose veggies for your salad base. (and fruit, which could be an add-in)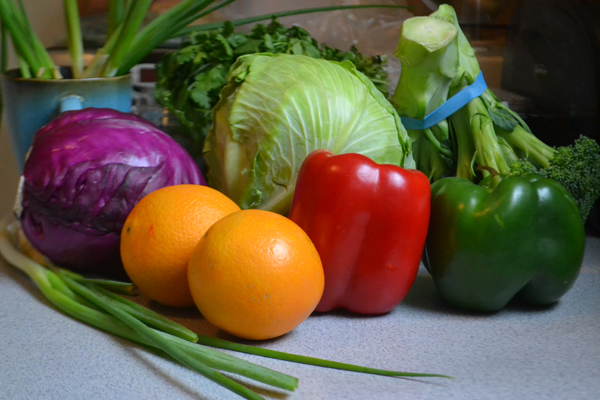 Cut them up into little matchsticks (julienne). If you like, you can place them in a bowl of cold water to prevent oxidizing while you prep the rest of the meal.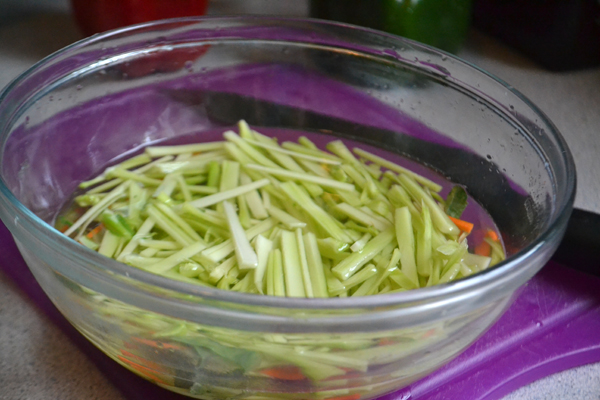 Fry your frozen wontons a few at a time so as not to crowd the pot or bring the temperature down too much. If your filling is raw, keep the temperature low enough to cook the wontons thoroughly in the inside without overcooking the outside.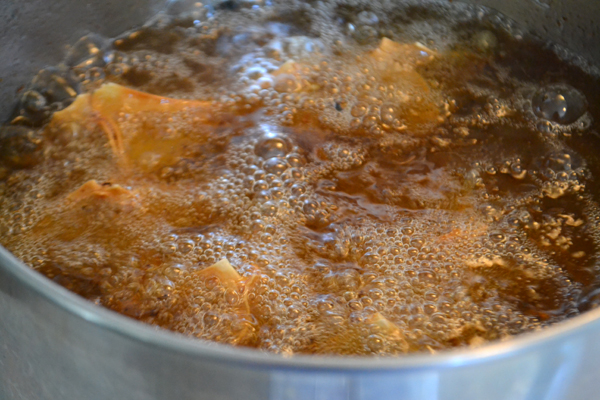 Cook until golden brown and cooked through. Drain on paper towels.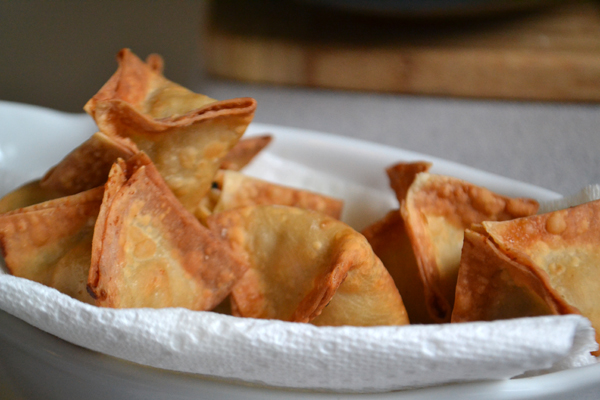 Or… bake your wontons. They may not be crispy all over like a deep-fried, but they will have some nice crunch in spots and will still be delicious. Especially with a sauce.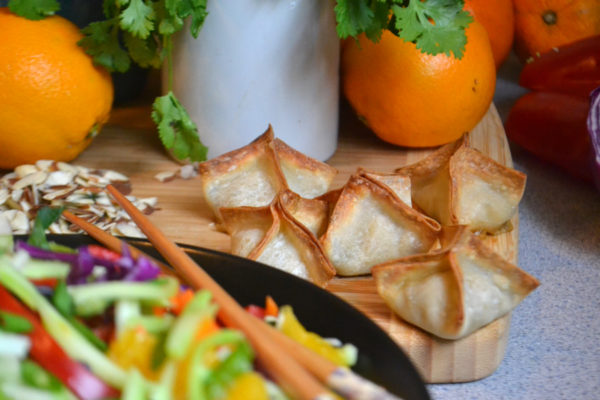 Toss your salad base veggies together. Place in a bowl.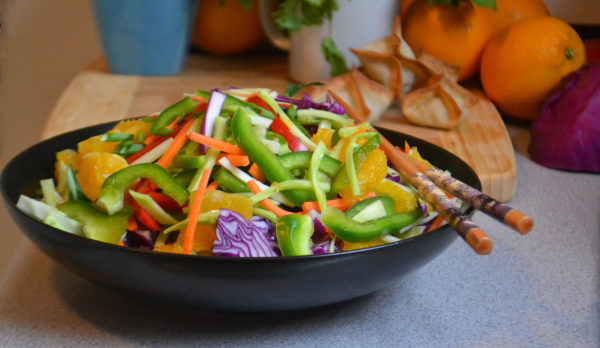 My favorite part… if you have filled the delicious crispy fried or baked wontons with veggies, then when the kids pile their plates with more wontons and less salad, they are still getting veggies. Muah ha ha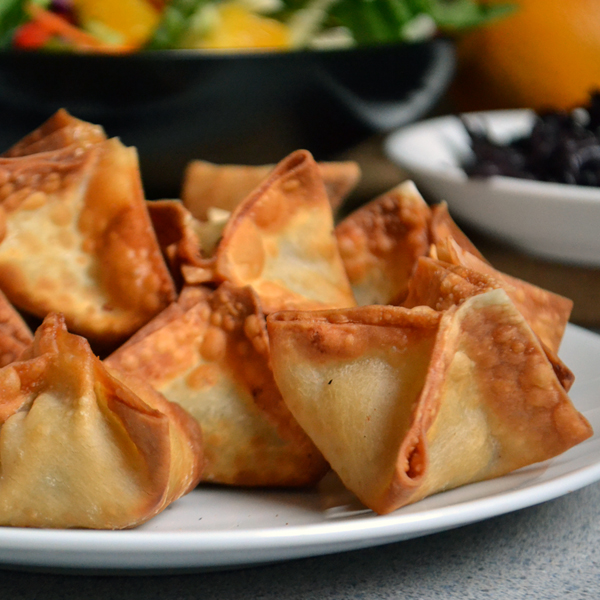 Set the table with salad base and wontons and any mix-ins that you like!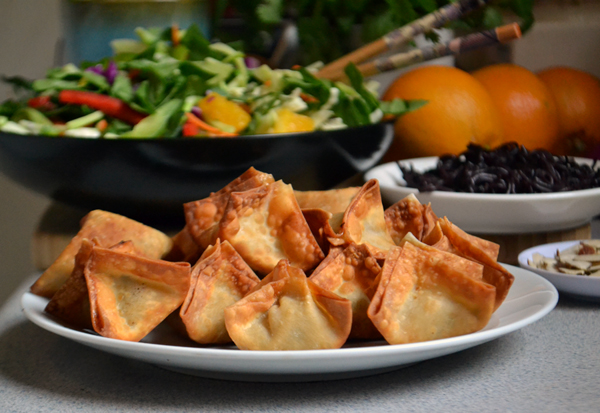 Happy cilantro.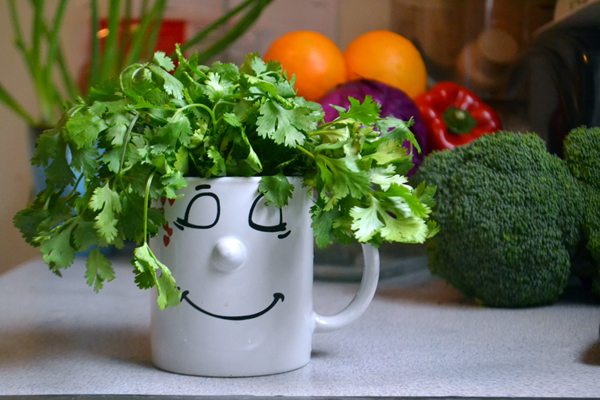 To make the salad more kid-friendly, add ramen noodles as a mix in. Noodles come in many forms in addition to the standard wheat flour, including rice, kelp, yam, and gluten-free black bean like this one. The fact that these are black and look like worms might only make them more appealing… depending on your kids.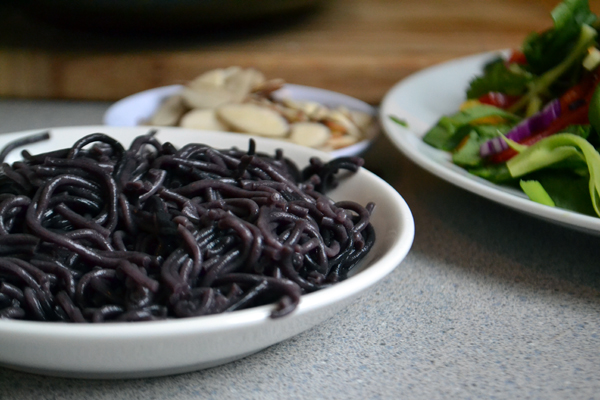 Apparently I am just a big kid too because today my plate got seconds and thirds of the black bean ramen noodles, plus an entire orange. The flavors are just so good with the veggies.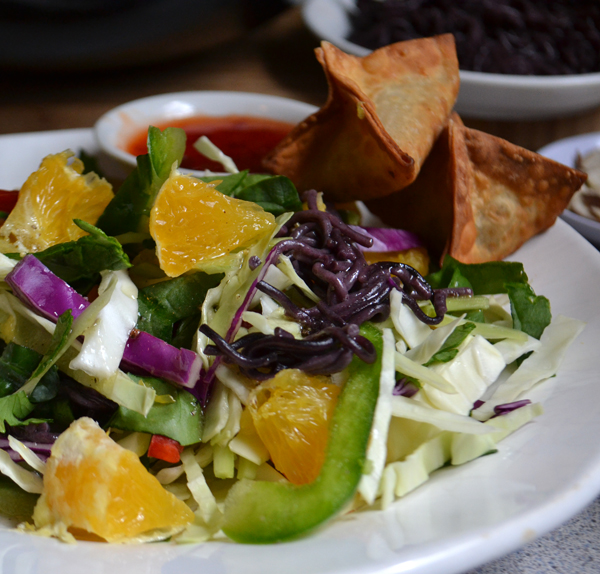 Asian Salad with Crispy Wontons
Add or subtract to this ingredients list any way you like! Leaving some ingredients out of the base allows each person to build their own salad, and you can use leftover base in a stir-fry for another meal. Prep once, eat twice.
You will need:
Salad base
Any add-ins you choose, there is a long list below from which to pick and choose
Salad dressing(s) – you can buy prepared to save time
Wontons from your freezer
Salad Base Ingredients
2-3 cups any variety cabbage, or combination of green and red, cut into matchsticks
2 broccoli stems, cut into matchsticks (you can save the florets for another meal)
1 carrot, cut into matchsticks
1 bell pepper, cut into matchsticks, you can mix it up with red and green
1-2 handfuls spinach, rough cut into strips
1/2 -1 cup snow peas
(oranges are important here, but I leave them out of the base in case we want to save some base for stir-fry)
Add-ins:
oranges, diced – you can cut off the peel and section them, if desired
green onion, diced
bean sprouts
slivered almonds
wonton skin crisps – cut wonton skins into strips and fry for some crunch
a bunch of cilantro in a cup with cool water – everybody picks off what they want
anything else your family likes… daikon, jicama, mushrooms, celery
Vegetarian-friendly add-ins: ramen noodles, bean curd, seitan, tempeh
Paleo-friendly add-ins: sauteed and sliced chicken, shrimp, or fish, or any other protein
Make-ahead Wontons
If you have your make-ahead frozen wontons in freezer bags, you only need to heat up the oven or a pot of cooking oil and throw cook them in minutes. If your family is made up of vegans and carnivores, this is a great way to eat together and satisfy everyone. On those rare occasions that we deep fry, we fry up the vegan wontons first. Set them aside, then in go the paleo or traditional.
Dressings
To save time, you can purchase a prepared dressing, or two. A sesame-ginger dressing is delicious with this and can go over everything from salad to wontons.
If you prefer, you can make your own
3 tbsp rice vinegar
1 tbsp either sugar or honey, or orange juice plus a little sweetener
3 tbsp soy or liquid aminos (for vegan eaters) or tamari or coconut aminos (for paleo)
1 tbsp freshly grated ginger, less for heat sensitivities
1/2 tbsp garlic, very finely minced
2 tbsp sesame oil
1 tbsp green onions, diced
salt, to taste
Whisk everything together. Or put it all in a sealed mason jar and hand it to someone to shake it vigorously. The advantage of the mason jar is that leftover dressing can be stored in this too. Taste dressing and adjust seasoning as desired.
Method for a Complete Family Meal
Prepare salad dressing, if you are making your own.
Prep salad ingredients. Combine the base ingredients.
In hot oil fry wontons, per recipe link. Place on a platter to serve.
Prepare any mix-ins you like. You can place them in glass bowls with lids for easy clean-up in case you have any leftover.
Put everything on the table.
Enjoy!
If you like this, please Pin, Share, and Like
[pinterest] [fblike] [tweet]