When you make these, make a ton! Prep once and you are all set to make crispy fried or baked wontons with dips, steamed dumplings, or wonton soup in minutes any time you like!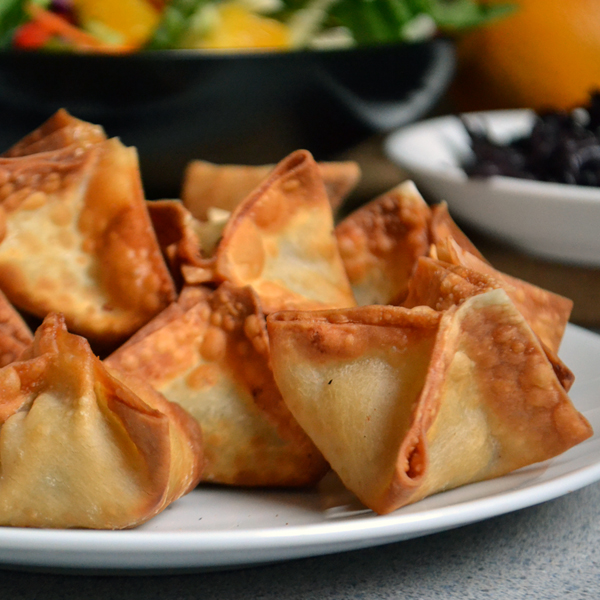 Pork and Cabbage Filling
If you want to cook once and eat many times, make extra filling and freeze it in batches, wontons, or even plain ole meatballs. It is delicious no matter what you do with it.
Start with green cabbage. Slice and dice it up!
You will be doing a lot of chopping, but on those easy dinner night's it will be so worth it.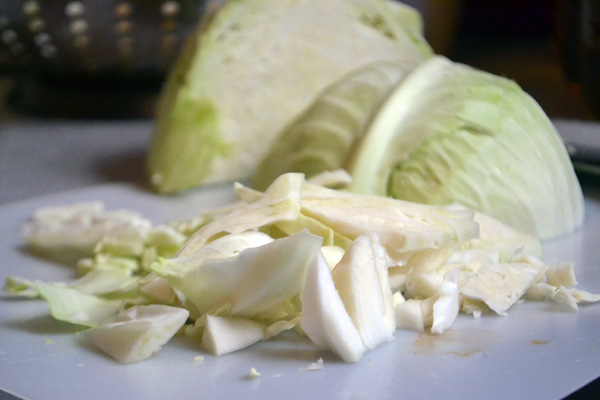 You can steam your cabbage and carrots, then minced it. Or the other way around. Whatever works for you. I throw my cabbage and one grated carrot together into a stainless steal colander over a pot with water on the bottom, cover it and steam it up until tender. As you can see, this is MORE than the recipe calls for. If I am going to do a little, why not do a lot and have more for later?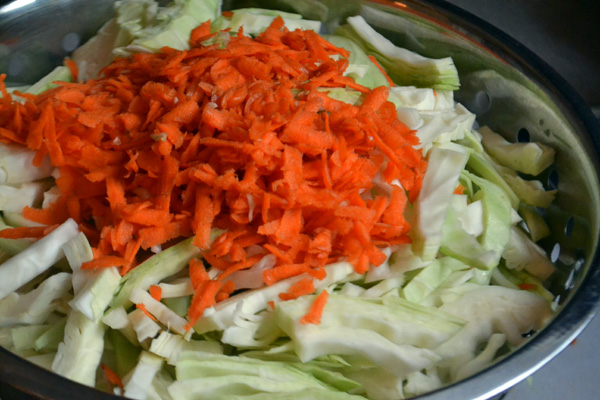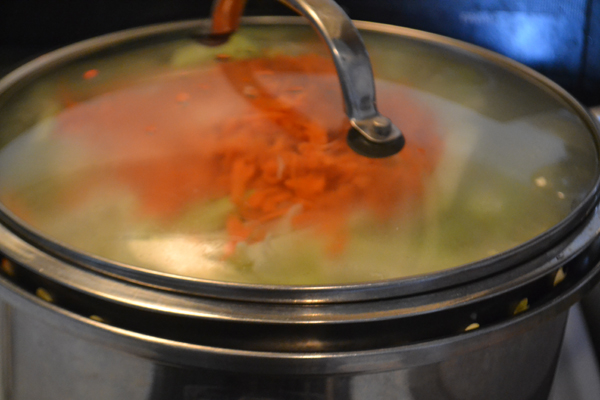 Saute your mushroom-shallots-garlic-flavorings mixture. It smells really good in your kitchen right about now.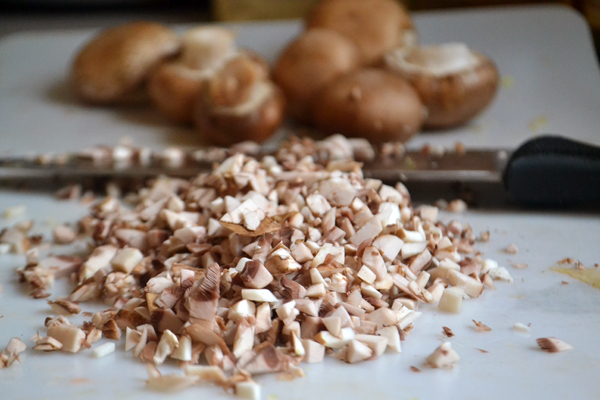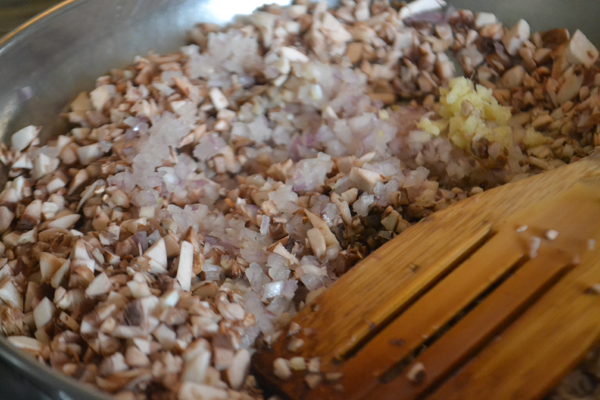 It smells really good in your kitchen right about now.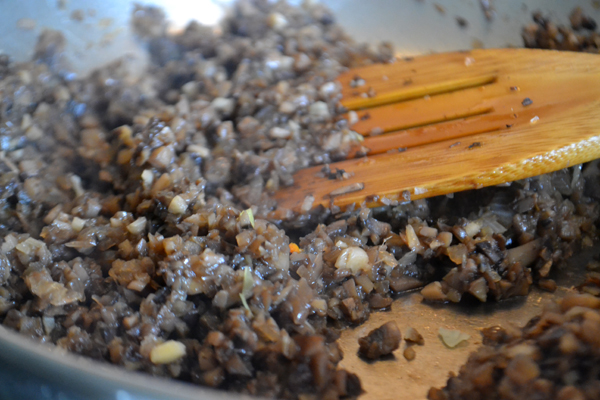 Combine your cabbage with your mushroom mix into a large bowl Let it cool a bit, with moisture evaporating. Basically, you just do not want this to cook the pork before you mix it in. And your mix should not be wet.
Thoroughly combine your ground pork with your veggie mix.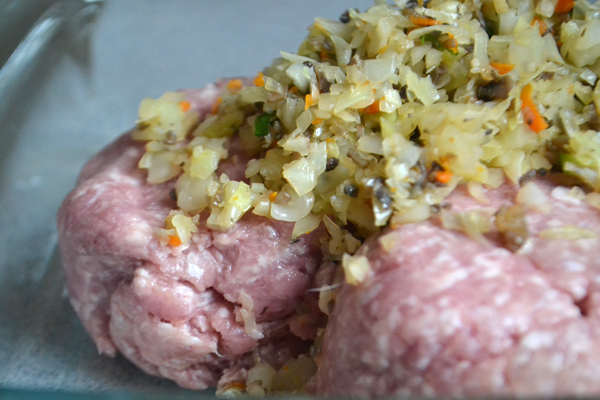 This ready to go. You can even do this in advance and stick it in the fridge.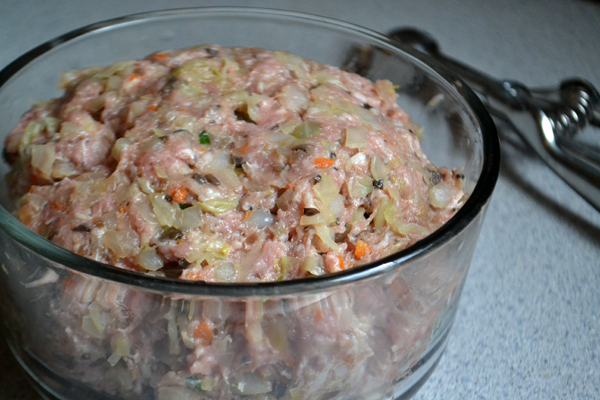 Before you begin filling wrappers, be sure to cook up a little tester bite. If you like it, you are good to go! If not, add any flavors you like, adjust the salt.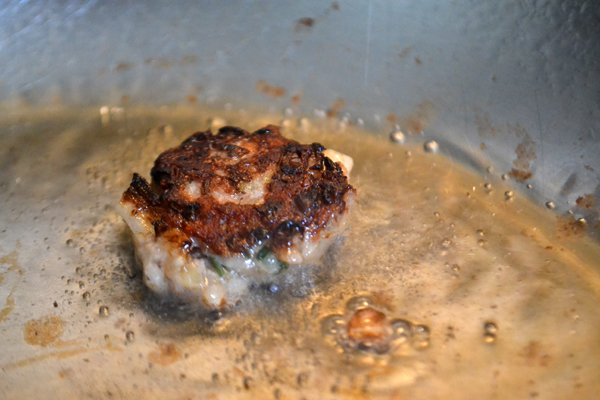 Okay… that is really yummy! maybe a little salt.
Folding your Wontons
There are many ways to fold a wonton. You can fold these any way you like. The idea is simply to produce a little meaty filled bite with no air bubbles and a good seal.
Here is the star shape.
Place a teaspoon or 2 of filling in the center of a wrap. If you have a small portion scoop, that works great.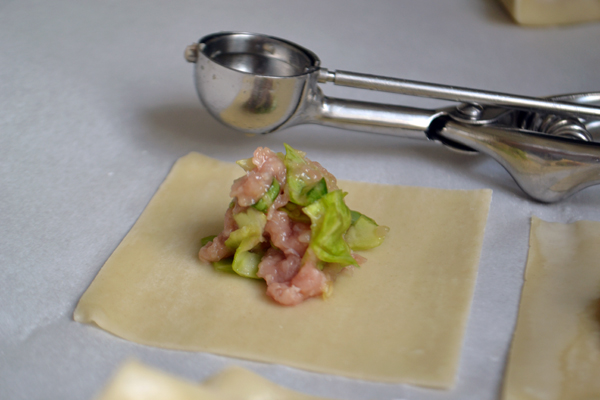 Using your finger or a brush, apply a little water or egg wash to the edges to help then seal.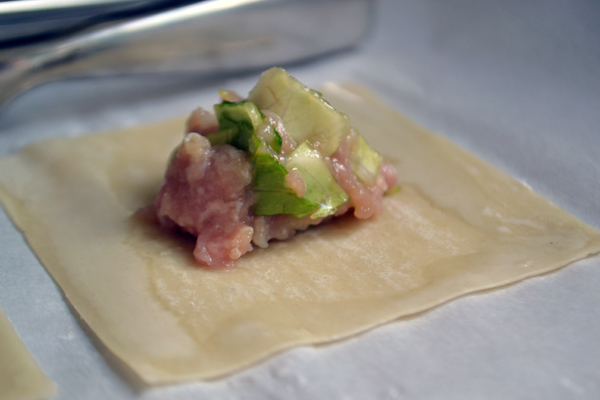 Pull two opposite corners up to meet each other.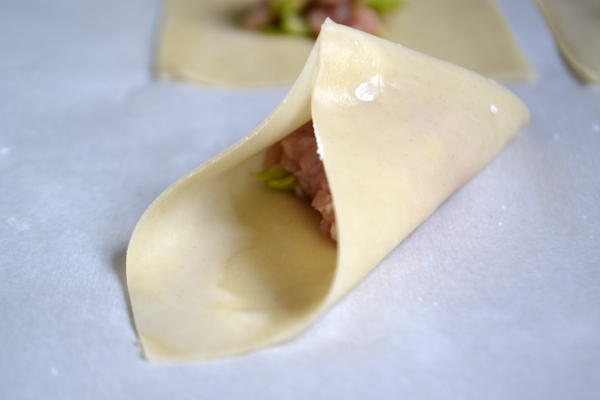 Now pull up the remaining two corners so that all corners meet. Gently press out air bubbles as you press the edges and corners together.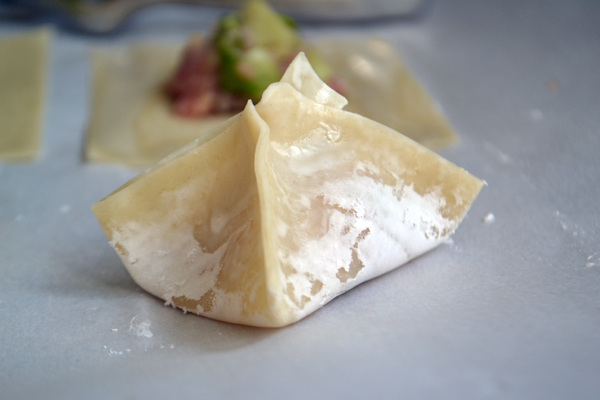 Line you your wontons in a single layer on a parchment covered cookie sheet to freeze. When they are frozen, you can transfer them to freezer bags for quick and easy meals.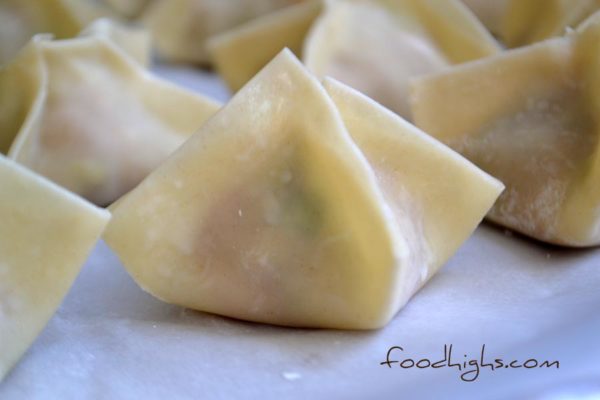 In a freezer bag ready to go!
You will sooooooo thank yourself when you are ready to eat these and they are waiting in the freezer for you.
Somehow some gluten-free wontons got mixed up in here…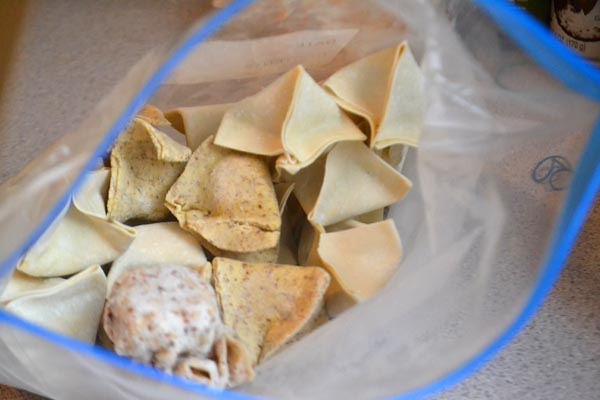 When you are ready to eat these, they can be baked, boiled, steamed or fried.
These are fried and placed on a paper towel to drain.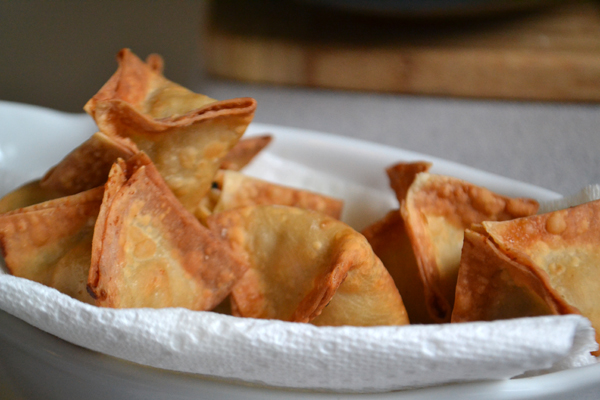 Here is a baked batch. Also Yummy.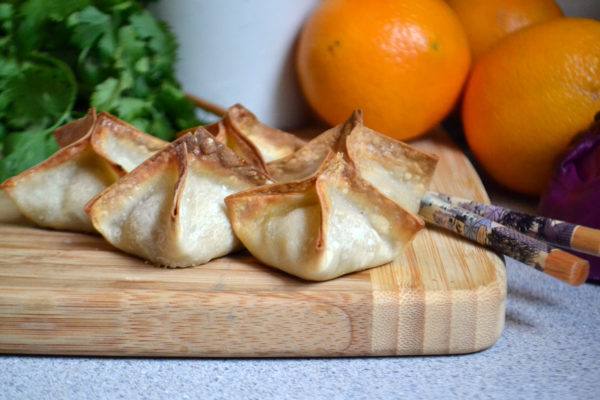 Easy Pork and Cabbage Wontons
Make and freeze a ton of these for easy snacks and meals anytime you want!
Parcooking your veggies before combining the them with the pork makes for a nice meaty bite without any crunchy bits to tell the family there are veggies in there. To save time, you can make extra veggie base and freeze it in portions. Later add ANY diced or ground meat to vary flavors. 
Filling Yield: About 60 wontons @ 2 teaspoons per wonton (use less filling for more wontons)
Ingredients
2 cups cabbage, minced
1 small to medium sized carrot, grated
cooking oil (see notes below)
2 oz mushroom, minced (baby bellas work great! use a mushroom you like)
1 shallot, minced
2 garlic cloves, minced, or 1 tsp garlic powder
2 Tbsp soy sauce, or liquid aminos
sesame oil, a few drops
2 green onion, diced
1 lb, about 2 cups ground pork
salt, to taste
wonton wrappers
Method
Steam cabbage and carrot combined until just tender and place into a large mixing bowl. Allow moisture to evaporate; You want cabbage that is tender and not wet.
Saute mushrooms and shallots in 1-2 tbsp cooking oil until tender. Add garlic, cook just until fragrant. Stir in coconut aminos and sesame oil while still on the heat and cook for just a couple of minutes to allow flavor to infuse and water to cook out. Add to bowl with cabbage and mix. Allow to cool just a bit before adding pork.
Add green onion and ground pork to the bowl and mix to thoroughly combine
Pinch off a bite-sized piece of the filling and cook it. You can saute it in the same skillet you used to cook the mushrooms. Taste it. Adjust seasonings if needed. If you like the flavor, your filling is done!
Filling Wontons
Fill each wonton wrapper with a small amount of filling, 1-2 tsp. Fold the wrapper anyway you like, being sure that the filling is completely covered, air bubbles pressed out, and edges sealed. Use an egg wash or water applied to the edges from the tip of your finger or a brush to help them seal.
Freeze wontons in a single layer on a parchment-lined cookie sheet. When frozen, transfer to freezer bags.
When you are ready to cook and eat your wontons, cook from frozen:
Deep fry: in a pot of cooking oil ( about 350°), deep fry in until golden brown and cooked through, then drain on paper towels.
Bake: wontons on a lightly oiled cookie sheet. Lightly spray wontons with oil. Bake at 350° until cooked through and browned.
Steam: place on cabbage leaves in a steamer, cover and steam until cooked through, for dumplings
Drop into boiling broth for super fast wonton soup. Cook from frozen for about 7 minutes or until cook through.
Notes:
Use very little oil for sauteing mushroom mix. Water can be added and cooked off if needed for finish cooking. For deep frying, use enough to cover wontons, placing a few at a time in the oil and cooking till browned and cooked through. If using organic palm shortening or coconut oil, not over 350°.
If you like this, please Pin, Share, and Like
[pinterest] [fblike] [tweet]