Paleo Pasta Dough for Gluten-Free paleo Wonton Skins
Because the original wonton wrapper is basically formed from flour and egg, it makes sense to look for flour blends and doughs for a paleo-friendly alternative. This recipe from Paleo Cupboard for Paleo Pasta  works very well as a wonton skin for steaming or cooking in a broth for soup. If you would like to try this method, follow her recipe for best results, then click here to see how it works as a wonton wrap.
Of course, this is not a wheat flour wrap, it will have the same taste and texture as wheat, but it works! The texture is pleasant, not gummy. The subtle almond flavor works very well in an asian dish.
The test images in this post do not do the proper justice the pasta. Here is the beautiful pasta made with blanched almond flour from Paleo Cupboard. If you have a nut allergy, she recommends using sesame flour to replace the almond flour.
Folding Wontons
You can fold these anyway you like. The idea is simply to produce a little bite of dough wrapped around a filling with no air bubbles and a good seal. If you use the original recipe, a pasta machine may work for you. I used whole almond flour which altered the consistency just a bit. My pasta machine did not want to roll these out.
Here is one fold option.
Pinch off a small piece of dough and roll into a ball. It is a good idea to roll all of your balls before you get oil on your hands. Place one dough ball onto a small piece of parchment lightly sprayed with coconut oil. Place a piece of plastic wrap over dough ball. Flatten with a tortilla press or the bottom of a bowl or plate. You can then use a rolling pin to get a thinner skin and good shape. This method makes folding your wonton easy.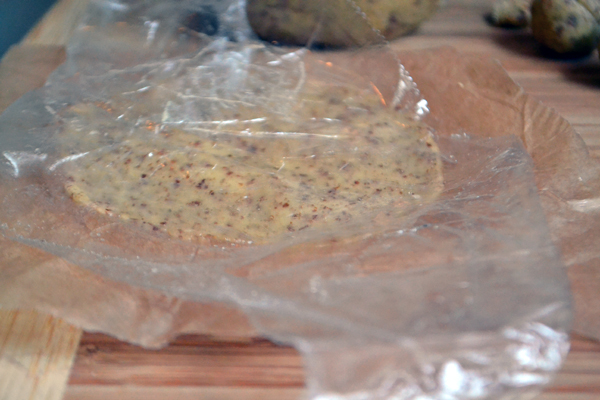 Just remove the plastic wrap. Place a teaspoon or two of filling in the center.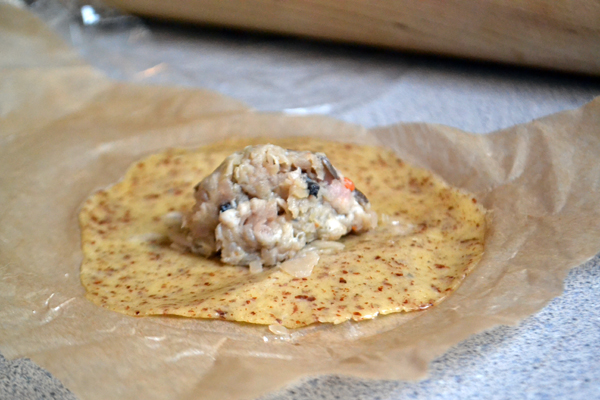 Fold each wonton in half. You can use the parchment to help you fold the kin over in half. Press the edges together to form a tight seal. Folding up the rounded edge over one side and then pinching it together, fluting the edge, will help the wonton stay sealed.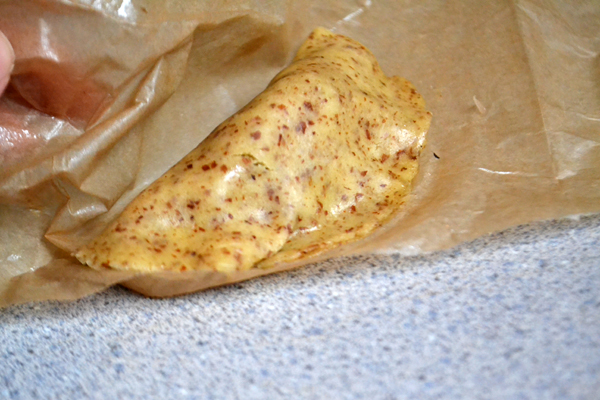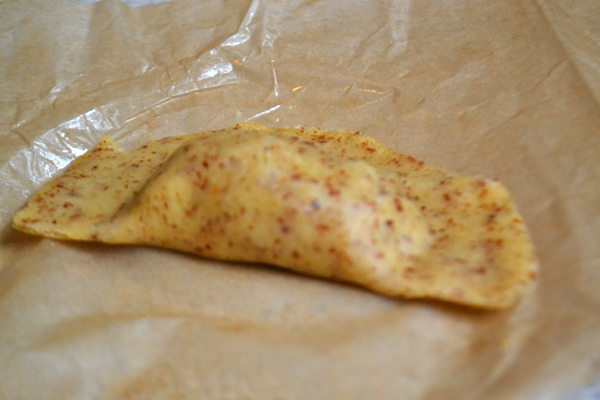 Any way you like to roll and fold these will be fine. Just be sure to get a good seal, pressing out any air bubbles.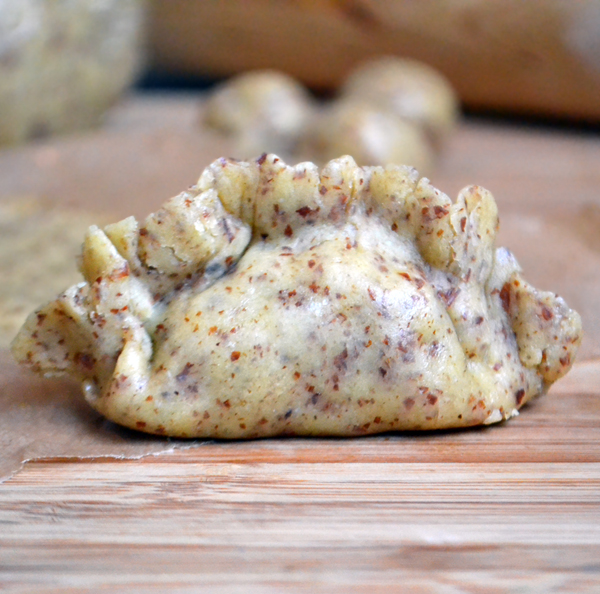 Cook immediately or freeze in a single layer, then transfer to a freezer bag for quick and easy meals whenever you like.
Kitchen Lab
Testing for:
bake-ability
boil-ability
steam-ability
fry-ability
and definitely, for convenience, freezability
Each picture to follow shows a wonton cooked fresh on the left, and one cooked from frozen on the right. Being able to make wontons in advance and freeze them is important for my family. With frozen wontons, we can throw together a soup, snack, or meal in minutes.
Comparing specialty foods to the traditional or standard version is not always fair. I am not a fan of fake meats, or calling things what they are not. Crispy Beer-battered Tofu is delicious! Serving them as "Fish" Sticks just disappoints me. So to be fair, I am only judging these wraps for what they are and how they work. Not as a "replacement". (even if its used that way)
Here are my Steam-Boil-Bake-Fry results.
Baked
This dough bakes like a pie crust. 'Holds up well to a long bake time. With some patience, you can easily get a raw filling cooked through without overcooking the skin… crust.
Note: I used a whole almond flour. The result may be a bit different using blanched almond flour.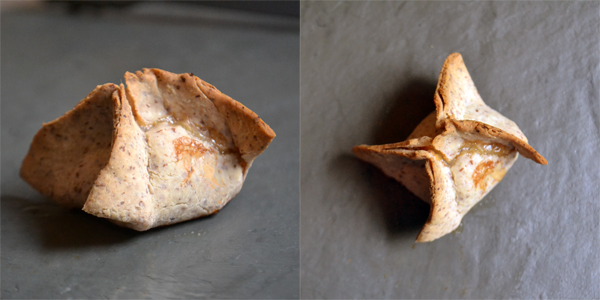 Boiled
This dough is a pretty good option for soup dumplings. Thin out the dough as much as you can. If your filling is meaty, like a meatball that could hold together on its own, then even a little tear here and there should not hurt. It will cook through, leaving with with a textural contract between the pasta and the meat filling.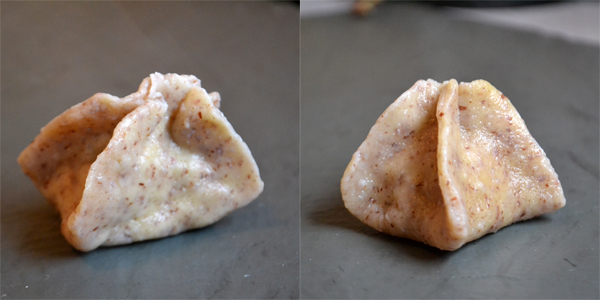 This dough will expand a bit. If you want a thin dough, follow the Paleo Pasta recipe at Paleo Cupboard, and roll out your skins as thin as you can get them.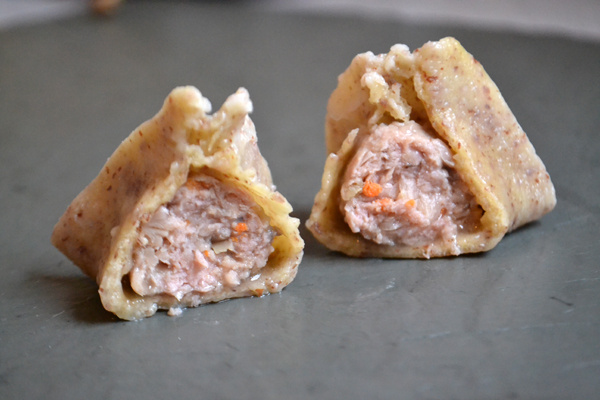 Steamed
These work as steamed dumplings. They are hearty but not too chewy. You can cook them long enough to get the interior cooked through without compromising the pasta wrap.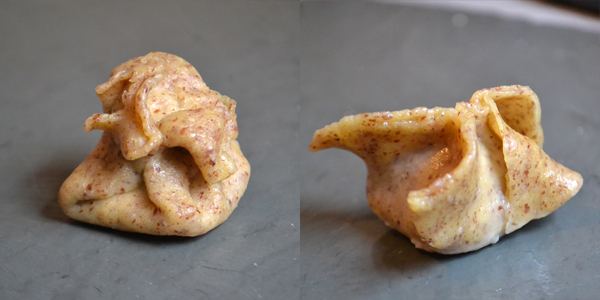 Fried
If you fry these, be sure to use a flat fold. Using the star fold (shown here) leaves a raw filling still uncooked before the outside browns. If you are using an already cooked filling, it should be fine.
This reads more like a little fried pie than a crispy wonton.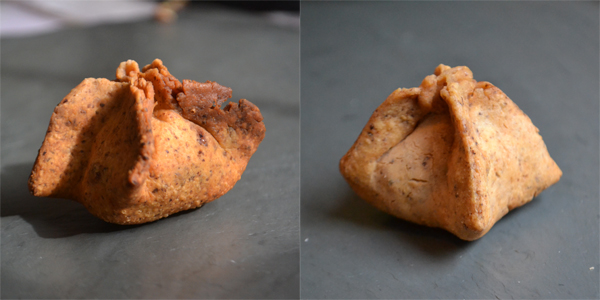 Overall Results and Suggestions
When using this method as a wonton wrapper:
While not identical to a wheat flour dough, it does offer a delicate flavor, and holds up holds up very well to all cooking methods.
For boiled and steamed wontons the texture is pleasant, not gummy. The subtle almond flavor works very well in an asian dish.
For fried wontons, be sure to use less raw filling and a flat fold so that it cooks through before the crust browns. Fried and baked wontons using this dough result in more of a wrapped meat pie taste and feel than a wonton. Nice bite, but not crispy.
Kitchen Lab
This is my little endeavor to find delicious options for wonton wrappers for specific diets – gluten-free, vegan, and paleo. These four methods received the same treatment. A star fold. Baked. Boiled. Steamed. Fried. Frozon. Click on each link for notes.
(will be linked up as soon as all posts are published… soon!)
Prepared Coconut Wraps
Paleo Pasta Dough
If you like this, please Pin, Share, and Like
[pinterest] [fblike] [tweet]