Roasted anything (almost anything) is so good! Crunchy browned bits, sweet caramelization, salty buttery unciousness… what's not to love? Each season offers its own bounty of roastable produce. In autumn and winter having the oven cranked up to 400° or 450° is a bonus. You get delicious food AND a warm fragrant kitchen. So in addition to all those lovely squashes, this is what is getting frequently roasted in the fall.
[pinterest]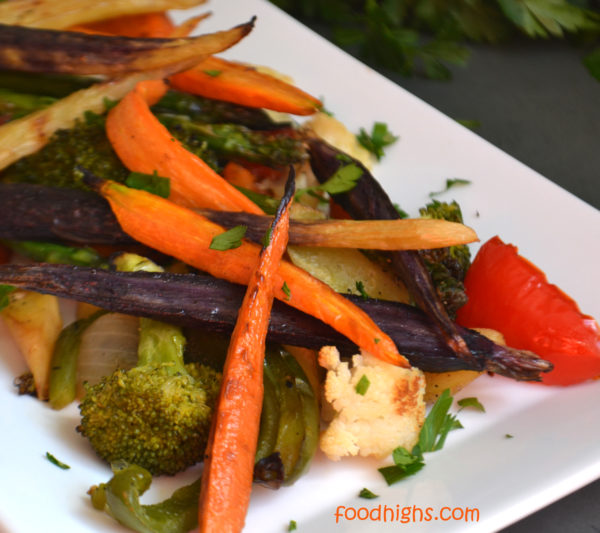 Mise En Place
Easy quick way to wash veggies – throw them ALL in a tub in the sink filled with water.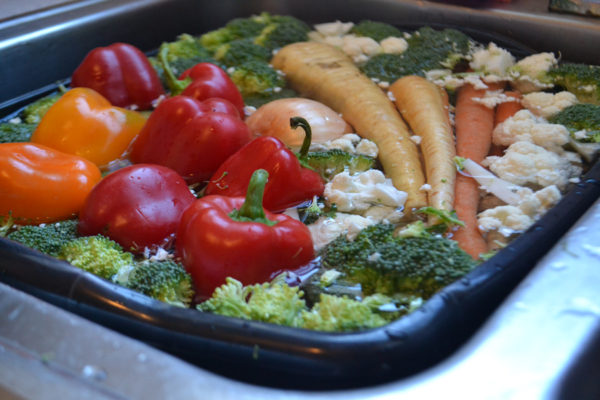 Cut everything into uniform bite-sized pieces. Drain and dry pieces. On a beautiful fall day, they go on paper towels in my window while I continue prepping in my veggie assembly line.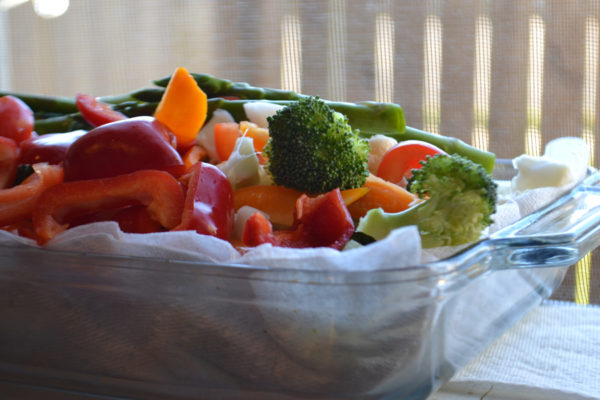 Veggies get tossed with oil. Add salt and pepper, to taste. Go light and add more when hot and roasted if you like.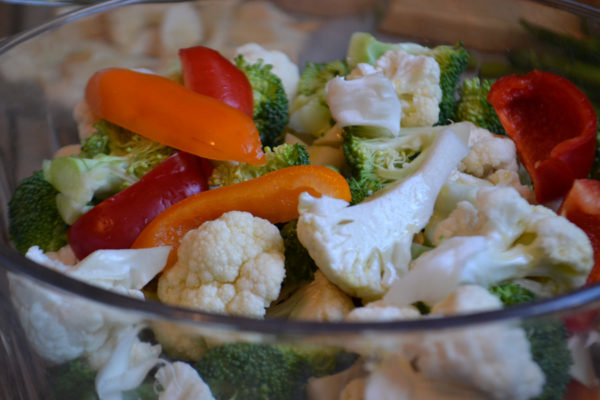 Clearly I can not pour oil and snap a picture at the same time.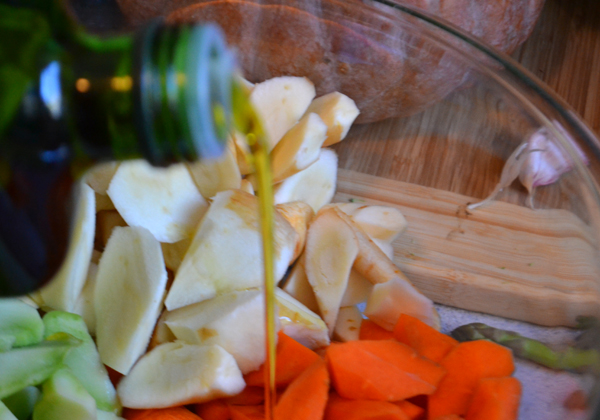 Broccoli florets, cauliflower, bell pepper, and one onion all go together on a sheet tray. I also mix in 2-3 garlic cloves. Leaving them whole allows them to infuse flavor into the oil without quickly burning. You can remove them before serving.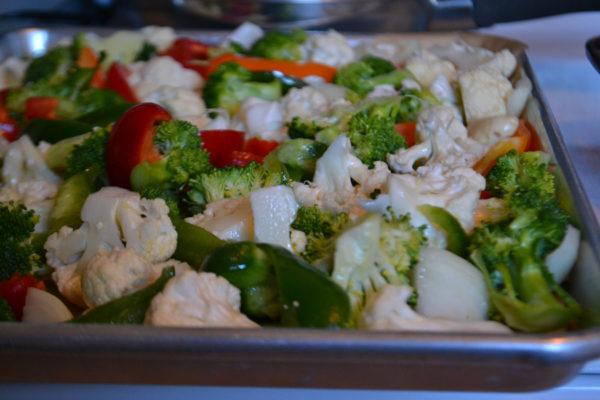 Uniform cut carrots, parsnips and broccoli stems, with onion and garlic cloves, go on another sheet tray. Can you see the lovely thyme sprinkled over. 🙂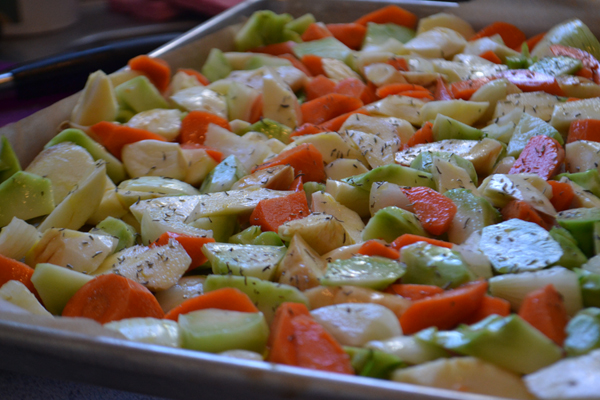 Softer, thinner veggies, like asparagus and these baby carrots sliced in half go on a separate tray for less cooking time.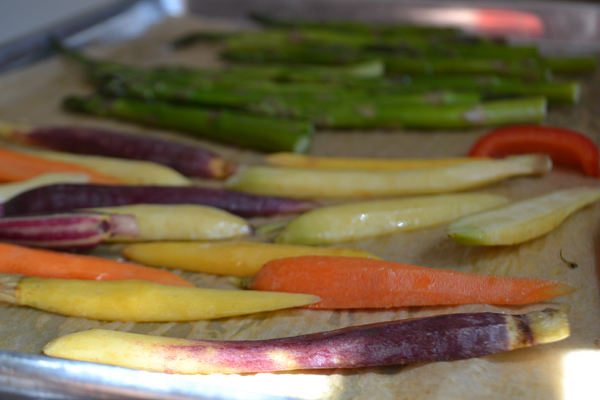 After roasting and a couple minutes broiling at the end, we have deliciousness.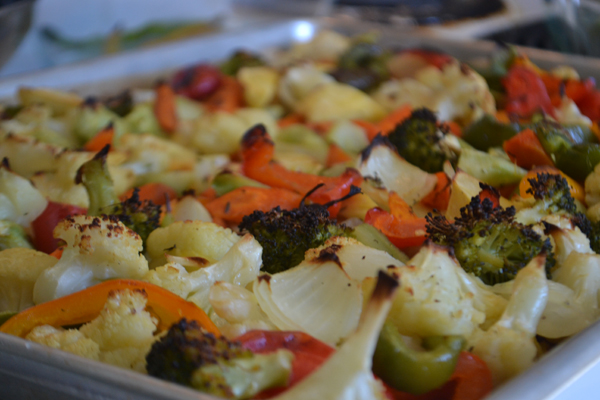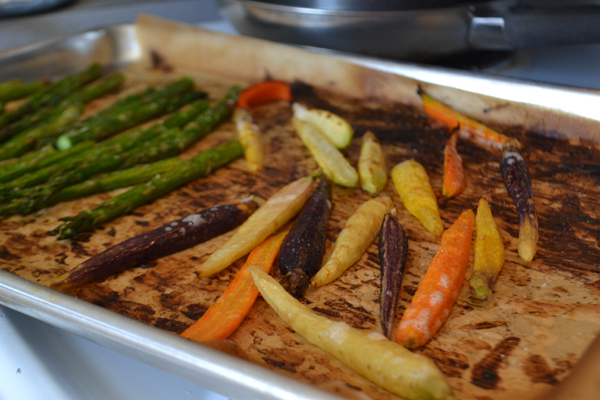 Plate them up. Splash on a little lime juice and garnish with parsley, if desired. Enjoy!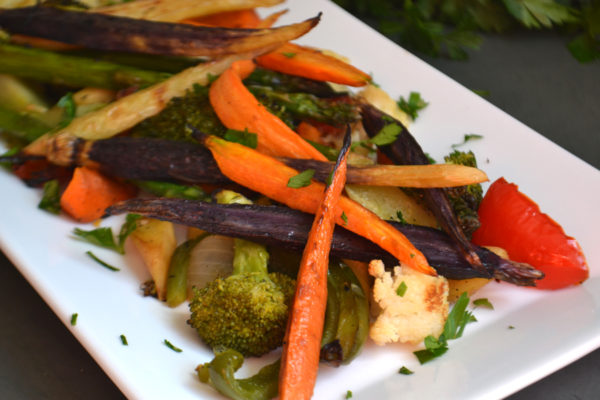 Autumn Roasted Veggies
This batch is going to a dinner with friends so it is a large batch! Feel free to reduce this to the amount your family will reasonably eat. 
Ingredients
one head broccoli
one head cauliflower
one small bag of red, yellow, orange, and/or green bell peppers, or just 2 or any color you like
2 small onions
4-5 cloves garlic, smashed and peeled. but left whole
3-4 carrots
3-4 parsnips
one bunch asparagus, if available
a few baby rainbow carrots to pretty up the top, if available
olive oil
dried thyme, or any herb your like, rosemary is also delicious
optional: splash of lime juice (from about 1/2 lime)
slat and pepper, to taste
parsley garnish
Method
Set oven to 400° or 450°, depending on how hot your oven gets.
Wash veggies. You can throw them all into a tub full of water in the sink, restaurant style.
Cut your veggies into equal bite-sized pieces. Keeping the size as uniform as possible allows for even cooking.
Separate veggies which may need less cooking time. Thin sliced soft veggies like asparagus will cook more quickly than hearty root veggies like carrots. Be prepared to use your tongs to remove anything that is done first.
Toss veggies in olive oil, just enough to lightly coat. It is okay, even better, if the oil layer is not perfectly even. Dry bits here and there are good. Throw garlic cloves in. They will help to infuse the oil with flavor. Lightly salt and pepper. Sprinkle a bit of thyme over the veggies.  Spread in an even layer onto a cookie sheet covered with either aluminum foil or parchment. I prefer parchment but watch it closely! In a hot oven, an end of parchment sticking up could burn.
Roast veggies until they are just tender and browning on top. Soft veggies will take about 20 minutes; tough veggies may take up to 45 minutes. As long as you do not catch parchment on fire, you can broil the tops for the last couple minutes.
Remove from oven. To brighten to dish, you can splash juice from about 1/2 lime over the top.  Place veggies on serving tray or in a dish and sprinkle fresh parsley over the top.
Enjoy!
If you like this, please Pin, Share, and Like
[pinterest] [fblike] [tweet]