This is an easy Build-Your-Own dinner for all the different dietary needs in your clan. Traditional Puttanesca is pretty much vegan, except for the anchovy. And it is pretty much Paleo, except for the pasta.
This dish is a perfect weeknight meal because it is …
Fast! Your sauce can be made faster than the time it takes to cook pasta!
Easy! It is meant to be kept simple, bringing together only a few ingredients.
Fresh! This is a decidedly fresh bright flavorful sauce.
Bonus…
Puttanesca fun facts
Puttanesca originated in Naples.
Puttanesca means "Whore's Pasta" or "in the style of the whore"… I do not know why… not sure I want to know why.
Common pitted black olives may actually be green olives died with ferrous glucomate… not delicious. Use the best olives you can find.
Simple Pasta ala Puttanesca 
This gorgeous dish is a NY Times feature.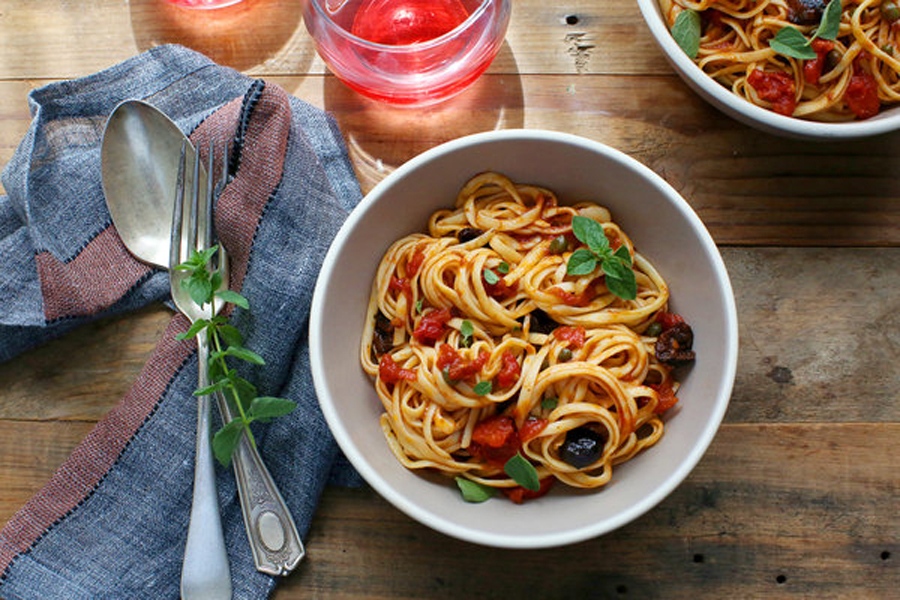 Puttanesca as a multi-diet-friendly Build-Your-Own Family Meal
It is so easy to make this simple dish paleo or vegan!
Prepare the following in appropriate amounts for your family.
Pasta – If you have both pasta eaters and grain-free eaters at the table, serve "pastas" separately and allow each person to stir in their own sauce. For the traditional pasta eaters, reserve a little of the starchy pasta water kept hot to help the pasta and sauce to marry.
Alternative pastas: spiralized veggies, like zucchini, carrots, and parsnips will work. For the paleo diner, simple pan seared organic free-range chicken breast would also work. Chicken breast can even be sliced into "noodles". Because this dish is pretty much sauced pasta, using only chicken as a pasta substitute may require a lot of chicken. Consider an all veggie or veggie-chicken combo. If you do not have a spiralizer, you can use a vegetable peeler or mandoline to create thin slices, and then cut those into long linguine shaped pieces.
For the Sauce!
Check out this clip from Huffington Post's Theo Randall… it will get you inspired to make Puttanesca and you can see how simple it will be to make any substitutions you like!
Optional: Grain Free Spiralized Veggies
There are tons of spiralizers on the market. Although a vegetable peeler and chef's knife works great too. If you like veggie "pasta" and plan to eat it frequently, then investing in a spiralizer will save you time.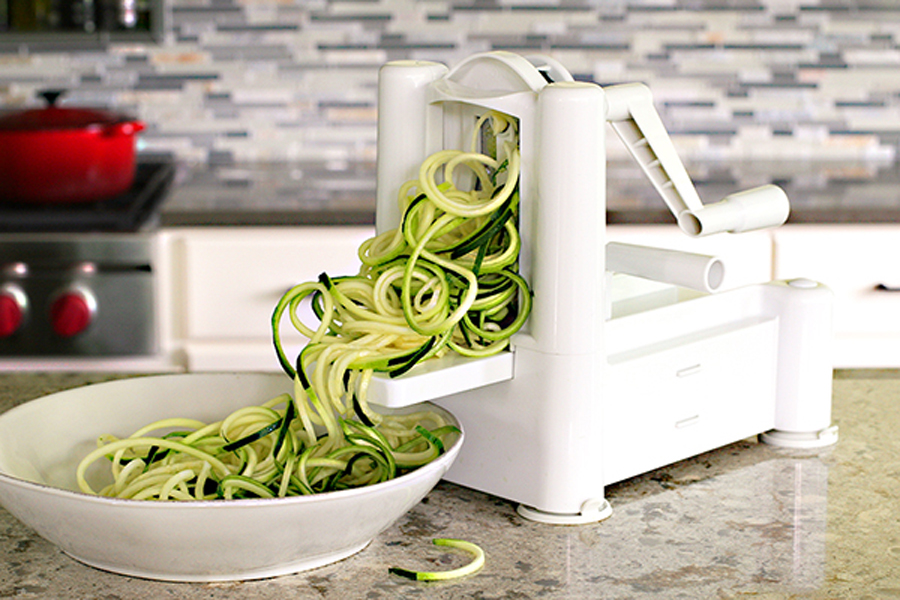 Image source: Raisin and Fig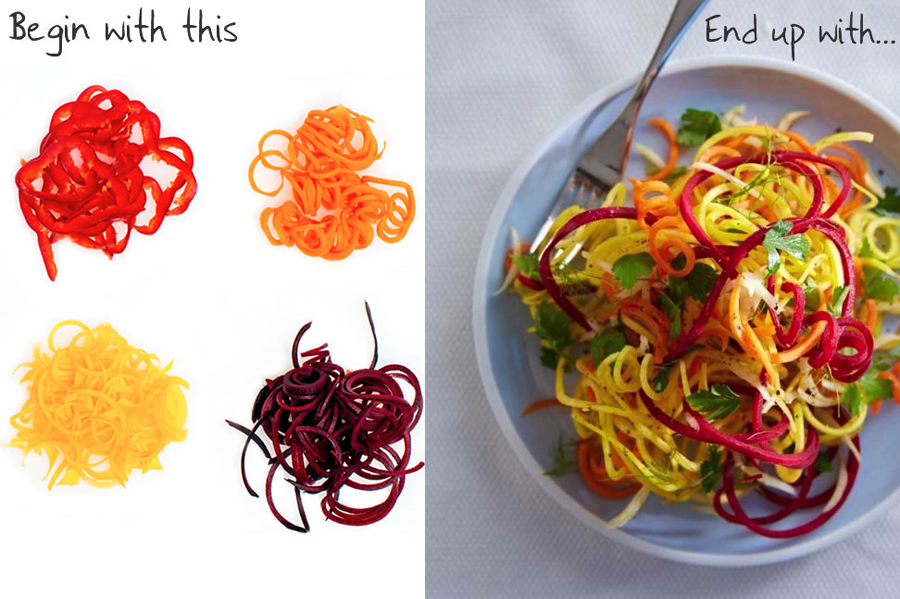 Image Source: What's In Today
Build Your Own Puttanesca
Starting with a good authentic simple Puttanesca recipe, like this one from Huffington Post's Theo Randall, it is easy to veganize or paleotize to feed everybody from one fast and easy dish.
This recipe yields four starters or two main course dishes. Multiply and adjust as needed.
Ingredients
350g (about 12 ounces) good quality Spaghetti or spiralized veggies or pan seared chicken – two servings worth
3 tbsp of olive oil
1 clove of garlic finely sliced
10 pitted Taggiasche olives, or any really good italian olive – use what you like
1 tbsp of small best quality capers
Pinch of dried chilli (red chili flakes)
10 Datterini (grape or cherry) tomatoes cut into quarters (if you desire fresh tomato pieces)
6 anchovy fillets in olive oil, or for a vegan option you can use umeboshi plum paste to taste
500ml (about 17 ounces) jarred diced tomatoes with their juice or tomato Passata (or sauce)
Pinch of dried oregano
1 tbsp of chopped flat leaf parsley
black pepper, to taste
Method
Prepare your pasta. If using pasta, cook according to package directions. Spiralized veggies can be quickly steamed or sauteed in a little water or oil until tender. Do not let them cook too long and get mushy. Chicken can be sliced thin (easiest when half frozen) and quickly cooked in a lightly oiled skillet or even in some of the sauce (or cooked any way you like and topped with sauce).
To make your sauce: into a saute pan add olive oil, then garlic, olives, capers, pinch of dried chilli and the cut up tomatoes. If you are using anchovies, melt them in too, breaking them up so they blend in. If using umeboshi plum paste, stir that in, to taste. (Go easy, adding a tiny bit at a time so it does not become too salty.) Cook gently for just a few minutes so the garlic does not burn and become bitter. Add tomato paste and oregano. Cook for a few minutes more. It should be fragrant and fresh.
Traditional Puttanesca: Toss pasta with sauce in the pan. Add parsley. Add a little bit of the pasta cooking water to help everything come together. Serve and enjoy.
Puttanesca as a Build-Your-Own meal for multiple diets: Allow each person to fill their bowl with either pasta, veggie strips or spirals, and/or chicken, depending on dietary needs and preferences. Add some sauce and parsley to each bowl. Add pepper, if desired. Salt is also to taste. With the acidity of capers and olives, you may not need salt at all.
Enjoy!
If you like this, please Pin, Share, and Like
[pinterest] [fblike] [tweet]