Among my favorite food jobs are definitely those which involve kids. The lightbulb moments when they learn things like… what is in their food, where it comes from, what it does in their bodies, and how brilliantly they can be in preparing their own food. That's the best. When they decide, on the spot, they could not only feed themselves, but maybe all the world!
'Feeds my soul.
This week we are exploring the history of South Carolina foods with South Carolina kids. Where does it all come from? … shrimp and grits, cornbread and collard greens, mac and cheese, hoppin' john, frogmore stew (no frogs harmed in the making of…), those traditional comforting southern home foods we so dearly love.
Hoppin' John Rice Bowls
Today, it is all about the rice and beans. Specifically, Carolina Gold Rice and Sea Island Red Peas. Hoppin' John with black eyed peas from the grocery store is widely enjoyed, but Hoppin' John with the the original cowpeas and nutty delicate gold rice, takes it to a sublime level. Flavors built with Anson Mills foods from heirloom seeds that were once thought lost to antiquity, but then found! … and then grown again all within the last few years… well, this is a beautiful thing. Now we get to indulge in a stick-to-your-bones savory dish which is much more like the original dish eaten by skilled African farmers and early American settlers. Through this dish, we get to connect to our history. What a delicious taste of history!
No, I am not being paid by Anson Mills. They do not even know who I am. But I am going to put this link to their site right here, in hopes my kids and anyone interested, will check them out and learn a little more about the history of these delicious foods.
To get kids even more invested, we prepare components of the dishes separately and let each student-chef build their own bowl. At the same time, they are learning the history of each ingredient and how it came to be on American plates.
Rice bowl Add-Ins
Ham, onions-celery-carrot sauteed in olive oil (mirepoix), Sea Island Red Peas slow cooked, and fresh chopped tomato.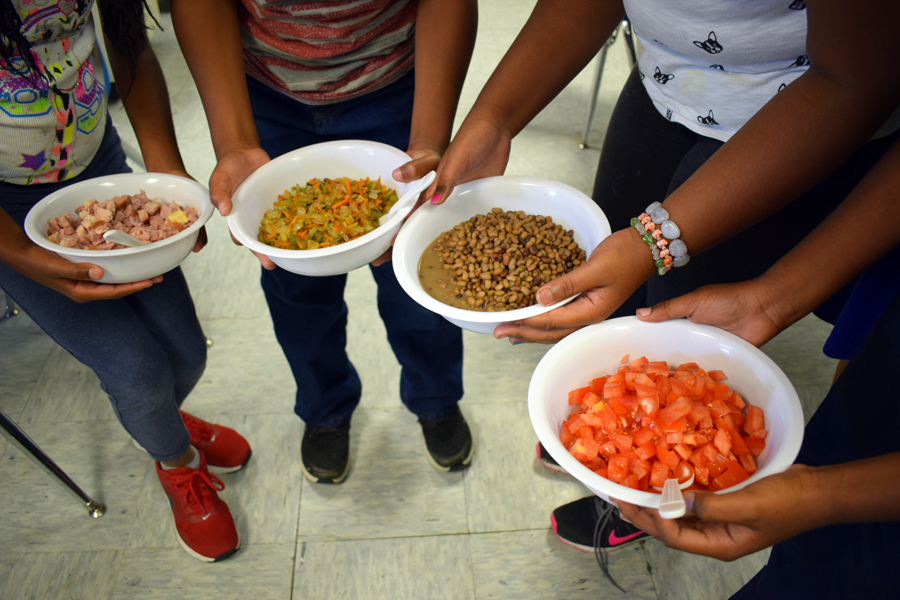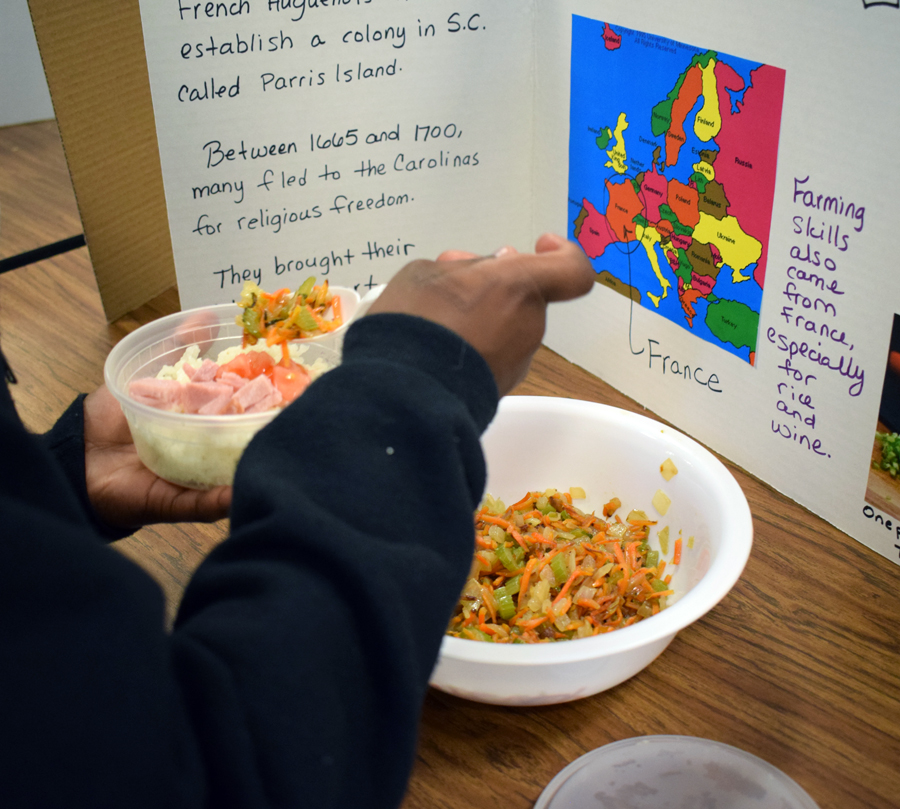 Build Your Own Hoppin' John!
With Carolina Gold Rice and Sea Island Red Peas, plus a few flavor add-ins all prepared and ready to go, students each build their own Hoppin' John. It is so easy to customize lunch – leave out allergens, make it vegan, whatever you like!
Students make bowls to their own liking. The bowls are a little big… room for mixing!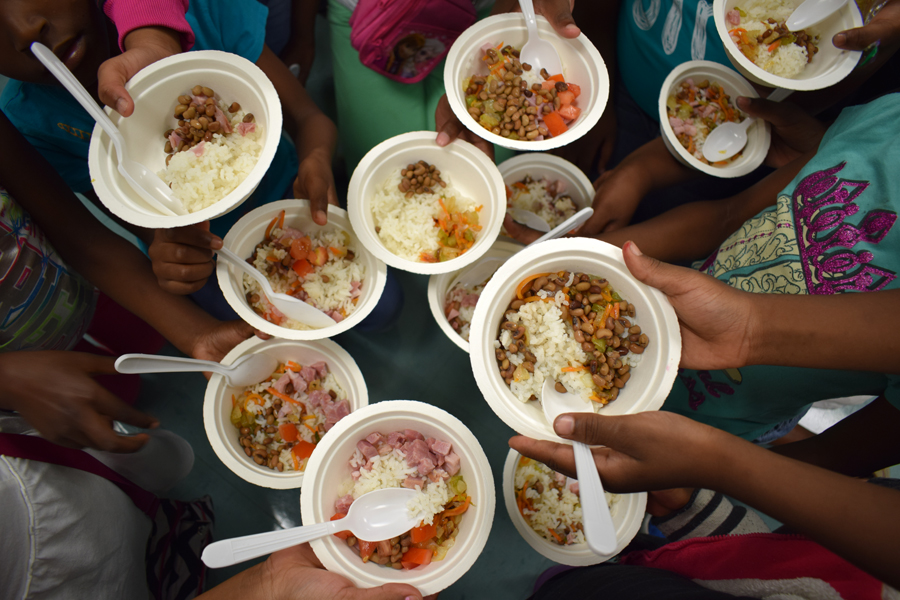 Delicious food is precisely 93.89% more delicious when young cooks make it themselves.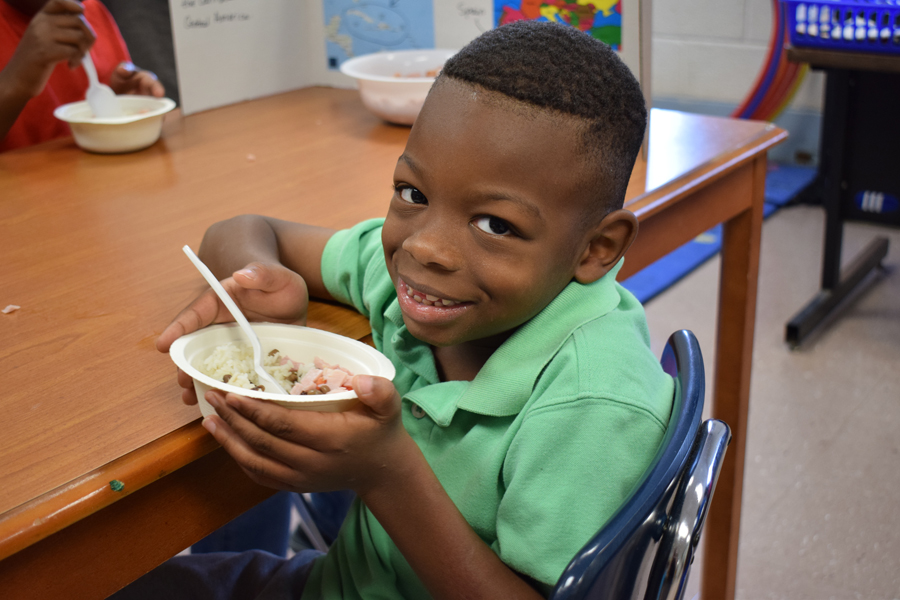 Firsts, seconds, all gone! So good!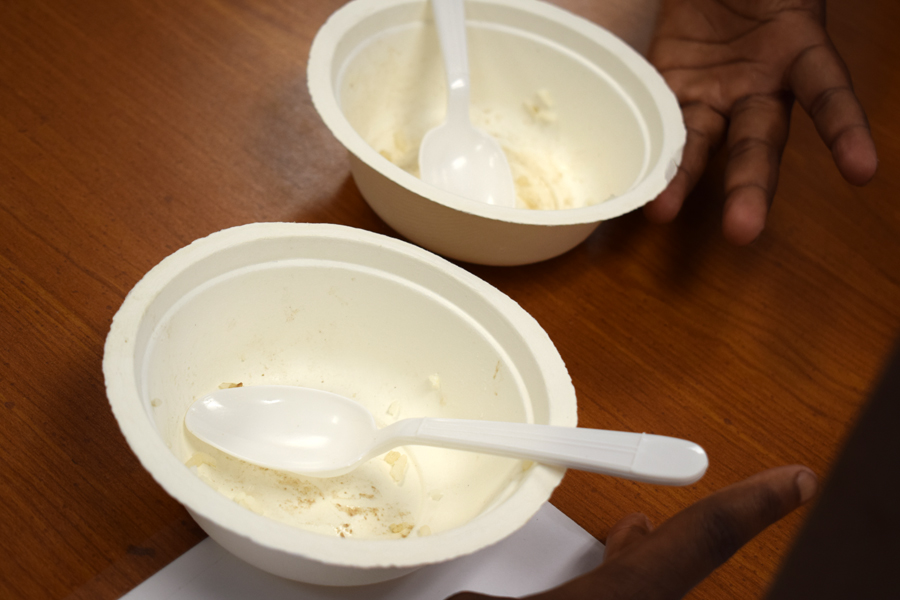 Documenting through visual art… on plates… because it's fun.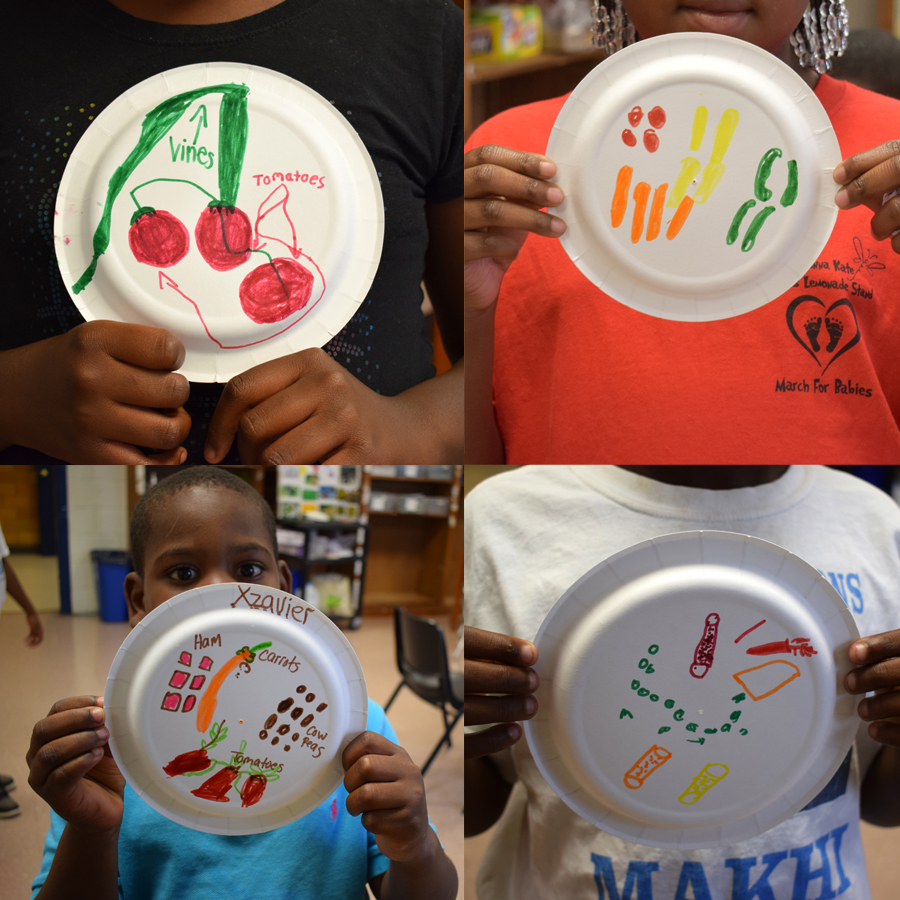 How to Make Carolina Gold Rice
To follow is the recipe straight from Anson Mills site. Read more here.
However, with no oven in the classroom, we basically just use step two. Bring water to a boil. Add well rinsed rice, and cook to tender, then strain. That's it! So delicious and could not be easier. (Frankly, I do not bother with the oven at home either, especially in summer.) And when cooking with kids, I leave out the butter too so they can really taste the flavor of the rice. They ask for seconds every time.
Ingredients:
6 cups spring or filtered water
Fine sea salt
7 ounces (1 cup) Anson Mills Carolina Gold Rice
2 to 3 tablespoons unsalted butter, cut into small pieces
½ teaspoon freshly ground black pepper
Method
 Adjust an oven rack to the middle position and heat the oven to

300 degrees.

Line a rimmed baking sheet with parchment paper.
 In a heavy-bottomed 3½-quart saucepan, bring the water and

1 tablespoon

of salt to a boil over high heat. Add the rice, stir once, and as soon as the water returns to a boil, reduce the heat to low. Simmer gently, uncovered, stirring occasionally, until the rice is just tender with no hard starch at its center, about 15 minutes. Drain the rice in a fine-holed footed colander and rinse well with cool water. Shake the colander to drain off excess water.
 Distribute the rice evenly on the prepared baking sheet. Place the baking sheet in the oven and allow the rice to dry for about 5 minutes, gently turning the grains from time to time with a spatula. Dot with the butter and sprinkle with the pepper and salt to taste. Return the baking sheet to the oven and allow the rice to warm through, occasionally turning the grains, until the butter has melted and the rice is hot, about 5 minutes more. Transfer to a warmed serving bowl and serve immediately.
Learn More!
One young cook today requested a YouTube video. This may be a bit longer than he had in mind, but its good!
A shorter video. One correction to this clip… Carolina rice production is back!!! Now honoring, and not exploiting the skilled African rice farmers who gave us this gift.
Keep learning!
From Serious Eats – The Historic Problem with Hoppin' John
Sean Brock Recipe! Hoppin' John with Smoked Oysters (Yep… he uses these foods in his famous restaurants)
Chef Benjamin Dennis – Gullah Geechee Culinary Artist
From NY Times – Hoppin' John Smiles on the New Year
From SC Public Radio – A Lost Rice Variety — And The Story Of The Freed 'Merikins' Who Kept It Alive
Happy History Tasting!