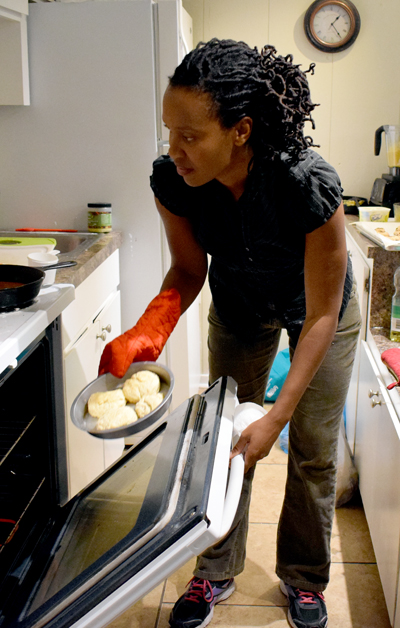 These buttery biscuits are as delicious as promised.
… by both my friend Sybil, who recently hosted a Vegan Foods demo and made these yummy baked delights (preciously posted here) and by The Minimalist Baker, who developed the recipe. Even if you are feeding meat-eaters, they will not miss a thing!
Jeff Smith, aka The Frugal Gourmet, used to say that if you still buy biscuits in a can, he is ashamed of you.
Why? Because homemade biscuits can be so easy and fast to make. These vegan biscuits fit that bill. Without only a little effort, they turn out great! Buttery, fluffy, with a soft crumb on the inside, and slightly crispy on the outside, what's not to love?
'Worth the few minutes it takes to make dough.
To follow is the Vegan Buttery Biscuit Method and Recipe from Sybil's Vegan Foods Demo
Check out Sybil's Demo Posted Here with Louisiana Spicy Fried Chicken Style Seitan
You might also like these recipes for vegan Mac and Cheese and Chocolate Chip Cookies. (links coming soon)

Quick Biscuit Method as easy as…
Mixing, barely kneading, cutting the dough.
Panning, buttering (yum!), baking the biscuits.

And that's it!

Vegan Buttery Biscuits
From Minimalist Baker. These biscuits served with Sybil's Popeye's-inspired Vegan Chicken, create a happy marriage of texture and flavor. Check out the Minimalist Baker Biscuit post HERE.
Ingredients
1 cup (240 ml) unsweetened PLAIN almond milk
1 Tbsp (15 ml) fresh lemon juice
2 cups (272 g) unbleached all-purpose flour
1 Tbsp (7 g) baking powder
1/2 tsp baking soda
3/4 tsp sea salt
4 Tbsp (56 g) non-dairy, unsalted butter (I use Earth Balance)
Instructions
Preheat oven to 450 degrees F (232 C), and add lemon juice to almond milk to make "vegan buttermilk." Set aside.
In a large mixing bowl, whisk together dry ingredients.
Add cold butter and use fingers or a pastry cutter to combine the two until only small pieces remain and it looks like sand. Work quickly so the butter doesn't get too warm.
Make a well in the dry ingredients and, using a wooden spoon, stir gently while pouring in the almond milk mixture 1/4 cup at a time. You may not need all of it. Stir until just slightly combined – it will be sticky.
Turn onto a lightly floured surface, dust the top with a bit of flour and then very gently turn the dough over on itself 5-6 times – hardly kneading.
Form into a 1-inch thick disc, handling as little as possible.
Use a 1-inch thick dough cutter or a similar-shape object with sharp edges (such as a wine glass) and push straight down through the dough, then slightly twist. Repeat and place biscuits on a baking sheet in two rows, making sure they just touch – this will help them rise uniformly. Gently reform the dough and cut out one or two more biscuits – you should have 7-8.
Next brush the tops with a bit more of melted non-dairy butter and gently press a small divot in the center using two fingers. This will also help them rise evenly, so the middle won't form a dome.
Bake for 10-15 minutes or until fluffy and slightly golden brown. Serve immediately. Let remaining biscuits cool completely before storing them in an airtight container or bag.
Enjoy!
If you like this, please Pin, Share, and Like
[pinterest]
[fblike]
[tweet]