This fast soup tastes slow cooked, because it uses a cheat. Veggie bouillon freezer cubes make for fast work with slow developed flavor. It has a natural sweetness from carrots and all the flavor-enhancing layers are in the cubes already. As if that were not enough (but wait! there's more!) it is packed with great nutrition and the option of low or no salt!
You can make your soup creamy by adding thick delicious almond milk.
Throw these very few simple ingredients into the pot and just let it simmer 20 minutes. Done!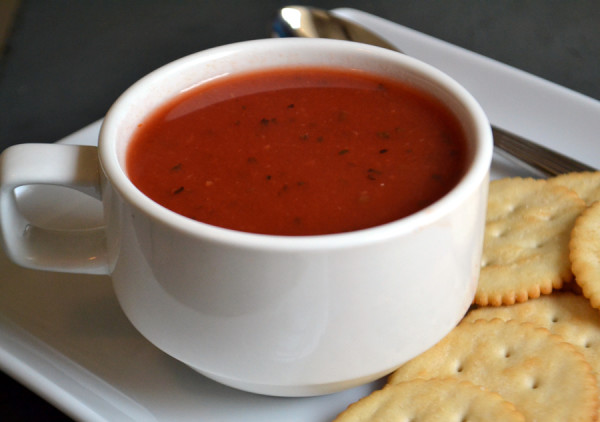 Easy Quick Tomato Soup – Sans Dairy
If you keep veggie bouillon in the freezer, this is so easy! I use these "cheats" all the time to add flavor and nutrition. It is so much better than boxes of bland watery veggie broth or cubes of salt bombs packaged and disguised as veggie bouillon. 
Ingredients
2 cups water
1 (28 oz) can whole tomatoes
1 1/2 teaspoon dried basil (or add 1-2 T or more fresh basil at the end of cooking. Dried provides convenience.)
Salt, to taste
optional for creaminess: 1 cup almond milk, or any milk you prefer
Method
Add water and veggie freezer cubes to a pot. Bring to a simmer and cook. Puree tomatoes in a blender. Add them to the pot. Alternatively, you can use tomato puree, but you get better flavor by doing this yourself. Add basil. Simmer for about 20 minutes so flavors can blend and develop.
Alternatively, you can use fresh basil I keep dried on hand because we use a lot of basil and it is quick and easy. If you use fresh, throw it in at the end of cooking. You will get a bright and fresh flavor.
If you prefer a creamier soup, stir in almond milk, or another milk. Salt to taste. The veggies in this soup are already so intensely flavored, you may not need much, if any, salt.
Enjoy!
If you like this, please Pin, Share, and Like
[pinterest]
[fblike]
[tweet]